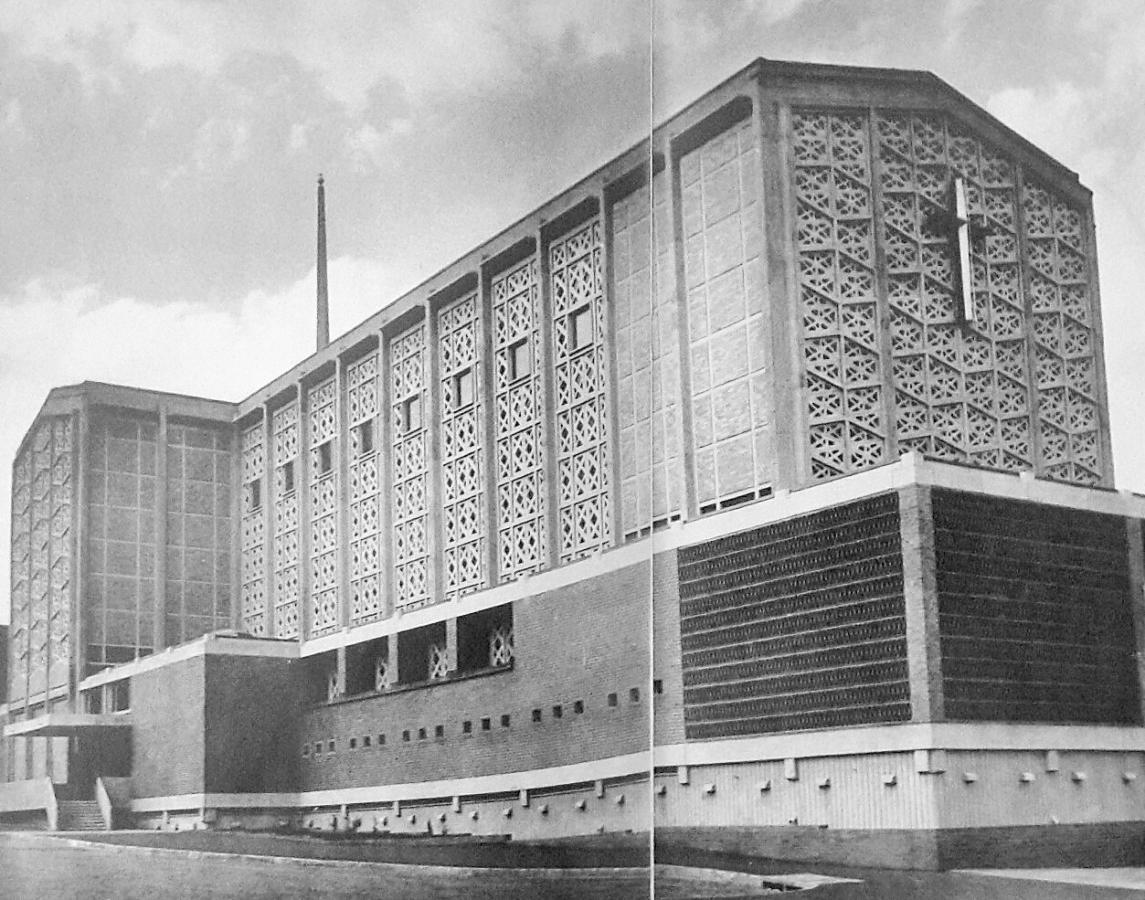 Wednesday, January 25, 2017 - 08:07
Johannesburg's Roman Catholic Cathedral of Christ the King is an impressive landmark located on the corner of Sarotoga Avenue and End Street in Berea. It was built in the late 1950s when Johannesburg was one of the fastest growing cities in the world and opened in impressive style in 1960. Below are a few edited passages (from an article that appeared in the 1961 edition of South African Panorama) that provide a wonderful description of the architecture and craftsmanship that produced the stirring structure. 
A Great city deserves great cathedrals – this was one of the themes woven into the sixty-five years of planning which culminated in the solemn opening in Johannesburg of the Roman Catholic Cathedral of Christ the King.
Set in the heart of teeming streets and the daily rush of commercial life, this cathedral was built at a cost of £250,000. It was designed by a Northern Ireland architect [Brian Gregory]. He kept the traditional form – the Latin cross – but merged the age-old majesty of cathedrals of Europe with the energetic architecture of the time.
Cathedral of Christ the King (Google Maps)
The building is a mellow rose-brown in colour. It is finished in rough concrete which gives the impression of hewn rock. From the main entrance in Saratoga Avenue the cathedral extends a distance of 267 feet [81.38m]. Some 20 feet [6.1m] above ground level the brick walls become a tracery of concrete of concrete set with multi-toned glass from France and England. Seen from a distance, these walls look like a delicate filigree.
Inside the cathedral, high above the pews, tall stained-glass windows splash marble and granite with colour. Here the old and new meet. Some of the windows contain traditional scenes from the Bible, while others are devoted to abstract patterns.
Stained glass windows (South African Panorama)
The impressive organ and internal spaces (South African Panorama)
The high altar is a simple mensa canopied by a hard-wood dome borne on slender wooden columns. Two side chapels form the arms of the Latin cross – these lead off on either side of the sanctuary. A side porch in End Street has a sloping ramp as an entrance so that invalids in chairs can be wheeled into the cathedral.
View towards the alter (South African Panorama)
The opening of the cathedral was followed by a week of special celebrations. These ended with a pageant of tribute, in which men and women from all walks of life took part. This cathedral stands as material evidence of the fulfilment of the tenet: Give beauty back to beauty's given. 
Scenes from the opening celebrations (South African Panorama)
Disclaimer: Any views expressed by individuals and organisations are their own and do not in any way represent the views of The Heritage Portal.