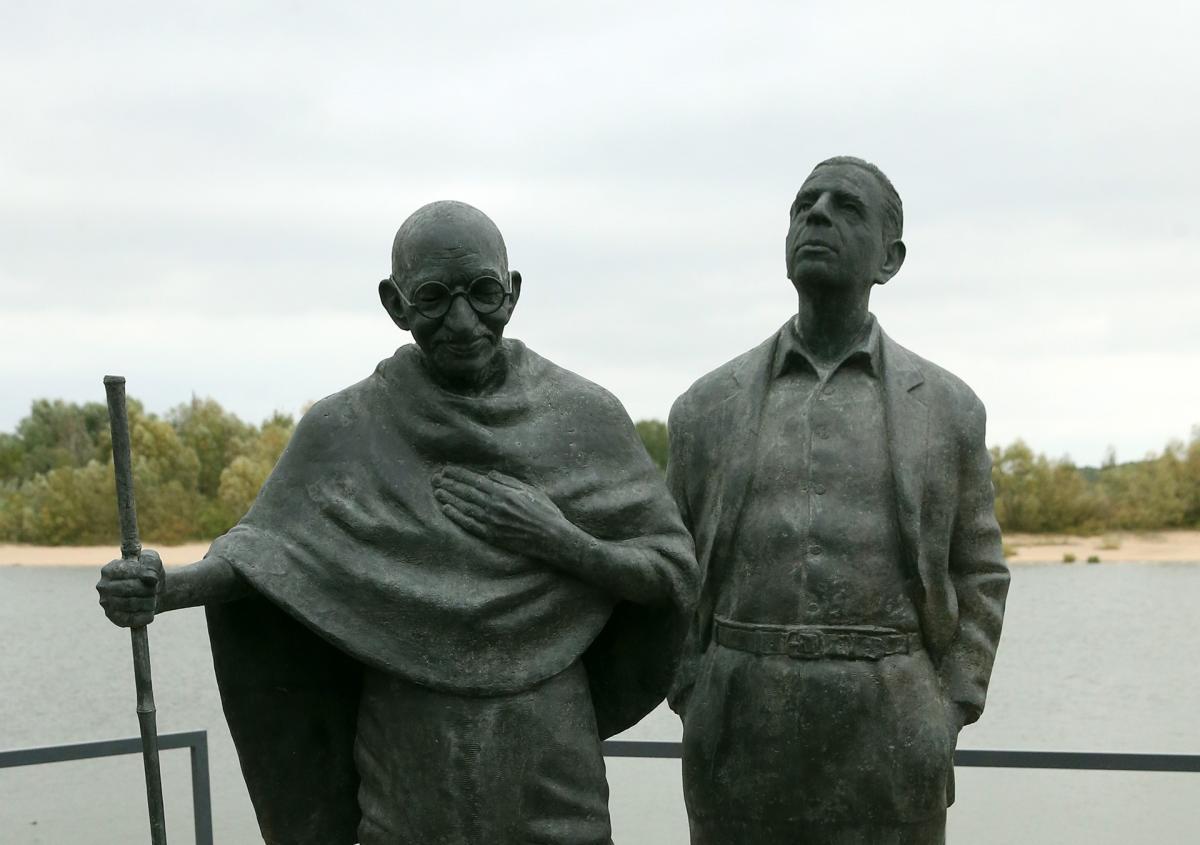 Disclaimer: Any views expressed by individuals and organisations are their own and do not in any way represent the views of The Heritage Portal. If you find any mistakes or historical inaccuracies, please contact the editor.
Monday, October 12, 2015 - 08:41
In the article below Kathy Munro, Associate Professor in the School of Architecture and Planning at the University of the Witwatersrand, unpacks the layers of the wonderful friendship between Mohandas Gandhi and Hermann Kallenbach. The piece was inspired by the unveiling of a statue of the two men in Rusne Lithuania in October 2015. Kathy also asks whether it is time for a similar statue to be created and unveiled in Johannesburg.
Friday 2nd October was Mohandas Gandhi's birthday. The man who became the great Mahatma Gandhi was born in 1869 in Porbandar, Gujarat, Western India to a Hindu merchant class family. Some two years later in 1871 (1st March) Herman Kallenbach  was born in 1871 in Žemaičių Naumiestis in the  Russian empire (today Lithuania) as the third eldest out of seven children of a German-Jewish family. His father was a Hebrew teacher and, later, a timber merchant.
Gandhi became a lawyer and studied law at the Inner temple in London. Kallenbach became an architect and studied architecture in Stuttgart and Munich. Gandhi first arrived in South Africa in 1893 and left to return permanently to India in 1914. He was assassinated in 1948.       Kallenbach emigrated to South Africa in 1896 to join his uncles and practised successfully as an architect in Johannesburg over the period 1896 to 1945 the date of his death. Kallenbach's niece Hanna Lazar transported his ashes to Israel for burial on the Kibbutz Degania.
Gandhi married and had four sons and many grandchildren, great grandchildren and descendants. Kallenbach was a bachelor, did not marry and had no offspring. He is remembered today because of his friendship with Gandhi and some not unimpressive works of architecture in Johannesburg.
One starts with the bare bones of chronology, profession, national origin and religion because they were very much contemporaries and despite geographical distance of their roots, the paths of the two men crossed in 1904 in South Africa. For ten years theirs was a close and intense friendship. They were "soulmates". They lived together for much of this time in Johannesburg  in Orchards, Mountain View and at the farm and community they created south of Johannesburg, Tolstoy farm, near Lawley.
Satyagraha House - The Home of Gandhi and Kallenbach in Orchards Johannesburg (The Heritage Portal)
Their friendship was based on strong mutual attraction, shared interests in diet and vegetarianism, enduring physical tests, and  deep philosophical debate about human values.Together they hammered out the tactics and organization of passive non violent resistance and Satyagraha (devotion to the truth), and applied these evolving methods to oppose the Transvaal government's new law insisting on the registration of the Indian population. It was the start of a eight year battle for civil rights for Indians and human equality.
Kallenbach was a successful architect in Johannesburg and it was his income and capital that financed Gandhi's living expenses and then the purchase of land for the creation of an ideal community, Tolstoy farm. Kallenbach became the devotee of Gandhi and together they embraced a simple ascetic lifestyle, home grown farm vegetables, hand crafted sandals and communal living. They wrote to Tolstoy and were inspired by the Russian Tolstoyan dream.  Their pet names for one another were "Upper House" (Gandhi) and " Lower House"  (Kallenbach).
This is the background to the event that took place on 2nd October  in Lithuania in the town of Rusne a small place of about 3000 people, which claims to be the birthplace of Hermann Kallenbach. Rusne is a small border town on the Rusne Island, in the Šilutė district municipality. in the  Nemunas Delta, 9 kms from Šilutė the capital. Rusne is on the Skirvyta River and borders on the Russian oblast of Kallingrad on the Baltic. The people of this town unveiled a statue of Hermann Kallenbach and Mahatma Gandhi in a prime spot alongside the  river and close to the historic Jewish synagogue. The Prime Minister of Lithuania, Algirdus  Butkevicius together with Gandhi's grandson, Gopal Krishna Gandhi and one of Gandhi's great grandsons, unveiled the 1.9 metre bronze life size statue of the two figures. The focus there has been on the link between Lithuania and India via Gandhi and Kallenbach but Johannesburg, the place of their close friendship and the South African link seems to have been missed. I wondered if a South African diplomat had been invited to the prestige event.
The Prime Minister of Lithuania speaks at the Unveiling Ceremony (Photo Martynas Ambrazas)
The sculptor is Romas Kvintas, who has made a close study of the  photographs of Gandhi and Kallenbach and has watched the Attenborough biopic of Gandhi with Ben Kingsley in the title role. There is a fascinating story as to how this statue came to be commissioned. A local teacher of ethics, Vytautas Toleikis was inspired by Gandhi's philosophy and the Lithuanian origins of his close friend Kallenbach to initiate the project to immortalise the friendship between Mahatma Gandhi and Hermann Kallenbach in a bronze statue.  
"The monument comes as a testimony to Indo-Lithuanian friendship. Above the many things that connect our two nations, the monument to Gandhi and Kallenbach will tower as a symbol epitomising a single individual's impact on the larger history of mankind," said Laimonas Talat-Kelp ša, Lithuanian ambassador to India, who turned fundraiser to bring this project  to fruition. The local municipality contributed €10 000 to landscape and create a pedestrian walkway. Another source of funding for the statue was the Good Will Foundation a Lithuanian Jewish body, which itself is funded from state compensatory funds for the disastrous losses of the Holocaust.
The statue is expected to become a major tourist attaction (photo Martynas Ambrazas)
The idea is that the sculpture symbolising peace as much between Russia and Lithuania as between India and Lithuania, will be seen by people on river. It is expected to become a major tourist attraction with a strong pro-peace message. During summer, 32 cruise liners dock at the Klaipeda seaport each carrying around 3000 passengers and local officials anticipate a threefold increase in tourism.
"While Gandhi gave the world the concept of non-violent resistance, which Lithuania also successfully employed during its struggle with the Soviet oppression, Kallenbach was pivotal in shaping Gandhi's ideas and testing them in practice. We believe this monument in Rusne will serve as a powerful reminder that one man also matters in history,"  added Laimonas Talat-Kelp and quoted in The Times of India report available online.
In 1914 Kallenbach planned to accompany Gandhi to India and they left South Africa together by ship. However on reaching Southampton, while Gandhi and his wife proceeded to India, Kallenbach was interned as a German enemy alien and spent a considerable stretch of time on the Isle of Man between 1915 and 1917 as an internee. He returned to South Africa after  World War I and resumed his practice in Architecture in Johannesburg, with partners A M Kennedy and Furner. He also purchased farm lands and saw through the proclamation of the township of Linksfield Ridge, built his own house on New Mountain Road and worked with labourers to make the lane that became Kallenbach Drive. It was not until 1937 that Kallenbach again connected with Gandhi when he visited him at his Indian ashram.  Kallenbach again visited India in 1939.
I draw the attention of the readers of The Heritage Portal to this fascinating item of international news because it is surely the right time for Johannesburg to honour Kallenbach as much as it has honoured Gandhi with the figure on Gandhi square and the bust at the Constitutional Court. The first home built by Kallenbach in 1907 and shared with Gandhi in Johannesburg for some 18 months was The Kraal, in Pine Road, Orchards, which has been restored (architect, the late Rocco Bosman) as a guest house with the appeal of a peaceful Gandhi-force retreat and named Satyagraha House, The house received a prestigious blue courtesy of the City of Johannesburg a few years ago. We also have Kallenbach Drive and Hannaben Street (named for Hanna Lazar, Kallenbach's sister) and the suburb of Linksfield Ridge is Kallenbach's legacy. But we do not have a  statue to Kallenbach. Alkis Doucakis has written a local history of the North eastern suburbs from the perspective of the Kallenbach Gandhi friendship and includes some excellent photographs and Shimon Lev's book Soulmates: The Story of Mahatma Gandhi and Hermann Kallenbach, explores the details of the Gandhi- Kallenbach friendship.   
View from the Linksfield Ridge (Heritage Portal)
There is a strong Lithuanian-South African connection, because many Jewish pioneers emigrated from Lithuania to South Africa. They were part of that early twentieth century diaspora when being Jewish in the Russian Romanov empire did not offer certain prospects for a settled life and young Jewish men were subject to military conscription and Jewish communities felt unprotected from pogroms. Later with the catastrophic border status, caught between  Russia and Germany and the German occupation of the Second World War, the Jewish population was decimated in the Holocaust.  Another South African with Lithuanian roots was Sammy Marks who emigrated to South Africa in 1869 and who hailed from the small town of Neustadt in the same Silute district. It is not far distant from Rusne. In fact I previously thought that Neustadt was the  hometown of Kallenbach [this has been confirmed by others]. This town had several names through its turbulent past and one was Kudirkos Naumiestis or Naishtot. The Polish name was Władysławów.
Almost as a footnote based on looking at the photos of the new statue, it seems to me that there is a certain inaccuracy in the new statue In Lithuania as it casts Gandhi as the iconic cotton robed Indian politician fighting British colonialism in India and Kallenbach as his acolyte circa 1937, but the  period of  their intense friendship was in those pre-World War I years in Johannesburg, when Gandhi was still attired in Western garb (a business suit albeit  one photo shows him in suit combined with sandals). Kallenbach on his return to South Africa reverted to a rather more formal dress of the prominent city architect.
I have always wanted to visit Kaliningrad because of its ancient roots at the German hanseatic town of Koenigsberg, its more recent Russian history and finally because it is the amber capital of the  Baltic. Now I am attracted and enticed by the Gandhi – Kallenbach monument. Perhaps even more significantly here is the moment to tie in friendship India, Lithuania and South Africa  with a South African version of the Rusne monument.
Kathy Munro is an Honorary Associate Professor in the School of Architecture and Planning at the University of the Witwatersrand. She enjoyed a long career as an academic and in management at Wits University. She trained as an economic historian. She is an enthusiastic book person and has built her own somewhat eclectic book collection over 40 years. Her interests cover Africana, Johannesburg history, history, art history, travel, business and banking histories.  She researches and writes on historical architecture and heritage matters and is well known for her magnificent book reviews. She is a member of the Board of the Johannesburg Heritage Foundation and is a docent at the Wits Arts Museum. She is currently working on a couple of projects on Johannesburg architects and is researching South African architects, war cemeteries and memorials.