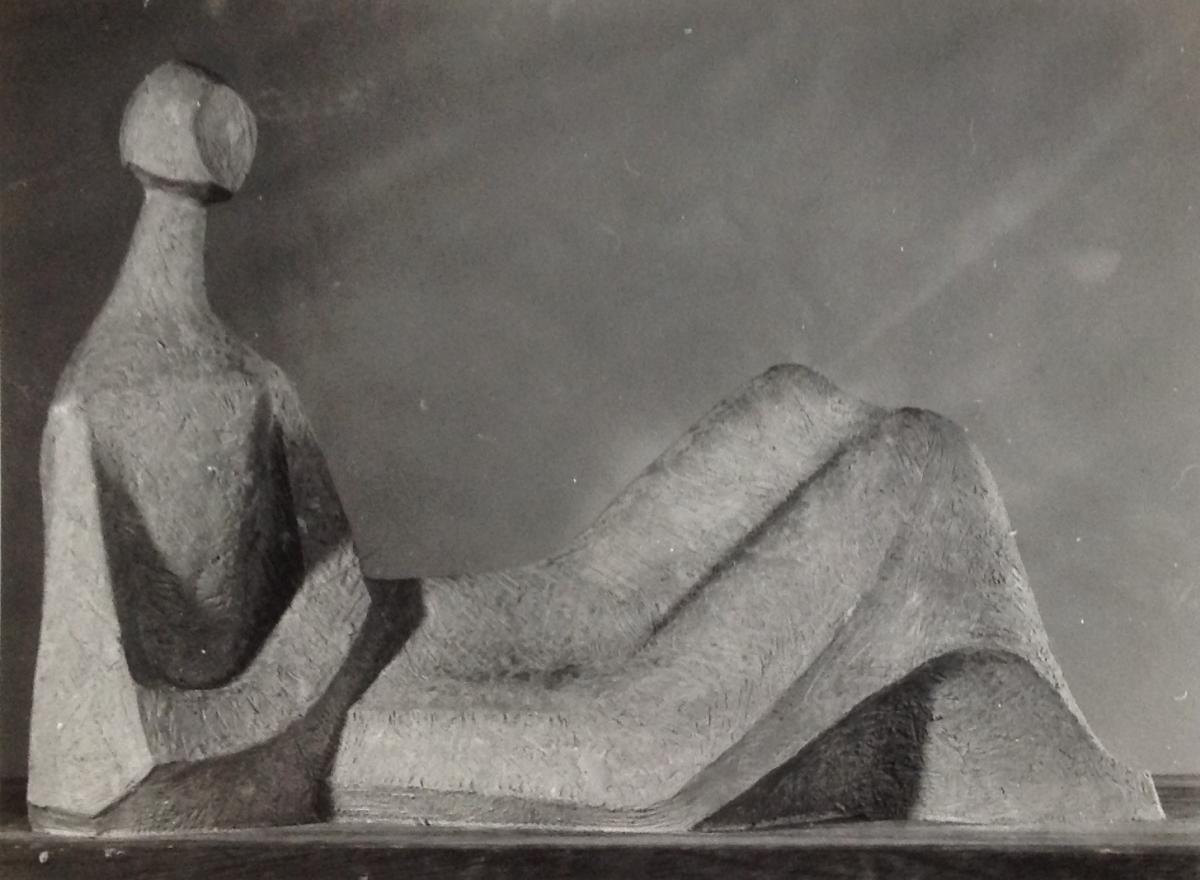 Sunday, May 1, 2022 - 19:49
Again, a monthly car boot sale did not disappoint. On offer this time were some 65 contemporary photographs mainly dating from 1966 which showpiece work by the Johannesburg based sculptress Lily Sachs (1914-2003).
As usual the question arises – why would someone discard such imagery? Unless of course they were discarded after being digitally scanned – which still does not make sense.
The good news is that someone had the foresight to place the photographs on auction with a second person having the foresight to buy the subsequent batched paperwork in order to make a profit from an onward sale.
Just these two actions alone assist in capturing valuable art history in the form of this article.
The photographic find did not "speak" to me at first in that there was no upfront indication as to who the artist may have been – even though she appears in some of the photographs.
After purchasing the batch, one hint did however assist in determining who she was. Amongst the photographs was a single leaflet which contained the name Lily Sachs. This leaflet related to her first solo exhibition during February 1966 held at Gallery 101 in Johannesburg. Without this leaflet, containing Lily's name, the material may well have been lost forever.
Lily Sachs – a brief history
Born on 7 December 1914 in Johannesburg, Lily Sachs (Finn) was the daughter to Harry Finn & Millie Davidson. She was the sister to Louis and Mickey Finn. Lily was married to Theodore Hyman (Teddy) Sachs, born during 1908 in Lithuania. At one point he was the vice-chairman of the Johannesburg Repertory Players (Reps) Theatre – more about the theater later.
The couple had two daughters, Valerie (1936-1995) and Gail Gottlieb (no information available).
Lily received her education at the Convent of the Sacred Heart in Potchefstroom. Originally attracted to painting, Lily studied this art form at the Witwatersrand Technical College Art School under Maurice van Essche and later at the University of the Witwatersrand under Willem de Sanderes Hendrikz. She also did a stint in Paris, during the mid to late 40s, where she studied under Prof Heather Martienssen at the La Grande Chaumière - the Académie Julian as well as the studio of the renowned French painter André Lhote.
On her return to South Africa, Lily changed direction and elected to continue her art studies in the field of sculpting under Moses Kottler.
Whilst she exhibited her work in a number of group exhibitions, her first solo exhibition took place on 14 February 1966 during which she exhibited 30 sculptures in wood, bronze and marble.
Lily and family resided in 3rd Avenue, Lower Houghton, Johannesburg. Lipworth (1966) described Lily's studio as a log cabin tucked away from the house at the far end of the garden.
Lily Sachs with two of her creations. These photographs were probably captured by Lily or a family member.
Interior of Lily Sachs's studio showing four sculptures. This photograph gives perspective in terms of the sizes of some of her work - three of these sculptures appear as individual photographs elsewhere in this article. (Photograph by Lily Sachs)

Lily Sachs died on 12 January 2003, aged 89.
Her artistic work can be divided into four categories, namely: painting, sculpting, architectural and photography. Evidence of only the last three categories were covered by the "found" photographs. 
Sculpting
From the 65 "found" photographs, 43 different sculptures produced by Lily could be identified. Only 4 of the 65 photographs have some detail inscribed on the back therefore making it difficult to confirm the name of each sculpture presented in this article. The majority of the naming conventions applied in describing the photographs are therefore my own.
Lily's naming conventions for her sculptures were simplistic. In some instances, indications are that she would have used the same titles for different pieces, such as "Mother and child" or "Head" of which two different pieces each have been seen to date. Other titles include: "African concert", "Spanish Dancer", "Kneeling Figure" or "Torso".
The photographic portfolio indicates that Lily was comfortable to fluctuate between the abstract and more realistic dimensions during her artistic endeavors. Influenced by the contemporary school of sculpture, Lily clearly applied her own individualistic style.
Bust of unknown lady by Lily Sachs (Photograph by Lily Sachs)
Bust of unknown man by Lily Sachs (Photograph by Lily Sachs)
Bust of unknown older female by Lily Sachs (Photograph by Lily Sachs)
Bust of unknown young person by Lily Sachs (Photograph by Lily Sachs)
Two young girls by Lily Sachs. This sculpture appears in a number of other images in this article - could it therefore have been her own two daughters that she sculpted? (Photograph by Lily Sachs)
Nude by Lily Sachs. The material used in this art work seems to be concrete. (Photograph by Lily Sachs)
Dreaming girl by Lily Sachs (Photograph by Lily Sachs)

Of her work Lily had the following to say (Lipworth, 1966): "I am intent on the simplification of form through the relationship of space and volume, the juxtaposition of places and the flow of softness of the curve".
Lily did not shy away from relying on different materials in creating her sculptures. Not only did she use wood and bronze, but also marble and concrete. This begs the question, how did she manage to move the larger marble/concrete pieces in and out of her studio?
There is nothing amateurish observable in her work in that Lily was clearly consistently serious within her own vision and style – without any gimmicks. Her work does not require any complex psychological interpretation. The statements that she made through her sculpting were simple yet sufficiently artistically creative.
Amongst the 65 photographs were two photographs of a group of maquettes (smaller working models). This confirms that she visualised and planned the majority of her larger pieces before starting off.
Lily also produced bronze wall panels mounted on heavy wood, done in relief and differing in conceptual nuances.
Whilst 43 pieces of her sculpting works have been identified (purely by analysing the photographs), this number is in all probability significantly higher in that it is suspected that the "found" photographs mainly portray pieces produced by her for her February 1966 exhibition.
On researching the photographic find, a few of Lily's sculpting works could be found on the internet. Some of her work is also being held in two family collections (one in South Africa and another in Australia). It is not clear who is curating these two collections.
No exisiting catalogue of work produced by her during her lifetime has been sourced to date, an aspect that art historians/researchers may potential want to expand on.
Torso in wild olive wood (2 foot) by Lily Sachs . This is one of a few images that has the details inscribed on the back of the image. (Photograph by Lily Sachs)
Sculpture out of wood by Lily Sachs (Photograph by Lily Sachs)
Mother and Child in bronze (2 foot) by Lily Sachs. This is one of a few images that has the details of the sculpture inscribed on the back of the image. Lily has also used this particular naming convention for art work produced by Lily on more than just this piece. (Photograph by Lily Sachs)
Sitting figure in bronze (3 foot) by Lily Sachs. This is one of a few images that has the details of the sculpture inscribed on the back of the image. (Photographer by Lily Sachs)

Architectural works
Lily became one of only a few known South African women who were commissioned to produce work for public buildings at the time. In an interview during 1965, Lily indicated her preference for doing architectural sculpting. Early indications are that some of her architectural artwork has not survived.
At least five architectural pieces produced by Lily have been identified:
Lily's connection with "The Alex" is an interesting one. Her husband, Teddy was the vice-chairperson of the Johannesburg Repertory Theatre at one point. This theatre, which performed serious theatre not commercially available at the time, opened during 1951. During March 1960, the threatre changed its name to The Alexander Theatre (named after its founder Muriel Alexander). The theatre closed during 1997, only to reopen again during 2006.
Lily not only produced a bust of the theatrical director/producer at the time (Leonard Schach - 1952), but also produced the sculptured relief panel in concrete of three musicians. It still needs to be determined whether this panel survived the renewal process.
The façade of the old Hillbrow Summit club, today an entertainment centre, has four twelve foot (3.6 meter) concrete athletic figures mounted in relief. To date, these pieces have survived and can still be seen mounted on the outer walls of the building (110 Claim Street). Ironically one of the figures does not seem to have been photographed at the time of the work being completed in that reference is made in various sources to three pieces only.
Composition photograph of the three sports figures produced in concrete by Lili Sachs. These figures have been mounted on the outer walls of the old Hillbrow Summit Club. (Photographer unknown)
A more delicate aspect of Lily's talent was the staircase at Reinsurance House which consisted of bronze panels just over 7 metres in length portraying South African wildlife. These panels were completed during 1955 and took Lily nearly a year to complete.
This building has since been demolished. It is not certain as to what happended to this elaborate work – hopefully it did not end up at a metal scrapyard.
Bronze work produced by Lily Sachs during 1955. Lily's signature can be seen at the bottom right of the image. This 7 meter long staircase railing was installed in the Reinsurance House foyer. The building has since been demolished. It is not known whether this art work survived. (Photograph by Johannesburg based Kurt Schlesinger)
Bronze work produced by Lily Sachs. Same piece as the mage above from a different angle. (Photograph by Johannesburg based Kurt Schlesinger)
Lily was also commissioned to create an exterior fountain. This 8 foot (2.4 meter) high column, consisting of 4 figures in relief, graced the Lichtenburg town centre. It is doubtful whether this artwork survived some 60 years after its installation. If so – the whereabouts thereof is currently unkown.
Lily, in her late 40s, seen working in her Johannesburg based studio. Here she is working on the maquette of what would eventually become the Lichtenburg water fountain. In the background the completed sculpture of the young girls included elsewhere in this article can be seen.
Lily Sachs at work in her Johannesburg based studio on one of the water fountain panels destined for the Lichtenburg Town Centre. How she moved this large (and heavy item) from her studio remains a curious question
The water fountain created by Lily Sachs consists of 4 figures and stands 2.4 meter high. It was installed at the Lichtenburg Town Centre. Whether this fountain survived in any way is unknown. (Photographer unknown)
Lily also accepted an assignment from the Anglo American mining gaint in putting together a thirty foot (9 meter) sculpted mining theme pool. It seems to have been installed in the entrace hall of Edura Building at the time (41 Fox Street).
I need to acknowledge that I have not done any in loco inspections to determine the whereabouts of some of the architectural pieces mentioned above.
Edura Building (The Heritage Portal)
Role as photographer
Intent on displaying her sculptures to the fullest advantage led to Lily also studying photography – a diverse and true artist at heart. Some photographs can be seen mounted on the wall in her studio.
It is suggested that the majority of photographs of Lily and her sculptures included in this article were captured by Lily. On one of the outdoor images she took of one of her pieces she recorded: "135 mm lens, 60th at F11" – this indicates that the technical aspect of photography was important to her.
It is recorded that Lily received the highest award by the Johannesburg Photographic Society for her study of fellow sculptor Eduardo Villa. It has also been suggested that she won several awards for her photographic work in London.
To date, I have not come across any of her photographic work produced (other than the images included in this article). Needless to say, with my primary interest in South African photographic history, it would be an absolute treasure to source an original photograph produced by Lily.
Interior of Lily's Johannesburg based studio. Photographs captured by her are mounted on the wall. One of the photographs is her sculpture of the two young girls included elsewhere in this article. Lily clearly had a preference for photographing people. Also note the sculptures in the room. (Photograph by Lily Sachs)

Final reflection
In order to avoid duplication, an attempt has been made to only include images in this article of Lily's work not already available on the internet – the exception would be on some of her architectural work.
Ironically, very limited information about Lily seems to be available on the internet. Does this lack of information potentially suggest that she was not sufficiently revered as a contempory artist?
This cannot be, in that some of her work stands out.
It would be of interest to determine exactly how many pieces were produced by Lily and how long she was active as an artist. Rough indications are that she was active for some 30 years (between mid 1940s to early 1970s).
In order to acknowledge some of her incredible art work, all work produced by her needs to be catalogued (if not done so already). Ongoing research on Lily as an inidivual and her artistic work is therefore required.
I need to declare that I'm not a art historian (and will never be). As a photo historian, it must be obvious that I do have full appreciation for the broader spectrum of the arts. This story simply had to be captured – Lily was a photographer after all – right up my alley.
Lily Sachs posing with her completed "Spanish Dancer" in her Johannesburg studio. Also note the photographic works produced by her mounted on the wall as well as a number of her completed sculptures. (Photograph by Lily Sachs)
The Spanish dancer in its final spot. Could this be at Lily Sachs's own house in Johannesburg? (Photograph by Lily Sachs)
Update May 2022
Shortly after the publication of the above article, Gail Gottlieb, the youngest daughter to Lily Sachs came forward and confirmed the following aspects:
That her father (Lily's husband, Teddy Sachs) was an attorney in Johannesburg for many years;
The two collections referred to (in South Africa & Australia) are Lily's works held in the family. The collection in Cape Town is curated by Gail whilst the smaller collection in Australia is curated by one of her children (grandchild to Lily);
The bust of the older male is her grandfather, Morris Davidson and the older woman is her mother Millie Finn, nee Davidson.
The bust of the unknown lady is actually of Gail's older sister Valerie;
It is confirmed that the bust of the two young girls are of Lily's daughters Valerie and Gail. Gail however suggests that this beautiful bust is not a true representation of what they looked like at that age;
The sculpture of the Spanish dancer actually stood at the house of Gail's grandparents in Potchefstroom. The house seen on the photograph has since been demolished. The whereabouts of the sculpture is unknown;
The Lichtenburg water fountain, whilst not functional, still stands in Lichtenburg;
Gail suggests that her mother did not produce any additional architectural pieces post 1966 – The list of architectural pieces as contained in the article is therefore exhaustive;
Gail also indicated that she has some of Lily's photographic prints – A future article may therefore be anticipated on this aspect.
Main image: Resting figure by Lily Sachs. Seems to have been chiselled out of marble? (Photograph by Lily Sachs)
About the author: Carol is passionate about South African Photographica – anything and everything to do with the history of photography. He not only collects anything relating to photography, but also extensively conducts research in this field. He has published a variety of articles on this topic and assisted a publisher and fellow researchers in the field. Of particular interest to Carol are historical South African photographs. He is conducting research on South African based photographers from before 1910. Carol has one of the largest private photographic collections in South Africa.
Sources
Lily Sachs - Sculptures in wood, bronze, concrete and marble – Photography (www.za-ch-art-kunst.ch/Sachs)
Lipworth, L . (1966). Lily Sachs (Sculptor). SA Jewish Times. (www.art-archives-southafrica.ch)
Unknown (1955).  Lily Sachs. SA Jewish Times. (www.art-archives-southafrica.ch)
Valerie Sachs (www.myheritage.com)
Hardijzer Photographic Research Collection (HPRC) – Some 65 photographs obtained from the car boot sale now curated into the HPRC 
 
Disclaimer: Any views expressed by individuals and organisations are their own and do not in any way represent the views of The Heritage Portal.