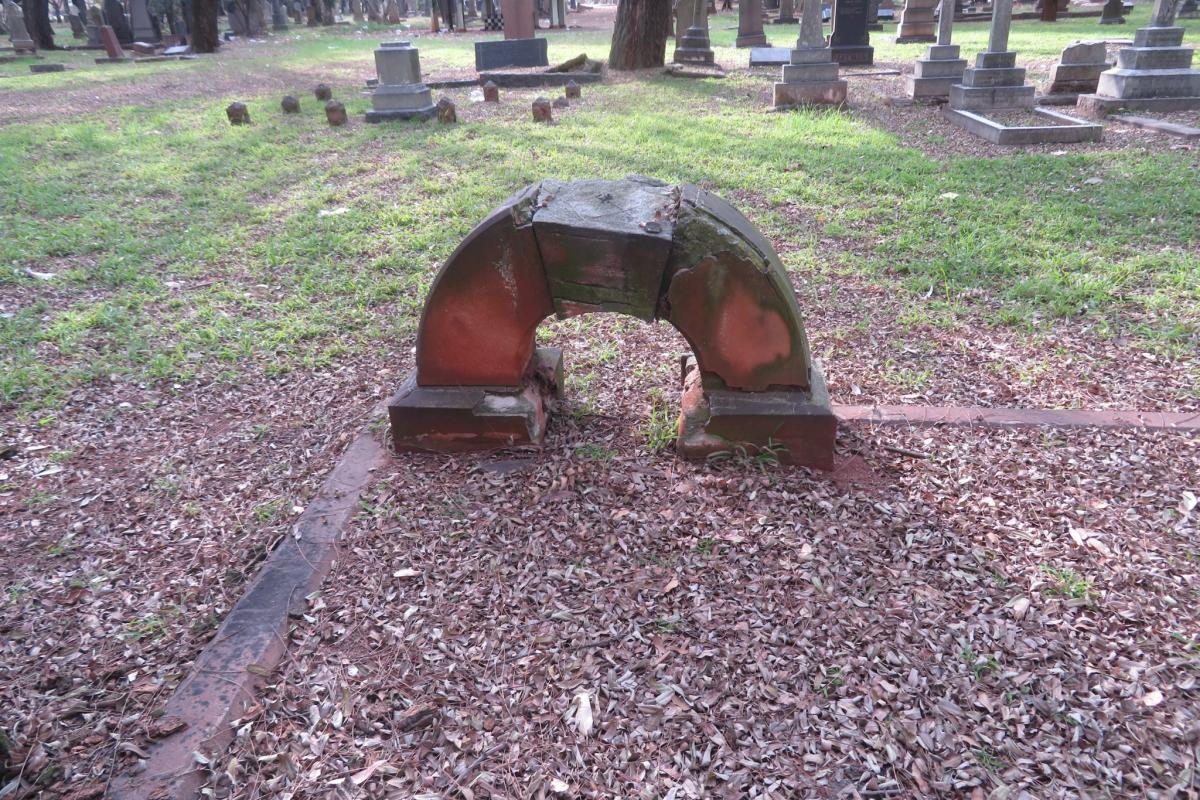 Disclaimer: Any views expressed by individuals and organisations are their own and do not in any way represent the views of The Heritage Portal. If you find any mistakes or historical inaccuracies, please contact the editor.
Wednesday, August 24, 2022 - 10:01
There is another headstone in Braamfontein cemetery which has intrigued me for years. I first saw it when Flo Bird and I were researching interesting stones in the Anglican section at the far western end of Braamfontein cemetery. I noticed a plot with just an arch made of what looked like stone, complete with a capstone. There was a base for the two short pillars to stand on but that was all. No name, no dates. This was even worse than my 'Grannie' headstone (click here to read about this mystery)! What struck me was the strangeness of the design of the stone which sat in the one corner of the plot with nothing else on the plot at all. I hadn't seen anything like it before.
Determined to get to the bottom of this mystery, I looked at graves around it which had headstones on and went to the burial registers to find their grave numbers. In this way, I was able to work out that this arch headstone was on plot 17014. When I looked up who was buried in that plot, I knew that my efforts had not been in vain – this was the son of Sir Theophilus Shepstone, KCMG who had been instrumental in the annexing of the Transvaal for the British in 1877.
Theophilus Shepstone, known as Offy, was the third son of Sir Theophilus and Maria Shepstone.  He was one of 9 children – 6 boys and 3 girls. But let us set the scene and visit his roots before we look at Offy and his achievements.
Offy's grandfather was the Reverend John William Shepstone, who was born in Bristol in 1796/7. He started his working life as a Stone Mason and came to South Africa as an 1820 Settler. He worked here in the Frontier area of the Eastern Cape as a Wesleyan Missionary and married twice. His first wife was a Quaker, Elizabeth Brooks who died while giving birth to their 6th child, Annie in 1833. Reverend John remarried, this time to Ann Smith who bore him another 6 children and lived to the ripe age of 65 years despite so many births. She is buried alongside her husband in the Kamastone Missionary cemetery near Queenstown.
Offy's father, Sir Theophilus Shepstone, KCMG, was the eldest son of Reverend John and his first wife, Elizabeth. He was born in January 1817 near Bristol, England so must have been about 3 years old when his family joined the 1820 Settlers on their sea voyage to South Africa. He was one of 6 children born to Reverend John and his first wife, Elizabeth. Sir Theophilus was a remarkable man. He grew up in isolated, rough mission stations in the Frontier area, so was a fluent speaker of isiXhosa. He later, after moving to Natal, became fluent in the Zulu language too. He had a very basic education, with the isolated places he lived in having no schools; but went on to serve the British in South Africa in remarkable ways, making a great contribution to the welfare of the black people particularly. Because of his upbringing, he had a humanitarian approach to the people he was trying to help. He worked for the British as a public servant and a Bantu Administrator. He was Sir Benjamin D'Urban's translator. After the great unrest in the Frontier area, he moved to Natal in 1845 when Offy was just 2 years old. There he became a staunch Anglican at the historic parish of St Peter in Pietermaritzburg and his work took on a different nature – he was sent to the Transvaal to negotiate the annexation of that Republic by the British. In 1880, he retired as the Administrator of the Transvaal and died in 1893 at the age of 76, just 3 months after his wife.
Theophilus 'Offy' Shepstone was born in June 1843 in Peddie when his father was serving the British in this Frontier area. He was the third son of Sir Theophilus and Marion. He had a better education than his father as schools were good in Pietermaritzburg. He attended the Pietermaritzburg Government School and went on to finish his schooling at Diocesan College in Cape Town. Like his father, he spoke fluent isiZulu as well as several other black languages. His contribution as a public servant was as a Bantu Advisor and a Natal Politician. After leaving the Civil Service, he opened his own law practice and became an Advocate and a prominent member of the Natal Bar.
He was an all-round sportsman and a brilliant horseman and fought during the Zulu war of 1879, being present at Isandlwana and Ulundi and was mentioned in dispatches. He, like his father, was awarded the CMG in 1880. In 1887, the Swazi king asked his father, Sir Theophilus, to send one of his sons as a 'counsellor'. He sent Offy, who worked in Swaziland for 9 years as an agent and adviser.
Isandlwana (Talana Museum)

In later life, he became a farmer in the Waterberg area but was not successful due to the drought and locusts. He married Helen Louisa Maude Bisset in Grahamstown and they had 2 daughters and 2 sons. Sadly he died at the age of 63 in March 1907 from an abscess of the larynx, and haemorrhage. The reason he was buried in Braamfontein cemetery seems to have been because he died in Johannesburg Hospital. His wife, Helen, died in September 1918 but was not buried in the family plot with him.
Offy came from a remarkable family, where many of the men made their mark as public servants and professionals. We are truly honoured to have him in our beautiful cemetery.
Sarah Welham is the founder of the Friends of Johannesburg Cemeteries. Click here to view their facebook page.