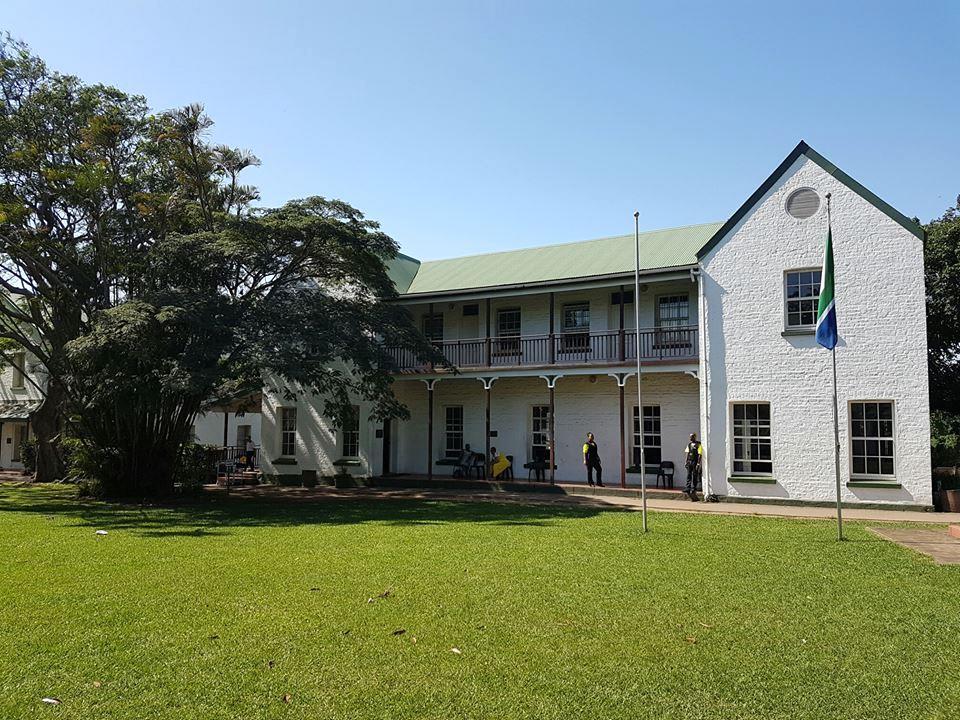 Friday, February 9, 2018 - 15:35
My five older siblings had all been to missionary schools and turned out exceptionally well. My parents probably chose Inanda because of the school's reputation and the fact that family friends had sent their children there, so I would have older friends to look after me.
The writer with her classmates in a 1975 class photo. She is fourth from left top row
Missionary schools had a very good reputation and that instilled a sense of pride in us as individuals and also a sense of connectedness to children who attended other missionary schools like Ohlange, Adams Mission, and St Mary's. Ohlange and Adams Mission had a very rich history and heritage, very similar to our own school and our school's connection to them also meant that there was some contact with 'good' boys (many of whom became future spouses of Inanda girls).
My sister, Palesa, matriculated from Inanda two years before I joined the school. I started in Form 1 – which would be Grade 8 in terms of the current system, although our group was the last one that did eight years of Primary School, before proceeding to High School. It was in 1975 and I was only 12 years old.
My earliest memories of being a student at Inanda are the services in the school chapel. It was a very central part of the school's activities. It had a very powerful and positive impact on me from the beginning. I was mesmerised by the girls' beautiful voices, accompanied by a grand piano. It created an unbreakable association between my spiritual life and music.
The music was diverse and spirited – hymns plus other spirituals from both Africa and America. The sermons at chapel were always profound and positive. To me this was more powerful than the kind of assembly that other schools had – about a loving God, a God who expected us to extend his love to those who did not enjoy the kind of privileges we had.
Part of this extension of God's love to others meant going into the village outside our school, worshipping at the Presbyterian Church with the villagers, visiting the sick, feeding the poor and generally maintaining a positive relationship with the community.
Being in an all-girls school was liberating. It meant we could have fun without any inhibitions. It meant we could focus on our academic work without the distraction of teen boys' attention. It made us comfortable to take up leadership positions which would possibly have gone to boys in mixed schools. The fact that the school had a connection with St Mary's - a private school for white girls - through sport and debates, meant that we felt comfortable to compete with white children at any level.
Because the classes were small, the entire class would be your friends. I spent most of my time with my best friend, Spelele Nkungu (who moved to the US in 1981), Tembeka Radebe, Belinda Qeqe, Andy Kawa, Nowhi Tshiki and Angelina Sithebe. We were all very far from home and we shared both class and dormitory for all those years. I was also very close to fellow athletes like Thulisiwe Nyembe and Thokozile Kweyama. Apart from Thoko, who sadly passed away, the rest of us are still connected. We might not see each other often, but when we do, it's like we've never been apart.
I have vivid recollections of At Home functions, where alumni would come to the school every year in October to celebrate the school's birthday. I treasure the sense of family and belonging which the school fostered and the quality of friendships formed. Because the principal and teachers were addressed as Baba, Ma or Nkosazana defined how we related to them.
Inanda Seminary has produced many distinguished graduates including erstwhile minister of health Dr Manto Shabalala-Msimang
Another special element of being at Inanda was its connection to the United States of America – which is where its founding mothers had come from – and other parts of the world. Having visitors like the Reverend Jesse Jackson made us aware of global issues and the fact that we were as good as anyone else, anywhere in the world. I recall that Rev Jackson made us repeat after him, "I may be black, I may be poor, but I am somebody."
A statue of Mary Kelly Edwards, a 40-year-old widow from Ohio, who was appointed as the first principal of the Inanda Seminary, stands proudly in the school grounds (via enanda.co.za)
Main image: Inanda Seminary Historic Building (via the Inanda Seminary facebook page)
About the author: Kefilwe Manana Makhanya is a veteran journalist and communication expert
Thank you to Daluxolo Moloantoa​ for facilitating this contribution (click here to view articles written by Daluxolo).
Disclaimer: Any views expressed by individuals and organisations are their own and do not in any way represent the views of The Heritage Portal.