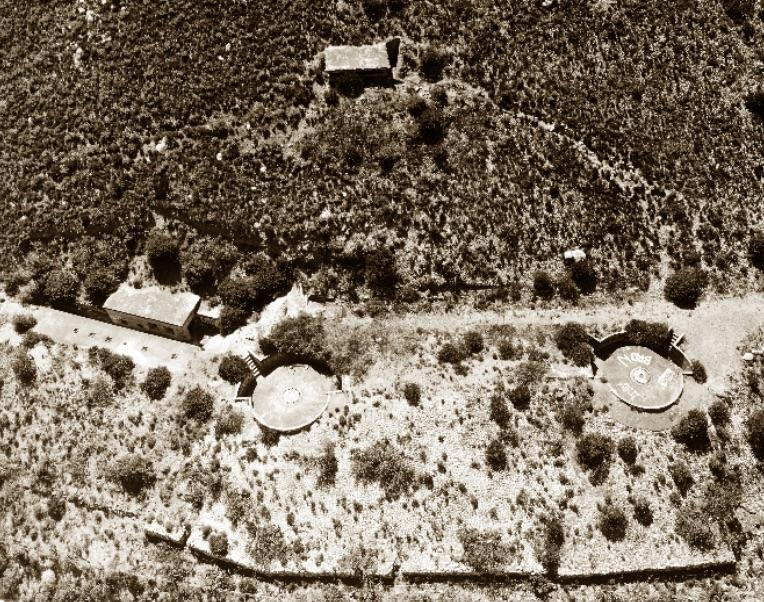 Monday, June 6, 2022 - 12:26
It is known that German surface raiders were operational in the South Atlantic, and that these held a definite threat to merchant shipping. As early as 1939, the Graf Spee, a "pocket battleship", managed to sink five merchantmen in South African waters and German raiders sunk 11 ships during the period 1940-1942. German minefields were also laid on the main shipping route around the Cape. One German raider laid 60 mines only 35km west of Table Bay harbour and another laid 92 mines between 8km and 37km from Cape Agulhas.
Coast counter bombardment battery carrying two and later three 9.2-inch guns were located at Scala (Simon's Town), Apostle (Llandudno), Robben Island, Lion Docks battery and Fort Wynyard (near the Waterfront). The purpose of this network was to protect the shipping lanes around Cape Town.
Due to fear that the Steenbras reservoir (built in 1941) was not adequately protected, a battery was built in 1943 near the mouth of the Steenbras River, armed with two 6-inch breech loading guns.
Steenbras Dam Filtration Plant (John Shorten via Artefacts)
Smaller 6-inch batteries at Noah's Ark, Fort Wynyard and Cornelia Robin Island served as close range batteries. Twelve pounder and twin six pounder guns covered the Simon's Town and Cape Town harbour entrances and Hout Bay. The 6-inch and Lion 4.7-inch at Lower North battery supported these defences.
The Gordons Bay battery also protected the Cape Explosives factory at Somerset West and Eastern False Bay from a battle cruiser that could lie off Gordon's Bay and shell oil sites at Simon's Town or oil reserves and Cape Town harbour.
The battery was established after a RN cruiser (Dorsetshire) proved to the defenders of False Bay that they could enter the Eastern side of the bay beyond the range of the 9.2-inch guns at Simonstown. Due to fear that the Steenbras reservoir (built in 1941) was not adequately protected, a battery armed with two 6-inch breech-loading guns was built in 1943 near the mouth of the Steenbras River and named the Gordon's Bay battery.
Coverage of the Three Batteries (Weideman, 2004)
One of the 6-inch breech-loading guns at Wynyard Battery circa 1938 (Bisset)

The guns were mounted in naval style open backed turrets. The BL 6-inch Mark XII naval gun was a British 45 calibre naval gun designed by Vickers and was commissioned in the period 1914–1926 and remained in service until the end of World War II. Shell: 45.36 kg, with armour-piercing shrapnel, maximum firing range 19,660 metres with elevation from 7°–30°.
The staff complement was 7 to 9 per gun (i/c, bearing layer, range layer, 2 loaders on the gun and 4 ammo numbers between the magazine, ready use lockers and loaders). Another 5 would have been in the in the BOP (Battery Observation Post) (Battery Commander, Plotting officer, DRF operator, plotter, telephone operator). In addition, 2 or 3 technical staff to operate and maintain the auxiliary generator and guns.
Gun ring. 6-inch Mark XII naval gun. Note the holding bolts and the circular rim. (Wim Myburgh)
Entrance to underground magazine - top of image (Hendrik Bosman)
Descending into the underground magazine (Wim Myburgh)
Duty room, workshop & stores (Wim Myburgh)

Barracks and mess support was a short distance from the battery next to the Steenbras River, over the road in the area now used as resort or holiday type accommodation. Some of the buildings still in use are the originals.
To release men for service in North Africa, the WAAS (Women Auxiliary Army Service) was established on 10 May 1940. In 1941, the Directorate of Coastal Artillery decided to experiment with the training of a small group of women as range-takers at Simon's Town for possible service at the newly completed coastal batteries extending from Saldanha Bay to Durban. The WAAS established an artillery section called ASWAAS (Artillery Specialists, Women's Auxiliary Army Service). Some of these women served at various coastal batteries and defence locations right around the South African coast and were trained on Robben Island.
Only twenty women were recruited for the first ASWAAS course, ten from Cape Town and ten from Durban. The training was complicated and demanding. They were initially trained as Range Finders but were eventually employed on the Battery Observation Posts (BOP's) and Fortress Observation Posts (FOB's) and plotting rooms at batteries around the coast.
Typical Observation Post (Dooner, 2019)
Gordons Bay Coastal Gun Battery Observation Post from above (Hendrik Bosman)
A closer view of the Battery Observation Post (Wim Myburgh)
Inside the Battery Observation Post (Wim Myburgh)
Typical view of a Battery Observation Post of Range Takers (Look in after 40 years)
Direction Position Range Finder (Crook, 2013)

Artillery Specialists (ASWAAS) were established as a branch of the WAAS. Not only did women operate all the technical instruments pertaining to the guns, but they were also responsible for the operation of the actual 9.2-inch and 6-inch guns even though it took two women to lift a 45kg shell of the 6-inch guns. They were trained to operate the guns, and to give the relevant orders and in doing so "they were remarkably efficient and disciplined." (Weideman, 2004).
Mackenzie-Hoy (2009) recalls her mother's experience in 1941 as an ASWAAS gun layer when she was 20. She joined the army and went to Robben Island for training and all girls were under 24. Of the ASWAAS, 18 became officers, 31 Staff Sergeants and 49 Sergeants. The remainder were Bombardiers and Lance Bombardiers. They also served in North Africa as the only women Gunners in the British Commonwealth.
Lance Bombardier Mary 'Bunty' Marr (Crook, 1993)
Duties of the ASWAAS
The 6-inch coastal battery had 7 to 9 per people per gun (bearing layer, range layer, 2 loaders on the gun and 4 ammo numbers between the magazine, ready use lockers) and then with another 5 in the BOP (Battery Commander, Plotting officer, DRF operator, plotter, telephone operator).
Mackenzie-Hoy's mother was a gun layer. Gun laying is the process of aiming a turret, against surface targets. It may be laying for direct fire, where the gun is aimed similarly to a rifle. The coastal artillery course these women underwent was complicated and demanding. Accurate aiming required taking account of the rise and fall of the tide, the actual movements. The velocity of the projectile also varied with its flight, the air temperature, the curvature, the corrections for the rotation of the guns, and so forth.
The course and responsibilities laid upon them were the same as those the men had undergone before them. Mackenzie-Hoy recalls that her mother and a 24-year-old Lt Geoff Daniels were on a shoot which was to aim at a target towed by a radio-controlled tug. Daniels changed the sights left by 500 yards and they missed the target and blew the tug out of the water at 12 miles. They all had their leave stopped and (the story goes) the battery commander gave Daniels a coconut.
Visual watches were referred to as "Look-Outs" and were conducted on a basis of four hour shifts in a 24 hour day. One lookout remembers "staring at the dark sea for hours watching for anything that should not be there". Comments from the Observation Post recall that they could always watch a seal sunning himself. He seems to have been the only seal in the area and was certainly the only one ever observed. Watch duty at the Battery Observation Post also provided one with the magnificent opportunity to watch a school of whales.
Other duties included Saturday morning "fatigues". This involved polishing and cleaning the instruments and their working areas. Furthermore, they were on duty an hour before sunrise for "Stand To". This included routine squad drill and accompanying procedures. This was repeated an hour after sunset at "Stand Down". Alarms were occasionally sounded, which meant having to rise from sleep, getting dressed, and reporting to their place of duty in the shortest possible time. In between all these duties, "sleep was fitted in whenever we could".
Main image: Gordons Bay Coastal Defense Gun Battery layout. Observation Post – top. Duty standby rooms, facilities and power plant, stores, workshop – left. Gun circular emplacement platforms - centre. Between gun rings – underground magazine. (Hendrik Bosman)
Dr Wim Myburgh: Early in his career he was a naval officer in the SA Navy and met Chris Dooner during this time. After this career, he obtained a Doctor Philosophiae [Psychology] at the Nelson Mandela Metropolitan University and practised as a consulting Industrial Psychologist in Cape Town. He maintained his interest in the military (publication. Dodd, N., Myburgh, W., Werner, J.L. & Mashatola, N.J. (2020). Psychological determinants of military student success). He acted as a  guest lecturer at the South African Military Academy. He is a member of the Naval Heritage Trust.
Captain (SAN) Chris Dooner joined the SA Navy in 1969 and progressed up the ranks to retire from the SAN Regular Force as a Captain in 2012. Thereafter he became active in the Reserve Force. He studied Electrical Engineering at Stellenbosch University and obtained a Higher National Diploma in Marine Engineering from Cape College for Advanced Technical Training. His diverse education resulted in him being appointed as a Weapons Electrical Engineer with emphasis on weapons and weapons control systems and eventually Systems Engineering and Systems Management. On retiring from the Regular Force he had the time to study the Coast Defence systems of South Africa, with emphasis on the technology of the guns and control post-1880s. He is a member of the Naval Heritage Trust.
References
Bisset, W.M. (Cdr. SAN). Fort Wynyard-Museum of coast and anti-aircraft artillery.
Brain, P. (1993). South African radar in World War II. The SSS Radar Book Group.
Crook, L.A. (1990). Apostle Battery. Table Bay Fire Command. Online. https://www.ajol.info/index.php/smsajms/article/view/143211/132957
Crook, L. (2013). Island at war. Naval Heritage Trust. South Africa.
Dooner, C.R. (Capt. SAN ret). (2019). The Cape Fortress Coast Defence Artillery Fire Control System in The Second World War: A presentation to the Cape Town branch of the SA Military History Society.
Hill, M H, Look in after 40 years: The story of the Artillery Specialists WAAS, 1941-1945 (Marins, Johannesburg, 1986).
Mackenzie-Hoy. (2009). My mother's exploits during WWII. https://www.engineeringnews.co.za/print-version/my-mothers-exploits-during-wwii-2009-06-12
Kleynhans, E.P. (2018).The axis and allied maritime operations around Southern Africa, 1939-1945. Doctoral dissertation, Stellenbosch University. Retrieved from https://scholar.sun.ac.za/handle/10019.1/105159
Mervis, J. (1989). South Africa in World War II: 50 years. Johannesburg: The Executive
Weideman, M. (2004). Robben Island's role in coastal defence 1931-1960. Online Access http://samilitaryhistory.org/vol131mw.html
Disclaimer: Any views expressed by individuals and organisations are their own and do not in any way represent the views of The Heritage Portal.