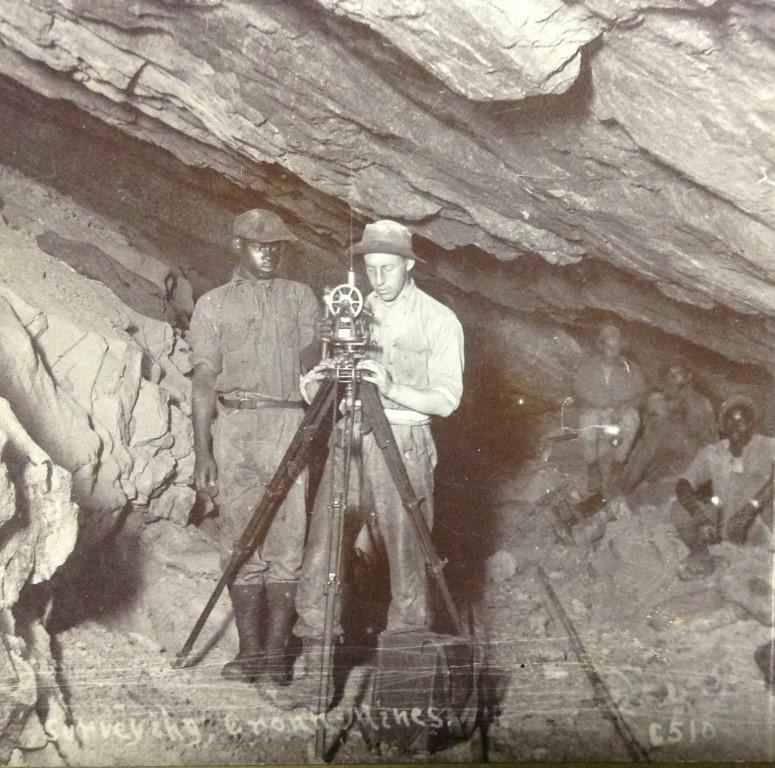 Tuesday, May 30, 2017 - 15:58
South African mining photographs from as early as 1870 have been identified. These early diamond surface mining activity photographs were taken by Weber & Sederstrom at New Rush (Kimberley). When gold was found in Johannesburg some 14 years later (1884), it was initially not difficult to mine as the gold was found near the surface and prospectors had many laborers to assist them with the digging.
But soon, miners found that they had to dig deeper and deeper to find the gold - 100 meters became a 1000 meters, or more, within a short period. This type of mining became known as deep-level mining.
Although deep-level mining was very expensive, dangerous and difficult, the introduction of the cyanide extraction process during 1890 made the recovery of gold excavated at these deeper levels economically more feasible.
Indications are that by the end of 1889, the Jubilee and Langlaagte mining companies had already sunk shafts for deep-level mining purposes.
Deep-level mining in turn resulted in a growing curiosity at both local and international level – People wanted to see what was happening down below – It had to be photographed!
The inscription suggests that this photo was taken at the State Mine. Men seem to be repairing an underground rail track
Attending to an injured mine worker at the Crown Mines. It is not clearly whether this image was posed for or whether it is a scene of actual injury being attended to. Image by Raymond Neilson
A hand full of photographers seem to have taken up this challenge as a commercial venture and went down the mines to take images of the mining activities.
From these images, fascinating information can be gleaned about the people, conditions they had to work under or even engineering successes in terms of machinery etc.
Underground locomotive. Image by Raymond Neilson
Much reliance was placed on migrant labourers such as the Chinese, who are easier to identify on these images compared to the other migrant workforce – black or white. 
Note at least three Chinese miners. The Chinese man in front holds a candle. The white line suggests that he moved the candle during the exposure time. Photographer unknown but presumed to be by one of the Neilson brothers
Chinese, Black and White sweating it out in the deeps of Johannesburg gold mines. Note the ore carrying trolleys. Photographer unknown but presumed to be by one of the Neilson brothers
Deep-level mining photographs of mines in the Johannesburg region were mainly produced by the brothers Raymond and George Neilson. These images, taken between 1904 and 1910, seem to have been produced only in stereo view formats and were sold both locally and internationally (click here to see previous article by author on stereo photography in South Africa).
The Neilson brother's images would have any of the following details recorded on them:
Raymond Neilson (Box 145, Johannesburg)
GB Neilson (15 Victoria street – Georgetown)
Neilson Bros Photographers (Box 145, Johannesburg)
Geo B Neilson Bros (84B Fourth street - Boksburg North)
In some instances, images do not contain any photographer details, but can be linked to their work.
Initially it was thought that Georgetown (GB Neilson's address indicated on his work) would have been in America, but Germiston's Georgetown has its own Victoria street. It is still not clear whether the Neilson brothers were South African or potentially foreign photographers who saw a commercial opportunity in photographing the South African deep-level mines.
Information about the brothers remains scant – nothing seems to be recorded about them at the South African National archives, nor have any other photographic works by the brothers been identified to date.
The brothers were clearly very active in their field. They went around to all deep-level mines in and around Johannesburg photographing their inner activity. What is not clear is whether they visited each mine only once or on more than one occasion. If they only visited the mine once, how much time did they spend at each mine? It can be safely assumed that it would have been more than a month at a time.
It is further assumed that the brothers initially worked individually but later combined their efforts around deep-level mining photography. Raymond Neilson seems to have been the more active of the two brothers.
The process of going underground in order to photograph would most certainly have been very cumbersome. The heat underground would have provided various challenges to the photographers. Photographic equipment in those days was bulky. Larger format cameras would have been used, requiring tripods. The biggest challenge would have been to ensure that sufficient light was reflected from the topic photographed. It is not clear as to how they would have gone about creating sufficient light for their images – probably by using more than one flash plate with more than normal the amount of magnesium powder. The challenge experienced with lighting explains the poor quality of some of the images. The quality of deep-level mining images can certainly not be compared with those taken during the Boer War in that the quality of the latter was better.
Some of the deep-level mining images also show blurry figures. This was due to longer exposure times required. Not all the sitters stood/sat still for long enough, resulting in a blurry image – which further adds to the impression that these images are of poor quality.
Visitors were seemingly allowed into mines. None of the sitters seem to be miners. Note both the boy and dog. Both slightly out of focus due to them moving at the time the image was captured. Photograph by Raymond Neilson
Probably a shaft cage hoist. Image by George B Neilson. The white line in front suggests the movement of some sort of light suggesting a long exposure time for this image
The author is attempting to maintain a catalogue of images produced by the brothers. Some images were numbered with inscriptions (engraved on the original glass plate), whilst others are without any inscriptions or numbering.
Where numbers can be seen on the images, it is clear that there was an attempt by the brothers to follow a logical numbering system. The prefix in the numbering system clearly relates to the actual mine. To date, it can be confirmed that the brothers photographed the following (with highest number of photographs identified to date - each with the relevant prefix of the appropriate mine):
Knights deep (K93);
Modder Deep (MD140);
State Mines (SM447);
Carson (C281);
Crown mines (C732);
Geldenhuis Deep (G70).
It is also recorded that New Primrose, Robinson, Kleinfontein, Nourse, Cinderella Deep & Comet mines were photographed.
An image by George B Neilson. According to the inscription: Taken at the State Mines
The above suggests that at least 1750 deep-level photographs produced by the Neilson brothers must be in circulation. It can further be safely assumed that the brothers also photographed other deep-level mines not listed above, suggesting that there may well be over 3000 deep-level mining images in existence.
Further research is needed to determine the extent to which the brothers commercialised their photographic activities. For this, it will need to be determined, amongst others, how many photographic stereo card sets were produced of each mine.
Deep-level mining images are not as freely available as Boer War images, which suggests that, although they may have been produced for commercial purposes, that the commercial value was not exploited to the same extent as the slightly earlier Boer War images also produced in stereo card format. It is also possible that mining photographs were of less visual interest compared to those produced during the war.
Another photographer that was active in this field was an American J. Wilbur Read (Box 3774, Johannesburg). It is known that he did not only photograph deep-level mining, but also other topics of interest. Although not as prolific in his work as the Neilson brothers, some of Read's South African produced images are held by the Getty Museum in America.
Other known publishers of mining photographs were Underwood & Underwood and Keystone View Company, both American based. These publishers would have appointed local or foreign photographers who were not accredited for their efforts.
Whilst we today have the privilege to see what occurred in front of the lens in the deep level mines, we have limited information about those behind the camera at the time. The search actively continues for information on the elusive Neilson brothers. The author would appreciate any additional information that readers may have on the brothers or on mining images taken by them (email CHardijzer@fnb.co.za).
Miners in shift cage at the Crown Mines. Photographed by Raymond Neilson
Note: All images included in this article are from stereo views – Only one of the two images on each stereo view card has therefore been reproduced for this article.
Carol is passionate about South African Photographica – anything and everything to do with the history of photography. He not only collects anything relating to photography, but also extensively conducts research in this field. He has published a variety of articles on this topic and assisted a publisher and fellow researchers in the field. Of particular interest to Carol are historical South African photographs. He is conducting research on South African based photographers from before 1910. He is also in the process of cataloguing Boer War stereo images produced by a variety of publishers. Carol has one of the largest private photographic collections in South Africa.
Also see:
Ball, Peter (November 2015). Hard rock mining – The Cornish Connection. TheHeritagePortal.co.za
Lombard, Rosemary (2014). "Bared life" – Looking at stereographs of South African miners produced in the early 1900s – Fleurmach.com
Disclaimer: Any views expressed by individuals and organisations are their own and do not in any way represent the views of The Heritage Portal.