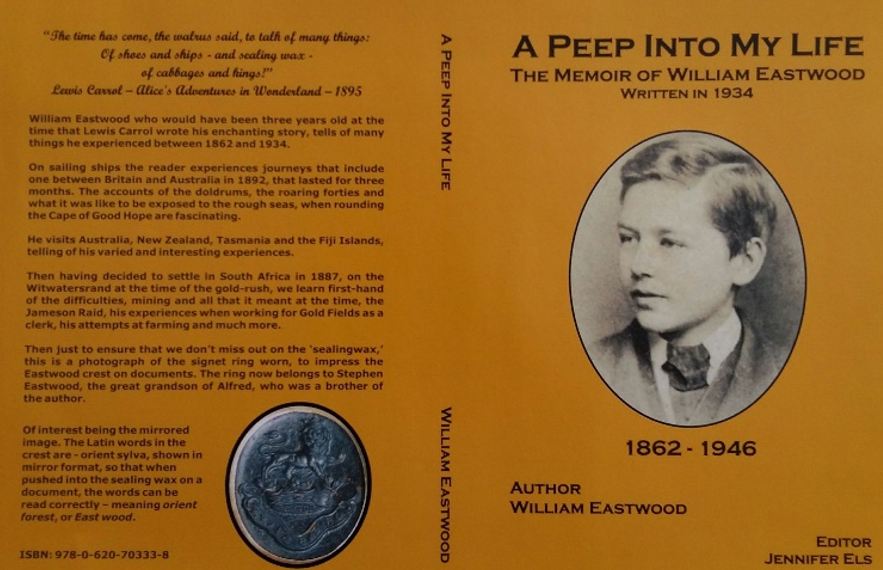 Tuesday, June 26, 2018 - 12:36
A Peep Into My Life, The Memoir of William Eastwood was reproduced in 2016, 82 years after it was initially published. This was done at the request of Eastwood's granddaughter Mary Drabbe, who is now proudly distributing his original work. Photographs and some relevant research has been added by compiler and editor Jennifer Els.

Mary reveals how her grandmother was so tired of hearing all the stories of her husband's life that she persuaded him to write them all down. The reproduction of this memoir brings a fascinating story to a new audience. It was written by a man who came to Johannesburg in 1887, at the age of twenty-five, having been born in Bradford in the United Kingdom.

In the first section of the book, Eastwood records events of his childhood in Britain, the difficulties of finding employment and then of his adventures over a two-year period, when he travelled to and explored places like Australia, New Zealand, Tasmania, the Fiji Islands and New York.

Eastwood's recollections of a three-month sea voyage in 1883 provide a vivid account of the conditions and dangers of travel on a sailing ship at that time. He returned to England after his adventures but on his father's urging soon set out for South Africa like so many others at that time.

He initially arrived in Potchefstroom where he stayed with his brother Phil who was working there. Both then and at a later stage, when he was employed to operate a three-stamp-battery, readers get a glimpe of what life was like at that time on the mines and in the town.

His experiences in Johannesburg make interesting reading... the people he met, life in Ferreira's Township, the wheeling and the dealing that was part of the gold mining town and being a founder member of the Rand Club. (It was with great pride that Mary donated two copies of her grandfather's book to the library of the Rand Club).
Sketch of the Second Rand Club circa 1890 (The Star)
Rand Club Library (The Heritage Portal)

What makes this series of vignettes of William Eastwood's life in South Africa so fascinating is how he told his own stories which covered fifty years of great historic change.

Here is an excerpt where he refers to the Jameson Raid:
History will relate what was happening at that time far better than I can, but I will just mention that rifles were being brought into the country in cases said to contain merchandise, machinery, et cetera. Recruiting was openly taking place on the market square, under the leadership of British and Colonial Officers, right next to the fort on Hospital Hill, where the Boers were carrying out the same activities. The committee had taken charge of the town and closed all the bars. The whole thing was almost ludicrous, if it had not been so serious. The Government had been notified that they must withdraw all the police and that the Reform Committee would be responsible, for the good order of the citizens.
There is no doubt old Paul Kruger had the wind up. In my office at the Gold Fields, I had a large strong-room and one morning I came to office as usual and found Colonel Wools Sampson standing at the door and he asked me what I wanted. I was rather tickled and said, "only to get into my own offices." With a smile he told me to go and amuse myself at The Club and that my strong-room was packed with rifles, which had been run in there during the night. As a matter of fact, a close approach to a state of war existed.
The Old Fort (The Heritage Portal)
It is in this way that the reader learns about Eastwood's experiences of farming in Rosettenville and later in Turffontein, whilst working for The Consolidated Gold Fields of South Africa and later Turffontein Estates, in a clerical capacity.

It is interesting to note that when the Anglo Boer War broke out, he was instructed to take the documentation belonging to Gold Fields to Cape Town for safe keeping. This is where he and his family stayed until the war was over. 
I made an effort to get on to a farm so as to increase my experience. I went to see Mr MacDonald who was managing Sir Jacob Barry's farm at Stellenbosch. He was a home expert on general farming, got to this country to teach the farmers the latest methods of progressive farming. I offered my services free, if he would allow us to occupy part of the large homestead. He did not agree to this but said we could come on payment of a monthly rental of £15. Like most Scots, old Mac knew which side the butter was on. He was to occupy the rooms at the back of the house and we the rest. It was one of the old Cape Dutch houses, which are fast dying out at the Cape, massively built and a relic of the old slave days. The dining-room was so big that on rainy days they used to play hockey in it - so they told us!
Eastwood would have been surprised to see what recent research has produced. Recorded in the updated version of his book is the history of what is now the Rustenburg Wine Estate – which did not die out!
Rustenberg Wine Estate


At the end of the war, he returned to his office in Johannesburg:
After managing the Turffontein Estate for three years, in which Cecil Rhodes held a half interest, the company passed into the hands of the Consolidated Gold Fields and I was taken over with it. Mr William Hume, a great friend of Cecil Rhodes and a fine type of English gentleman, was appointed General Manager of the Estates Department, which embraced my old company, and I was appointed Secretary and Accountant. The townships of Booysens, Turffontein, La Rochelle, Kenilworth, Germiston, and Georgetown, together with several large farms, which were afterwards laid out as closer settlement areas and plantations, to supply the company's mines with timber, that were merged into the department.
Eastwood Road in Dunkeld Johannesburg is named after William Eastwood


Eastwood writes about spending time with his wife and six children, describes various court cases and reveals some painful episodes like the one below from 1891:
Well, to return to the farm, we had sown sixty bags of oats, as well as mealies and manna, covering about 100 acres of ground. As we watched our crops advancing with the perfect season we were having, we began to build castles in the air with the funds we were to handle later on, when we harvested. It was decided that I should have a spell in town and when I left the large stretch of oats was a picture with the heads bending over, likewise the manna, and the mealies were well advanced. I had been there three days when the whole town became infested with locusts and my thoughts naturally turned to our crops in the de Pass Valley, barely five miles away. I saddled up and as I came over the hill overlooking the farm, instead of seeing the lovely picture I have described, my eyes met what had the appearance of a newly ploughed land from which you could not have taken sufficient to give my horse one feed. With a heavy heart I rode on to the homestead and found old Arthur in our only comfortable chair with his legs up on the table, his pipe gone out and himself looking into space. It was no good saying anything, but we both thought a lot.
Eastwood's elder son Harold was killed in East Africa during the 1914-1918 war and shortly after that, his daughter Phyllis died. He retired to a farm called Buffelspoort in Mara, Northern Transvaal after thirty-five years in Johannesburg. It was here that he wrote his memoir.
The Farm Buffelspoort
For more information or to get your hands on a copy email Jennifer - jen.ak.els@gmail.com
Disclaimer: Any views expressed by individuals and organisations are their own and do not in any way represent the views of The Heritage Portal.