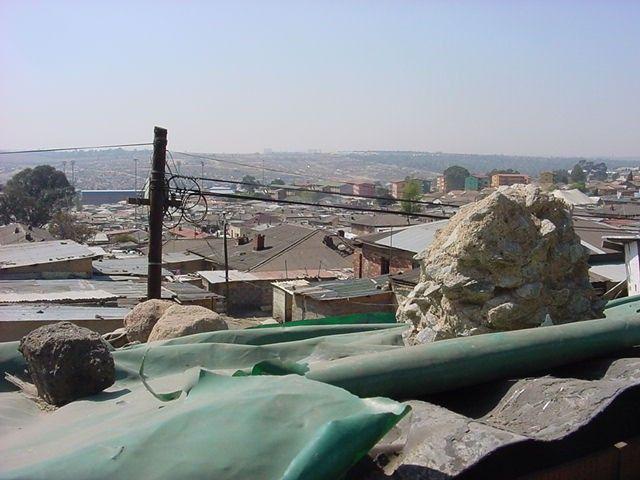 Sunday, April 19, 2020 - 16:40
The article below forms part of Mike Alfred's series on Joburg personalities from the first decade of the 21st century. Click here to view Kathy Munro's fantastic introduction and here to view the series index. The stories were written in 2005/6.
Doris Mosikele has reverted to her maiden name. Her married name was Vilanculos. She came to Johannesburg some thirty years ago from Queenstown in the Eastern Cape. She works as a char four times a week. She lives in her own bitterly-fought-for home in Alexandra with her second daughter who is repeating matric. Her husband and son both died violently. Her first daughter is married and recently presented Doris with a lovely grandson. Her story is probably similar to that of many other women. She tells us about her life in her own words:  
I was coming to Johannesburg in 1968, that time I was 18 years. I was living with my grandmother in Queenstown. I come to Johannesburg to earn some money to help my Grandmother. My other auntie was staying in Pimville. I arrived there to Soweto to stay with her and then I looking for a job. The first job was in a fish and chips there by Pimville. I worked there maybe one year. I was helping in the till, taking the money, I was peeling some potatoes, I helped to clean and do everything. I leaving school in standard six. I can read and write but not so very good to write. I speak Xhosa and English and Tswana and Shangane; my husband was a Shangane person.
Location of Pimville
From the fish and chips I go to work in Rosettenville. I working for that lady for two years. The name of that lady was Mrs Botha. It was domestic work. The job was okay because that time I was still young, you know, and I doesn't know nothing. The lady was good and also myself, I was good for her. I look after two children. I make everything, I clean the house, I make the cooking. I look after those two children because she's going to work. When she's coming back home she's finding everything OK. I had a room in the courtyard. The hours to work: I must be in, half-past-six in the morning. I feed the children, I do every thing, she never takes them to the crèche. I start in the afternoon to prepare the supper. They start to eat at six o'clock. Then I'm going a little bit in the room to bath myself. I'm coming back again to do the dishes. I knock out eight, half past eight. There was no break because I'm sitting with those children all the time. The job, it was finished when she say she's moving to Pretoria. She says you must come. I say I don't like going to Pretoria, I got no family there. So I go back to live with my auntie to looking another job. 
But before I left that lady, I met my husband. He come from Mocambique. He was building the houses and then one day when I'm going to the shop he saw me and then he's trying to speak to me but I couldn't care what he's talking. And then he's getting naughty where I stay, waiting for me, whichever side I'm coming. Before I come in Johannesburg there's maybe two three men, they were old, they want to marry me without talking to me. And then I run away here. 
I'm coming here to help my grannie, but also those nonsense, I was fed up with it. Those men didn't talk to me. They went to my grannie and my uncles and they sitting down to talk. I didn't like that. It made me upset. What is make me upset is those people, they not bad man, but they doesn't talk to me. In our culture, they talk to the parents. They talk and talk but they talking about cows. Never mind you. Maybe men take me to that house to be his wife without talking to me, only to my granny. One man brings five cows, but I think twice, many times, and I chase those cows because in our culture if you don't want a man, you must chase those cows yourself. Everybody can see when you doing like that. Everyone say, 'Hau! why must?' because they say in our culture you are lucky if you got a man, he send cows even he don't know you. Everybody look at me funny, why I doing this? I can't make like that, I'm sorry. That's another reason I coming to Johannesburg.
When I met this man he was follow me. I was still thinking about those men. I still have that hatred in my heart. I say I don't like this man, special as my husband was black, black, black, somebody who's come from Mocambique. I look at him and I say, I don't like somebody who's not Xhosa. In my place, Queenstown, we call like, Shangane, I don't know, like... animals. When he's coming to talk to me he says he's Shangane from other side. I say ooh, I can't,  it's better you speak Xhosa. 
All right, then this man met another lady. That lady was my auntie's friend. She knows me very well. He saw one day I was walking to the shops with this lady so he follow her. He follow her to that house opposite where I work, where she's working and he sit down and talk to that lady, says, oh please talk to this one because I love her. She came and sit down and talk with me. She say, no man, this man he loves you. I say, no, I don't like this somebody. She say, Johannesburg is not a good place, can you stay in a courtyard by yourself? I reply, I say no, I can't stay with somebody, I'm not a married woman. I'm sorry. She tells me all the stories, look how big you are now, you're already twenty, you haven't got a boy friend, nothing, you're just sitting like this, it's not nice. Maybe you be crazy, what and what; she tell me all those stories. That man never came to me again. He just send this lady. I'm getting fed up again.
We are very good in our time, because when your parents talk you listen: You must never, never sleep with your boyfriend, he's not your husband. He can kiss you but you don't let him hug you so much, just do like this when you kiss, don't do what he's want to do. He mustn't touch you this side. You must never say yes! But you can get somebody like a boy friend if you want to. But don't go with him to sleep on the bed. When I left Queenstown they pray, go right, because I coming to Johannesburg, they give me few words before I left. They say, two men came to marry you, you didn't want to marry, remember those cows that you chasing away, so please, you do us a favour, don't bring a pound of ice. You can tell us when you want to marry, but you mustn't sleep with a man. 
Now when that Shangane man come to talk to me, I still thinking that what they tell me. I'm scared that man come to stay with me both in the one bed. No, I tell myself I can't. Maybe I bring that pound of ice in my place where they remember those cows I chase away. Then this man when he see me he never propose nothing now. Just mmm, sabona Sisi, how you? 
Then one day, my auntie's friend she say to me okay, today I know you off, can we go together to town? In the bus stop we find this man. Oh well, doesn't matter. We taking the bus, that time was still the bus not the taxi, I was talking all this way, was talking and talking and talking. Then in town we sitting down in Joubert Park and talk and talk. He says he wants an answer today. I say listen here, I say I don't just want somebody he say he want to come and sleep with me. You want to be a boy friend or what you looking for me? He say no I don't want to be a boy friend, I want to marry you. We must talk. I been following you long time, but I'm not getting tired because I love you. And then myself I think maybe this man is the right one but oh, but I don't like because he's not a Xhosa. I think many things and I say okay. And then he say I'm from Mocambique near Beira but I won't take you there, I will stay with you here because I know you people are not easy to stay far. My friend say to me, you old already, if someone he's coming to talk to you like this to you it's alright. But I say he can't stay with me in my room. He say, you come to stay with me. I say no I can't stay with him. It was a tough time. Then he say okay, I stay in my room, you stay where you are. But we must be friends, me and you. You can come see me, I can come to you. I say no, these people where I'm working they don't need somebody, like a man. He say, okay you come just and visit me where I am.
An old shot of Joubert Park
That friend she say, let's go there to see those people. Oh! when we going there, oh they so happy those Shangane people. They do everything, they buy us this and this and this. They so nice, they very nice those people. They nicer even than Xhosa. They make jokes, they bought food, they bought cold drinks, they bought everything. The table was full of everything.
One day this man he say to me, can we going my brother? He's working in Norwood. So we go, so his brother can see me and he's very happy. Then he's going this friend of my auntie and asking the address in Queenstown where I lives and every thing. And then he write a letter without telling me to my grannie. He write about lobolo and everything. He says he hasn't got the cows but he's got the money. If I give you the money so many cows, it can be how much? My grannie write to me. She say that man was the right somebody, where did he come from? Is he a Xhosa, a Tswana a Sotho a what, what? Because this lady's writing for him in Xhosa. Heh! I tell this man I don't like what you done, writing without telling, but OK, you can tell them what you want. Then this man quick, quick, quick he say send people to Johannesburg I want to pay the lobolo. My grannie send my auntie and a neighbour where I stay in Queenstown. Then his uncle, the family come together by my auntie's house in Pimville, they talk about the lobolo and everything. He talks to my people, they finish everything what they want. My grandmother she knows now. Now I'm allowed to say yes and everything. When I see now everything can be okay, no, now we start to be a husband and a wife. Then we go to Home Affairs and do everything what can be. My grannie want we must go to make a white wedding in Queenstown. But we couldn't manage to go, that far, we just go to be married in Home Affairs. We couldn't make a white wedding, we just make a party in Pimville at my auntie's house.
When I leave to work there by Mrs Botha after my marriage, we got no place to stay. Now we are two of us it's not easy to stay in my auntie's place. Now is a hard time. No house, even in the town we walking it's hard, you know. They arrest me for the pass that time. They say I'm not born in Johannesburg I'm born in Queenstown. They say if you come from that side, the Cape, you not a child of Johannesburg. They put that stamp of section ten. They say you must be out of the town. They give you only twenty four hours. I didn't go because when you see the police you must hide yourself. 
Okay, I get the job there by Orange Grove. Italian people. This time I'm pregnant of my first born. When I start to go to work there, maybe I already was three months. I didn't tell those people I'm pregnant because we got no place to sleep. He was working, they were building Norwood Police Station. We were staying sometimes with his brother, it was a small room. We were sleeping down, he [the brother] was sleeping on the bed. I work hard. With Italian people you can work until ten o'clock in the evening. You must waiting to do the dishes. I was doing everything, cleaning, everything. Trouble is, I'm pregnant, when I go to sleep, I'm very tired. I don't want to tell them I'm pregnant otherwise they will chase me away and then where can I stay? We stay in that life now we don't know what can we do, because even where he works there's no place we can stay together. 
When I'm six months pregnant, those people they can see. They ask, are you fat or what has happened? I say, I'm fat. This is hard time now. Then I'm seven months pregnant, aiiii, this lady say no, no, no, you not fat, you pregnant. I say yes. She say to me why you never say? I say, I'm afraid you chase me and I've got no place to stay. If you chase me where can I go? She says, you work good you can carry on to work. At nine months I was very tired because this work was to me strainous. I went to my other Auntie staying in Mayfair. I say to her, now I'm really tired, where can I go to stay? She says well, I can speak to my madam, you can come to stay with me but your husband must find a place to stay. I resign the job. I say, I'm going home to have the baby. Then he goes to stay where he works and I stay with my auntie in Mayfair.     
After the baby is born I'm going to my old madam where I work, Mrs Itali. I speak to them they say, it's better you must come back with your baby. When I go to work there again I stay with my husband. He comes to stay with me with the baby, there in the courtyard room. OK, I carry on to work with my baby. When is one year two months I take it back to my grannie to Queenstown, because it was heavy for me to do the work and also to look after the child. Then I'm coming back to work by my own and my husband is stay with me. Then I start to be pregnant of my second born, my son. Well, they caught my husband. And that time when they caught him because he got no ID, nothing in Johannesburg, they sent it back to Mocambique. He decide when he's back in Mocambique, he say, no, it's hard to coming back to Johannesburg to stay with you, I think I'm coming back in the mines, because if I'm working in the mines, it's easy way to walk around, nobody can caught me. OK, he came to the mines now, the side of Rustenburg. He come to visit me end of the month to give me some money. 
Now when I'm pregnant another lady says she has a job for me, the side of Sandringham. I start to work in that lady. They leaving early for work. I work there, I look after the two children, I do everything, I dust, I do the cooking, I do just everything.        
While I'm working there my husband is changing the Mocambique money and the South African money to making the money must coming quickly that way. When is going back home he bought the boat of the fishing and he wanted to bought the house for us to stay but the money was not enough. He's leaving his uncle in the fishing and he's coming back to Johannesburg, to Rustenberg, to the mining.
Where I'm working there, we moving to Lombarta West. I was busy, busy carrying the things and things and things. The madam say to me, you getting more fat every day. Then the husband saw me, they say to me no, you pregnant. I take time to say yes, I say yes! They say to me, why you never say you pregnant? I say, no it's not easy to tell you because I got no place to stay, my people are in Queenstown, and if I'm telling you, otherwise maybe you going to chase me and where I must going to stay when I'm pregnant and everything? And also my husband he's coming to visit me here. They say no man, it's better if you tell us because look now you carry all the heavy things and everything. Well, doesn't matter because you were good for us. You work you do everything well. Well, I carry on to work but at the time I'm eight months, I'm telling my other auntie to coming there to work and I'm going to Queenstown. When I'm there in Queenstown I'm getting my son.  
When I'm there I think I must stay because it's heavy for me to work and also look after a child. I stay there in my granny's house 'til my son is one year old. Then I'm coming back by myself to Johannesburg. My two children are staying there by my granny. While I'm working my husband is still in Rustenberg. 
Also myself I'm trying to get a place in Johannesburg because my madam is taking me to be registered. Now I'm alright to walk around in Johannesburg. Now I can find some place to stay for me and my children. This time my daughter is staying with me in Lombarta West and at school in Alexandra.
A more recent view over Alexandra (The Heritage Portal)
One day another lady told me about another man who was in a church in Alexandra, the Methodist. He tell you which way you get the place to stay in Alex. He was a councillor there by Alex, Mr Makhubere. That was the time when they were moving people to Soweto, to Tembisa. He say, do you know anybody who didn't take the [empty] stand? So I'm going in that lady staying in 15th Ave. She said if you want to speak to this one responsible for this yard, I can take you there. I sit down, I speak to that man. That man he write a letter for me, he tells how many years I'm staying the yard. Then Mr Makhubere says also you must get the certificates for the children and a letter from the school and a letter from you work, your madam.
African Methodist Church (The Heritage Portal)
Now is the day I must going up again to the office. Oh well, I pray because I know there by the office they chasing you, they doesn't want to see what paper you got. Now I was fighting for the permit to stay with my children. We going there, my madam's take me in the car. I've got all those papers. There's a long line to go to this man, was a white man who was not really not lovely, not nothing. If you coming he just look at you and say, take your papers and GO! Sometimes he take the stamp and just like this he cancel every thing. The lady, my madam she's sitting there. When I'm right in this man I'm put quick my papers. And then, he just look the papers quick, quick, quick. He say, did you stay in 165, 15th Ave? Yes. He say, did you stay in the shack or did you stay in the brick house? I say, in the brick house because Mr Makhubere say to me don't mention about the shacks. I'm hoping God can helping me that time. Then that man he writes a letter. He say go straight to the office of Alex and give that man this letter, I think that man is the one who's going to make your permit. Your permit's going to be OK. That lady where I'm working just came to that man and say thank you very much and just now I'm coming to give you a present because you done a big job for me. And she's got a bottle of whiskey she's give that man.
Now I'm going in the Alexandra office. That was a time they ask you which side, are you ANC or what? They all talk all sorts of things, you don't know what is in your head to telling those people. Well is a lucky day that day, when I'm going in the line, I'm giving this man the letter. He just look at that letter and writed down everything for the permit with my children. Now for the permit I never mention my husband. Because that Mr Makhubere he say, don't say you married because your husband he come from Mocambique. Just keep quiet about your husband and everything because you want a house now, you must get the house. Just make a family permit with your children. Your husband can be another time.  
Well, I did say to this man I got a house there in 165, 15th Ave, but I got no house there, but already now in my hand I got the permit. Hmmm, what I'm going to do? Then the people in the yard they say build now in the space, because if the police come they see what you doing, they caught you, they tear down everything. When my husband come the end of the month, I did tell him. He said its better we bought the house, the zinc, the bricks, the poles and everything quick, quick, quick. I ask this lady, I must have one week's leave. I ask the two men must come to build for me. Where I build, was an old car there; we take this car and we throw it away where I build my home. Those people when they start the foundation I was with them. I work hard with them. I help them. We finished that big room what I built first, in one week. Now I got everything, also a room in this yard but I got no number.
I go up again the office to tell them. They show me the map. They say, look the map, there's no house there. They say, see there's the old car sitting. I don't know real, what must I say? I say to those people there's a short wall, maybe you never see you people. They say where's you house? I say no, on this wall, maybe you never see because the grass is long. They say, hai don't come and tell the stories now.  
It took several months for Doris Mosikele to obtain a number for her house. During that period, the authorities, after receiving a bribe, allocated the dwelling to someone else. Fortunately, Doris's neighbours prevented the woman from taking occupation. The following day Doris returned to the administrative offices where she found a supervisor and reported that an official had not only refused to give her a number for the house she had built, and which she occupied with her daughter, but had re-allocated it. With Doris, the supervisor confronted the official who denied the charge, saying that he had not seen Doris before. However, the supervisor allocated her a number there and then. Thereafter she divided her time between her job in Lombardy West and her home in Alex where she was eventually joined by her husband.
My husband, he leave now the mines. He's coming back to stay with us in Alex. But it's still the hard time for him. He's got no permit for Alex. When we sleeping in the night time, one o'clock, two o'clock in the morning the police can come. If they find you got no permit for Alex, they take you. He start to work with another man, he came from Mocambique and that man he fix him a passport so now he can walk around in town but he must be careful when he's coming in my house. He's still not right in the permit; I'm the owner of the permit. So I'm going many times to the office to making a visitor. Then we staying together, he's working okay, he's supporting the children, everything was going good.
My husband's brother was staying in Norwood. Was on a Sunday he came to visit us. In that time I was pregnant of Bosisiswe but my husband, he doesn't know, I didn't tell him yet. My husband go with his uncle to take him to the bus. He never came back home. At that time the tsotsis are looking for the money, they do all sorts of things. I was sitting in my house, then, somebody else came in my house. He says I think it's your husband I saw it in the clinic, the Doctors are busy with him, there's lots of blood. I say no man! Then I think, he left here two, now it's six o'clock, why he's not back home yet? Well, I think myself no, I must rush to the clinic. 
I ask the nurse and the doctor, it was a man a tall man with a beard and everything I'm looking, the name is Ignacio Vilangulos. They say yes, there was a man like that. They look each other. They didn't want to tell me. They say, you the wife of that man? I say yes what happened? They say no, he's passed away already. I couldn't believe I just close my eyes. I say please look the name he's dead. The name what I'm telling you. They say, yes just now we take him already. He's not here now already, he's in the mortuary. I never see him because they take him, he's died already. I never even ask that time what happen?            
Oh, that was a terrible day! I don't sleep. Even I never tell the children. My boy, he ask, where's my father, is he going to sleep with his brother in Norwood, why he never come back? I don't know what to tell him. I don't know what he going to do if I tell him.
In the morning I went with my madam to see what is happening. We must go back to the clinic. Even now I don't believe. We're going there. They show us the papers and everything. They say no we're not talking rubbish because there the clothes of this man. When I take the clothes they're his clothes, full of blood. I asked them, they say, no, they stabbed him, here in the heart, one shot.
I start to prepare everything for the funeral because his mother in Inhassoro was still alive. They say when is died he must going home. Well, we got the money from the bank. It was not much money. When his uncle and everybody come and we start to talk, I say I haven't got enough money to send him home. I think I going to bury him here. They say yes here because you got the children. His uncle from Krugersdorp he say he's going to help me and the people where I work they say they give me a hand. We bury him on the sixth of September.  
I think now, who's going to support those children? Who's going to look after me in this pregnancy? In everything is stuck. When I'm sitting down just the tears is coming out. This lady when is coming to talk, she can see my eyes, she say no man everything is finished now you must just keep quiet, don't think what was happening yesterday. You must keep yourself strong. Someone can tell you that but it's not easy. 
After the funeral this lady, the one I'm working, she's busy with me now. I don't know what she want. She want to be my husband, my mother, she want to be my everything! She want to control me. If I'm going to my room in Alex she's saying no, no, no, you can't go. She say no, no, no you must be very careful. I can't even move. If I say, I'm taking my off, she say, no I'll take you to town. She control me like I doesn't know. I'm getting fed up. It's better now I've got a place to stay in Alex but in my head I'm dom. Already she say, I must take you to the Tembisa Hospital. You must go there to sterilize. She doesn't know I'm pregnant. 
Myself I got no answer just keeping quiet, just looking, not saying nothing. Because I still don't know what I'm thinking, what I'm going to do? She say, I'm building another room for you to stay with your children. I increase your money. She say to me, I give you R120 a month, now you must stay here in the courtyard, I buy the food for you, I give you the old clothes, I buy the clothes for your children, I do everything for you. You must stay with me forever. You must cancel your Alex place if I'm doing that. No more to go to stay there. 
I'm keeping quiet even when she's telling me all these things. My heart that time was paining like I doesn't know. I'm saying really I'm sorry but I can't leave my room in Alex. I'm fighting for my room like this and then I must come and staying in this, is look like a big prison, I don't know what kind of prisoner I am. To sit here, somebody to control me like this, tell me no, no, no, I mustn't go to my room. She say, we must get somebody to stay in that room. The police must take the room back. She say we bought you the house and what and what and what, but the time being, you stay here with us. I ask myself, I say heeh, what can I do in this now? 
This lady she say to me, Doris, come sit down we can talk. But she's getting fed up now because I got no answer. She say to me this end of month I want your answer whether you stay with me or in your room in Alex with no help, no food, nothing. I just keep quiet. I tell myself I can't, it's my house I'm fighting like this and now I must stay in this prison? At the end of the month we sit down and I say in a soft voice, I like to leave this job. I say, I'm sure. You must leave me alone. I'm going to stay in that house. Don't worry what I'm going to eat. Well, she can see I'm cheeky when I'm telling like this but she's preparing the money and I say, thank you very much. The following day I'm taking my things and go stay in Alex. Now already I'm three months pregnant, without a job, no husband.  
Also myself I'm not feeling well. I'm weak. My head is dom, I'm dom, when you telling me something I say yes. One day I'm sitting with my children and I'm thinking, if I bought some poison to give those children, also I give it to me. I'm sick and tired of thinking. Today I think this, tomorrow I think this and that. I think, what sort of life I'm going to lead now? Already I bought this poison. Because, I don't know what I'm thinking; now I'm sick and tired of life.
One day I sleep. My husband every now and then come to me when I sleeping, in a dream sometimes come, sometimes not. He give me this voice and was talking. You know what he said to me? I am dead. He's talking to me, we're sitting like here, it was a big sea what I saw, like a sea, the water is like a sea. He talk to me, he say to me, you know where I am, is a nice place. Every day, every day, hundreds and hundreds of people coming in here. And then, I don't seeing you can getting much worried for where I am. This place is very nice. After that dream I wake up. I think what am I going to do now, because maybe this man can see those bottles? I take those bottles, I empty, I flush it in the toilet, I take the empties, I put it in the plastic, I put it in the dustbin. 
About the author: Mike has spent most of his life in Johannesburg. He earned his living as a human resources practitioner, first in large companies as a manager, [many stimulating years with AECI] and later in his own small HR consultancy. Much of his later occupational time was spent running training courses for managers on how to handle staff within the framework of South African labour legislation, He wrote and published The Manpower Brief, an IR, HR and sociopolitical newsletter, which was popular in many large companies during the 80s and early 90s. A selection of Briefs were incorporated into the book, People Really Matter published by Knowledge Resources. While working, he wrote several business books, one of which, on negotiating, was a sell-out.
In his 'retirement,' he has written extensively about Johannesburg, publishing articles mainly in The Star and Sunday Times. Working with Beryl Porter of Walk & Talk Tours, he developed and guided many walking tours around historic Joburg – Braamfontein, Parktown, Newtown, Centre City, Constitution Hill, Kensington & Troyeville, Fordsburg etc. He regularly took visitors to Soweto. His book Johannesburg Portraits – from Lionel Phillips to Sibongile Khumalo, offered popular biographical essays of well known Joburg citizens. His researched paper on Judge FET Krause who surrendered Johannesburg to Field Marshall Roberts during the Anglo-Boer War, was published in the Johannesburg Heritage Journal. The same journal published his series on famous local paleoanthropologists. 
Mike is also a widely published poet. Botsotso recently published his third book of poetry, Poetic Licence. His current historical work, published by co-author Peter Delmar of the Parkview Press, The Johannesburg Explorer Book, takes readers on a journey through old Johannesburg, weaving together a history of events and people, which make this city such a fascinating place. His most recent book, a work of journalism, Twelve plus One, featuring transcribed interviews with Johannesburg poets was issued in 2014.
He lived with his wife Cecily, in a century old, renovated house on Langermann Kop, Kensington. A widower since July 2014, he now lives in Eventide Retirement Village in Muizenberg. He believes himself very fortunate in that his son, daughter in law and grandsons live nearby. His daughter lives in Sydney with her husband and son. In case you're wondering, Luke Alfred, Mike's son, is the well-known journalist and author.
Disclaimer: Any views expressed by individuals and organisations are their own and do not in any way represent the views of The Heritage Portal.