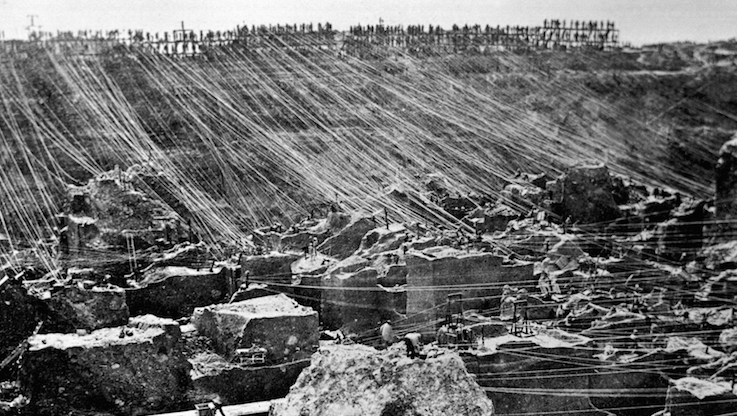 Sunday, October 25, 2015 - 15:30
Last week The Monitoring Project broke the news that six sites have been removed from South Africa's tentative world heritage list. In follow up we spoke to a number of people involved in the preparation of tentative lists and site nominations regarding the changes and what they mean for site conservation. We also received feedback from a variety of stakeholders working on site nominations at a local level. We provide a summary of responses received.  [Originally published 1 August 2015]
Geographic distribution of sites
Need for a national review
According to Albi Modise, spokesperson for the Department of Environmental Affairs, the changes were not out of the ordinary as state parties conduct reviews periodically in line with both UNESCO and country-specific guidelines. According to UNESCO, states need to review these lists every five to ten years as a means of reaffirming which sites they intend to nominate in the short to medium term. A comprehensive national review was therefore required as some listings dated as far back as 2004 (as in the case of Kimberley and Pilgrim's Rest).  
As Modise confirms:
"The Department in the last two years embarked on [a] process to review the Tentative List. This process included most stakeholders and a call was also made through National Papers for South Africans to comment and nominate new sites. A stakeholder workshop was also held where all the sites were looked at. From the workshop it was agreed that the six sites be removed from the priority list as there is no active process going on to nominate them to the World Heritage List." 
The Department points out that this does not mean that these sites will not be reconsidered at a possible future date and the sites have been placed on a secondary list. The national review process commenced in November last year and was finalised in February this year with the list officially updated by UNESCO in April. 
Of mice and middens
What has also emerged though is that a lack of "ownership" of a site nomination process is only one of many factors that may stymie a site from being officially submitted for further nomination. In some cases, technical and conservation considerations have also been at play. 
John Cooper, research associate of the Centre for Invasion Biology and co-author of "Marion and Prince Edward – Africa's southern islands", says that the Prince Edward islands were withdrawn following an unfavourable site review conducted on behalf of the IUCN (World Conservation Union) – which officially advises UNESCO on such nominations. The concerns cited by the IUCN stemmed from alien species – and in particularly the house mouse (Mus musculus) – that are present on Marion island. Cooper however remains cautiously optimistic, "[w]hen/if the mice are eradicated on Marion it will be time for sub-Antarctic conservationists to lobby for a renomination…". As Cooper notes, although Marion has alien species present, this is not the case with Prince Edward island itself which remains free of alien species threats.   
Marthán Theart, attorney with the Centre for Environmental Rights, also points out that while the Prince Edward Islands and the Alexandria Coastal Dunefields may no longer be considered for UNESCO world heritage inscription, this makes little difference in terms of their legal protected status. 
"… the Prince Edward Islands have been declared a special nature reserve and is therefore protected under National Environmental Management: Protected Areas Act, 2003 (NEMPAA), read with the National Environmental Management Act, 1998 (NEMA). It has also been declared as a Marine Protected Area (MPA) under the Marine Living Resources Act, 1998 which are now regulated in terms of NEMPAA. A section of the Alexandria Dunefields was also declared as part of the Addo Elephant National Park a few years ago and would therefore be protected by the provisions of NEMPAA, read with NEMA."     
 
Theart says that world heritage sites are "protected areas and enjoy the same protection as, among others, National Parks and Special Nature Reserves under NEMPAA". The only caveat here that some sections of the Alexandria Dunefields that do not fall under SANParks jurisdiction may well not be protected unless they have been specifically declared as "protected areas" under NEMPAA. Even if some sections may not be declared as a protected area, any archaeological or other heritage resources, such as intercalated shell middens found in the area will still be protected under the National Heritage Resources Act [NHRA]. 
The Cape Arc of Meridian, says Hannetjie du Preez from Heritage Western Cape, is another site that posed technical challenges given the highly scientific nature of the nomination. The number of state departments involved and the technical and specialist complexities meant that the nomination was just not attainable. She agrees though that there is no reason why nomination at a later date cannot still be pursued should a willing 'lead' department be found to actively drive the nomination process. 
The view from Mpumalanga
Unconfirmed reports suggest that preliminary feedback on Pilgrim's Rest showed that the site nomination would've faced technical difficulties of a different nature – particularly in respect of concerns around site authenticity and integrity. Various scholarly and media reports show that the provincial government has failed to maintain the buildings of the town appropriately (as required by various pieces of legislation including the Government Immovable Asset Management Act as well as the NHRA). In addition, it has been noted that the reduction works are in urgent need of restoration. The reduction works would play a pivotal role in convincing UNESCO of the site's "outstanding universal value" as they are purportedly one of the best preserved Central Reduction Works in the world. In the absence of a clear commitment from the Mpumalanga Provincial Government to pursue a relisting – and meet its conservation and management obligations – there is little chance that Pilgrim's Rest will be relisted in the foreseeable future.   
On the upside though, those involved with the nomination of the "Barberton Mountain Land, Barberton Greenstone Belt or Makhonjwa Mountains" are pleased that the nomination process has been given the go-ahead. This comes after land claims stalled the nomination process for a number of years. According to Tony Ferrar the final nomination process can take years to complete – at least 18 months for the local preparations of the required technical studies and dossiers from where it would be first assessed by national government and, should all proceed according to plan, by the IUCN on behalf of UNESCO. 
Barberton Mountain Land
Disappointment in the Northern Cape
In our first report we noted that the Northern Cape had two sites delisted. Subsequently we have learnt that Wonderwerk Cave is no longer included in what had previously been called the "Pleistocene occupation sites of Klasies River, Border Cave, Wonderwerk Cave and comparable sites relating to the emergence of modern humans". According to Dr. David Morris, Head of Archaeology at the McGregor Museum the removal of Wonderwerk Cave has come as a shock as the Museum had no prior communications regarding the delisting. In fact, he notes, the Museum has continued with its plans to prepare the site for inscription. This includes investments in the construction of a state-of-the-art walkway and specialist research studies. He believes that the Cave actually warrants a standalone nomination (distinct from the Pleistocene occupation sites), 
"The significance of Wonderwerk Cave in terms of world prehistory has increased very dramatically… with documentation of the world's oldest known evidence of habitual use of fire and its being the earliest known use on earth of a cave for habitation by Oldowan-using human ancestors. All of this in fact long predates the emergence of Homo sapiens sapiens so that the site… actually stands on its own as a place worthy of World Heritage inscription in its own right."
Regarding the removal of the "Kimberley Mines and Associated Early Industries" there has long been speculation about De Beers opposing the nomination. As Marj Brown wrote in a research report completed as far back as 2004, 
"Andrew Hall and Derek Schaefer were on a committee that drew up a motivation for the Big Hole to be on the [UNESCO tentative] list. The motivation was not through De Beers and this process caused great friction between personalities in the Department of Arts and Culture and Heritage and De Beers. De Beers claimed Schaefer had no mandate and therefore the Big Hole had been put on the list without De Beers' permission."
At present we do not know what De Beers' official position is regarding the delisting of the site, the Big Hole website however notes that,   
"[The Big Hole] has the potential to become a dynamic World Heritage site of unique and lasting value as part of a holistic initiative involving a range of interest groups. It is an asset, which in time, will form the hub in a wheel of tourism initiatives branching out all over the Northern Cape".
De Beers also has an official policy in place which states that "we respect legally designated Protected Areas and World Heritage Sites". It seems clear though that without a "lead" agency or party driving the relisting and nomination process Kimberley Hole and associated industrial sites stand little chance of being moved from the inactive list.  
Concerns remain
Other concerns remain. These include ongoing problems at existing World Heritage Sites such as has been regularly reported on by the Heritage Portal in respect of Vredefort Dome – as well as the overemphasis placed on World Heritage Sites when Grade I and II sites should receive equal interest from the South African state and its citizens. As one stakeholder told us, heritage restoration has to be paid for with private funds as grading in terms of the NHRA does not ensure funding. This is generally the exception for World Heritage Sites where greater resources are made available by the state to meet its obligations.  
The misalignment between national and provincial/ local actions continues to also raise doubts. As one stakeholder pointed out to us, "Sibudu is on the Tentative List for World Heritage inscription… Simultaneously, the KwaZulu-Natal Department of Economic Development, Tourism and Environmental Affairs authorises a [housing] project that directly threatens the national initiative....". According to media reports a low-income subsidy housing estate will be built within 300 meters of the centre of Sibudu. Sibudu Cave is included on the list of the Pleistocene occupation sites of South Africa. 
  
For Dr. Judy Maguire an overemphasis on the World Heritage List is disconcerting as it is equally important that South Africa also looks at intangible heritage such as dance, story-telling and indigenous skills. She says that skills such as 'spoorsny' and traditional construction techniques such as 'matjieshuise' are at risk of dying out. While South Africa has ratified the Convention for the Safeguarding of Intangible Cultural Heritage, no intangible elements are at present incscribed on the UNESCO list. In fact, many other African states are far ahead of South Africa in this respect. 
Finally, it is easy to dismiss the management of the tentative list as a 'top-down' bureacractic exercise when in fact the World Heritage Convention Act of 1999 explicitly states that "any person may submit a proposal in writing to the Department… for a place in the Republic to be nominated for inclusion on the World Heritage List". As the Modise points out, "the Department of Environmental Affairs does not actively nominate sites but facilitates [nominations]."
Jacques Stoltz is co-founder of the Heritage Monitoring Project and serves on the councils of the Heritage Association of South Africa, the Egoli Heritage Foundation and Better Tourism Africa.
Disclaimer: Any views expressed by individuals and organisations are their own and do not in any way represent the views of The Heritage Portal.