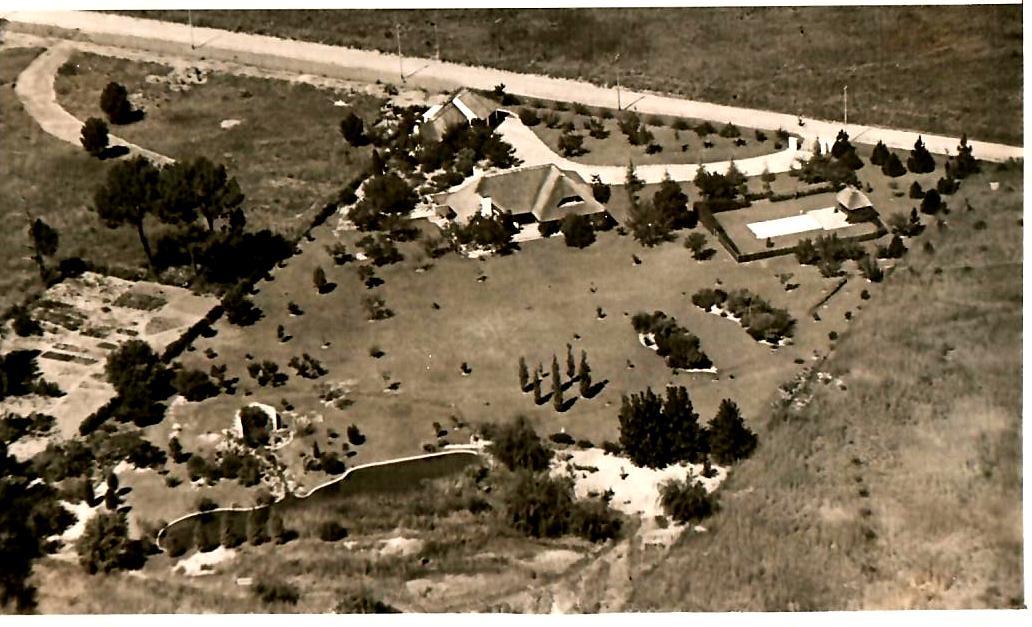 Disclaimer: Any views expressed by individuals and organisations are their own and do not in any way represent the views of The Heritage Portal. If you find any mistakes or historical inaccuracies, please contact the editor.
Monday, March 20, 2023 - 17:16
In 1943 my parents, Kurt and Lorna Hepner, then living in Parktown North, bought a 3 acre stand in Bryanston. The one they chose sloped gently northwards from Mandeville Road and afforded uninterrupted views of the Magaliesberg. It also had the bonus of a well, stream and large pond which teemed with birdlife such as red and yellow bishop birds nesting in the reeds and terrapins and moorhens on the water.
Unfortunately, the estate agent (brother of the well known Anglo American director Sidney Spiro) mistook the stand number and my parents found they'd bought stand number 511 instead of 512. They'd earlier purchased another stand on the other side of Bryanston, and luckily managed to do an exchange.
Steffen Ahrends was commissioned to design their house on Stand 512. My father disliked corridors, so rather than a long passageway with bedrooms opening off it, the house was much more of a square shape. It was positioned in the top eastern corner of the property so that the view down the slope was given maximum effect.
Steffen Ahrends drawing for Ponden House 1943
The roof was thatched and the upper storey displayed typical Ahrends dormer windows. The chimneys were covered with Ahrends' wavy iron cowlings, also one of his design hallmarks. The choice of materials was limited during that wartime period. Most of the floors were parquet and the sitting room polished slasto with open rafters and a wooden staircase winding around in one corner. There were French windows on the northern aspect of the sitting room with a slasto covered verandah. There were four bedrooms (two downstairs and two upstairs) and a bathroom on each level. I believe that the construction cost was £4000, a considerable sum in those days. Construction commenced early in 1944 and was completed in November. The house was given the name Ponden House, after the house in West Yorkshire (reputed to be the Thrushcross Grange of Emily Bronté 's Wuthering Heights) where my maternal grandmother had spent a great deal of her youth with the then owners, the Heaton family. At the driveway entrance were curved whitewashed pillars with wrought iron gates designed and made by Kurt Jobst. The driveway led up to the front of the house from the western side and then turned upwards towards the two garages next to which were the laundry and servants' quarters.
Ponden House Bryanston post and pre 1946
The garden was landscaped by Joane Pim, left quite open with a large area of lawn, trees and shrubs dotted about and two shrubberies. Mowing the lawn was quite a job with the heavy Atco roller mower (before the days of rotary mowers). In the winter tender shrubs would be covered in grass 'wigwams' to protect them from frost.
Near to the house was a huge lightning conductor; a thatched roof was risky, especially when our property was surrounded on three sides by open veld. My father spent a great deal of time cutting firebreaks along these borders. Many thatched and shingle roofed houses had gone up in flames and this worried my mother in particular.
Ponden House in 1950
Ponden House in colour in 1951
Eventually in 1954 my parents changed the roof to Broseley tile and made other substantial alterations. These were designed by Erich Mauthner, who had arrived from Vienna in the mid 30s. In doing this, the house lost its special Ahrends charm, Mauthner being less romantic and more prosaic in his designs. He had in 1950 designed a 'Garden House', detached from the main house, consisting of a playroom for us 3 children, a guest room with bathroom, new laundry and workshop cum store room.
Bryanston in the 40s and even 50s was out in the bundu. For friends visiting us from town, Hillbrow or the northern suburbs such as Craighall or Parktown North, it was a venture into the unknown. Homestead Avenue was only tarred in 1950. Mandeville Road was corrugated, dusty and rutted. After heavy rain or a thunderstorm large dongas would appear which made driving tricky, Wildlife abounded especially snakes… sneaky nightadders and aggressive rinkhals which gave rise to my lifelong fear of snakes. There was no phone until 1947 and to make contact with the outside world, one would have to drive the half mile to the telephone at the SA Townships Estate Office in Homestead Avenue where the resident engineer, Harold Cox lived and worked. On one occasion in 1946, my mother was returning from there in her somewhat decrepit 1934 Morris 8; making her way down the driveway, the brakes failed and the car shot across Homestead Avenue, lodging itself in a large prickly pear. She abandoned the car and walked home. One can imagine my father's horror when returning from his office in the centre of Johannesburg and coming across this scene. Very soon after this, a brand new black Ford Anglia appeared! How my father managed this is a mystery as new cars were almost impossible to obtain in that post-war period; perhaps his acquaintance with Ernst Eriksen, a Ford dealer, helped.
Bust of Ernst Eriksen at Norscot Manor
Old photo of Norscot Manor, the Eriksen home
Although the basic structure of the upper storey with concrete slab was built with the original house, the windows were boarded up and it wasn't completed until 1946 because of materials shortages.
Ahrends also designed the original Bryanston Country Club buildings in around 1949/50. With a steep shingled roof and graceful arches over the covered patio areas, it was a most elegant building. Unfortunately it burnt down in August 1953 and although the basic floor plan remained when it was rebuilt, the new roof was low pitched and covered in corrugated iron, far more mundane. Even this burnt down again in 1976!
Steffen Ahrends was certainly in vogue as a domestic architect in Johannesburg during the 40s, 50s and 60s and one could generally recognise his familiar style of dormer windows and wavy chimney cowls. It's a pity that many of them have now disappeared and others have either been altered out of recognition or hidden away behind huge walls.
I can't now recall the many Ahrends houses I knew by sight around the northern suburbs, but one in particular which I came to know well was Putivl (named after the town in Ukraine where Kotchka was born) the home of Kotchka and Louiza Vladykin.
Kotchka Vladykin, a mining engineer by profession, came to SA in the 30s and married Louiza van Zwam in 1936, when she was only 17; her father was a diamond merchant from Antwerp. Their daughter Nadya was born in 1937 and in 1959 married Harvey Douglas, whose family were the original owners of Douglasdale. As far as I recall, Ahrends also designed their house on the farm.  Both Kotchka, who died at an early age in 1969, and Harvey were involved in the family diamond business.
Kotchka Vladykin
Putivl was on the borders of Craighall and Hurlingham, with a long driveway wending its way up from Balmoral Avenue. A sprawling single storey house built in a curve, there were huge indoor and outdoor entertainment areas. I imagine it was built in the late 40s or early 50s.
The Vladykin home (SA Garden and Home)
Rand Hunt at the Vladykin home
I met their son Yvan (born in 1944) at Wits when we started there in 1962 and we became great friends, so I spent a lot of time at Putivl. Tragically, Yvan was killed in a car accident in Homestead Avenue, Bryanston, on his way to a party at our house in June 1963. The Vladykins also commissioned Ahrends to build their new seaside house, Teremok, at Umhlanga Rocks in the early 60s - this in his later modern style. It's now a boutique hotel.
Teremok, Umhlanga Rocks
The Vladykins sold Putivl in the mid 60s, to Nico Marincowitz (who renamed the house Arinda) and then retired to Umhlanga Rocks. The land on which Putivl was situated must have extended to some 15 acres and is now covered in a multitude of houses.
About the author: john was raised in Johannesburg and completed an Economic History degree at Wits in 1964. He went on to study typography and spent several years at Penrose Press working his way up to become Production Director. Today, he is the owner of Mitchells Printing.