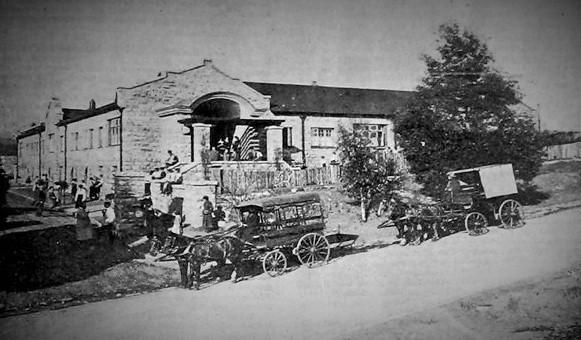 Tuesday, September 20, 2016 - 06:12
The late Trevor Pengelly wrote extensively about Killarney, Greenside and other Johannesburg suburbs over the years. In the article below he describes his memories of the once famous Killarney Film Studios (The Killarney Mall occupies the site today).
Let's see now, I turned professional in 1949. It was an interesting year. After my triumph on stage at the end of '48 as Archangel Gabriel when I announced that "unto us in the City of David, is born a king and he shall be called 'Emanuel'" earning money seemed logical.
I was quite a star too, for the film studio would call me out of school and drive me off in a limousine to do my pictures, much to the astonishment of my pals. The reason for the limo was because the tram did not go across town. Not many families had cars let alone a chauffer driven limo.
My sister and I arrived at Killarney, after a drive down a beautiful avenue called Riviera Road stretching from the magnificent war museum at the Zoo and sweeping through to Houghton. Most of the flats were still to be built and it was a very pleasant tree lined street, compared to now. The building itself was in undressed stone and the detail of the façade made it really attractive.
Old photo of the Killarney Film Studios (source unknown)
Filming began down the left hand lane where they had parked an old 1938 Plymouth. Beside the car a blanket with a cane picnic basket was laid out beside a rural stream with grassy bank and willows dipping their branches into the water.
We were introduced to our 'mummy and daddy' who did not look anything like our real ones. In fact the whole thing was a fraud. Where was the braai if we were really going to have a picnic and even the cane basket held nothing!
'Right', the director told us, we are shooting a film for Delco Batteries. You have just finished a picnic and get into the car. 'Act like you are full after the meal.' That was a weird thing to say and I am still trying to imagine how you act full.
Once in the car the 'daddy' tried to start it …' what you need is a Delco battery' the advert screamed. They were worried about pulling the real starter in case the shake would be detected on screen so they kept pulling the light switch.
Anyway, after numerous takes from this massive camera, they were happy, and then came the moment while we stood around as 'daddy' proceeded to crank the engine, with this extremely long crank handle, amid lots of discussion: but they needn't have gone to all that trouble, when they actually came to start the engine, the battery was as dead as a doornail.
That was my first assignment as a professional actor and afterwards we all trooped into the front left side office and received our fee, which consisted of a brand new ten shilling note and a very bright sixpence. This amount was called 'half a guinea', and in today's money would be one Rand and five cents. This routine never varied.
The Killarney Mall occupies the site today (Google Maps)
I do not recall all of the ads I made but I would say there were about half a dozen. There was one for Edworks shoes and consisted of me, cleverly disguised as a schoolboy, shuffling my feet along the dirt on the right hand driveway running down past the film stage. Again the limo picked me up from school and I spent an hour or so up and down the pathway.
Next day my mom was on the phone complaining that my sole had come adrift as a result of their filming and my shoes were ruined. She was most gratified when they gave me a new pair of shoes – Edworks of course.
The reason why I was the 'film ad kid' was because my father worked there. Before the Second World War he worked for Gaumont British and during hostilities was part of the home information office touring England with films telling people what to do during wartime. Later he went out to Colombo in Sri Lanka to oversee the processing of reconnaissance aircraft film. While living there he was propositioned by John Slazenger [Schlesinger?], along with a few others, to come to South Africa where a bright future awaited the film industry. Many years later I met one of these people in Parkview and had a long and interesting chat that corroborated what I had heard. When my father arrived in the country he was told there was no job for him and all that John had offered was an interview, so he went back to Gaumont who were making mine safety films and were contractually obliged to reemploy him. Shortly thereafter he was offered a job at Killarney as a film editor and jumped at the idea.
I remember watching him work on this stainless steel table with the screen before him and winding wheels. He would crank the film through and come to a point where he would slowly wind back and forward until he reached the point to cut. Snap would go the gate and the piece would come out. On he went to the next point, film wound around his neck, and another snap. Touch of glue and on to the next point. Much later I saw almost the identical machine at Mimosa Studios. Things have not really changed much, until the digital revolution that is.
One film ad was different. There was a mummy and dad who could have been the same people used for the Delco ad. Dad stood up and said "Raspberry" next popped up mom saying "strawberry" and I had the longest speaking part for I said … "and blackcurrant". It was for Kilty Sweets which have long since disappeared.
When I went to fetch my pay the note was blue not brown and I was given a whole shilling. "Wow this is double." I said. "That's because it was talking and in colour." came back the answer. This was indeed generous as fees were minimal in those days. I met a man called Jimmy Roscoe many years later who told me that he had done a song for a show called 'Hospital Time' on Springbok Radio, and this tune was flighted daily for decades on the radio. He claimed it was a world record. All he got for his effort was six Guineas or twelve Rand sixty and no repeat payments. My father too was asked to write film ads for about the same fee. 'Knock them out' he was told.
During my time at Killarney Studios, after my assignment was finished I was able to wander quite freely around the grounds. My favourite spot was when Bill Bell was doing make up. He once put a whole beard on a fellow's face, piece by piece. Comb the strands out, select a small tuft, paint the glue and stick. It was an astonishing transformation.
Another time I watched the tense drama of filming a scene for a real movie at the back of the main building from the heights of Bills office. I had been warned not to go near by the loud speakers. "Cry the Beloved Country" was around at that time and on people's lips, but I am not sure if it was indeed that famous film.
Another time I wandered through the film stage and was surprised to find the 'library' consisted of blocks of painted wood. It looked so real. In another corner some fellows were trying to film an orb of the world. Difficulty was to hide how it was being suspended and how to maintain a regular spin. All this was fascinating to a boy of ten.
My last ad was 'on location' at a house on the flank of Northcliff. Here I had my two little brothers along with me – really! And they were the stars of the show as well. The advert was for Bakers Biscuits and later, for a change, we saw the finished article.
A newspaper headline shot out of the screen warning of dangerous criminals breaking into houses. Here were these two cute little boys peering through the window at a party in progress. They had come to steal the biscuits of course. As in my first film they did not know they were acting in an advert, so when one of the staff said 'come in and help yourself' they did that with great gusto, from the huge box of Bakers carefully set at their height. Even today the Bakers format has changed little and I always get a spurt of memory when their ad comes on.
What I do remember as we danced up and down to represent the party, was the lighting. I think they had no less than six proper arc lights burning carbon like a welder, and boy did that heat up the place. I think they used 8 ASA film to give the celluloid enough density to show on a large screen.
Shortly after that I abandoned my career as a professional actor at ten years of age for a number of reasons, but also because my father moved on from the studio. The filming mecca never took off as planned and a number of trained people were lost to the industry at that time.
Acting and theatre has remained in my blood, with plenty of exploits at school and university in singing and acting.
And as I drive out of the car park at Killarney shopping centre, now on the site of that lovely building, I realise that all that money I made would probably give me about 4 hours parking.
Disclaimer: Any views expressed by individuals and organisations are their own and do not in any way represent the views of The Heritage Portal.