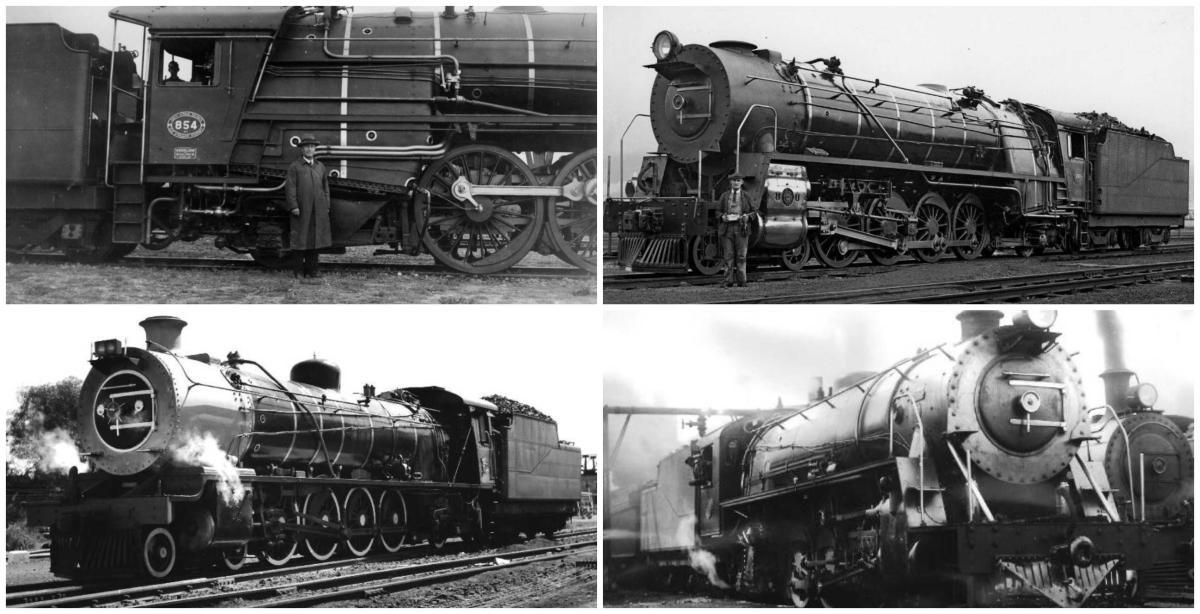 Disclaimer: Any views expressed by individuals and organisations are their own and do not in any way represent the views of The Heritage Portal. If you find any mistakes or historical inaccuracies, please contact the editor.
Thursday, October 20, 2022 - 09:21
Inspired by the series on the 'Pioneer Civil Engineers who contributed to the growth and Wealth of South Africa' (click here to read), I feel that it is worth mentioning that the South African Railways & Harbours employed several Mechanical Engineers who distinguished themselves by designing railway locomotives, passenger coaches, dining cars etc., of the highest calibre – equal to anything similar worldwide.
All of this was achieved on what is, in world terms, a narrow gauge railway operating on a gauge of 3ft 6in. Even more remarkable is the fact that the SAR's locomotives were larger and considerably more powerful than those operating in, for example, the United Kingdom. The SAR's coaching stock was also considerably wider than those in use in the UK.
But, even before their time, the pre-Union railways had very capable mechanical engineers who distinguished themselves in the field of mechanical engineering. Amongst those were:
Cape Government Railways: Mr.H.M. Beatty – Chief Locomotive Superintendent.
Natal Government Railways: Messrs.: W.M. Milne; G.W. Reid and D.A. Hendrie all successively in the post of Chief Locomotive Superintendent involved with the design of steam locomotives.
Central South African Railways: (covering the Transvaal and OFS): Messrs.: P.A. Hyde and G.G.Elliott were successively appointed to the new post of Chief Mechanical Engineer – 1902 – 1910. 
Of the three pre-Union Colonial Railways, the last mentioned – CSAR – was by far the most advanced in mechanical Engineering. Hyde and Elliott designed steam locomotives and passenger coaches of far superior design which could comfortably rate as world class.
The Central South African Railways 1902-1910
The Central South African Railways came into being in 1902 and took over all rail operations in the Transvaal and Orange Free State. The previous Nederlandsche Zuid-Afrikaansche Spoorweg-Maatschappij (NZASM) in the Transvaal was equipped with basically unsuitable locomotives and rolling stock because the Continental suppliers of railway equipment to the Transvaal Republic, regarded any narrow-gauge railway as a secondary system which didn't require locomotives and rolling stock suitable for main line operation. The CSAR immediately got to work to rectify this poor situation. By 1904, within only two years, they had already revolutionised the locomotive and carriage scene, in terms of equipment imported from the UK. The Johannesburg – Cape Town service was now provided by coaches suitable for long-distance travel on trains known as the Imperial Mail southbound and the African Express northbound – conveying 1st class only in comfort.
The Limited Express which was also introduced to traffic in 1904 between Johannesburg and Pretoria consisted of chocolate and cream liveried coaches of ultra-modern design. The train consisted of 1st and 2nd class only coaches with a buffet car and parlour car included in the make-up of the train. The train was hauled by modern 4-6-2 Pacific locomotives known as the 10th class. These engines covered the journey between Pretoria and Johannesburg in just under 1 & ¾ hours which included 4 stops en-route.
Class 10 Pacific photographed in SAR service at Springs Loco Depot
CSAR Limited Express Parlour Car new in 1904 (Les Pivnic Collection)
CSAR Parlour Car for Limited Express in 1904 (Les Pivnic Collection)
South African Railways 1910-1981
At the start, I need to highlight a very important aspect of SAR locomotive and coach design. The SAR built a number of its steam locomotives in its own Mechanical Workshops of which there were 7 major Depots throughout South Africa. However, the SAR found it more economical to design the locomotives locally in Pretoria and have them built overseas by specialist locomotive builders. Regarding coaches and goods wagons, some were ordered from overseas builders, but the SAR built a large proportion of its coach and wagon rolling stock in its own Workshops.
The class 15A was designed by the SAR's Chief Mechanical Engineer – Mr. D.A. Hendrie (CME 1910 – 1922). 119 engines of this class were placed in service between 1913 and 1921. They provided the backbone of steam power on the Cape Main Line for 20 odd years and thereafter, continued to provide very useful service in the Transvaal, OFS and Eastern Cape.
Class 15a Engine (Les Pivnic Collection)

Mr. D. A .Hendrie also introduced a number of other very efficient steam locomotive types, for work on heavy coal haulage from Witbank to the Reef – classes 12 and 12A; the class 16, 16B and 16C for main line passenger service especially in the Transvaal and OFS. He also expanded on the earlier work by Messrs Hyde and Elliott of the CSAR and designed the giant class MH Mallet-type engines for heavy goods working.
Giant class MH Mallet-type engines
In December 1924, the Administration placed an order for four experimental locomotives with the Baldwin Locomotive Works in the USA. Two were 'Mountain' 4-8-2 type engines – class 15CB and the other two were 'Pacific' 4-6-2 type engines – class 16D, for the lighter-graded sections of the Cape Main Line. These engines entered service in 1925 and they represented a valuable return to American locomotive practice. I say valuable because working conditions in South Africa were very similar to those in the USA. 
'Mountain' 4-8-2 type engines – class 15CB
'Pacific' 4-6-2 type engines – class 16D
After the success of the four experimental locomotives, an additional 10 engines of class 15CB and 5 of class 16D were placed in service. The 15CBs worked between Cape Town and Beaufort West and class 16D - entered service between Beaufort West and Johannesburg. On August 13, 1925, engine no.860 (depicted in the photo above) created a world record in hauling the 'Union Limited' Express from Johannesburg single-handed all the way to Cape Town in 29 hours! This was a world record distance for a single locomotive – 956 miles! In fact, it was later made known that the 29 hours running time could have been further reduced. In 1925, the train would normally be worked by 4 or 5 engines during the course of its journey to the Cape from Johannesburg.
Class 16Ds were soon nick-named 'Big Bertha' and the 15CBs 'Big Bills'
The 15CBs and 16Ds entered service when Col. F. R. Collins was the CME – 1922 -1928 which was quite a feather in his cap for reasons already explained but he was also responsible for favouring Garratt-type locomotives – especially for branch line service. Several types entered service during his term as CME and this would also prove over time, to be a very wise decision. The Garratt-type locomotive (especially later classes) proved to be a valuable asset to SAR steam power in the years that followed.
His pinnacle in Garratt locomotives was undoubtedly the class GL 4-8-2 + 2-8-4 Garratt which was one of the most powerful engines of its type, in the world. Eight of these monsters were placed in service in Natal for heavy main line work in 1929.
Class GL 4-8-2 + 2-8-4 Garratt
Col. Collins was followed by Allan G. Watson – CME 1929 – 1936.  Mr. Watson designed several engine types which would lay the foundation for truly South African-designed steam locomotives which would guide his successors for many years to come. He also achieved another major milestone in SAR steam locomotive design – he designed a whole set of standardized boilers which would prolong the working lives of many older steam loco types - some introduced as early as 1910. This also provided a massive reduction in the number of spares that needed to be carried in the workshops for the older boilers.
Typical reboilered locomotive types fitted with standard 'Watson' boilers were the classes 15AR (top) and 16CR (below) – two Hendrie-designed engines that had their working lives extended with the new boilers.
Mr. Watson designed the class 15E of which 44 engines entered service in 1935/7. They worked the Cape Main Line between Cape Town and De Aar. In later years they saw service in the OFS operating between Bethlehem and Bloemfontein and Kroonstad.
Class 15E
Mr. Watson with his famous express passenger engine type, the class 16E of which six were placed in service in 1935 for service between Johannesburg – Kimberley and Beaufort West, hauling the famous 'Union Limited' 1st class only express passenger train – the forerunner of the 'Blue Train'. The class 16E was one of the fastest steam locomotive types in the world, on 3ft 6in gauge.
Class 16E No 854 – leader of the class photographed in Kimberley in later years when they were stationed in Bloemfontein
Mr.Watson's achievements were by no means confined to designing steam locomotives. He modernised main line coach design as well as a new type of dining car that would prove to be the basis for all future dining car types on the SAR.
Apart from special articulated coaches in use on the Union Limited Express, this was the previous standard type of main line sleeping saloon in use by the SAR with open balconies and a split narrow corridor. In inclement weather, passengers proceeding to the dining car had to use these open balconies to pass from one coach to the next with almost no protection from the weather!
In 1933/4 new Watson-designed main line passenger coaches started to replace the old balcony saloons – especially on the top-link long-distance services. These new coaches had straight wider corridors for the full length of the coach as well as closed vestibules with concertina-connections that provided total protection between coaches. This pattern again proved to the accepted standard for all future main line coach designs on the SAR.
The new coach design mounted on 'Watson' bogies
A.G. Watson also introduced his famous dining car design in 1933 which also proved to be the basis for all future dining car designs on the SAR. This dining car, named 'PROTEA', also introduced a new colour scheme of blue and cream which in due course, would be adopted for the livery of the Union Limited Express.
'PROTEA' Dining Car
Mr. Watson's staff in the engineering design office had this to say when he retired on pension in 1936:
Mr. Watson went on leave, prior to pension, in March 1936 and the SAR lost an extremely courageous, able and successful designer of steam locomotives and coaching stock including dining cars. He was held in high esteem by his colleagues who had been associated with him when he served as the Chief Mechanical Engineer.
Mr. A. G. Watson, CME SAR 1929-1936
Click here to read about more great engineers in Part 2.
About the author: Les was born in a private house in Brixton on July 7, 1935. He attended Twist Street Primary School from 1946 to 1948, after returning from Durban where he spent 3 years during World War II attending Addington Primary School when his dad was in the Army. He attended Parktown High and after that, he started his working life for the CNA in their Fancy Goods Department. Les then trained as a window dresser with Jacoby & Co in Kerk Street where he remained for 15 years of his working life. All this time, his heart was in railways and he had made a private study of the SAR's steam locomotives and other rolling stock - especially dining cars. This led to an invitation from the SA Railway Administration to join the SA Railway Museum as Assistant Curator in July 1972. He was overjoyed at this development and remained in their employment for the remaining part of his working life. During this time, SA Transport Services published his book on the history of all catering vehicles used on the SAR - dining/kitchen/lounge cars etc. He was boarded on pension in 1989.