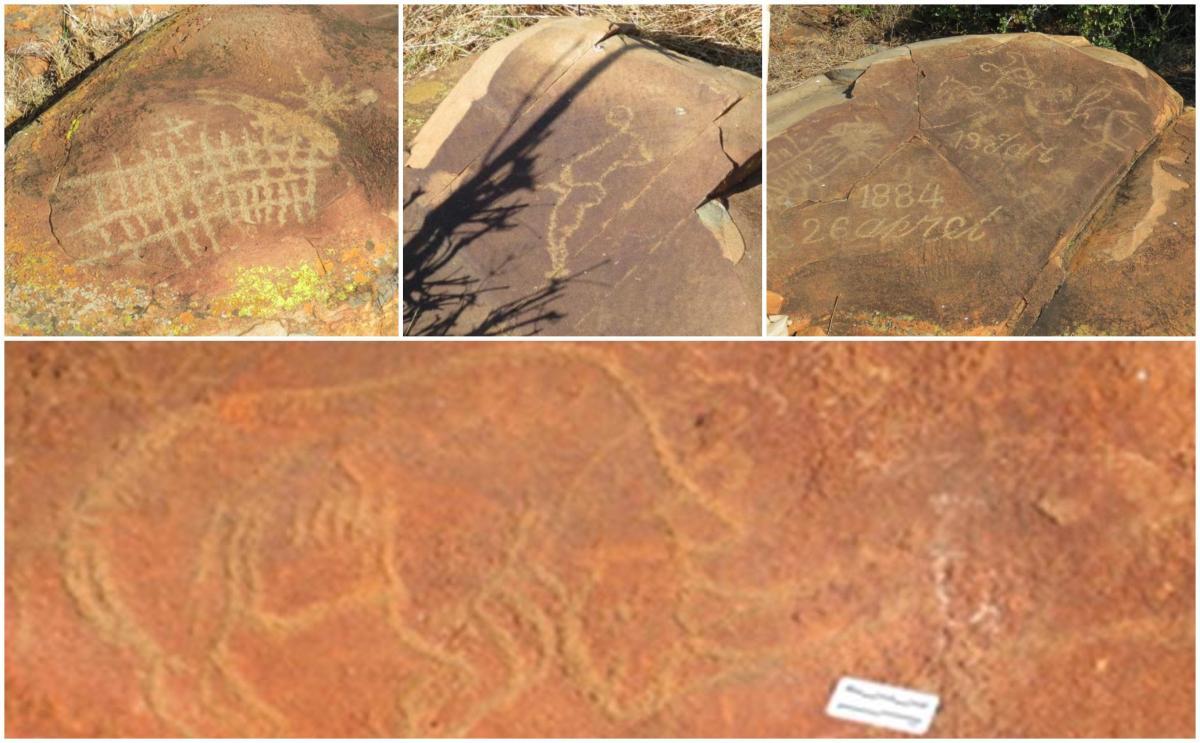 Disclaimer: Any views expressed by individuals and organisations are their own and do not in any way represent the views of The Heritage Portal. If you find any mistakes or historical inaccuracies, please contact the editor.
Monday, July 17, 2023 - 22:36
Twenty-five enthusiastic members and 'friends' of ArchSoc braved the late Autumn and early morning chill for the outing to the rock engravings at Bosworth farm and the adjoining Doornhoek farm, 10 kilometres north of Klerksdorp.
Arriving in convoy at Bosworth, we were welcomed by Ms Lynette Boardman and Dr At Lamprecht, our guides for the day. Just over 600 rock engravings have been located on this low hill on the farm, in an area of approximately 63 000 m2.
Lynette Boardman briefing us on the Bosworth rock engraving site
Rock engravings are mostly found on the interior plateau of South Africa, often near water courses. Similarly, the area around Bosworth and Doornhoek is well watered. There are some wetlands below the hillock, and the Schoonspruit flows through nearby Klerksdorp to its confluence with the Vaal River, 30 kilometres to the south.
There are two types of rock engravings to be found at Bosworth and Doornhoek. The first group comprises finely engraved or 'pecked' images of animals and human-like images, attributed to San artists.
The second group consists of geometric patterns more coarsely 'scratched' onto the rocks. These are attributed to Khoekhoen herders. The Khoekhoen migrated into present-day South Africa about 1 800 years ago, following the major waterways. Among the people who count Khoekhoen among their ancestors are today's Griqua, Korana and Nama groups. The geometric images include parallel lines, meanders, grids, U-shapes, zigzags, stars and dots.
Geometric image, most likely of Khoekhoen origin
According to David Lewis-Williams and Geoffrey Blundell, most of the engravings at Bosworth and Doornhoek consist of geometrics images, followed in numbers by those of animals and lastly, by human figures.
Engraving of an elephant, unfortunately partly obscured by shadows of the undergrowth.
More than 24 animal species are represented in the engravings: including, antelope, baboon, birds, buffalo, eland, elephant, hartebeest, hippo, ostrich, rhino, wildebeest and zebra.
Perhaps the high point of the outing was the opportunity to see the famous engraving of the charging rhinoceros.
Engraving of the charging rhinoceros
Enhancement of the charging rhinoceros with a faded engraving adjacent to it

Ms Boardman and Dr Lamprecht intend to use a handheld camera to take photographs of each of the rocks with engravings on them. These photographs will then be published online in 2D and 3D formats along with software tools to enhance the engravings that have faded.
Incidentally, Sven Ouzman argues that San people regarded the rhinoceros as an especially potent animal because of its layer of fat under its thick hide. Apparently, many San communities believed this fat contained a powerful supernatural essence.
Engravings of eland juxtaposed with human-like figure and dots

There are more than 40 human or human-like images engraved on the rocks here. Images of humans are rarely seen at most rock engraving sites, so it was a bonus for us to view some on this outing.
Engraving of a human phallus figure
Some of the 19th-century settlers in the area apparently felt compelled to leave evidence of their visits to this site. The oldest of such graffiti dates to 1884.
More modern examples of engravings or graffiti at Bosworth

Third-generation farm owner of Bosworth, Dr Neil Orford had kindly arranged for lanes to be trimmed through the knee-high undergrowth, which greatly eased our access to the rock engravings and the thousands of stone tools scattered about.
These stone tools confirm that this must have been a favoured hunting and stone tool manufacturing site of Early, Middle and Later Stone Age hunters. The stone tools are estimated to be between 500 and 1.5 million years old.
The recent development of Light Detection and Ranging (LiDAR) technology has opened exciting new avenues for exploring archaeological sites covered by dense veld grasses and undergrowth. This technology allows one to digitally strip the vegetation away and view the ground with its artefacts in the natural habitat in 3D perspective. Ms Boardman and Dr Lamprecht will be using a LiDAR sensor mounted on a drone to measure and map the engraved rocks on this site that might otherwise remain hidden by the dense grass and undergrowth.
It is therefore quite possible that not all the images at Bosworth and Doornhoek have yet been recorded.
Following this exciting exploration of the Bosworth/Doornhoek hillock, we returned to the 100-year-old farmhouse where we were joined by Dr Neil Orford on the lawns for a most pleasant picnic lunch.
Dr JH Orford, grandfather of the present owner, acquired Bosworth Farm in the early years of the 20th century. JH was born in Market Bosworth, the nearest town to the famous 15th century site of the Battle of Bosworth Field, where Richard III, last English king of the House of Plantagenet was killed.
JH arrived in South Africa during the Anglo Boer War as a medical doctor to one of the flying columns in the Cape and was subsequently based at No. 3 Stationary Hospital, Kroonstad, where he treated the later Minister of Finance, NC Havenga, who had been seriously wounded during the closing stages of this war.
After briefly returning to the UK, he emigrated to South Africa and while practising as district surgeon at Klerksdorp, acquired this farm, which he named 'Bosworth'. Although he initially used this farm for recreational hunting and fly-fishing, it subsequently became well known as a prize-winning stud farm for Essex cattle.
The rock engravings at Bosworth were accorded National Monument status by the Commission for the Preservation of Natural and Historical Monuments in 1941. At this time only 102 monuments across South Africa had been declared. Of these monuments, only three sites contained rock engravings, namely the glaciated rock formations at Nooitgedacht near Kimberley and the rock engravings at Stowlands Farm as well as here at Bosworth Farm.
Lynette Boardman completed her MSc dissertation at the North-West University in 2022 under the title: The application of GIS and distance observation technology in the 3D modelling of rock art: Bosworth Farm case study. Lynette is also the project leader to develop a comprehensive database of the Bosworth rock engraving site.
SJ De Klerk held many senior positions in HR during a distinguished career in the private sector. Since retiring he has dedicated time and resources to researching, exploring and writing about South African history.