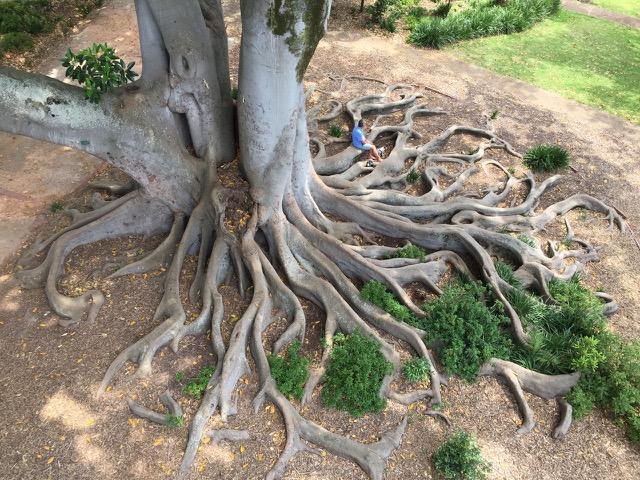 Monday, February 22, 2021 - 18:14
In 2020 Arderne Gardens turned 175. This wonderful, 4.5 hectare arboretum in Claremont, Cape Town, is filled with trees of great girth and height, together with plants from all over the world, some over 100 years old. For many decades wedding parties have posed for photographs under the great Moreton Bay Fig with its enormous surface root system spreading in all directions like a nest of huge Boa Constrictors. This mighty tree is known throughout Cape Town as The Wedding Tree. The Gardens are a picnickers' paradise. They are flourishing today as a result of a private citizens' initiative [Friends of Arderne Gardens or FOTAG], which ensured this urban treasure island would revive, survive and continue to offer great public pleasure after one of several periods of neglect and decay. But let's go back to the beginning.
The Wedding Tree (Clare Gibbon)
Roots like cobras (Clare Gibbon)
Ralph Henry Arderne arrived in Cape Town from England in 1830 to start a second life. His first wife and infant had died in childbirth. His business had foundered. He was disillusioned by his church. He was on his way to Australia, but found Cape Town pleasant enough to remain when his ship sailed. He established a cabinet making, hardware and timber trading business and became prosperous enough to buy land, and, with his loving and supportive second wife Joanna, née Allsopp, provide a large family of nine children with middle-class comforts and opportunities. He was also able to pursue his Cheshire childhood vision of cultivating his own beautiful garden.
Ralph Henry Arderne
In October 1845, Arderne bought 6.5 morgen of land for 750 pounds from the Stellenberg Estate just across the road from his Claremont dwelling. Soon afterwards, Arderne, bargaining with the Captain of a ship that was selling him timber from the orient, bought from the hard-negotiating captain, a sapling Norfolk Pine for the then very large sum of five pounds. Thereafter he let it be known among the marine trading fraternity that he would buy foreign plants, seeds and saplings to enhance his garden. Botanic pollution was hardly considered at the time. That same evening (in 1847), wife and children accompanied Arderne across the road to find a place for the first tree in what became a huge collection of exotics from all over the world. Throughout its life the Pine was carefully tended, growing finally to a height of 140 feet which made it one of the tallest such trees outside Australasia. 
Eventually in 1853, Arderne's family moved across the road to occupy their newly-built house named The Hill, adjacent to the kingpin Norfolk Pine. Over time other trees would be planted: a Monkey Puzzle from Chile; Monterey Cyprus from California; a Ginkgo tree from China. Seeds and bulbs from Kew Gardens contributed to the growing garden. First son, Henry Mathew Arderne, managed the Gardens after his father died in 1885. He visited many of the world's established gardens, returning to enrich the Arderne property with extensive knowledge, saplings and crates of plants and seeds. He welcomed visitors to the Garden which grew in popularity and repute.
Unfortunately in 1914, not without a certain spookiness, we learn of the family's financial woes and Henry's death in the same year that the original Norfolk Pine faded and succumbed.
After the loss of Henry, the Arboretum fell into neglect and decay. In 1928 Mr van den Houten, director of Parks and Gardens, ensured that a 4.5 hectare extent of the gardens was registered to Cape Town City Council. These gardens were officially named The Claremont Gardens in 1961 and became a Provincial Heritage Site in 1979, but notwithstanding the Council's attention, the gardens did not thrive. They developed a reputation for neglect, litter and crime and thus became a beautiful venue shunned, rather than visited. Were it not for FOTAG, which supported the Gardens from 2003, Cape Town would have experienced a quiet, creeping tragedy as the Gardens became completely neglected and to all intents and purposes, lost.
Archival photo of the Arderne Gardens
General view in the Gardens
FOTAG member and gardens historian, Hank Lith, writes: 'After 1945 until the end of Schelten's (Cape Town, official horticulturalist) curatorship in 1959, I believe that the gardens were well maintained, much used and loved. There are many anecdotal stories of the gardens being safely and happily used by all sections of the nearby population in the 1940s, 50s and 60s.'
From 1965 to 1980 the Gardens suffered from a 'loss of audience' as the cruelties of Group Areas Legislation and removals, began to bite.    
After 20 largely bleak years, The Friends of Arderne Gardens (FOTAG) came into being in 2003. Working with the City Council this led to the organization and managing of a renaissance period that resulted in the physical transformation and greatly-improved Gardens safety, that visitors experience today. FOTAG's inaugural meeting was held in September 2003, in October, the first committee meeting was held. Today, Arderne Gardens thrives under the capable stewardship of a team of horticultural, engineering, and landscape expert volunteers. FOTAG is a wonderful example of a public/private partnership committed to the guardianship and development of urban heritage
Along with many innovations, FOTAG has published an illustrated, colour pamphlet providing visitors with a pathway map of the gardens and pinpointing the location of twenty major trees. The featured Norfolk Island Pine is a descendant of the original. Ramblers may visit a Swamp Cypress from North America; a California Redwood; a Camphor Laurel tree from China and Japan; a Turkey Oak. Sadly, recently, Champion Tree number 6, the Cork Oak from the Mediterranean, keeled over in the ponds behind. FOTAG is involved in an experimental, on-going operation to try and ensure the survival of this this great tree. It is touch and go whether this will be successful.
Norfolk Island Pine in 2021 (Clare Gibbon)
Shade cloth rescue for Cork Oak
In the FOTAG map, twenty listed trees carry a helpful description: of the Champion Queensland Kauri, the following is written:
[Over 100 years old]…This huge slow-growing, cone-bearing tree can attain 60 metres in height, producing a valuable knot-free timber full of long-lasting resin. The waxy leaves, long-lived up to ten years are sickle shaped and dark green. The cones, containing winged seeds are likened by the Hawaiians to a tennis ball. The exuded resin of some species is harvested as copal and used for varnish. Fossilised gum from one of these fossil species is Baltic Amber. Jet is polished fossil wood from yet another species . . .Another specimen is to be sene along Campground Rd. (Rondebosch)
FOTAG continues to make changes and improvements: botanical name plates for the trees, the revival of an old wetland and explanatory story boards all help visitors enjoy their visit. 
Arderne Gardens contains six Champion Trees (including one fallen one!), hosting the largest collection of such designated trees in South Africa. These worthy-of-protection trees, are, as specified by the Department of Agriculture, Forestry and Fisheries, deserving of special protection because of their remarkable size, age, aesthetic, cultural or tourist value. They are marked by a star on the pamphlet.
In August 2017, three very special Gingko tree saplings were planted in the Gardens to mark the atomic bombing of Hiroshima in 1945 when 80 000 civilians were instantly incinerated.
Ponds with Japanese bridge
Seeds from trees which survived the blast, have been donated by the Japanese to 32 gardens around the world, all named, as they are at Arderne, Hiroshima Peace gardens. The anti-nuclear war message is abundantly clear. Work is presently being carried out on a Gandhi Memorial garden. No question here, a visit is the only answer! Entrance is free.
Notice board for Ghandi garden (Clare Gibbon)
Address: 222 Main Road, Claremont, Cape Town | GPS Co-ordinates -33.987276, 18.465053 | Opening hours: 8am-6pm daily. Check out the website: ardernegardens.org.za for latest Covid regulations.
The writer was greatly helped by: Clare Gibbon, FOTAG member.
About the author: Mike arrived in Johannesburg as a toddler just before World War II. Johannesburg provided the stimulating backdrop for most of his life. He was well married to Cecily and is proud of a daughter, son and four grandsons. With the benefit of hindsight, he can claim to have pursued three careers which, luckily for him seemed to meld seamlessly one into the other. The first was as a human resource practitioner, the second as a writer of business books, biographical essays and Johannesburg history. He is a widely published poet, a writerly pastime which he still pursues energetically. The third career saw him guiding walk tours all over old Johannesburg. Mike has recently moved to Cape Town where in a fascinating new environment, pursuing a stimulating late-life adventure, he has been able to write occasionally for the Heritage Portal.
References and further reading:
Landscape architect, Hank Lith who compiled a serial history of Arderne Gardens, presented in Cabo, 2018, 2019, 2020, Journal of the Cape Historical Society.
Pamphlet and map published by FOTAG: Discover ancient giants: The Arderne Gardens, Claremont. 2nd edition, 2010
Arderne Tredgold who wrote: The Ardernes & their Garden, A Family Chronicle. Arderne Book Trust Cape Town, 1990.
Disclaimer: Any views expressed by individuals and organisations are their own and do not in any way represent the views of The Heritage Portal.