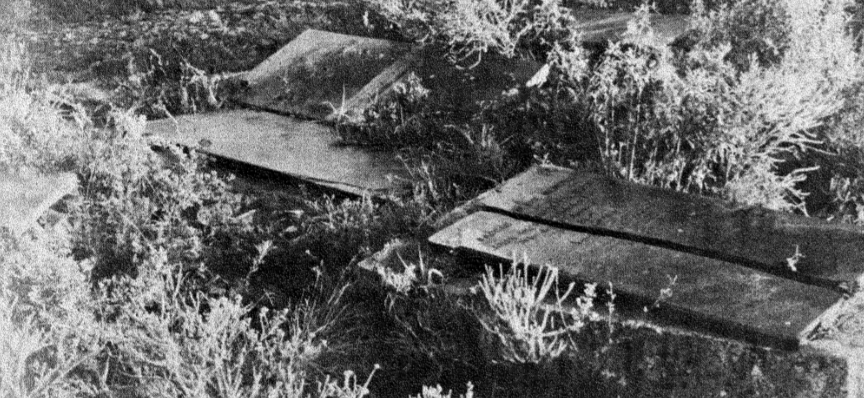 Monday, September 12, 2016 - 15:46
In the following article Patricia Storrar provides a brief history of the Harker graves in Plettenberg Bay. The piece was published in the 1977 edition of Restorica, the journal of the Simon van der Stel Foundation (today the Heritage Association of South Africa). Thank you to the University of Pretoria (copyright holders) for giving us permission to publish.
In the second issue of Restorica an appeal was made for assistance in the task of restoring the oldest graves at Plettenberg Bay, those of six members of the Harker family which lie a few metres to the east of Beacon Way, the main road running out of the town towards Port Elizabeth. The effort to restore these graves to some semblance of order and dignity after more than a century of neglect was made by a small committee of four residents of the Bay and the cost was met by private subscription. A low stone wall now encloses the area, the gravestones (all of slate) now rest securely on concrete slabs and the paths between the stones are neatly covered with stone chips to discourage further encroachment of the bush, grass and creepers which previously obscured the site. 
The six members of the Harker family buried here all lived in the first half of the 19th century and all of them died long before St. Peter's Church (Anglican) was built in 1879-80 in the Village of Formosa. All but two in fact, died before the little yellowwood Church of St. Andrew, Redbourn (declared an Historic Monument in 1963) was built in 1850. It was natural, therefore, that Captain Robert Charles Harker, for twenty-one years Government Resident of Plettenberg Bay, should bury those of his family who predeceased him in the ground of the Residency. It is now Town Council land.
The following is a copy of the explanatory text which, mounted on a notice board, gives in brief the story of those buried here:
Captain Robert Charles Harker, son of General and Mrs Francis Harker of Swinford, Ireland, was Government Resident of Plettenberg Bay from November 1826 to December 1847, when this post was abolished. He was granted a pension and the use of the residency for his lifetime. Prior to his arrival in South Africa Robert Harker served for a total of 20 years in the 96th Regiment and the 15th Regiment (later the East Yorkshire) in England, Jersey, Guernsey, Nova Scotia and Bermuda.
In February 1809 he married Maria Berrick of the City of Cork, Ireland. They had four daughters and three sons when they arrived in Cape Town in December 1823 and two years later a fourth son, John, was born at Woodville, Harker's beautiful farm east of George. A natural son, Henry Adolphus, also given the surname Harker, was born in this same year. Robert soon gave up farming and became a government official at Plettenberg Bay. In addition to being Government Resident, he was also Postmaster and Justice of the Peace. 
At various times he owned land in and around the Bay, including - in partnership with a son-in-law - Doukamma, lying north of Wittedrift. Part of this he renamed Uplands. 
Captain Harker's beloved wife, Maria, died on 18 December 1834 and he buried her in this sequestered corner of the Residency grounds. Over the next quarter of a century he also buried four other members of his family here: his eldest son, Edward Herrick Harker; Edward's wife, Wilhemina (daughter of S H du Toit and Mrs du Toit, of Uitenhage); Maria, infant daughter of Olivia (Harker) and her husband J J Sandenbergh; and lastly his eldest daughter's husband, John Archibald Sinclair. This Scot was the manager and joint proprietor of the "whale fishery" at Plettenberg Bay from 1831 until he died on 29 January 1859.
The grave of Robert Harker's son-in-law, John Archibald Sinclair, a whalerman
Two months later, on 16 March, 1859, Robert Charles Harker died at Harkerville, named after him, and was laid to rest here, next to his Irish-born wife.  
Grave of Robert Charles Harker before Restoration
Disclaimer: Any views expressed by individuals and organisations are their own and do not in any way represent the views of The Heritage Portal.