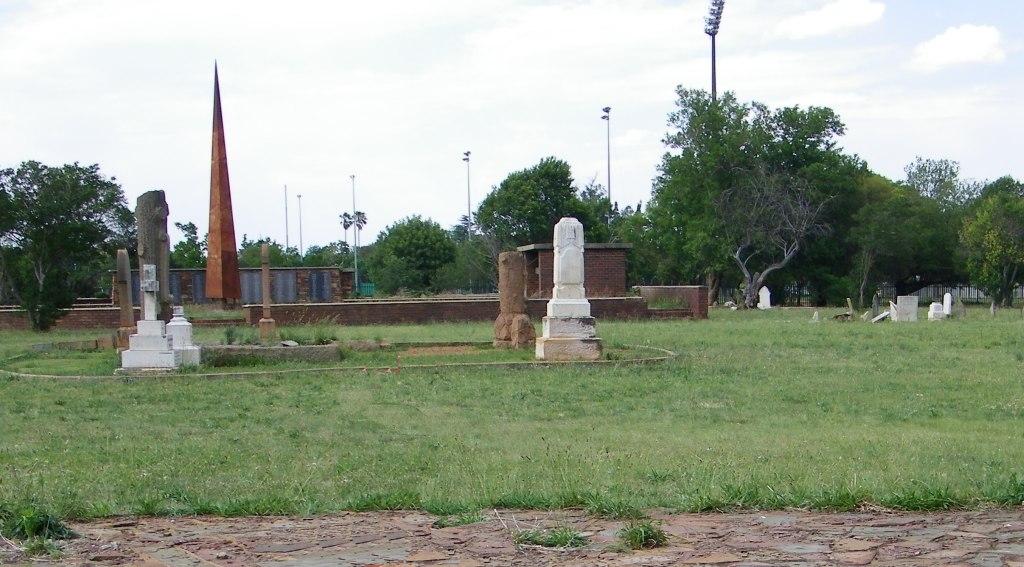 Friday, August 27, 2021 - 16:59
Christian Woite was executed by firing squad in Potchefstroom on the 6 January 1881. That was at the time of the siege of Potchefstroom during the 1st Boer War of 1880/81. It was the British garrison that was besieged by Boer forces.
Who was Christian Woite and how and why did he suffer this fate? Woite was a resident of Potchefstroom and a citizen of the Republic. He lived there with his wife Anna and nine children. Originally he came from Germany.
Christian Woite
He was born in 1838 and came to South Africa in 1862 with his wife Anna and their young son Wilhelm. The passenger list of the San Francisco which sailed from Hamburg to Kaffraria (Port Elizabeth) states that he was on board with his wife and son, that he was a tailor by trade and came from Drachhausen. It is interesting to note that when going through the list they were not the only people from that village. There were 13 names in total. It looks like there was a major exodus from the village of about 1000 inhabitants. What made people from that area flock in large numbers to South Africa?
Drachhausen is a village about 95km South-East of Berlin in the Eastern part of Germany (and 110km from my home town).
On the website of Natal German surnames he is listed as having lived in Natal since 1862. He stayed with his family in New Germany in Pinetown. One has to assume that he earned a living as a tailor. It could have been here, in Natal, that he discovered or developed a sideline as a healer. Around 1875 he and his now larger family moved up country to settle in Potchefstroom.
He became well known and respected as a healer who moved around the farms providing medical advice and, I presume, medicine. Tailoring was also still his business; there is a note in one of the sources that he did make a wedding suit for President M.W. Pretorius. As a side note, it couldn't have been a wedding suit because MW did not get married during the time Woite was in Potchefstroom.
When the trouble started before the 1st Boer War, he and his oldest son attended the burger meeting at Paardekraal on 10 December 1880. It was here that the resolution was passed to declare the Transvaal an independent republic again, free from the colonial British administration.
An old photo of Paardekraal (Wikipedia)
C.W. offered his service to the Republic as a doctor, which was eagerly accepted. But he had different motives; he was loyal to the British colonial administration and in a letter to Major Clark offered to supply them with information regarding the plans and movements of the Boers. This letter was found, either in the hotel room that the Major had occupied or on his person when he surrendered from the besieged court house. The sources differ on that.
The Letter
A  word that could indicate that the author was German speaking is 'undisciplined'. That word doesn't exist in commonly used English, it is derived from the German 'undiszipliniert'.
Subsequently Woite and his oldest son, Wilhelm, were arrested and in a closed trial of the Krygsraad (war council) Christian was found guilty of treason and sentenced to death by firing squad. His son was released as being too young. The sentence was to be carried out immediately with only two hours granted to say goodbye to his family and to make peace with his maker. Reverent Köhler from the Berlin Mission church (who also happened to be his neighbour) prayed with him and prepared him for his unavoidable fate.
The time came and Christian Woite was led to the bank of the Mooiriver where a grave had already been dug. The firing squad of eight burgers had been assembled, Rev Köhler saying the last prayer, it was soon over.
In the room he had spent his last hours he had scratched an inscription into the wall. It was in German and translated read as follows:
Jesus is my comfort; I have given over myself into his hands; I am glad to die; I shall live in Christ. A little while and ye shall see me no more, for I go to the Father. C.O.Woite
From witnesses it was reported that he was well composed and showed no signs of stress at the execution. The body was recovered from the grave the same day by Rev Köhler and Christian's oldest son, placed in a coffin and reburied in the garden of their house. Later, after peace had been declared the remains were taken to the cemetery in what is now Alexander Park (see main image).
Inscription at cemetery
I have searched the cemetery but was unable to locate the grave stone. However, the name C Woite is inscribed on the central plaque which lists all the graves of the cemetery. Ref 4 gives the text appearing on the gravestone. The picture below shows the grave stone as it may have looked.
The Boers also confiscated his cattle, horses and and traps (carts) leaving the widow and her nine children with no means of support. At least she was left with the house and garden.
Anna Woite and her children were left destitute, not expecting any help from the colonial administration or from the Boers. It was the local congregation of the Berlin Mission church that provided some relief. Help also came from Natal, organised by Referent Posselt of the New Germany Lutheran congregation; the family had been part of that congregation when they stayed there between 1862 and 1875.
After struggling on for a while, she moved back to New Germany where she had some relatives. I noticed from the passenger list of the San Francisco that there had been another Woite (Gottfried) on the boat as well as a Blase family which was Anna's maiden name, all from Drachhausen.
Woite court document
Of interest here is the court document pictured above. In September 1881 she was appointed the custodian of her children. The document translated reads as follows (semi colon indicates a line break): Orphan Court; Transvaal; Appointment as guardian; with this order; Anna Woite née Blase; has been appointed as guardian; of: William Woite; Maria Woite; Elizabeth Woite; Anna Woite; Emily Woite; Herman Woite; Heinrich Woite; Pauline Woite; Eliza Woite; all children of her and her late husband's Christian Woite; ZAR 29 September 1881.
What usually happened in those days was that a male relative or a new husband would take on that role. Lacking this it would be the mother, but has to be appointed by a court.
About the author: Horst originated from Germany many years ago. He has spent a lifetime working for some of the major chemical companies. Throughout his life he has had an interest in local history and has now, in retirement, made this his major hobby. He believes in not just doing the exploration and research but to also write down his findings. Check out his website here. In addition to his website he has contributed a number of articles to the heritage portal (click here to view).
References
The Diary of G.F.Austin, CUM Books, 1981
Diary of events that occurred at the town of Potchefstroom, Transvaal, during the rising of the Boers against the British government, author unknown, The Crown Printing Company Ltd, London
Albert Blake, Boereveraaiers – Teregstelling tydens die Anglo – Boereoorlog, published by Tafelberg, 2010
Disclaimer: Any views expressed by individuals and organisations are their own and do not in any way represent the views of The Heritage Portal.