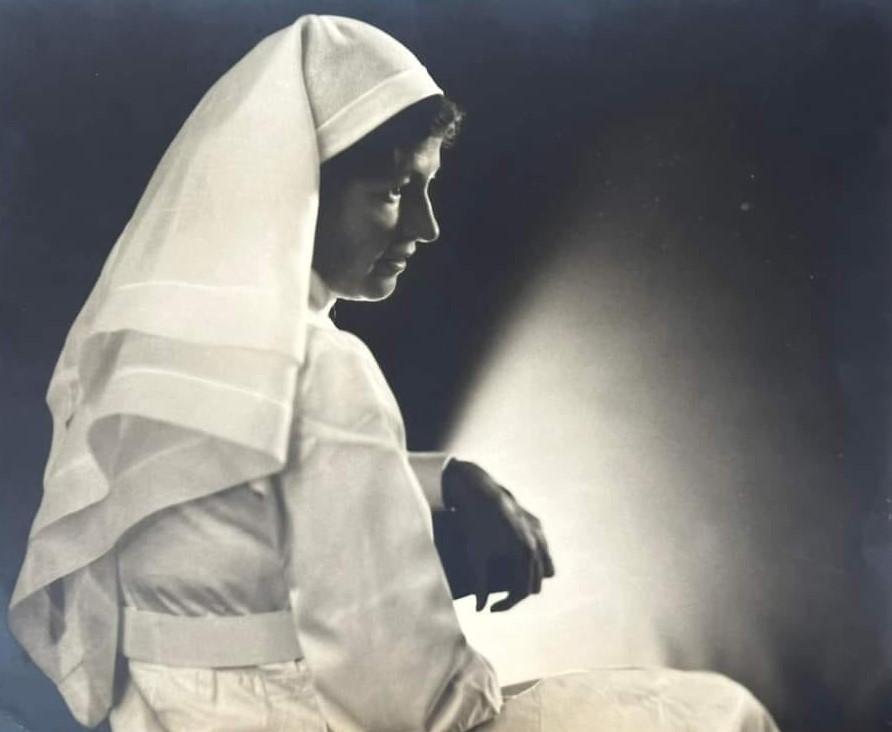 Disclaimer: Any views expressed by individuals and organisations are their own and do not in any way represent the views of The Heritage Portal. If you find any mistakes or historical inaccuracies, please contact the editor.
Tuesday, October 10, 2023 - 22:15
Another find of photographs in a drawer at an antique shop has contributed to the reconstruction of a significant historical narrative around a little-known female photographer whose work has not received the recognition it deserves in South Africa.
Sara Buijskes as a young woman by unknown photographer (Circa 1900s). Her sister Maud, who later became her assistant in the Barbican studio would have been too young to capture this photograph.
On researching her, it quickly became evident that hardly any publicly documented information existed on her. The intention of the article is therefore to add to the knowledge base of not only early female photographers in South Africa but also South African photographic history in general.
Michael, the co-author of this article, was "scratching" around in an antique shop in Mosselbay in the Western Cape when he stumbled upon almost two hundred large format black and white photographs tucked away in the shop. He had the sense that this was a significant find and bought the entire batch there and then.
At the time he did not know who the photographer was, but the uniqueness of the images justified him buying the batch. Sufficiently curious to determine who the photographer was of these creative and outstanding portrait images he initiated his search to link the photographs to the artist.
It was not long before he got his answer.
His acquisition consists of mainly portrait imagery that were captured by Sara Buijskes, who was a Johannesburg-based photographer from the age of 20 (1906) until her death (1970).
1) Sara Helena Violet Buijskes (1886 – 1970)
Of Dutch descent, second-generation South African Sara was born in Kimberley on 23 September 1886, where she was also baptised in November of the same year.
1.1) Family history
The anglicised spelling of the surname appears as Buyskes, but on analysing estate papers in the archives, it became evident that some of the family elected to spell their surname as Buijskes. Both Sara and her sister Maud's signatures on a variety of documents confirm the use of the Dutch ij instead of the y. Some earlier family members however seem to have elected the use of the anglicised version.
Sara was a second-generation South African, in that her Dutch paternal grandfather Gerrit Buijskes settled in the Cape, where her father was also born in 1848.
It has been suggested that her father was the first coachman of the postal and passenger coach between Wellington, Pniel (Kimberley) and Bloemfontein in 1868. He would have been a remarkably busy man following the discovery of diamonds in Kimberley at the time. As a young man, Johannes moved around often in that it is also recorded that he tried his hand at gold digging (assumingly on the Witwatersrand), operated a hotel in early Dullstroom (Suikerboschkop) and farmed in Wakkerstroom. He was even a sheriff of the court and part of the Transvaal commando during the Anglo-Boer War.
Johannes Hendricus (also seen spelled Henricus) Brand Buijskes and Helena Josina Brink got married in Pretoria on 4 August 1879.
Photograph of Sara Buijskes's father, Johannes Henricus Brand (1848 – 1934) who was a post carriage rider in the late 1860s.
Johannes Henricus Brand and Helena Josina Buijskes. The couple had ten children of which Sara Buijskes was the 4th eldest (circa 1910).
The couple had ten children. Sara, one of six daughters, was the 4th eldest child. Sara, or Sarie as she was known by her family, completed her schooling at the Huguenot High School for Girls in Wellington where she must have boarded. Sara, as for two of her sisters, never married.
Sara's nine siblings were: Johanna Frederica Sara (married Stroud) born Pretoria (1880 – 1953); Gerrit Pieter born Pretoria (1882 – 1902); Henricus Johannes Brand born Kimberley (1884 - 1961); Percival Victor born Kimberley (1888 - 1965); Daphné Miriam born Johannesburg (1890 – 1971); Lily Frances (married Knauer) born Johannesburg (1892 1969); Una Estella (married Abrahams) born Johannesburg (1894 – 1963); Maud Alexandria born Johannesburg (1899 – 1978) and Christoffel Johannes Jacobus born in Johannesburg (1902 – 1933).
Buijskes family photograph by unknown photographer (1898). Sara is seated next to her mother on the right. This photograph only shows eight of the ten children. Helena gave birth to two more children between 1899 and 1902. Maud, the youngest, eventually became an assistant to Sara in the Barbican studio.
Photograph by unknown photographer of the six Buijskes sisters with the young Sara Buijskes seated on the left. Maud, the youngest, is seated in front (circa 1912).
The family moved to 35 First Avenue in Illovo, Johannesburg towards the end of the 1890s. This was then also where Sara resided in later years with three of her siblings Maud, Daphné and Percival, a big game hunter who also never married. Some family members remember the leopard skin with a stuffed head in the house. The house was named Enkhuizen, a Dutch town from where their grandparents originated from.
Johannes, or Jan Hendrik, as his name was later recorded, became a farmer. He died a widower, aged eighty-five on 24 February 1934. He was residing at Enkhuizen at the time. Sara's mother, Helena, died on 10 November 1920, aged sixty-two.
Descendants of Sara fondly remember her as a refined and benevolent person, proud of her Dutch heritage with a strong family orientation.
One interesting family anecdote is about her older brother Henricus's son, whom she sponsored at university. The young man went off to marry one of the young female apprentices appointed in her studio – this seemingly without the family's knowledge. When Sara became aware of this she immediately withdrew her support and distanced herself from the young man. It was only years later, following the insistence from within the family that Sara made peace with her nephew, only for him to die of a heart attack shortly thereafter. We cannot help but wonder whether she kept the female assistant on at the studio at the time of finding out that she quietly married her nephew.
Sara's will indicates that she was a fairly well-to-do individual in that she invested well. She was therefore in a position to bequeath widely. One of her beneficiaries was then also the domestic servant Konian (France Matenzie), who she stated in her will, faithfully took care of her and her late brother Percival.
Sara's sisters Maud and Daphné each inherited half of the Illovo property following her death. Sara also had a vacant property in Illovo. After Sara's demise, Maud could not manage the upkeep of the property and moved into a flat in Hyde Park.
In her will, Sara further makes specific reference to the "Buijskes stamboek" (family tree book) as well as Dutch papers and books connected to the Buijskes and/or Brink family (her mother's side) that had to remain in the Buijskes family. She bequeathed these to her sister Maude, on condition that at the time of Maude's death, it should go to Sara's nephew Gerrit Andries Buijskes, and after his death to his son Gerrit Henry Daniel Buijskes, provided they are interested, failing which the documents should be handed to the Africana Museum in Johannesburg with whom she had a close association. Sara and subsequent family members made several donations and loans to the Africana Museum. A museum newsletter of 1961 acknowledges Sara (amongst others) for a gift or loan made by her.
1.2) Photographic career
Sara started her career as an assistant photographer in the studio of another Johannesburg-based photographer, Robinson Christian Engelstoft Nissen (1866 – 1955), who was based at the Goch studio. British-born Nissen was a seasoned photographer himself in that he had several photographic studios around the country before he settled in Johannesburg.
In his studio, Sara started off developing and printing films in the darkroom. Nissen was so impressed with her work that he afforded her the opportunity to take position behind the camera. At that time, her salary was the equivalent of R4 per week.
During an interview (Die Vaderland, 1957), Sara confessed that the general public was uncertain about a female's ability behind the lens. She added that she had to be thick-skinned to survive in the industry and that she had to generate an income due to her taking care of her parents in the earlier years.
In a short newspaper article, Sara is referred to as a veteran Afrikaans-speaking photographer. She also advertised herself as a very capable Afrikaans-speaking photographer (baie bekwame afnemer). Interestingly enough, inscriptions on family photographs were all made in English.
Sara never underwent any formal training in photography. She simply relied on her natural flair and artistic eye to climb the ladder to success.
Although Sara initially drove a DeSoto and later a Wolseley, she often used the tram to travel to the studio. On the tram, she explained, she created visual imagery of how the light was falling on the faces of her fellow passengers, an aspect that she then replicated in her studio.
It is assumed that Sara worked for Nissen for the majority of the 25 years (1906 to 1931), prior to her opening up her studio in 1931.
Sara borrowed £300 from her maternal grandfather to set up the south-looking Barbican studio where she occupied the top floor of the Johannesburg-based 10-storey Barbican building, on Rissik Street, which was completed in the same year Sara opened her studio, namely 1931.
The Barbican Building on Rissik Street in Johannesburg was completed in 1931. Sara opened her studio, aptly named the Barbican Studio, on the tenth floor the same year. Following Sara's death, the studio closed in 1970, 39 years after opening.
Sara also took in assistant photographers who mainly attended weddings on behalf of the Barbican studio. Unlike the modern trend where photographers attend weddings, back then couples went to photographic studios, post the formalities, family in tow, to have their photographs captured. Sara indicated that on selected Saturdays' she could have up to seven couples in the studio.
It is recorded that Sara's sister Maude, 13 years her junior, was also active as an assistant photographer in the Barbican studio. Maude also later inherited the photographic equipment and furniture in the Barbican studio to the value of R632 at the time. The photographic studio activity was eventually discontinued in 1970.
Sara photographed many well-known South Africans at the time, such as Erich Mayer (South African artist), Dr. Tienie van Schoor, Pieter de Waal (broadcaster), Dr. Arthur Bensusan and Dr. William Nicol, Genl. JC Kemp, Genl. Piet Grobler and CM van Heerden.
Due to her artistic ability, it was the same Erich Mayer who also motivated her to start participating in international competitions, which she then duly did. Sara in turn admired his work in that at one point six Mayer paintings were hanging in the Buijskes household.
Sara was awarded her first international award as early as 1935 in Bern, Switzerland.
A Portrait photograph by Sara Buijskes of Erich Ernst Karl Mayer (1876 – 1960) captured mid-1950s. German-born Erich Mayer became a well-known Pretoria-based artist. It has been suggested that he frequented the studio of Sara. He in fact persuaded her to start participating in international competitions due to her natural photographic flair.
Portrait study of unknown sitter by Sara Buijskes titled "Pardon" (circa 1950s)
A portrait photograph by Sara Buijskes of unknown sitter titled "Resentment" (circa 1950s). This impactful photograph shows how effectively Sara used light in the studio.
Although Sara never travelled abroad, she was accepted as an associate member of the Royal Photographic Society (ARPS) in November 1935.
In 1958, the TIPP (Transvaal Institute of Photographers) announced that Sara was awarded one of the rarest awards to be granted to photographers, namely the "Artiste - Fédération Internationale de l'Art Photographique", an award made from Switzerland to photographers who had their works accepted at international exhibitions over a period of 25 years. This significant award allowed her to use the initials AFIAP behind her name.
Given the era Sara was active as a photographer, she also rubbed shoulders with her compatriots, namely the well-known South African amateur photographers and photo historians Dr. Joseph Denfield and Dr. Arthur Bensusan. It is recorded that she also photographed Bensusan who was a Johannesburg City Councillor at the time. Bensusan (1966) also makes a brief reference to the sisters Sara and Maud Buijskes.
Sara has also done some work for the Afrikaans newspaper "Die Transvaler" on an ad-hoc basis.
Sara shared the following two interesting anecdotes with Die Vaderland (1957):
A tramp entered the studio stating that he needed a passport photo taken and with his overwhelming body odour sat himself down in a chair with a sigh. Sara captured his likeness and refused to take any money from him. Instead, she offered him a half-crown to get himself something to eat. Three months after his visit to the studio, Sara read in the newspapers that he had been found dead in Fordsburg and that he was worth £10 000 at the time of his death;
The second tramp, Sara requested to come into her studio in that he had a facial expression that she wanted to capture with her camera. This photo turned out to be a successful artistic image worthy of submission to international photographic competitions. She however had a challenge at first. What title does she allocate the entry? On requesting one of her customers, Prof. CM van den Heever, to recommend a possible title, he was so intrigued by the facial expression of the sitter that he suggested: "Unconquered." She entered the photograph accordingly, only to determine later that the tramp was originally attached to the renowned Scottish Regiment "The Black Watch" whose motto was "Unconquered"! She was awarded a bronze medal for the image.
Portrait study of an unknown tramp, titled "Unconquered" for which Sara was awarded a Bronze at International level (circa 1930s). It later came to Sara's attention that the tramp was attached to the renowned Scottish Regiment "The Black Watch" who were present in South Africa during the Anglo-Boer War.
Sara died in Johannesburg on 9 December 1970, aged eighty-four. She died following of a heart attack whilst going up the lift in the Barbican building to clean out her studio after she was given notice by the owners that the building would be demolished. Ironically, the building was never demolished.
After Maude passed away (1978), records indicate that a camera and Sara's award-winning photographs were donated to Museum Africa. The family narrative has it that when cleaning out Maud's flat, a vast collection of photographic negatives produced by the two siblings was naively destroyed.
At the time of her death in 1970, Sara completed 64 years of professional photography!
A portrait photograph by Sara Buijskes of unknown sitter titled "Voortrekker" (circa 1950s)
A portrait photograph by Sara Buijskes of unknown sitter titled "Clairvoyant" (circa 1950s). This lady is the same lady as per the photograph below.
A portrait photograph by Sara Buijskes of unknown sitter with two titles: "The Unveiled Eyes" and "Shadow of Life" (circa 1950s). This lady is the same lady as per photographer immediately above.
A portrait photograph by Sara Buijskes of unknown sitter titled "Sear" (circa 1950s)
A portrait photograph by Sara Buijskes of unknown sitter titled "Serene 96" (circa 1950s)
A portrait photograph by Sara Buijskes of unknown sitter titled "Gelofte" (circa 1950s)
A portrait photograph of Dr. MC van Schoor by Sara Buijskes (circa 1950s)
A portrait photograph by Sara Buijskes of unknown sitter titled "Invocation" (circa 1950s)
2) Analysis of the "found photographs"
The larger format bromide print photographs that resurfaced some 52 years after Sara's death, clearly formed part of her portfolio of images submitted to international photographic competitions in that she veraciously entered many of these competitions between 1930 and 1960. The fact that some duplicate images were included in the batch suggests that she entered the same image into multiple international competitions – worldwide.
Most of the photographs presented here include a rubber stamp on the back of the image. These stamps are of the international bodies to whom she submitted her entries for competitive assessment – and, she did participate in international competitions in all corners of the world!
Sara also used creative titles for her work, some of which in her submissions included: "Reverie," "Idle Hands," "Graceful old age" or "And that is the end of my story." 
Through her work Sara created warm, unique story-telling portraits, confirming that she had a fine eye for creating such imagery. Considering the average age of her sitters in the batch of photographs, Sara focused her competitive artistic work on older sitters, with a preference towards bearded men it seems.
As most of the portrait photographs will confirm, Sara described her success in the effective use of light and shadows and in doing so she succeeded in capturing the essence of the sitter in front of the lens whilst relying on a dark background with light on the sitter.
Sadly, a large number of the sitters in the "found photographs" (a concept in itself) included in this article have not been identified to date. Hopefully, this article will assist in identifying some of the sitters.
A portrait photograph by Sara Buijskes of unknown sitter titled "Serenity" (circa 1950s)
A portrait photograph by Sara Buijskes of unknown sitter titled "The Sergeant of the guard" (circa 1950s)
Portrait photograph by Sara Buijskes of Michael Coenraad Engelbrecht (1854 – 1945) captured mid-1950s. This image, titled Herinneringe, has also been seen converted into a painting. He was the son of an 1838 Voortrekker Gerhardus Christoffel Engelbrecht.
A Portrait photograph by Sara Buijskes of Petrus Jacobus (Pietie) le Roux (1882 – 1980). Pietie, born in Moorreesburg, became the leader of the Stellenbosch-Boerorkes.
In studying the exceptionally well-composed images, one cannot help but wonder about the sitter. Who are they? What are their individual life stories?
Sara has received the necessary international recognition for her competitive photographic portrait work but is hardly known in South Africa. While one image in the batch was taken outdoors (Voortrekker Monument in Pretoria), her preferred photographic approach was in studio-based portraiture, figure and child studies.
One of her photographs entered into an international competition attracted the following comment from the judges (source unknown):
A strong portrait of a type of subject not often seen today, in the era of the safety razor, a regular "he-ma" subject, evidently of Dutch ancestry, presumably a Boer, and a fine type of handsome young manhood. Alert and highly intellectual in character. The portraiture is of the best, straightforward and without frills, especially fine modelling and facial texture without wiriness. The costuming, although perhaps unconventional to our eye, seems perfectly suited to the subject, and is worn as if habitual to him.
This photograph was of Pieter de Waal, a broadcaster. Sara photographed him, during the 1938 Voortrekker centenary dressed as a Voortrekker. He was a descendant of the Voortrekkers.
This article only includes 24 photographs out of the much broader collection of photographs found by Michael. Photographs of younger children contained in the collection, as captured by Sara, have been excluded from this article for obvious reasons.
A few of the photographs also include images of young women with open, strapless shoulders. These images were probably not captured with international photographic competitions in mind. They are also not included in this article at the risk of offending sitters who may well still be alive.
Sara Buijskes with some of her award-winning entries (Circa 1950). Her sister Maud in all probability took this photograph.
3) Some comparisons with neighbouring Pretoria-based photographers
The first female photographer recorded to have been active in South Africa was Martha Walters. She and her husband had studios in Cape Town in the mid-1850s and early 1860s.
Pretoria's first female photographer, Martha Robertson, was active in Pretoria as a photographer before 1896, ten years before Sara Buijskes surfaced as Johannesburg's first recorded female photographer.
Pretoria's longest serving photographer was the Scottish born JC Munro. He was active in Pretoria for a period of 50 years. Sara Buijskes beats this period as the longest serving photographer by 14 years!
Given her 64-year activity as photographer, Sara probably also holds the record as South Africa's longest serving photographer, and yet so little was known about her.
4) Closing
Sara's activity as a photographer was nothing short of remarkable.
This is the first known attempt at reconstructing some of her life narrative, linking it with some of her outstanding artwork in support.
Sara's primary focus was studio work, yet she occasionally left her studio to practice her art. Although no landscape photograph captured by her has been identified to date, she also generated an income by capturing wedding photographs as well as corporate group photographs.
It is noticeable that the batch of photographs uncovered only includes that of white sitters in the studio. With the exception of the one tramp, did all these sitters have to pay for their portraits or did Sara approach some of them to come into the studio as she possibly viewed them as photogenic?
Although Sara has been active as a photographer since 1906, the Hardijzer Photographic Research Collection (HPRC) has not identified and therefore does not contain any of her work for the period 1907 to 1915. Considering that she was an assistant photographer, it is not uncommon that the name of the studio owner for whom she worked would have appeared on the photographs, instead of her own.
Other than this batch of photographs uncovered, to date we also have not seen any of her photographic work produced post-1915 surfacing in the market, more specifically for the Barbican studio era between 1931 and 1970s. Given her prolific work rate, these photographs will be out there waiting to be uncovered.
It needs to be considered that the photographs "rescued" by Michael are also mainly photographs Sara considered worthy to enter into international competitions. Only a few images in the batch fall outside the competitive realm. The fact that negatives have been confirmed to have been destroyed, makes the find even more significant.
Although hardly relevant, the one burning question is: How did these images end up in an antique shop in Mosselbay 52 years after the death of the photographic artist? The antique shop owner probably bought the batch at a local auction, meaning that someone who either inherited or bought the material many years ago has been cleaning out or passed on.
Whatever the answer to the above questions is – the items ended up in the hands of a younger generation South African who appreciated them for what they are even before the link to the photographer was made.
Another answer that is worthwhile obtaining is: What happened to the Buijkes historical paperwork Sara made specific and proud reference to in her will?
Sara actively participated in International Photographic Competitions. These four brochure covers are just some of the examples of the colourful and creative brochures issued for these events.
Special acknowledgement
To decedents from Sara Buijskes who freely shared valuable biographical information, newspaper cuttings, family photographs and more with the co-author Michael de Nobrega for inclusion in this article. Each snippet enriched the content of this article.
About the author: Carol is passionate about South African Photographica – anything and everything to do with the history of photography. He not only collects anything relating to photography, but also extensively conducts research in this field. He has published a variety of articles on this topic and assisted a publisher and fellow researchers in the field. Of particular interest to Carol are historical South African photographs. He is conducting research on South African based photographers from before 1910. Carol has one of the largest private photographic collections in South Africa.
Sources
Bensusan, A.D. (1966). Silver Images – History of Photography in Africa. Howard Timmins. Cape Town
de Nobrega, M. (September & October 2023). Various Whatsapp communications between de Nobrega and Hardijzer containing information submitted by Sara Buijskes family
de Nobrega, M. (September 2023). Facebook placement of found photographs – Sara Helena Violet Buyskes
International Federation of Photographic Art (www.fiap.net – accessed 7 October 2023)
Mohale, G. (email dated 29 September 2023). City of Johannesburg – Annual report June 1961. Provided by Gabriele Mohale attached to Historical Papers Research Archive – University of Witwatersrand Library
Hardijzer, C.H. (2017). A reflection on female photographers active in South Africa prior to 1915. (Theheritageportal.co.za)
National Archives of South Africa (extracted 28 September 2023). Sara Buyskes file held at the South African National Archives in Pretoria (File MHG 12958/70)
Unknown. (2009, extracted 29 September 2023). Jozi's Heritage – The Barbican (www.lizatlancaster.co.za)
Unknown. (1971). Fotografiese museum se groot aanwins. Die Transvaler (15 Maart 1971) 
Unknown. (1957). Sy is al 50 jaar beroepsfotograaf. Die Vaderland (24 August 1957)
Vermaak, K. (1964). Vroue fotograaf vertel - Dit was 'n skande om te werk. Dagbreek se vroue bylaag (28 June 1964) 
Unknown. (Unknown). Voortreflike vrou – Persoonlikheid op elke foto. Die Transvaler (date unknown)