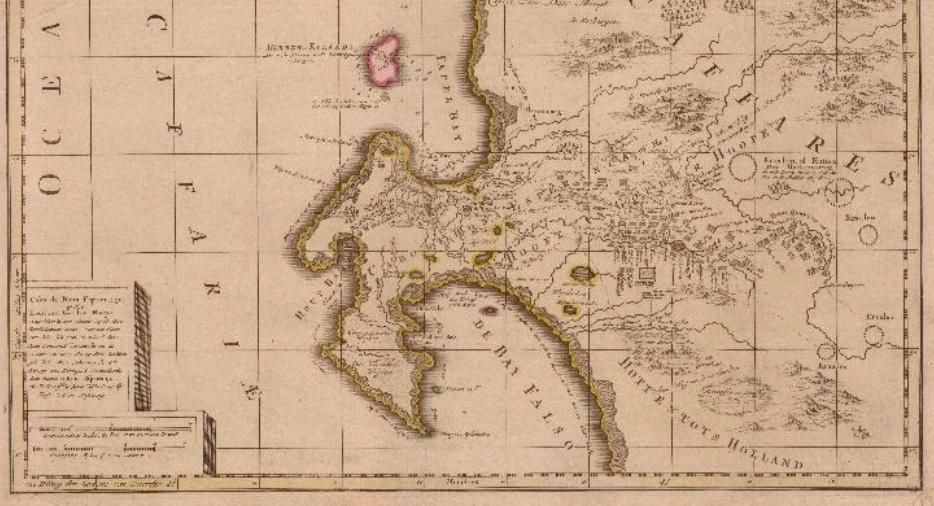 Disclaimer: Any views expressed by individuals and organisations are their own and do not in any way represent the views of The Heritage Portal. If you find any mistakes or historical inaccuracies, please contact the editor.
Tuesday, August 15, 2023 - 22:36
A large collection of maps of the African continent, southern Africa and surrounding oceans has been dormant for almost half a century. Nevertheless, its maps and sea charts were a crucial primary source for R.V. Tooley's seminal, collectors' guide to Africana maps.
In May of this year, Jonathan and Gail Schrire called me: would I be interested in looking at their large collection of historical maps of Africa? What a question! A penny had dropped as soon as I heard the combination of Schrire and maps of Africa.
I have now completed the provisional cataloguing of what is arguably one of the largest and most important collections of printed historical maps of the African continent (106), Southern Africa (285), and related sea charts (114). There are also duplicates, and miscellaneous items (184) that do not fall into the primary geographical categories.
Provenance
Ronald Vere ('Mick') Tooley (1898-1986) was a pioneering London dealer who found maps for private and institutional collectors. He also visited libraries to study the books in which most had been bound. Between 1961 and 1976 he sourced and sold Africana maps and sea charts to David Schrire (1908 - 1991). Schrire was a South African who moved to London after the Sharpeville massacre. He returned to South Africa in 1975, leaving the collection in London in the care of his son, Jonathan, who kept it intact. Jonathan returned to South Africa with his wife, Gail, who had been a map dealer in London. They brought the untouched collection with them to Cape Town, where they stored the maps and charts in a cabinet and tubes in a dehumidified room. The collection continued to be untouched until May this year, when the Schrires decided they should move into a smaller home.
Johannes Loots's c.1699 map of the Cape of Good Hope (see pp. 12-21, click here for details)
Importance of the collection
Although the collection has been dormant for nearly half a century, many of the maps and sea charts became known to collectors world-wide between 1963 and 1970, through descriptions of them in Tooley's and Schrire's publications. These descriptions were first included in Map Collectors' Series (MCS) of booklets: issues 6, 17, 29, 30, 47, 48 & 61. The MCS booklets were published by the Map Collectors' Circle (MCC) which was founded in April 1963 by Tooley, under the patronage of David Schrire.
Tooley's seminal Collectors' Guide to Maps of the African Continent and Southern Africa (London, Carta Press, 1968) soon became and remains a highly regarded reference on Africana maps for dealers and collectors. It presented the maps in MCS issues 47 & 48, and Tooley dedicated his book to 'My friend David Schrire' because it had many, but not all the maps in Schrire's collection. Many of his maps of South Africa were presented by Tooley in MCS issue No. 61. Tooley's Collectors' Guide was complemented some twenty-five years later by another book by another collector.
Oscar Norwich (1910-1994) was a South African surgeon living in Johannesburg. He was also an avid collector of printed Africana maps. He collected in the pre-Internet days and, so, he had to take breaks from his surgery practice and travel abroad to meet dealers in search of maps to add to his collection. He also used the opportunity abroad to visit organisations with special collections where he advanced his knowledge of the maps, the mapmakers, and publishers. Norwich shared his collection and insights in Maps of Africa, An Illustrated and Annotated Carto-Bibliography. The book included descriptions and images of 394 maps of the continent and southern Africa, sea charts, islands and some related views and plans. In 2002, his widow sold the collection to the library of Stanford University, in the USA, which provides digital access to the collection.
More recently, another collector, Richard Betz, provided a detailed, comprehensive guide to and reference on printed maps of Africa, up to 1700, of the continent, not its parts, nor its surrounding seas: The Mapping of Africa. A Cartobibliography of Printed Maps of the African Continent to 1700. While Betz is a collector, the majority of the maps that he described and that illustrated his book were in organisations with special collections of maps.
Tooley's and Norwich's books became the most commonly used references on Africana maps, although Betz's scholarly treatise is now the standard reference for pre-1700 maps of the continent. Some of the differences between Schrire and Norwich collections are tabulated below. I was surprised that 35% of the sea charts in Schrire's collection, many of which are scarce, are not included in either Tooley's or Norwich's books.
Heritage value
"The geographical map, in short, although static, implies a narrative; it is ... an Odyssey."
Italo Calvino, Collection of Sand. Penguin Classics, 2013
A collection of maps is the product of human purpose and action over time - some of Schrire's maps were printed more than 450 years ago and the youngest is more than 110 years old. Collectors, curators, and scholars may conveniently arrange the maps and charts according to geographical territories (the terrestrial continent and its parts) and the ocean. Catalogues, physical and virtual, that document individual maps and sea charts in the collection add to the heritage value of the collection. However, further heritage value may be derived by considering a collection as a whole. Scholarly investigation of the whole enhances the cultural heritage value by presenting the collections and the collector in their social and scientific/technological contexts.
Cartographic artefacts of and from the ages of discovery, industrialisation, global travel and trade, and imperialism provide a rich heritage, with numerous perspectives other than geographical territory. Other possibilities include the historical periods in which they were produced; their cartographic features; their socio-political context; the people involved (e.g. the sponsors, surveyors, mapmakers; printers and publishers); the science and technology that underpinned the surveys, drawing and production of the maps and charts; their purpose and use; the commercial context of creating, producing and selling them; their monetary value; the evolution of knowledge and understanding that the maps and charts reflect; aesthetic features; mythology, bias, and reality.
Analysis may change the way one sees the individual artefact. Synthesis may change the way one understands the collection and the parts of the world it displays; it may even change one's world view. It is only through consideration of diverse perspectives on collections that their heritage value is really understood and appreciated. Investigation of collections is an opportunity to bring together the humanities, science, and the technology underpinning the artefacts, their production, use and collection.
Destiny of Antique Map Collections
In Confessions of a Collector published in 2020 I wrote:
What should be the destiny of a collection when a collector stops collecting, for whatever reason, or its owner no longer can or wishes to maintain the collections? Here is the Collectors Dilemma. Should the collection be dissembled, and the parts re-introduced into the winds of the collecting environment so that they are disseminated and then collected again, to be re-incarnated with new companions, in new collections and with new stories? Or should they be handed down intact to an heir or an institution? The lot of most collectors is that heirs do not share much interest in the collection; and, unfortunately, some institutions document and then merely store collections, where they languish in a state of indefinite dormancy in the dark, cold recesses of their air-conditioned archives. Well documented and presented collections, which tell stories of the past, good or bad, are valuable heritage assets. They epitomise civilised societies: in a nutshell, conserved, curated collections create cultural capital. Civilised societies nurture collectors and collections, even collections from or of terrible or currently unpopular periods of history.
Scholarly analysis and synthesis of diverse perspectives afford us the opportunity appreciate and to learn from our cartographic heritage.
Two private collections have given rise to key reference books on Africana maps. Both authors were well educated and skilled, but neither was formally trained in cartography or the history of cartography – an advantage, perhaps. The Norwich Map Collection is conserved in the United States. The destiny of David Schrire's collection is in the making.
For more information contact Roger - roger@africanamaps.com or https://www.africanamaps.com/
Roger practiced medicine, was associate professor of human physiology, and has been an executive and director of businesses locally and abroad. He has also collected historical maps of South Africa and the continent of Africa; these maps are now conserved at the University of South Africa and Stanford University, USA. His articles on the maps and Cape history have been published in international journals and local periodicals. Roger represents the International Map Collectors' Society in South Africa, and is chairman of the Bibliophiles in Cape Town, and of the Friends of the Cape Medical Museum.