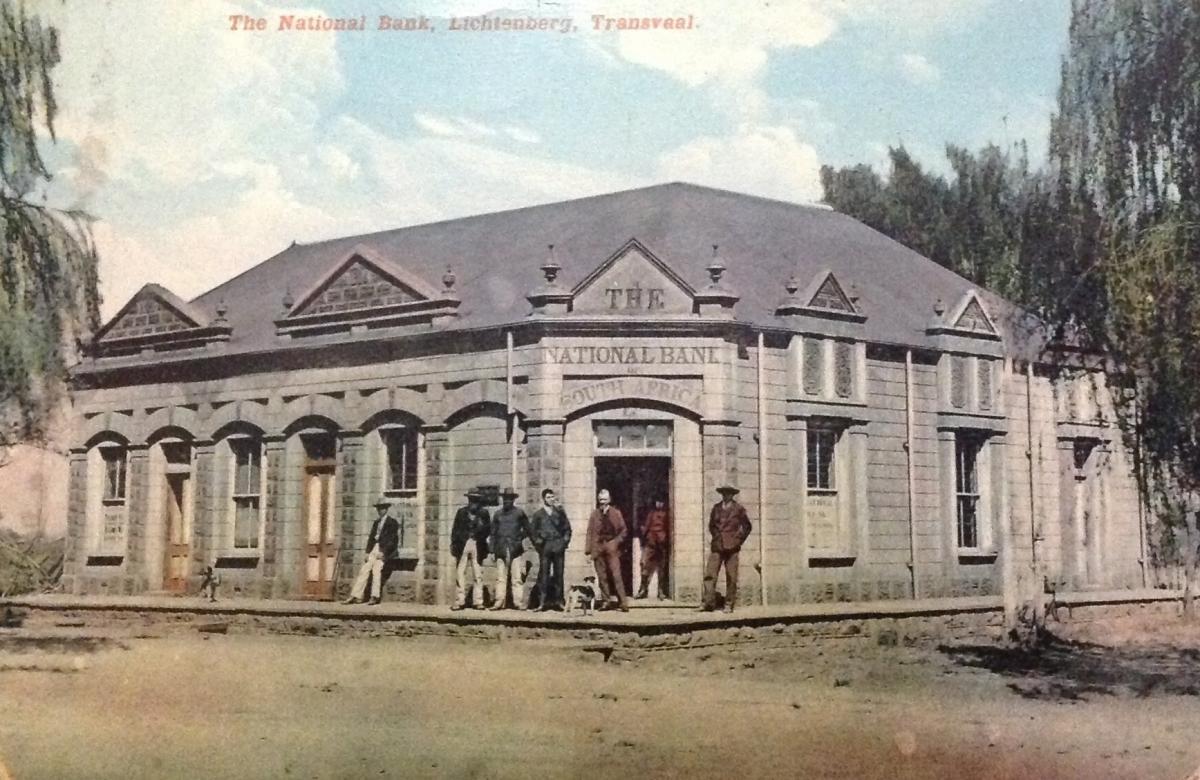 Tuesday, January 22, 2019 - 12:45
First National Bank (FNB) just celebrated their 180th birthday on 15 December 2018. What makes this particularly significant is that the FNB storyline runs in parallel with South African history. 
Following the true corporate trend, FNB, as it exists today, came about following a complex tapestry of buyouts and amalgamations to become the well-established bank it is today. This journey certainly did not occur without any upheavals – but the bank managed to stand the test of time.
Following the growth within the Eastern Cape, with Grahamstown as the main settlement in the region at the time, FNB's predecessor, the Eastern Province Bank, was established in the town during 1838 focusing mainly on the financing of the wool industry following the wool export boom in the district.
Other significant events that occurred during 1838 include:
Slavery came to an end in the Cape Colony;
4 December - British forces occupied Durban;
16 December - The Battle of Blood River (One day after the establishment of the Eastern Province Bank);
22 December - Potchefstroom was established.
Ever wondered what First National Bank (FNB) and photography have in common? They both came into existence in 1838.
Also of interest is that the mechanically propelled bicycle, as we know it today, was only designed the year after the establishment of the Eastern Province Bank, namely 1839. 
Other events of significance that occurred during 1838 include:
Ferdinand von Zeppelin , the founder of the Zeppelin airship company was born on 8 July in Germany. He died during 1917;
Andrew Smith began publication of Illustrations of the Zoology of South Africa.
The existing First National Bank (FNB) is not only viewed as South Africa's oldest Bank but also appears to be one of the oldest companies in South Africa – granted, with several amalgamations and mergers along the way (click here for a list of South Africa's oldest companies). Ironically many of the companies listed as older than FNB are wine farms! The earliest existing company on the list is Blaauwklippen (1682).
During 1890 there was one bank that was older than the other banks in existence, namely the Cape of Good Hope Bank (established 1837), but this bank collapsed during 1890 following a depression. 
The intention of this article is to take the reader through a brief photographic journey of the bank's existence (mainly between the 1880s and 1920s) by sharing photographic material as produced on picture postcards and original photographs of that era.
Much of the bank's history during this period has been photographically captured and produced in various photographic formats, namely:
Cabinet Card format: -  Most of the banks seemingly also required a photograph of the employee to go into the staff file, resulting in many Cabinet Card images being available of employees at the time (between 1880s and 1900s);
Real Picture Postcard format: - Staff photographs taken between 1910s and 1920s;
Picture Postcards formats: - These postcards, showing bank buildings, give us insight into not only the different architectural styles of the time, but also a glimpse into the early economic activity, street scenes, cars and fashions (between 1900s & 1920s);
Large format images taken by professional photographers of special events or larger groups.
The main challenge has been to link individuals (for whom photographs exist and where names are known) to a specific bank or branch.
Brief synopsis of amalgamations that followed (since 1874)
By 1874, the Eastern Province Bank had expanded with four additional branches based in Grahamstown, Middelburg, Cradock and Queenstown.
Due to a recession, the Eastern Province Bank was bought out in 1874 by the imperial Oriental Bank Corporation (OBC) – The OBC also incorporated other smaller South African Banks at the time (such as the Port Elizabeth Bank in 1873, South African Central Bank, Queenstown Bank and Fauresmith Bank). By 1875, the OBC had by merger or buyout, acquired 8 branches in the Cape, 2 in the Orange Free State and 1 in Natal;
In 1879, not long after these takeovers, the Oriental Bank Corporation left South Africa because of financial difficulties being experienced by the parent company;
The Bank of Africa formed the Cape roots of First National Bank's family tree. The Bank of Africa was established in 1879 to handle the South African business of the Oriental Bank Corporation. Bank of Africa paid £31 000 for the business and premises of the OBC;
Bank of Africa – 1888 – Cape Town (Back row left to right: J McIntosh; EE Harwood; R Klerck; C Versfeld & Crosby. Front row – order not clear: CS MacPhail; John Rhind; MacArthur; WA Elliot & Bam)
Bank of Africa - Bethlehem
Bank of Africa - Bloemfontein
Bank of Africa - Durban
Bank of Africa - East London
Bank of Africa - Johannesburg
Bank of Africa - Port Elizabeth
The six Bank of Africa branches depicted above existed prior to 1912. The Port Elizabeth branch later became the National Bank branch (see the street view of this building later in the article). This stately building was sadly demolished during the 1950s.
Cabinet Card photograph of TB Codling (Photographer Ernest Pavey) – Circa 1910 – A Bank of Africa Middelburg branch employee
Bank of Africa – Cradock – seated: Morgan LR & Beattie JD – Circa 1910
At about the same time, gold was discovered in Barberton and the Witwatersrand, resulting in the government creating a bank through a concession agreement. The task of the bank was to focus primarily on financing agricultural development. A State Mint was also established as part of the concession. De Nationale Bank also became known as the State Bank.
De Nationale Bank – A valuable brass sign, probably more than 120 years old (dates from before 1902), would have been mounted on a wall at the entrance of the branch.
National Bank - Pretoria (1906)
Opening of the new De Nationale Bank der Zuid Afrikaansche Republiek building during April 1893 (See names of each below)
 
1. BH Haas; 2. GRJ Bodde; 3. H Hartel (deliveries); 4. JC Haarhof (Bank's attorney); 5. H Henning; 6. GRR Wreford; 7. SO Cullingworth; 8. H Blackmore; 9. A. Deeker; 10. EE Sime (Accountant); 11. E David; 12. W Dunlop; 13. Victor Schoenmehll (Secretary); 14. BW Begeer; 15. Dr Wilhelm Knapp (Joint General Manager – resigned 1893); 16. TW Beckett (Chairman); 17. President SJP Kruger; 18. J Boshoff (Treasury General South African Republic); 19. C von Boeschoten (State deputy secretary); 20. Hermann Militz (Joint General Manager – resigned 1894); 21. E Hartel (Coin accountant); 22. LE Kothe; 23. P Mynhardt; 24. TA O' Flaherty (Manager Pretoria branch); 25. WE Niemeyer; 26. CP Mathews; 27. WH Priddey; 28. N. van Dalsen; 29. AC Duff (Head Office accountant); 30. W van den Berg; 31. James Sinclair; 32. A Waterstradt; 33. KO Simon (Coin officer); 34. A Crorlich (Coin officer); 35. G Hocke (Coin officer); C van Leenhof (Coin officer) – Additional information on Dr Wilhelm Knapp and TW Beckett is included towards the end of the article.
Subsequently, De Nationale Bank der Zuid-Afrikaansche Republiek Beperk (National Bank of the South African Republic Limited), was registered in Pretoria during early 1891 and opened for business on 5 April of the same year;
After the conclusion of the Second Anglo-Boer War in 1902, the name of De Nationale Bank der Zuid-Afrikaansche Republiek Beperk was changed to the National Bank of South Africa Limited;
Due to another recession, the Bank of Africa was bought out by the National Bank in 1912, which had already bought out another Bank, the National Bank of the Orange River Colony in 1910 - First National Bank's Free State roots originated with the formation of the Bloemfontein Bank (1862), which in 1877 threw in its lot with De Nationale Bank van den Oranjevrijstaat Beperkt;
The Natal Bank, which was founded in Pietermaritzburg during 1854 to fund the Natal Colony's sugar industry, also suffered financial difficulties during 1914;
Natal Bank – Ermelo branch on the right (Pre 1914)
Cabinet Card format photograph of J. Home who would have been a manager at the Natal Bank Ermelo branch. Circa mid 1890s.
Natal Bank - Volksrust (Pre 1914)
Real Picture Postcard format photograph of GH Green who would have been a manager at the Natal Bank Volksrust branch. Circa 1910.
Cabinet Card format photograph of ES Allsop (By Larsen brothers) – 1912 – A Natal Bank employee at the Vryheid branch.
Standerton Branch under water during the January 1911 floods
During 1914, The National Bank took over the Natal Bank, resulting in the National Bank becoming one of the strongest and largest banks in South Africa – It is at this point that the tapestry of FNB starts taking form. With the most extensive branch network in the country, the bank had around 476 branches at the time;
The National Bank was however suffering from bad debt and heavy losses during the early 1920s resulting in a merger with the Anglo-Egyptian Bank and the Colonial Bank in 1925 to form Barclays Bank (Dominion, Colonial and Overseas) – the first worldwide banking institution in South Africa;
National Bank - Belfast
National Bank - Benoni
National Bank - Bloemfontein
National Bank - Carolina
National Bank - Cleveland
National Bank - East London
The six branches above may have existed as either Bank of Africa or Natal Bank branches prior to their takeover by the National Bank.
During 1954 Barclays Bank (Dominion, Colonial & Overseas) changed its name to Barclays Bank DCO.
During 1971 Barclays DCO restructured its operation and its South Africa operation was renamed Barclays National Bank Limited;
Due to the apartheid policies at the time, a disinvestment campaign was initiated against South Africa forcing Barclays to reduce its shareholding during 1986; 
Barclays shareholding was sold to the renamed First National Bank of Southern Africa Limited in 1987, resulting in the Bank becoming a wholly owned and controlled South African entity (first time since 1925);
During 1998, the financial services interests of Rand Merchant Bank Holdings and Anglo-American Corporation (which included their shareholding in First National Bank), were merged to form FirstRand Limited, resulting in FNB becoming a wholly owned subsidiary of FirstRand Limited - currently trading as a division of FirstRand Bank Limited. 
Barclays – King Williamstown (Circa 1920s)

Three of the banking brands referred to above functioned in parallel as individual banking brands at some point between 1879 and 1914. In summary, the period each bank existed and potentially overlapped was:
Bank of Africa (1879 – 1912) – 33 years;
Natal Bank (1854 – 1914) – 60 years;
De Nationale Bank der Zuid Afrikaansche Republiek (1891 – 1902), with a name change to National Bank (1902 – 1925) – 34 years;
Barclays Bank (Dominion, Colonial & Overseas) (1925 – 1954), with a name change to Barclays DCO (1954 – 1971), with a further name change to Barclays Bank (1971 – 1987) – 62 years;
First National Bank (1987 to date).
Pretoria – November 1903. In the centre of the image is the Natal Bank branch, to the left of this building is the Bank of Africa. The building on the right is the Standard Bank branch.
Interesting snippets
The main, and most important root in First National Bank's early history is the old State Bank of the Transvaal Republic – De Nationale Bank der Zuid-Afrikaansche Republiek Beperkt (NBZAR). This bank was originally registered in Pretoria in terms of a concession for the formation of a bank and mint, which on completion was to be transferred to the Z.A.R. Government ownership, who in turn leased the Mint to the bank.
During the Anglo-Boer War, it was often business as usual for the banks who showed great resilience. However, near bankruptcy threatened some, large sums of money were commandeered from others, branches were running short staffed or were lost and employees had their loyalties to the bank and countrymen badly strained.
Anecdotes of directors and managers in the minute books of the founding banks, makes for interesting reading. Directors were slightly annoyed by the inconveniences of the war.
De Nationale Bank (NBZAR) – Pretoria staff - 1893 (Sitting from left to right Blackmore, Sime, TA O'Flaherty (Manager), Dunlop, Preddy; Standing from left to right David, van Dalsen, Mynhardt, Niemeyer, v.d. Berg & Sinclair (cricketer). Both van Dalsen & Niemeyer (standing at the back) seem very young. Mynhardt also appears in the image with Kruger below (position 23). The gentleman standing in the window as well as the African employee are sadly not named on the photograph.
De Nationale Bank (NBZAR) – Board of Directors – 1896 (Seated - Third from right is the chairperson TW Beckett – a Pretoria businessman). Other parties in the image are: JN Boshoff (seated first from right), EF Bourke, Hugh Crawford (became chairperson and managing director post July 1902); TN de Villiers; Thomas Hugo (passed away shortly after this photograph was taken), Dr. Josef  Magin, JS Marais, GAA Middelberg (attached to NZASM – South African railway company), Johan Rissik, Victor Schoenmehll (standing – first from left) & Karl Wolf (Deputy chairperson – a Pretoria businessman). The exact position of the other 9 directors on the image still needs to be determined.
 
De Nationale Bank (NBZAR) Pretoria staff – Circa 1895. Portion of a damaged photograph (includes a Thomas Louw). Would the young boy sitting in front also have been a staff member?
National Bank of South Africa – Head office staff – 1906 – If compared with the image taken of the board of directors during 1896 (above), it is evident that fashions have changed over a ten year period. On the image captured during 1896, all sitters except one, have beards whilst in this image none of the sitters have beards.
Most of the branches were kept open during the Anglo-Boer War, but occasionally a manager had to flee to safety with the assets of the branch into a neighbouring friendly territory or to some town in the state where protection was assured.
The Natal Bank had several architecturally significant branches built between 1890 and 1900. The Johannesburg branch of the Natal Bank initially was a single-story building, but due to their competitors all having double storey buildings in Johannesburg at the time, the Natal Bank followed suit and constructed a double storey building by 1902. This building became known as the National Bank's Natal Bank branch.
Natal Bank - Johannesburg branch on Market Square (Pre 1900) – When the Natal Bank was still a single-story (building on the right).
Natal Bank - Johannesburg (Pre 1914). The new double-story building.
National Bank - (Natal Bank of South Africa) - 1921. All 55 employees have their names inscribed on the photograph - 25 of which are female.
Natal Bank / Barclays - Johannesburg (Circa 1930s)
The Bank of Africa also had a corrugated iron building on the edge of the Kimberley hole during 1882. This building eventually collapsed into the big hole during 1884.
The snippet below, which appeared in The Star newspaper on Saturday 11 December 1897, confirms that modern day "money-in- transit-heists" is nothing new:
Great Coach Robbery. 3,850oz of Gold stolen by Highwaymen. Burghers in hot pursuit
The day before, in broad daylight at about 10am George Heys & Co.'s mail coach had been held up shortly after leaving Pilgrim's Rest, where it had picked up four passengers and gold from the local branch of the Nationale Bank for consignment to Headquarters in Church Square, Pretoria. The armed robbers forced passengers and the driver to lie under the coach while they unharnessed the mules. Then taking the gold from the boot of the coach they mounted their horses and rode off up the road. However, the brakeman of the coach (who rode on the back of the coach) had jumped off and doubled into the bush. The robbers put a bullet through his hat but he escaped unhurt and then gave alarm. Burghers and police from the village were soon on the scene. They found the passengers and Du Plessis, the driver, handcuffed lying under the coach and the bullion boxes scattered all around. They questioned the men as to which way the robbers had gone and rode off after them. Just before dark they caught sight of them in the distance but could not catch up with them before night fell and the trail was lost. (Allen, 1971 - with slight amendments by the author).
Labour problems that were torturing the country during the early 1920s did not leave the banking industry unscathed. Pay disputes and poor relationships between employer and employee took the members of the Society of South African Bank Officials (SASBO – established 1917) out on strike, albeit for a mere 3 hours, before the banks accepted their terms and the action was called off. This was the first and only strike in the banking industry.
Real Picture Postcard format photograph of G. Ferreira – Circa 1920 – A National Bank Bethlehem branch employee
Real Picture Postcard format photograph of W. Mills – Circa mid 1910s – Would have been an employee at the National Bank Uitenhage branch
National Bank Uitenhage – Photograph of unknown branch employees – 1913
Women in Banking
To alleviate the labour shortage created by some 300 male employees who had to be released for the war effort, women were first employed as clerks on a temporary basis during the First World War (1914-1918) at the National Bank. Sadly, no effort was made to increase the staff compliment of qualified black citizens at the time.
Permanent employment for women only became a reality during the 1920s under the Barclays Bank banner. During the Second World War (1939 - 1945) another shortage existed due to men being enlisted into the military, resulting in an increase of female employees. The female workforce within Barclays at the time of the war stood at around 33%. Female employees were however mainly employed as telephonists, receptionists, secretaries, clerks and general assistants. 
Joan Ricketts became the first woman to be appointed into a senior role in a large branch during the 60s. This would have been whilst the Bank functioned under the then Barclays (Dominion, Colonial & Overseas) banner.
Joan Ricketts
Female staff of the Port Elizabeth branch 1916 (Sadly the names of the sitters has not been recorded)
National Bank - Port Elizabeth (Circa mid 1910) - This building was sadly demolished during the 1950s
.
Cabinet Card format photograph of RH Friend - Circa mid 1890s - A rather sophisticated looking gentleman who clearly would have been a manager at De Nationale Bank Port Elizabeth branch.

Some personalities from before 1900
As can be imagined, over the years the bank certainly employed some interesting personalities, each with their own unique story. The details below are a reflection on one director and three employees in the bank's earlier history.
Thomas William Beckett - First chairman of De Nationale Bank de Zuid Afrikaanse Republiek (1891-1900). Known as a benevolent individual, Beckett was one of the first traders to settle in early Pretoria during 1874. He established the well-known store T.W. Beckett & Co on the corner of the then van der Walt and Church streets. This business secured a contract, amongst many other similar contracts, to supply all picks and shovels needed for the work on the Delagoa Bay Railway. He married Annie Orsmond from Bloemfontein during 1874. They had 16 children, 4 of whom passed away at early infancy due to typhoid fever. An important part of the Beckett story is that, during 1864 aged 13, he and his father left his mother and younger siblings in Australia to travel to South Africa. It appears as though Beckett senior never saw his wife again. This begs the question – did Beckett junior see his mother again? It has been suggested that Beckett delivered his first presentation in Dutch at the opening of De Nationale Bank on 20 April 1891 (see position 16 on image with Paul Kruger above as well as the image of Board of Directors from 1896). He passed away during 1924 aged 67. A street in Arcadia, Pretoria was named after him.
Dr Wilhelm Knappe - First manager of De National Bank der Zuid Afrikaanse Republiek. He first arrived in Pretoria from Germany to negotiate, on behalf of a syndicate of European Bankers, for a concession to start a Bank in the then Republic. This concession resulted in the establishment of the De Nationale Bank der Zuid Afrikaanse Republiek (NBZAR) and the Mint. After the negotiations he returned to Germany, only later to accept the role as joint general manager of the same Bank in Pretoria (See position 15 on image with Paul Kruger above). Knappe resigned during 1893.
Friederich Munscheid from the German Imperial Mint in Berlin was engaged by Dr Knappe to set up the Mint in Pretoria. Munscheid arrived in Pretoria at the end of 1891 after travelling for 3 months by ship to the Cape, followed by a train journey to Bloemfontein and from there by ox-wagon to Pretoria – this all with three rather large and heavy minting presses made by Berlin based Ludwig Loewe & Co. The Mint reached full production during 1893.
George Cato opened the first Durban branch of the Natal Bank from his own house during 1854. He also became Durban's first mayor. Cato Ridge has been named after him;
The Johannesburg based Natal branch, which later became the Barclays Bank, used to house the First National Bank Museum. This building was sold, resulting in all artefacts now being housed at the Bank's head office in Johannesburg since 1998. The Natal Bank building was restored in 2017-2018 (click here for details).
Photographic images included in this article are mostly older than 100 years. Will future generations, more than 100 years from today, have any interest in any organisation's visual history – about its employees and buildings as they exist today?
The author has been a proud employee of the FNB group for the past 38 years. He initially joined Barclays Bank in Pretoria as a trainee computer operator during 1981. This article is presented from a photo historical perspective and is not meant as an FNB advertorial.
National Bank - Johannesburg
National Bank - Johannesburg (1906) - including an aerial view showing von Brandis square as well as Jeppestown in the background
Real Picture Postcard format photograph of JD Griessel who would have been a manager at the National Bank Johannesburg branch. Circa 1924.
National Bank - Middelburg
National Bank - Pietermaritzburg
National Bank - Pietersburg
National Bank - Potchefstroom
National Bank - Rustenburg
National Bank - Worcester (circa 1910)
The six branches above may have existed as either Bank of Africa or Natal Bank branches prior to their takeover by the National Bank.
Acknowledgement: Rosa Swanepoel (Pretoria historian) for her assistance in providing the names of the men on the 1896 Nationale Bank's Board of Directors photograph included in this article.
Main image: National Bank – Lichtenburg. This image (circa mid 1910) creates the distinct atmosphere of a small town farming community bank.
About the author: Carol is passionate about South African Photographica – anything and everything to do with the history of photography. He not only collects anything relating to photography, but also extensively conducts research in this field. He has published a variety of articles on this topic and assisted a publisher and fellow researchers in the field. Of particular interest to Carol are historical South African photographs. He is conducting research on South African based photographers from before 1910. Carol has one of the largest private photographic collections in South Africa.
Sources:
Allen, V. (1971). Kruger's Pretoria – Buildings and personalities of the city in the nineteenth century. Balkema. Cape Town
Andrews, T. & Ploeger, J. (1989). Street and place names of old Pretoria. Van Schaik. Pretoria
Crossley, J. & Blandford, J. (1975). The DCO Story – A history of Banking in many countries 1925 – 1971. Barclays Bank International Limited. London 
Engelbrecht, S.P; Agar-Hamilton, J.A.I; Pelzer, A.N. & Behrens, H.P.H. (1955). Pretoria (1855 – 1955). City Council of Pretoria
First National Bank Archives (photographs of people)
Hardijzer Photographic Research Collections (picture postcards)
Nicol, M. & Collings, J. (1988). The First 150 years – First National Bank of Southern Africa Limited (1988). Argus Leadership Publications. Cape Town
SAhistory.org.za (1800s)
Various. Oldest companies in South Africa. theheritageportal.co.za
Various First National Bank documentation, such as an earlier museum brochure and staff news letters
Webb, A.C.M. (1992). The Roots of the Tree. A study in early South African Banking: The Predecessors of First National Bank 1838 – 1926. Rustica Press, Ndabeni, Cape Town
Wikipedia.org (First National Bank)
Wikipedia.org (1838 in science)
Wikipedia.org (1838 in South Africa)
Disclaimer: Any views expressed by individuals and organisations are their own and do not in any way represent the views of The Heritage Portal.