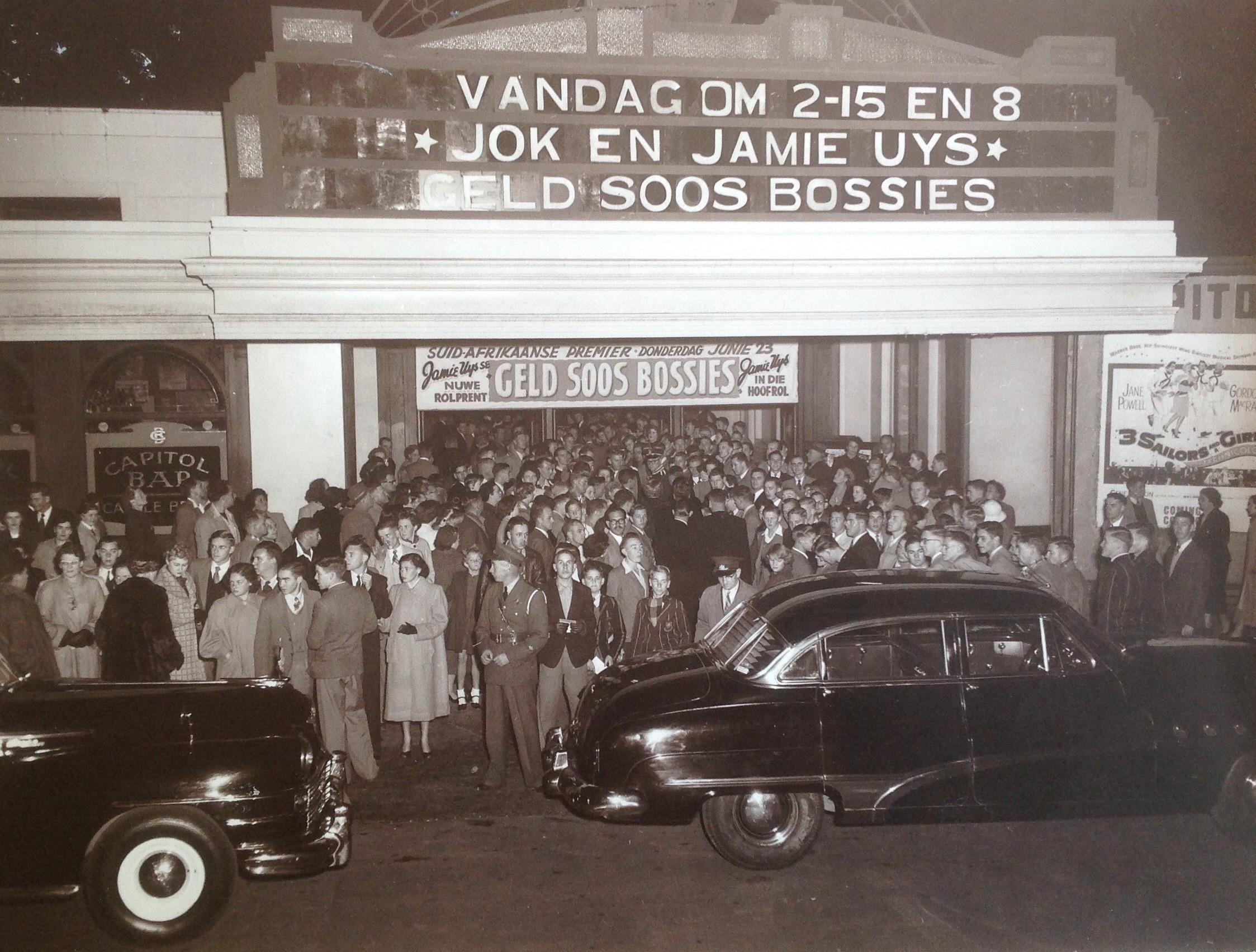 Disclaimer: Any views expressed by individuals and organisations are their own and do not in any way represent the views of The Heritage Portal. If you find any mistakes or historical inaccuracies, please contact the editor.
Monday, November 21, 2022 - 17:34
Little did I know that the "old man", Dotman Pretorius, who captured a photograph of a group of course goers during the mid-1980s, which I was part of, would become a personal research subject some 40 years down the line. Dotman would have been in his late 60s at the time he captured this particular photograph.
When capturing the photograph, he used old-fashioned flashlight technology. I was so intrigued by this, that I asked him whether I may have the large blue glass bulb that he used to produce the flashlight. He happily parted with the unusable item, an item which still features in my photographic collection.
Four decades later, in a Johannesburg-based book shop, I stumbled upon a number of good quality and unique photographs of various themes captured by Dotman Pretorius. Those that initially attracted my attention were the photographs taken by him at Pretoria's Capitol Theatre during the 1950s.
Opening evening of a 1955 British movie "Geordie" at the Pretoria Capitol theatre during 1956. The movie entails a Scotsman who competes in the summer Olympics, therefore the presence of the pipe band. The theatre, on Parliament Street opposite Church Square, was built during 1931 and was described as one of the most atmospheric theatres at the time. John Ralston was the architect. Photo by Dotman Pretorius.
Abstract of the interior of the Pretoria Capitol Theatre, taken from the mezzanine level. Photo by Dotman Pretorius (1972).
Foyer of the Pretoria Capitol Theatre. Note the movie posters for the American comedy movie "The Geisha Boy" (1958). Photo by Dotman Pretorius (1959).
This find alone resulted in this article being penned. Researching Dotman Pretorius was a challenge in that very little information seems to have been recorded on him. Information that surfaced around him mainly relates to his collecting interests, yet very little, if anything, around his photographic career. Dotman and his wife, Gwen, also had no children, which in itself contributes to the void of information on Dotman.
The primary intent of this article is therefore to ensure that some history around Dotman is recorded and that his extensive work as a photographer is duly acknowledged, and in doing so, also let some of his important photographic work on Pretoria's recent history surface.
Due to the sparse information on Dotman, much reliance was placed on a single article published on him. The author and publication in which the article appeared are unknown. My suspicion is that the article, titled "A tribute to a collector – Mr Dotman Pretorius", may have been penned by his very good friend and fellow collector, Mervyn Emms.
Local family history
Johannes Lodewyk Pretorius (Dotman) was born in Pretoria on 2 March 1917. He was the youngest of six children.
Researching Dotman was also challenging due to the different spellings of his second name. Johannes Lodewyk (and the different permutations thereof) was a common family name for Pretorius men. The Pretorius family website in itself does not seem to have much information on Dotman or his wife. It is unclear where the name Dotman originates from.
Dotman's father was Major Johannes Lodewyk (1871–1939) and his mother Martha Jacoba (born van den Berg) (1881–1945). The couple got married in Pretoria during 1900. They had six children:
Three boys: Henning Petrus Nicolaas Pretorius, Willem Daniel van den Berg Pretorius and Dotman. Willem trained as an architect and was involved with the work on the Overvaal house, official residence of the Administrator of the Transvaal at the time. Willem died young (1906–1946).
Three girls: Cornelia Magdalena De Beer, Heila Sheard and Esme Schwellnus.
Dotman's wife, Gwenyth Marian (Wood), was born in Slurry (North West Province, South Africa) on 16 September 1930. The couple got married on 23 April 1954 in Arcadia, Pretoria. He would have been 37 and Gwenyth 23. Gwen was a typist at the time of their marriage. After Dotman's death, Gwen married Des Strachan.
Dotman also stated that he is the great-great-grand nephew of Andries Pretorius, the man Pretoria is named after and the hero of Blood River. Dotman added that he was also a direct descendent of the Voortrekker leader, Piet Retief, in that his great-grandfather, Marthinus Wessel Pretorius, married Piet Retief's daughter, Deborah.
His grandfather was Henning Petrus Nicolas Pretorius, who was the head of the State Artillery of the ZAR (South African Republic).
Dotman's father, Johannes Lodewijk, gained fame as Skote Petoors (loosely translated to "well-aimed") because of his unique cannonry skills during the Anglo-Boer War. When the First World War loomed on the horizon, he was not prepared to fight for the British against the Germans and resigned from the army and established himself as a farmer on the family farm, Welgegund (Well deserved) in the Pelindaba Valley (northwest of Pretoria near the Hartbeespoort dam).
Whilst the exact date of Dotman's death is not known, it is recorded that he passed away aged 82. The year of his death is therefore assumed to have been 1999.
 
Abstract of a Union Building tower. Photo by Dotman Pretorius (Circa 1960s).
Demolition of the old Pretoria market buildings in progress. The inscription on the photograph states that the domed building in the centre of the photograph was Pretoria's original art gallery, built by Dotman's grandfather, van den Berg. The State Theatre was constructed on this site and opened its doors during 1981. The high rise building in the background was Pretoria's municipal office block built during 1967/9. It burned down during 1997. The architects were Burg Doherty Bryant and partners. The building with the "Jakaranda" signage is the Sammy Marks building designed by de Zwaan during 1903. The smaller white building just visible on the right of the Sammy Marks building is the Kynoch building dating from before 1889. On the far top tight, a portion of the union buildings, completed during 1910, can be seen. Photo by Dotman Pretorius (Circa 1960s).
The old South African Reserve Bank (SARB) building as seen from Vermeulen Street in Pretoria. The SARB opened its doors on 30 June 1921. The architects for this second building were Baker & Scott. The building was completed during 1930. Photo by Dotman Pretorius (Circa 1960s).
European family link
Dotman seemingly traced his own ancestry back to 16 May 1596 and narrated his research to the author of the article referred to above.
It all started with the birth of Barend Schulze on this day in the village of Schüttorf in the old Royal County of Bentheim in the extreme west of the German Federal State of Lower Saxony.
Barend Schulze was a cobbler who later settled in Leyden in the Netherlands. He had a son, Wessel, who studied theology at Leyden. It is alleged that as a student Wessel then latinized his name to Wesselius Praetorius. Wessel's eldest son, Johannes, in turn entered the Dutch East India Company and became the founder of the Pretorius family in South Africa.
Growing up in Pretoria
Dotman grew up in Pretoria where he lived in a boarding house managed by his mother, along with his two brothers and three sisters (located in Visagie Street), whilst his father farmed on the family farm Welgegund, in Pelindaba some 32 kilometres away. Over weekends their father would either come to town or the family would go to the farm.
When the property in Visagie Street was sold, his mother applied to the municipality for permission to erect a tent on the banks of the Apies River. Although this was to be a temporary arrangement, some seven years passed in this temporary manner.
The tent, a marquee, was hired and had to be replaced several times by the hiring company. The family's address, whilst staying in the tent was: "The Tent of Esselen Street, Pretoria".
Dotman stated that he held fond memories of this period. As children they would regularly frolic in the adjacent river. Their weekly bath night was arranged by the kind permission of a neighbour. Today, the site where the tent once stood is occupied by house No 32 van Boeschoten Avenue in Sunnyside.
One of the highlights of that period was that on the Thursday preceding Good Friday, the family and friends would travel by ox wagon, stocked up with provisions and bedding to his father's farm, Welgegund. They would then camp on the banks of the Crocodile river and sometimes in the farm house for the Easter weekend, returning again on Easter Monday night to arrive back in Pretoria on Tuesday morning in time for school or work.
Dotman attended the German primary school just across the Apies river. He matriculated from Afrikaans Seuns Hoërskool. An interesting anecdote shared by Dotman was that he was the only boy back then to have attended the Afrikaans Meisies Hoërskool in that he was studying art, a course that was not offered at the boys' school!
During 1938, aged 21, he joined the Vacuum Oil Company in Johannesburg, where he was trained as a statistician. In September of the same year, he worked at SAPPI Springs as a papermaker. During August 1939, he joined the South African Mint and worked in the Ammunition Section becoming a special craftsman. He started his photographic career shortly thereafter.
As a keen amateur archaeologist, he also built a considerable collection of stone-age implements and artifacts. Dotman proved that one is never too old to learn when during 1971, aged 54, he enrolled in an archaeology qualification for non-degree purposes at the University of Pretoria.
Dotman was also allocated lifetime membership by the Archaeological Society of South Africa in honour of his work and unfailing interest in the field of archaeology.
Dotman did not restrict his collecting interests to stone-age items. He was also an avid collector of a variety of other items. His collection was his pride and joy. Over a period of some 25 years, he attended endless car boot sales and flea markets in search of collectables. This collection was sold off after his death.
As a fellow collector, I need to state that Dotman's collection was not properly curated. He was more of a hoarder than a collector – this stands in contradiction with the outstanding, structured work he performed as a photographer.
Dotman had extensive general knowledge in that he was an avid reader and amassed a considerable library covering a wide range of topics.
His love of motor cars also led him to become the owner of a number of exotic cars during his lifetime.
It has been suggested that Dotman had great wit and wisdom. He has also been described as a good friend to have.
Abstract of Polleys Arcade built during 1959. The architect was Norman Eaton. Photo by Dotman Pretorius (Circa 1959/60).
Polleys arcade (between Francis Baard and Pretorius Street) under construction. Photo by Dotman Pretorius (Circa (1959/60).
African Baking Company (ABC bread) showing delivery trucks in front of the bakery. Location of this bakery is unknown, but numberplates of cars on right confirm it to be a Pretoria based bakery. Photo by Dotman Pretorius (Circa 1950s).
Activity as photographer
It was the gift of a box camera for his 21st birthday (1938) that started him off on what was to become his future career as a professional photographer.
Dotman was clearly very versatile and professional in his role as photographer between the 1940s and the 1980s in that during this period he produced a broad spectrum of photographs of Pretoria as a city, surrounding archaeology as well as its people and the arts. Dotman went on to specialise in commercial, industrial, architectural, group and aerial photography.
The resultant photographs captured by Dotman will become invaluable to historians in years to come.
Although Dotman would have dabbled in photography as early as 1940, it was during 1945 that he was appointed to the staff of Martin Gibbs photographers in Pretoria (which still exists today), where he formally qualified as a professional photographer. During 1951, he joined the Constance Stuart Studio in partnership with Richard Cutler. Click here to read an interesting article on Constance Stuart. She has been described as South Africa's first female war correspondent.
A year after his marriage to Gwen, he established the Dotman Pretorius Studio of photography (1955).
To date, Dotman's photographs obtained for the Hardijzer Photographic Research Collection (HPRC), vary between the 1950s and 1980s. I would be keen to find photographs captured by him during the 1940s as well.
He clearly was not studio bound in that he was constantly on the move to capture the majority of his photographs. Amongst other, he attended theatre evenings, military training camps or flew over Pretoria to capture aerial views. Dotman also extensively photographed the Mapungubwe archaeological site, some photographs of which can be viewed on Pretoria University's repository link.
For his exceptional photographic contribution, he was awarded a gold medal by the Suid-Afrikaanse Akademie vir Wetenskap en Kuns.
Another unique aspect that stands out in terms of his work is the aerial photographs he produced of Pretoria. It is not known at this point whether he did this work on consignment and whether he, or the entity that contracted him to perform the work, would have rented the aircraft. It is sad to see that some of his aerial photographs have already been used without acknowledging him as being the photographer.
Aerial photograph of Ndebele village near Pretoria. Photo by Dotman Pretorius (Circa 1960s).
Aerial photograph of Pretoria University administration office and campus with Hatfield in the background. The star shaped administration building (centre foreground) was completed during 1968. The architect was Brian Sandrock. Photo by Dotman Pretorius (Circa late 1960s).
Aerial photograph of Council of Scientific and Industrial Research (CSIR) building east of Pretoria. By Dotman Pretorius (Circa 1950s).
During the 1950s Dotman landed a very lucrative contract with the South African National Defence Force (SANDF), to capture images of soldiers attending a variety of military conscription or training courses at various military camps located in Pretoria or Heidelberg. This certainly was no menial task in that Dotman would have to preprint the cardboard on which the photographs were mounted with the name of the course as well as the name of each soldier. Today these photographs should already be an invaluable source to genealogists and military historians.
Dotman also clearly rubbed shoulders with the national political leaders of the time in that he captured close-up photographs of a number of them at social functions, such as Dr. Verwoerd, CR Swart, Adv. Strydom and Dr. Dönges. This could potentially attract the inevitable title of him being an apartheid photographer. Due to his extremely diverse portfolio, I would personally caution against such a rather negative label. He was simply a man of the moment.
His activity in the theatre space is also confirmed by the number of photographs identified of earlier artists such as Gé Korsten, Mimi Coetzer, Wena Naude and Jamie Uys. Amongst a multitude of other well-known Pretoria citizens, Dotman also photographed Gustav Preller (journalist, writer, historian, literary critic) and his family. On social media I spotted a comment that Dotman also photographed Elon Musk's father, Errol Musk.
Amongst some friendly chit-chat in a personal letter from Gé Korsten to Dotman, Korsten states his dilemma at having lost his photographic portfolio and asks Dotman to send him a number of 8x10 images of Korsten in various operatic roles. Korsten also mentions seeing many operas and comments on how expensive it is in Austria. Gérard Korsten (popularly known as Gé) (6 December 1927 – 29 September 1999) was a South African opera tenor and actor who had a great influence on Afrikaans culture.
Whilst he may have had more than one studio, one of the rubber stamps he applied to the back of photographs confirms that he had a photographic studio in the Centenary Building in Pretoria (on Pretoria Square).
It is not clear whether Dotman employed staff to assist him in his busy program.
Dotman's entire collection of negatives from the start of his photographic career was seemingly sold to the Cultural History Museum in Pretoria (today known as Ditsong Museum), yet reference is also made, as early as 1968, that Dotman's Aerial and other photographs had been donated to Pretoria University for curation.
It still needs to be determine whether the entire Dotman Pretorius photo collections held by these two entities have been digitised or catalogued in full.
Gé Korsten (1927 – 1999)– well known South African opera singer (tenor). Communication between Gé and Dotman suggest that they were well acquainted. Photo by Dotman Pretorius (Circa late 1950s).
Actresses Hermana Rossouw and Hellouise Norval linked to "KlassiekeTeater" (Classic Theatre) in Pretoria. Photo by Dotman Pretorius (Circa early 1960s).
Actress L Bezuidenhout linked to "Klassieke Teater" (Classic Theatre) in Pretoria. Photo by Dotman Pretorius (Circa early 1960s).
Actress Monika Louw linked to "Klassieke Teater" (Classic Theatre) in Pretoria. Photo by Dotman Pretorius (Circa early 1960s).
Actress Wilma Stockenström, linked to "Klassieke Teater" (Classic Theatre) in Pretoria. Wilma, born during 1933, also became a leading Afrikaans female writer and translator. Photo by Dotman Pretorius (Circa early 1960s).
Dignitaries at the opening evening of Jamie Uys's movie "Geld soos bossies" during 1956. Third from left is Jok Uys, brother to Jamie Uys (second from right). Second from left is the then South Africa prime minister's wife, Mrs Strydom. Note the ladies in their fur shawls/jackets. Photo by Dotman Pretorius (1956).
Another theatre evening with Dr William Nicol on left, actress Wena Naude in the middle and General Henrik Klopper. William Nicol (1887 – 1967) was a theologian, educator and Administrator of the Transvaal at the time. Wena (1905 – 1978) has acted in more than 40 Afrikaans movie and theatre productions in her lifetime. General Klopper (1903 – 1977) was the head of the union defence force between 1956 and 1958. Photo by Dotman Pretorius (Circa 1956).
Two New Zealand mountaineering legends George Lowe on the left and Sir Edmund Hillary on the right. Lowe (1924 – 2013) was part of the team that resulted in Hillary (1919 – 2008) becoming the first known person to submit Mount Everest along with a sherpa during May 1953. Mrs Hilgard Muller, second from right was the wife of the then Pretoria mayor, whilst Mrs Nicol (second from left) was the wife to Dr William Nicol. Mrs Muller holds a brochure with the caption "The highest photograph on earth". Photo by Dotman Pretorius (1955).
Theatre evening with Dr Eben Dönges on the left, Pierre de Wet in the middle and an unidentified general. Dönges (1898 – 1968), who has been described as a co-creator of the apartheid system, was elected State President to succeed the then State President CR Swart, but suffered a stroke and fell into a coma and passed away before he could take office. Pierre de Wet (1909 – 1990) was an actor who also became a legendary Afrikaans movie director producing some 21 movies. Photo by Dotman Pretorius (Circa 1950s).
Dotman's link to Eugene Marais suicide
Eugene Marais, a well-known South African author, befriended Major Lood Pretorius (father of Dotman). Lood Pretorius stayed on his own on the family farm where Eugene Marias took his life (at the concurrence of the Crocodile river and Klipspruit near Pelindaba – North west of Pretoria). As already stated, to be closer to schools, Dotman stayed in Pretoria with his mother and siblings.
Marias (2015), in an article reflecting on the death of Eugene Marais (1871 – 1936), indicates that he interviewed Dotman Pretorius.
During the interview Dotman seemed in disagreement with the location of Marais' memorial stone (erected by the Council for Atomic Power during 1981), in that, out of curiosity, he visited the actual spot where Marais allegedly committed suicide. Dotman described to Marias in much gory detail how he recalled the scene when he visited the spot as a young man, probably on the first weekend of April 1936. Dotman would have been 19 years old at the time.
Residence
The beautiful Victorian home in which Dotman and his wife, Gwyneth, lived has a history of its own.
The ground was evidently bought in 1905 for £17-10-00. The original owner started building the house but never lived in it. It was then purchased by Heys (of Melrose House) and given to his daughter Jessie as a wedding present during 1907. Around 1911, the house was sold to Mrs. Grant Mackenzie, who owned it up until 1945. She also never lived in the house herself in that it was rented out. During this time, it was let out to the French Embassy. It was through their intervention that the cottage at the back (eastern side) was built, which then became the ambassador's office.
Thereafter, the house was also let to the Russian Embassy as a staff house. The house was then purchased by Mrs. van Reenen. She lived there until 1960, when the property was purchased by Dotman.
The house was originally designed by one of Herbert Baker's students – MacIntosh.
Group of unknown nurses who qualified at MEDUNSA (Medical University of South Africa). MEDUNSA was established in Pretoria North during 1976. It is today known as Sefako Makgatho Health Sciences University (SMU). Photo by Dotman Pretorius (Circa late 1970s).

Closing
Whilst my primary focus is researching South African-based photographers from before 1915, researching Dotman was an opportunity not to be missed.
Considering his immense contribution to Pretoria's visual history, a part of his personal history, whilst limited, simply had to be recorded to fill the void and ensure that his work is acknowledged. Ongoing research will be required to provide a more comprehensive narrative around Dotman's work as a photographer.
Readers who may be able to add to the above information are invited to do so to ensure a more comprehensive historical narrative is recorded for the benefit of future generations.
Joseph Calder Munro has previously been described as Pretoria's longest serving photographer (1890 -1940). Considering that Dotman took up photography during the 1940s, he would also have been active as a photographer for some 50 years! Munro's contemporary.
I cannot help but to wonder whether Dotman and Munro ever met in that Munro would have been at the prime of his career during 1940 and Dotman just kicked off his career as photographer.
Amongst the clutter in Dotman's collection, there was a sign which stated: "If I can't take it with me, I'm not going". At least Dotman left us with valuable historical imagery produced by himself.
The Army Gymnasium based in Heidelberg. Attendees of Army combat physical training course during 1968. Soldiers are, front row from left to right: CA Miles; HPC Torlage; JP van Eden; GP Nolte; JF Huyser; A van Graan; JEA Cloete; CF Crous and JCM van Zyl. Back row from left to right: RPG Kotzenberg; F Burger; JM Goodrich; IJ Marias; D Lampbrecht; AC Baily; JA Cawood and PD Zaaiman. Photo by Dotman Pretorius.
S.A. Airforce Trade training group – 1961. Soldiers are, front row from left to right: JH Smit; FJ Prinsloo; JF Botha; JM van Rooyen and R Eilers. Back row from left to right: DJ Pretorius; AC Brits; B de Jager and NA van Schalkwyk. Photo by Dotman Pretorius.
The School of Signals – Assistant instructor-despatch riding course during 1955. Soldiers are, front row from left to right: JP van der Merwe; TPA Theron; AHG Munro; OD Mathews; GJJ Boshoff; CD van Loggerenberg & J. Fourie. Back row, left to right: EA Olivier; MA Lubbe; JMA Laing; CA Keeves and CG Claassen. Photo by Dotman Pretorius. What makes this photograph unique is that Dotman used this particular photograph, which was clearly unsold stock, as a backing board to mount the photograph of a well-known South African opera star. A number of photographs mounted in this manner have been identified.
S.A. Military College – Battalion mortar instructors course during 1961. Soldiers are, front row from left to right: DJ Greyling; PE de Villiers; P Waterfall; EJJ Nel; WR van der Riet; JJ Steenkamp; DJ Maritz; JPB Venter & DJ Mortimer. Middle row, from left to right: CZ Hartwell; WA van der Waals; PW van der Westhuizen; LJ Labuschagne; GDB van Niekerk; JAS Crous; JRF Irvine; DJ Stofberg; PJ Borman & OJ Snelling. Back row, from left to right: AHS Schoeman; AJ Hattingh; JP Ueckerman; LE Kruger; TP Prinsloo; E O'Reilly; SP Zaayman; JM Donald; TG Lucas; GPS Coetzee & GB Low. Photo by Dotman Pretorius.
Services School conscription group at Voortrekkerhoogte (Pretoria) during 1966. Soldiers are, front row from left to right: WEV Franz; KM Pickersgill; A Botes; WJB Vermeulen; JJ Steenkamp; N Chesler; R Harding; AJB Viljoen and TJ du Toit. Second row, from left to right: JD White; JJ Wentzel; HNH van Rhyn; PW de Kock; IF Corris; TCH Labuschagne; VR Dante; GS Botha; TH Dickson; SS Maree; LF Trautman & MG le Grange. Third row, from left to right: ES Holmes; L van Zyl; GL Gouws; RL Davies; JJ Venter; WM Jordaan; DA Grobbelaar; JN Nel; RD Meldau & JE Broadhurst. Back row, from left to right: RG Hannaford; RE Chapman; A Crouse; PE Gray; L Mills; JA du Plessis and DH Olivier.
About the author: Carol is passionate about South African Photographica – anything and everything to do with the history of photography. He not only collects anything relating to photography, but also extensively conducts research in this field. He has published a variety of articles on this topic and assisted a publisher and fellow researchers in the field. Of particular interest to Carol are historical South African photographs. He is conducting research on South African based photographers from before 1910. Carol has one of the largest private photographic collections in South Africa.
Main image: Opening evening of a 1955 South African movie "Geld soos bossies" at the Pretoria Capitol theatre during 1956. Jamie Uys not only directed the movie but also played alongside his brother Jok Uys in this movie. The opening evening was clearly during the South African winter. Note the movie poster on the right, advertising the movie "3 Sailors and a Girl". Photo by Dotman Pretorius
Sources
Altenroxel, L. (1998). A Home of cultural history – Eclectic collection of memorabilia. Pretoria News. 20 May 1998
Beyer, G. (2022). Constance Stuart Larrabee, The Collector
Die Pretorius Familie, www.pretoriusfamilie.info
Familysearch.com (Gwenyth Marian Wood)
Geni.com – Martha Jacoba Pretorius (extracted October 2022).
Klass, G. (Personal discussion 10 October 2022). Provided additional insight on Pretorius as photographer
Marais, J.L. (2015). Eugene Marias se dood
Pretoriana (1968). April to August (56/57)
Pretoria University Repository. Dotman Pretorius
Pretorius, J.L. (2005). Skote Petoors. Pretoria Africana Society yearbook 2005 – 150 years (No 22)
Unknown (1997). Meet Dotman Pretorius. Be my Guest. February 1997
Unknown (author, date, publication). A tribute to a collector – Mr Dotman Pretorius
Unknown (extracted October 2022). Aerial photos show how Pretoria has changed over the past 70 years (www.2oceansvibe.com)
Wellmann, E. (Personal discussion 20 October 2022). Provided additional insight to Pretorius couple