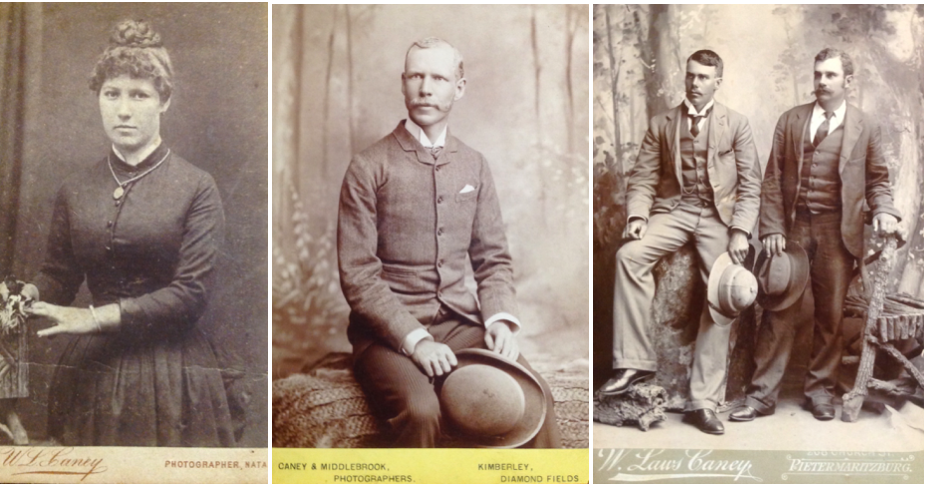 Sunday, September 22, 2019 - 13:32
With reference to the early Durban based photographers Caney, one author recently confirmed the challenge in "disentangling" the relationship between the various Caney individuals.
The number of Caney photographs identified in the Hardijzer Photographic Research Collection also confirms that closer scrutiny was required as to who these photographers were. The photographs in this research collection, all dating from prior to 1905, include studio-based images as well as images captured during the Anglo-Boer war.
This article not only intends to clarify the various links between the Caney men (and possibly one female in the same family), but also corrects some misinformation previously published. The three key aspects that are corrected in this article are:
Date of Benjamin Williams Caney's death. All websites state the incorrect date of death – This is a significantly important aspect;
Benjamin William Caney had four sons who survived into adulthood and not three;
Benjamin William Caney was not an active photographer during the Anglo-Boer war.
The primary purpose of this article is therefore to determine how the various Caney photographers relate to each other. This required the analysis of internet, archival and photographic sources as it relates to the three Caney brothers who arrived from abroad. This analysis was expanded to their respective South African born children and grandchildren.
Of the 9 Caney men recorded in the three generations, 5 have been recorded as active South African photographers between the period 1860s and 1915 - Some were clearly more visible as photographers or had more success compared to the other. There is a distinct probability that at least one of the Caney brother's wives assisted him in the art of photography after arriving in South Africa from Australia (See under Ebenezer Edmund Caney below).
The three brothers Benjamin William, William Laws & Ebenezer Edmund were born in Lincoln in England. All three immigrated to South Africa (Durban) at different stages. The eldest, Benjamin William arrived in Durban during the late 1850s with his remaining two brothers arriving in South Africa a number of years later. All three of the brothers were already experienced photographers prior to their arrival in South Africa.
For the eldest of the three brothers, Benjamin William (BW), photography was a secondary source of income. From the onset BW earned his livelihood from his jewellery business – a very successful one at that in that the business became well entrenched and resulted in riches for the family in that all four of his sons followed in his footsteps as jewellers, three of whom remained in the jewellery industry during their lifetime.
The Caney jewellery store at 366 West Street (building on left). It is assumed that the image was captured by one of the Caneys. Note the double decker horse tram in the background as well as the pedestrian ramps from the street onto the pedestrian sidewalks
A sturdy little carton jewellery box in which an item that was purchased from BW Caney would have been placed. Acquired at a flea market during 2019
 
Unlike so many early South African photographers at the time, the Caney family was a generally well to do family in that at the time of their deaths, they each left substantial assets (especially property & shares). The estate of Valentine Ernest Caney (youngest son to Benjamin William Caney) interestingly enough still showed some activity as recent as 2002, some 45 years after his death.
High level Caney family structure:
British census information for 1861 & 1868 shows William Caney, father to Benjamin William (BW), William Laws (WL) and Ebenezer Edmund (EE), as an established watchmaker in Lincolnshire.  Their mother was Susan Caney. The father, William was clearly also a photographer in that he had a studio in Queen Street, Market Rasen, Lincolnshire during 1859. This is where the three brothers would have obtained their interest and subsequent skill in photography.
The 5 names captured in bold below, have been identified as the 5 Caneys active as photographers in South Africa. There is also a strong possibility that Kate Agnes Caney, wife to Ebenezer Edmund Caney, would have assisted her husband in South Africa as she has been recorded as his assistant whilst based in New Zealand and Australia prior to their arrival in South Africa.
1) Benjamin William Caney – married to Ellen Calver
son William Harry – married Mary Beatrice Meikle (2nd marriage)
daughter Maude Ellen Caney – married William Thomas Johnstone Wilson
son (2nd) – Fred Benjamin – died at Durban 15 March 1878 aged 9
son (3rd) – Charles John (Charlie)– married Helen Lydia Phillips
son (3rd) – August Watts (Gus) – Married Dirkie Cornelia Human 
daughter (2nd) – Ivy Charlotte – Married Donald Fritz Andrew McDonald
son (4th) – Valentine Ernest (Val) – Married Elizabeth Frank
2) William Laws Caney – married to Sarah Grogan
son - William Grogan – married Josephine Mary Green
son - Edward Stanley - unmarried
3) Ebenezer Edmund Caney – married to Kate Agnes Barret
daughter - Mary (Minnie) Lilith – Married to a Walter
Caney Brothers (Sons to Benjamin William): From left to right – August Watts, Valentine Ernest; William Harry and Charles John. Image reproduced from www.brown.ch (with provisional permission from Nick Brown)
Some early Caney photographs are inscribed as "Caney – Artist and Jeweller"; "Caney Brothers" whilst others are inscribed "Caney BW & Co". These confirm that the three brothers and two of their sons would have worked together at various stages.
In analysing the photographs, especially those from the Anglo-Boer war era, it became clear that many images from around 1900 have the BW Caney name captured, yet BW Caney passed away some 4 years prior to the start of the Anglo-Boer war. The assumption is made that Benjamin William's younger brother Ebenezer Edmund continued photographing under the BW Caney name after his older brother's death.
1) Benjamin William Caney (1842 – 1895) - Photographer
Born on 1 December 1842 at Market Rasen, Lincolnshire, Benjamin William (BW) is viewed as the driving force behind the business successes achieved in South Africa. BW also left behind an immensely rich pictorial legacy of early Durban with a strong emphasis on ethnographic imagery of the local population at the time.
The one burning aspect that requires confirmation is BW's arrival date in Durban. Most articles consulted suggest that he arrived during 1856. He would have been a 14-year old at that point. An attempt to search passenger lists to confirm this version has also been unsuccessful to date. The author is therefore of the view that BW only arrived in Durban during the latter part of 1850s or very early 1860, aged around 17 or 18.
Irrespective, BW established himself as early as November 1860 as the town's first jeweller from where he would also have run his first photographic studio in tandem. The first paper-based photograph, the Carte-de-Visite format photograph, was only commercially produced from around 1861 onwards in South Africa. This suggests that BW would initially have produced Ambrotype images. An Ambrotype is one of the first photographic formats (a collodion positive photograph on glass placed against a dark background). No Ambrotype images that may have been produced by BW have been identified to date.
BW married Ellen Calvert, also from Lincoln, on 16 February 1864 at Bay Terrace in Durban. Ellen arrived from England aboard the "Catherine", during September 1861. Durban had no harbour at the time, and women had to be carried ashore by either the locals or sailors themselves.
BW and his wife, Ellen, seemingly built Durban's first thee-storey building during 1865. All their children were born in this house. The jewellery shop was on the ground floor and the family lived on the third floor "which was very rickety because there was no buildings opposite to block the south-east wind, so the third floor swayed and was soon taken down". During the mid-nineteen hundreds, the property was sold to the Johannesburg Building Society, but the old Caney firm continued its activities in the block, thriving for well over a hundred years, celebrating its centenary during November 1960.
It has been recorded that BW was the first photographer to advertise in the Davis Almanac. In the 1870 issue he claimed to have the "largest selection of local views". During 1880, in the same publication, he claimed to have the "best stock of photographs of the war" (more than likely with reference to the Zulu war).
The earliest known Carte-de-Visite format photograph of unknown lady (circa 1872) by BW Caney himself. The back of the card states "Caney – Artist & Jeweler"
A BW Caney albumen print photograph, numbered 306, showing a horse tram in Durban (Circa 1895)
BW and Ellen had four surviving sons, namely William Harry, Charles John (Charlie), August Watts (Gus) and Valentine Ernest (Val). 
BW and his sons were all keen yachtsmen and members of the Durban based Royal National Yacht Club (RNYC). One of his younger sons was allegedly responsible for doing some damage to the RNYC's brand spanking new club house during 1892 when an impromptu opening party got out of hand. Keeping to tradition, BW's grandson, Leo, who was a judge and his great-grandson, Edward (Ed), who was a doctor, both served as commodores of the RNYC. Ed Caney was instrumental in moving the RNYC across the road to its present premises.
Legend has it that one of the Caney's was renowned for wandering into the Royal Natal Yacht Club in his dressing gown and slippers - he obviously regarded his favourite club as a home from home. It is not clear who has been referred to here.
BW passed away on 19 September 1895, aged 53 at Richmond, Surrey. The cause of his death at this relatively young age is unknown. His death in South Africa was only registered on 14 July 1919 (some 24 years after his death), by his son Charles John. This was probably a requirement to finalise BW's estate in South Africa.
Most sources refer to BW's death as being during 1918. It is not clear where this date originates from. His wife Ellen's death certificate also confirms BW's death occurred on 19 September 1895. This makes it an interesting finding – All the Anglo-Boer war photographs attributed to BW Caney himself, could therefore not have been taken by him. The author suggests that his youngest brother Ebenezer Edward and/or BW's son, William Harry would have continued photographing under the BW Caney name during the war and the period thereafter.
Ellen passed away on 12 July 1908 (aged 68) at her son Charles John's house (160 Montpelier Road). All children inherited well from Ellen's estate.
At the time of Ellen's death, she had a number of properties, namely in Howick (which were purchased during 1901 at a price of £270), Mona Place & Back Beach Road properties (which she left to her older son William Harry). On her death certificate, her eldest son William Harry is described as a Fisheries inspector and her second eldest son, Charles John as a Jeweller.
BW studio activity (1860s – 1895)
BW certainly would have travelled to capture early photographs, but it is highly unlikely that BW himself would have manned any studios elsewhere in the country. Any other studio that contained his initials would either have been run by his eldest son or youngest brother.
BW Caney albumen print image, numbered 64, showing West Street (Circa 1890s)
BW Caney albumen print image of Durban (Circa 1890s)
Below is a reflection on each of BW's four surviving sons:
1.1    William Harry Caney (1864 – 1933) - Photographer
Eldest son to BW and Ellen Caney, William Harry was born in Durban on 29 December 1864. He attended school in South Africa (Durban) as well as England. Due to a relatively large age gap between WH and his 3 younger brothers, WH has been excluded in various sources in that reference is only made to the three younger Caney brothers. 
Prior to 1886, WH would have assisted his farther in the jewellery and photography business whilst in Durban.  
During the latter part of 1886, aged 22, WH found himself in Barberton where he remained for some 12 years. Whilst based in Barberton, WH married Alice Maud Caney (born Stevens) on 24 December 1891. He was aged 27 at the time and she was 23. His career was recorded as jeweller at the time, but it is known that he was also active as a photographer. His marriage to Alice did not last beyond 4 years in that the couple only lived together until Oct 1895 and divorced some 6 months later (April 1896), allegedly due to BW's infidelity and threats on her life. They had no children.
During May 1896, a few days after the divorce, Alice Maud married a friend of WH, namely Arthur George Worthington, a land surveyor. The fact that this wedding took place so soon after the divorce certainly raises a question or two. 
WH's father (BW), purchased a quarter of a stand in Barberton during 1886. This stand was based in Pilgrim Street. Ironically, after BW passed away, the stand was inherited by WH, however the title to the full stand was in the name of a JH Winter. Evidence was submitted however that BW paid the required rates and taxes that were due to the municipality on the quarter stand. The registrar argues that this may have been due to the required documents not been submitted for registration at the time. It is unclear as to what the outcome of this was. Considering that WH left Barberton around 1898, it is assumed that he must have lost the stand.
Archival records indicate that WH was also a foundation member of the St. Johns 747 lodge in Barberton.
After his divorce from Alice, WH married Mary Beatrice in Durban (born Meikle in Greytown). In the latter part of their lives they resided at 42 Mona Road. William passed away on 12 August 1933 aged almost 69 whilst Mary passed away in Durban on 25 February 1959 aged almost 85.
WH's recreational activities have been recorded as swimming, angling, yachting and shooting. It has also been suggested that WH saved several people from drowning. During October 1912, WH requested permission to shoot quails. In his will, he allocated both his guns to his nephew B.A Caney. 
At the time of his death, other than the 42 Mona Road property, WH also held 3 properties in Renald Rd. in Clairwood plus the property at 95 St. Georges Street.
WH studio activity (1886 to 1903)
Durban (1886 and earlier) – at his father's Durban based studio;
Pietermaritzburg (1887 to 1889). He may also have assisted his father or an uncle as photographer at the 15 Church Street-based studio (Not clear whether he returned from Barberton in that these dates overlaps with the Barberton date below);
Barberton (1886 - 1898) – Ironically books on historical Barberton make no reference to his activity as photographer in town. No studio images produced by him have been identified to date, which raises the question as to whether he actually had a studio in town or whether he assisted another photographer in his studio;
Durban (1898 – 1899) - 396 West Street studio;
1899 to 1902 - WH has been reported to have been a special photographer to Butler's column during the Anglo-Boer war.
He produced many images of the local population during the 1880s. These photographic images are in high demand by collectors worldwide.
Shortly after the war, WH was appointed as Fisheries Inspector to the Natal Government on 6 Oct 1903 whereafter he seems to have discontinued his photographic activity entirely.
1.2    Charles John Caney (1873 – 1952)
9 years BW's junior, Charles John (CJ) was born in South Africa during 1873. He was married to Helen Lydia, who is claimed to have been the first female motorised vehicle driver in Durban. They had three children, namely Lionel Rhodes; Ilfra Merle (married Brown) and Valerie Ena (married Carter).
Helen passed away in Port Elizabeth on 1 August 1950 after she took fatally ill on a steamship. Given her ill health, she disembarked from the steamship at Port Elizabeth. She was almost 78 years old at the time of her death. 
CJ inherited 366 West Street from his father BW, which was originally purchased on 31 July 1866. The property transferred to CJ on 14 September 1908. In order to allow them to sell the property which they inherited from their father, court documents dated 26 May 1955, show two of his children requesting the court to overturn the restriction against alienation of the property, as stipulated by CJ in his will. CJ also held 1 quarter share in No 418 West Street and previously owned 425 Smith Street.
CJ passed away at Portland Crescent in Durban on 10 June 1952 aged 79. His two brothers continued managing the Caney business after his death. The business was registered as a (Pty) Ltd. during 1950.
A document from BW Caney (Pty) Ltd, dated 25 June 1952, shows that CJ's name was struck out and replaced as director by LR Caney – his son Lionel Rhodes. The other two directors remained, namely AW and VE. During 1952, BW Caney (Pty) Ltd. was recorded as jeweller, watchmaker, optician, engraver, dealer and importer of precious metals.
Lionel (Leo) Rhodes Caney, the eldest child of Charles and Helen Caney, was born on 29 July 1898 in Durban and educated at Highbury and Durban High Schools whereafter he qualified as an attorney at the University of Natal. He was admitted as an attorney during 1920. He qualified as an advocate during 1926 and was accepted to the Bar during 1932. He was appointed as a Judge during 1954. Lionel authored various law books around law of suretyship etc. Judge, the Hon. Lionel (Leo) Rhodes Caney was awarded an honorary degree of Doctor of Law by the University of Natal during 1972.
Leo was also a keen yachtsman and Commodore of the Royal Natal Yacht Club.
1.3    August Watts Caney (1874 – 1964)
August Watts was born in South Africa (Durban) during 1874. He married Dirkie Cornelia (born Human) at Wakkerstroom. They had three children, namely Gladys Ellen (married Dargie), Benjamin Augustin & Madge Violet (married Blunden). Dirkie passed away on 29 August 1948 aged almost 72.
AW was based in Ermelo since 1889 (aged 15). He was a storeman at Robertson's store (which allegedly remained open during the Anglo-Boer war). He took an oath of neutrality during August 1900. He became a burgher due to his service during the Majato campaign, but never took the oath of alliance to the Transvaal.
AW was a registered member of the Red cross during 1899 and did service under Dr. Maxwell at the local hospital in Ermelo. He was also on the front for a period of 3 months. This gave him the status of a war veteran in his later life.
On 17 April 1901, AW surrendered to General Buller and made an oath of alliance to the British. Considering that his older brother, William Harry, was a duly appointed photographer to the Buller column, it raises the question as to what extent his brother played a role in this oath of alliance.
After AW left Ermelo for Durban during February 1901, his two houses in Ermelo (stands 11 & 225) were destroyed, the latter through fire. He submitted claims for these losses on 29 July 1901. It is not clear if, or how much of the claims were eventually granted. Buller is alleged to have resided in one of these two houses during the hostilities.
In the claim he submitted, AW indicated that he has three brothers based in Durban and that one of them was employed with the Field Force Canteen (it is not clear which one of the 3 brothers he referred to).
Archival records indicate that during August 1911, whilst in the jewellery business together, the 3 younger Caney brothers loaned Herbert Chaplin from Durban Motors Garage £220 to buy a 16 Horse power Torpedo "Humber" motor car for use at the garage. Part of the agreement was that the car could only be used for business in Durban. Chaplin however broke the agreement in that the car ended up in Johannesburg where it was rented out, resulting in the brothers taking legal action for the outstanding funds. AW signed the documentation on behalf of the brothers. The matter was settled during December 1911.
AW passed away on 15 February 1964 (aged almost 90). He resided at 40 Manning Road. He was a widower at the time of his death. His will indicates that he played bowls in the latter part of his life. He also held many shares at the time of his death.
1.4    Valentine Ernest Caney (+-1875 – 1957)
The youngest of the four Caney brothers, VE married Elizabeth Frank. She passed away on 23 June 1940. They had two daughters, namely Valmai Elizabeth and Vivienne Frank. VE owned property at 412 West Street.
He died on 20 April 1957. Recorded as retired jeweller and known to have been a coin collector. 
Clearly entrepreneurial, VE at one point enquired whether he could become a tenant of the refreshment rooms on Salisbury Islands. This request was turned down.
2. William Laws (1848 - ?) - Photographer
Born during 1848 in Caistor, Lincolnshire.
WL first joined the photographic studio of Elliot & Fry's in London prior to his arrival in South Africa around 1870 where he then in all probability first assisted his brother in his Durban based studio for a number of months, prior to being pulled into the diamond field frenzy that followed at Colesberg Kopje (Kimberley).
Described as an artist, jeweller and photographer, WL at one point advertised: "The Best Lighted and most Convenient Studio - Selling Cabinet Images from £1 per dozen" and stated that "all kinds of out-door photography is executed: Horses, dogs and babies taken by the instant process (Next door to Payne Brothers) – West Street – Durban"
Whilst based in Kimberley, WL went into partnership with John Ernst Middlebrook. Middlebrook was also active at the Premier Studio at 396 West Street in Durban at some stage.
WL was married to Sarah Agnes Grogan. They had two sons. Sarah passed away on 3 February 1919 aged 75.
Carte-de-Visite format image of Hubert Cawood (1902) by William Laws Caney. Taken at his studio in Church Street, Pietermaritzburg
Carte-de-Visite format image of unknown gentleman by William Laws Caney (Circa 1880). Taken at his Durban based studio
Cabinet Card format studio image of young British soldier by William Laws Caney (Circa 1902). Studio based in 206 Church Street in Pietermaritzburg
Cabinet Card format photograph by William Laws Caney and Middlebrook at their Kimberley based studio (Circa 1886)
Cabinet Card format photograph of two unknown ladies taken in William Laws Caney and Middlebrook's Kimberley based studio (Circa 1886). Note the unique backdrop
WL studio activity (1870s into 1910s):
Durban (1870 to early 1872) – 396 West Street with his brother;
New Rush/Kimberley (April 1872 onwards) - William Laws was the first photographer to arrive at Colesberg Kopje (New Rush). He set up "Colesberg Portrait Rooms". The town was only renamed Kimberley during 1873;
British records indicate that a WL Caney was based in Swansea, Glamorgan, Wales (between 1875 and 1876) and London North, Middlesex (between 1876 and 1878) which suggests that WL may have returned to England/Wales for a period of some 4 years before finally settling down in South Africa;
Pietermaritzburg/Durban – His whereabouts between 1879 and 1885 could not be established, but one carte-de-visite image suggests that he may have been active in Pietermaritzburg during this period;
Kimberley (1886 to 1888) he was in partnership with Middlebrook at the "The Art Studio" in Du Toits Pan Road;
Durban (1888 to 1893) – 396 West Street (Premier Studio) with his brother and Middlebrook;
Pietermaritzburg from 1893 onwards – Records still show him being active during 1909 (based at 208 Church Street). He resided at 136 Pietermaritzburg Street.
During 1904, whilst based in Pietermaritzburg, WL submitted a request to have the Copyright Act 17 of 1897 amended due to "certain hardships" this law contained for photographers. It seems that only one of his requests was considered, the remainder of the points were seemingly misinterpreted by WL.
Cabinet card format photograph of unknown gentleman by William Laws Caney, now based in Durban (Circa 1888)
Carte-de-Visite format image taken in William Laws Caney and Middlebrook's Kimberley based studio of unknown child (Circa mid 1870s)
Cabinet Card format photograph by William Laws Caney of two unknown young men. Taken at his Pietermaritzburg based studio (Circa 1898)
A beautiful back of one of the William Laws Caney Cabinet Cards. These stock cards, on which photographs were then pasted, were pre-ordered from printers in Europe (Mainly France or England)
Cabinet format photograph by William Laws Caney of unknown gentleman taken in Kimberley (Circa 1886)
2.1    William Grogan Caney (1878 – 1966)
William Grogan Caney (born 1878) studied music at the Royal Academy of Music, London. He became a well know Durban based musician.
He was married to Josephine Mary Caney (born Green). She was born in London on 19 December 1880 and passed away on 22 May 1973. They had no children. William passed away aged almost 89 on 28 December 1966. His death notice records him as a retired music teacher.
2.2    Edward Stanley Caney (1883 – 1953) - Photographer
Edward Caney's death notice confirms that he was a photographer. No photographic works produced by him have been identified to date. It is also unclear as to where he practiced as photographer. It could be that he started his photographic career aged 17 during the Anglo-Boer war, whereafter he became a support photographer at the Caney's Durban/Pietermaritzburg based studios. 
Edward was unmarried and passed away on 27 April 1953 aged 70.
Ebenezer Edmund Caney (1846 – 1910) - Photographer
Ebenezer Caney was born in Lincolnshire during July 1846. 
The UK census for 1851 indicates that he was living with his parents, brothers Benjamin and Watts in Queens Street, Market Rasen, Linconshire, England.
By 1861, his mother had passed away. Ebenezer was still living with this father, who worked as a watch and clockmaker. Ebenezer was aged 15 when his occupation was already recorded as being a photographer.
Ebenezer emigrated from England to New Zealand where he and his wife established themselves as photographers, opening their own business, Caney & Co in Palmerston North. He married Kate Agnes Barret on 5 April 1871 in Melbourne. They had one daughter, Mary (Minnie) Lilith (Married Walter).
After their New Zealand stint, they were based in New South Wales (Australia) between 1883 and 1887 during which they captured many photographs of early Australia before leaving for South Africa.
No evidence exists that Kate continued her photographic activity whilst in South Africa, but it is very probable that she assisted her husband in that they seem to have travelled the country extensively since their arrival in South Africa.
He passed away on 5 November 1910 at the age of 65, having accidently drowned (assumingly on the Durban coast). He is recorded as a photographer on his death notice and resided at 51 Madeleine Road at the time of his death. He left a photographers' outfit and negatives totalling £14.
Previous researchers have also referred to a D Edmund Caney. It is suggested by the author that this D Edmund is actually Ebenezer himself.
Ebenezer's South African studio activity (1888 to 1900s)
Bloemhof 1888;
Johannesburg & Pretoria (1890 to 1891). He was based at Palace Buildings, Pritchard Street, Johannesburg with some activity in Pretoria;
Pietermaritzburg (1893) - Based at 208 Church Street with his brother WL;
Pietermaritzburg (1894). Went into partnership with W. Watson Robertson at 2 Chapel Street;
Ebenezer took over the widow Kisch's studio when she gave up photography during 1895;
Durban based at a studio at 2 Winder Street between 1898 and 1899.
Other snippets:
Several images of E. Caney are held at the South African National Archives. They are assumed to be by Ebenezer.
Ebenezer published a photographic book with other photographers titled: "Early original photographs of Johannesburg & Madeira" (c1890).
A BW Caney photograph of a picnic party at Pieter's hill watching a train pass (Circa 1900). Benjamin William Caney already passed away during 1895, which suggests that his eldest son or one of his brothers may have continued taking photographs under the BW Caney label
Defence of Ladysmith (Circa 1900) by BW Caney. Benjamin William would not have taken this image himself as he passed away during 1895. This was more than likely taken by BW's eldest son or one of his brothers under the BW Caney label during the Anglo-Boer war.  The photograph also points out where the Long Tom canon was positioned on the mountain in the background
A well published Anglo-Boer war photograph by BW Caney showing the different types of Boer ammunition used during the war. This photograph would have been taken by BW's eldest son or one of his brothers. This photograph has clearly been stamped as a "copyright" image
A BW Caney Anglo-Boer war photograph of graves at Intombi camp. The names that can be identified from the crosses, have been recorded at the bottom of this article. This photograph would have been taken by BW's eldest son or one of his brothers
A BW Caney Anglo-Boer war photograph of the monument for NGO and troopers at Wagon Hill. The names engraved into stone have been recorded at the bottom of this article. This photograph would have been taken by BW's eldest son or one of his brothers
Final findings
It is suggested that after the death of BW (during 1895) that his brother Ebenezer Edmund took over the running of the B.W. Caney photographic entity whilst William Laws remained on his own. The multiple images that have been produced under the B.W. Caney banner, were therefore actually taken by Ebenezer. It could be that William Harry also joined him for a while, especially during the Anglo-Boer war period before William Harry started his new career as a fisheries inspector.
The reason for some web entries suggesting that BW only had three sons is probably because of WH moving away from the jewellery and photographic business during 1903, resulting in only his three younger brothers having been visible. The age gap between William and his three younger brothers was also between 9 and 11 years.
The family certainly left a legacy in South African history, not only in terms of their immensely successful jewellery business but also their work as photographers.
Whilst many aspects around the Caney family have been untangled, a number of additional questions have arisen, such as:
When did BW arrive in Durban?;
Did EE continue photographing under the name of B.W. Caney on his own or was he supported by any other Caney?;
Exact dates of various studio activities of the Caney's. It is acknowledged that there may  have been some oversight in the activity dates and locations of the Caneys cited in this article;
Who did Edward Stanley work for, given that no photographic evidence has been found to date?
Often initials of photographers were captured incorrectly in advertisement or photographic card stock, resulting in some of the names listed below in all probability being that of the 5 photographers discussed in this article:
FE Caney (Possibly EE);
EC Caney (Possibly EE, ES or wife to BW?) – National archives;
WJ Caney (could possibly be WH) – National archives.
The author's research also surfaced another photographer named Caney, namely Joseph Caney, who was based in the Orange Free State, but he could not be linked to the family described above.
About the author: Carol is passionate about South African Photographica – anything and everything to do with the history of photography. He not only collects anything relating to photography, but also extensively conducts research in this field. He has published a variety of articles on this topic and assisted a publisher and fellow researchers in the field. Of particular interest to Carol are historical South African photographs. He is conducting research on South African based photographers from before 1910. Carol has one of the largest private photographic collections in South Africa.
Images in the main banner:
Left - Carte-de-Visite format photograph of unknown lady (circa 1882) by William Laws Caney – assumingly taken in Pietermaritzburg as the back of the image states "Late of Durban & Kimberley"
Centre - Cabinet Card format photograph of unknown gentleman taken in William Laws Caney and Middlebrook's Kimberley based studio (Circa 1886)
Right - A Cabinet Card format photograph by William Laws Caney of two unknown gentlemen. Taken at his Pietermaritzburg based studio (Circa 1898)
Sources
Battle at Wagon Hill (Platrand) – South Ladysmith. www.sahistory.org.za
Bensusan, A.D. (1966). Silver Images – History of Photography in Africa. Howard Timmins. Cape Town
Bensusan, A.D. (1963). 19th Century Photographers in South Africa. Africana Notes and News. 15(6), 219-252.
Brown (www.brown.ch). Descendants of Benjamin Caney and Ellen Calvert. Extracted during April 2019
Bull, M. & Denfield, J. (1970). Secure the shadow. The story of Cape Photography from its beginnings to the end of 1870. Terence Mcnally. Cape Town
Cozen, R. (Caney information extracted June 2019). Cartedeviste.co.uk
Hardijzer Photographic Research Collection
Molegenealogy.blogspot.com (number of references to Caney)
South African National Archives – Various files relating to Caney's - Pretoria based archives
South African National Archives – Various files relating to Caney's - Pietermaritzburg based archives
The Natal Who's who: An illustrated Biographical sketch book of Natalians – Internet Archive (https://archive.org)
Spencer, B. (Unknown). Nineteenth Century Natal Photographers. (Publication unknown)
Wiktree.com – Ebenezer Edmund Caney (1846 -1910).
Frost, S. (Extracted Jun 2019). Two enduring families. www.fad.co.za 
Ulundi (2015). www.1879zuluwar.com
Wagon hill battle site (www.battlefieldroute.co.za)
Watt, S.A. (1982). Intombi military Hospital and Cemetery. Military History Journal Vol 5 (No 6). (http://samilitaryhistory.org)
Names that can be identified from the 2 Anglo-Boer war photographs included in article above.
Graves at Intombi Camp (43 white crosses from left, back to front – starting from 2nd cross as 1st cross is obscured):
Srg Maj Gray; Pte G. Kirkwood; Pte (La)wrence; Mr A. Mitchell ATTch A.S.C.; Pte H. Silves(ter); Pte E. Steele; Tpr J. (Ta)ylor; L. Corpl G. Markie 2 R.B.; Pte F. Offe(?); Pte H. Ashlin 5 D.G.; Pte J. Suckling 1 LIV; Cr F. Williams 53 R.F.A.; Ernest Dexter HMSPowerful; Tp SC Lamb B.M.R. Dec 1899; Seaman A. Golwell R.N.; Mr Maher ATTch A.O.C; Pte G Barltrop 19H; Pte Jacobus Lategan SAR; Cpl John Weir 18H; Pte B. Stewart I.L.H.; Pte A.D. Owen 18H; Benj' Newell A.B HMSPowerful; Pte G. Rodgers 19H; Pte W. P. Laurence; Pte L. Gould; Pte H.C. Ochse I.L.H. Pte W. Foy 19H; Pte T. Callaghan; Obscured; LC J. Barratt; Lc G. Cole; Seaman E. Archer RN; Tp O. Stravss B.M.R.; Pte Clemenston; Lc T. Sowden; Sgt J. Benson I.L.H.; Pte Ashman; Pte G. Parker; Sapr F. Herbert R.E.; A.E. Argher; Last cross far right back obscured. Cross in front (right) – Lieut C. Arkwright – 5 Lancers – died 10 March 1900.
Lt. C. Arkwright of the 5th Lancers died of enteric (today called typhoid) fever. Born during March 1874 he entered the 5th Lancers during 1894. He served in Natal with his regiment when war was declared and served in Ladysmith throughout the siege.
When the siege of Ladysmith ended on 28 February 1900, there had been 10 673 admissions at Intombi. Of the 583 soldiers who died, 382 deaths resulted from enteric fever and 109 from dysentery. The remainder of the deaths resulted from other illnesses and wounds due to action. All the dead, together with 5 civilians who succumbed to diseases, were buried at this cemetery.
Names on Wagon Hill – NCO's and Troopers of the Imperial Light Horse killed in action 6 Jan 1900:
Sergeant G. Howard; Corporal G.H. Moore; A.P. Dunn; A.M. Robbins; G.A. Ferrand; J. Haddow; C.D.C. Dickenson; Lance Corporals G.G. Cameron; G.W.R. Nettleship; Troopers R.M. Dawson; G.H. Bewsher; G. Lord; P.Y. Tucker; F.T. Preston; P. Brady; W.S. Hogg; H. Albrecht; R.M. Mackenzie
The Battle of Wagon Hill and Caesar's Camp was fought on Saturday 6th January 1900 when the Boers attacked the position at around 02h00 in the morning and went on all day until the British were able to force the last Boers from their position with a bayonet charge around 17h00 in pouring rain. The famous "Charge of the Devons".
The Battle of Wagon Hill (Platrand), south of Ladysmith, takes place, in which the Boer forces make an unsuccessful attempt to bring about the fall of Ladysmith.
The British suffered 175 killed and 249 wounded. 52 dead Boers were left in the British positions, but their total casualties were not recorded.
Disclaimer: Any views expressed by individuals and organisations are their own and do not in any way represent the views of The Heritage Portal.