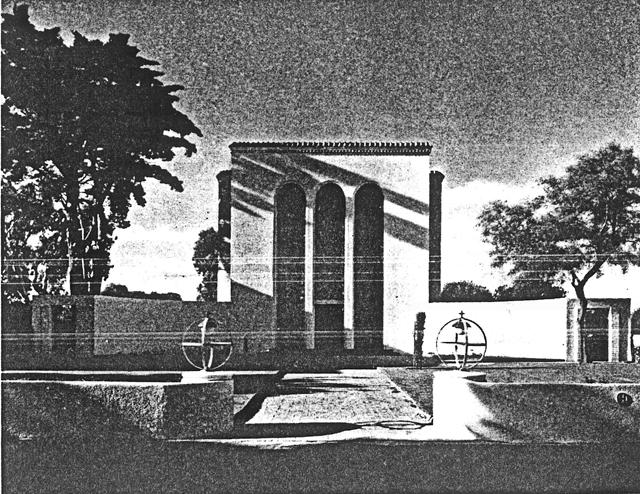 Monday, May 9, 2016 - 10:33
In 1996 the Christian Science Church in Port Elizabeth was illegally demolished. City Councillor Rory Riorden was furious and penned an article for Restorica which we have republished below. Restorica was the journal of the Simon van der Stel Foundation (today the Heritage Association of South Africa). Thank you to the University of Pretoria (copyright holders) for giving us permission to publish.
The demolisher of the [Christian Science Church] in Port Elizabeth will face charges under the National Monuments Act in May this year, for failing to obtain a demolition permit.
Demolition of the building designed by the late Herbert MacWilliams took place while a NMC meeting was in progress to declare it a national monument. The developer was well aware of the architectural importance of the building - it was the only church building in the country designed in the so-called Californian style - but ignored requests to preserve the facade in any new development. 
Demolition in progress (Carlie Norval)
The destruction of the facade of the [Christian Science Church] in Park Drive, Port Elizabeth, was an act of utter barbarism. One can explain it away in a hundred ways: The church had gone unsold for years, and nobody could make a development work while maintaining the complex and difficulty sited facade; the land was now worth much more than the building: the building was, anyway, little more than a facade, etc, etc.
Nonsense. Barbarism is barbarism, more so when it is motivated by greed and it pays well.
Parallels with the demolition of Frank Lloyd Wright's Imperial Hotel in Tokyo present themselves. Wright gave Tokyo an exquisite Art Nouveau hotel just after the First World War. It survived the great earthquake but became run-down after the Second World War and was demolished and replaced with a building of lesser beauty.
The [Christian Science Church] was in no way comparable with the Imperial Hotel. It was a facade with a basic structure attached, because it was built on a shoestring budget. It was beautifully positioned both in Port Elizabeth and on the site itself. It was gracious, grand, and inspirational, and about as good a facade as any this 190-year-old industrial town has.
Christian Science Church Port Elizabeth (Restorica 1996)
Those who ought to have protected it failed in their important task as clearly as those who destroyed it succeeded in their work. The lesson to be learnt from this destruction is that we must now properly structure the protection of our history.
We may not have the proudest architectural history in the world, but it is our only history. It exists in the CBD, in Central, on Richmond Hill, on Park Drive, and in Mill Park, in Bethelsdorp, in the Red Location, in Kleinskool, and in some other precincts.
Port Elizabeth is not Prague. Our architectural tradition is not the best in the world, but it is one of only two rich troves of old buildings in our country.
It is now urgently necessary that preservation societies, monument councils, institutes of concerned professionals, councillors and municipal officials, and lobby groups with an interest in the city's history come together and plot new strategies of preservation to conserve the past. 
Central and Richmond Hill and Bethelsdorp, Kleinskool and the Red Location are areas that must now be frozen. No further rezoning must be permitted, and facades must be noted and preservation orders made legally enforceab!e at great cost to offenders. 
A R5 000 fine is a tiny addition to a building development. A law that demands the rebuilding of destroyed property could create an entirely different perspective for developers.
The ancient cities of Europe and Asia attract millions of tourists because of the glory that comes from old and new living side-byside. More foreigners visit Prague every year than there are local citizens, many because the centre of the city is 600 years old and frozen as it was then.
There are few cities in South Africa that can remotely hope to build such an environment, and we live in one of them. For the sake of the economy and our children we must do better with the asset than we are now doing.
I hope a law can be found to compel the new owners of the Church to reinstate its facade. Better still, I hope they volunteer to do so without legal pressure. They are brave persons who admit a mistake and are willing to spend heavily to reinstate the damage they have caused. I hope we have such courageous people in the new owners of that extraordinary, destroyed church. The city awaits their actions now.
[Note - The saga took place before the National Heritage Resources Act (NHRA) of 1999 came into force hence the mention of older legislation.]
Main Image - source unknown - submitted by Gerald Humphrey to Artefacts - click here to view Artefacts entry
Disclaimer: Any views expressed by individuals and organisations are their own and do not in any way represent the views of The Heritage Portal.