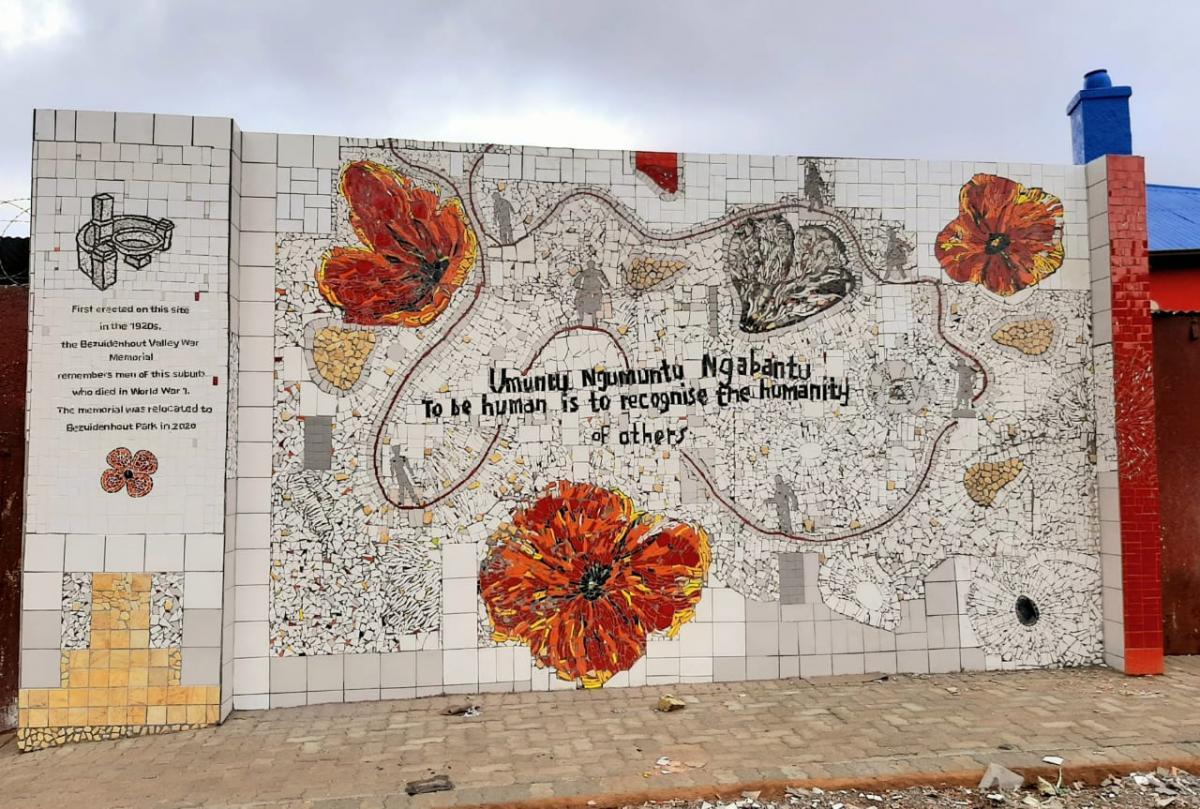 Monday, November 2, 2020 - 15:53
A stunning new mosaic with a message of Ubuntu has brought hope and dignity to a landmark site which has in recent times been mired in squalor and decay. Highly visible to passing traffic, the small park occupies a busy corner opposite Darras Centre in  Kensington.
After suffering repeated vandalism, the war memorial that occupied the space was successfully restored and relocated to Bezuidenhout Park earlier this year. Now settled at its new site, the war memorial has been given a new lease of life in spacious and tranquil surroundings.
The vandalised Bezuidenhout Valley War Memorial in 2018
Dignity restored:  the Bezuidenhout War Memorial at its new home in Bezuidenhout Park (Mayat-Hart Architects)
Back at the mini-park, the newly-created mosaic wall marks the site where the old memorial stood, which continues as a place of memory and reflection.  A side panel carries an outline image of monument, with the words:
First erected on this site in the 1920s, the Bezuidenhout Valley War Memorial remembers men of this suburb who died in World War 1. The memorial was relocated to Bezuidenhout Park in 2020.
Images of poppies, often associated with the World War, draw a connection with the old monument which has been moved. The figures are linked with threads that suggest the interconnectedness of humanity.
At the centre of the artwork, the inscription reads:
Umuntu Ngmuntu Ngabantu
To be human is to recognise the humanity in others
The theme of shared humanity speaks not only to casualties of war but also other catastrophic events, including the continuing Covid-19 pandemic.
"The overall desire for this mural, was to find a sense of humanity", says artist Drew Lindsay. "Even in these current times of grief and loss, this should be a form of inspiration".
The mosaic has been warmly welcomed by the Kensington Heritage Association, and by local residents.
"The artwork is amazingly conceived and fantastic" said Prof. Richard Brooksbank. "Well done to all concerned".
The relocation of the Bezuidenhout Valley War Memorial and development of the mosaic wall is a project of the City Directorate of Arts, Culture & Heritage together with the Johannesburg Heritage Foundation (JHF).
Eric Itzkin is the Deputy Director: Immovable Heritage at the City of Johannesburg
Disclaimer: Any views expressed by individuals and organisations are their own and do not in any way represent the views of The Heritage Portal.