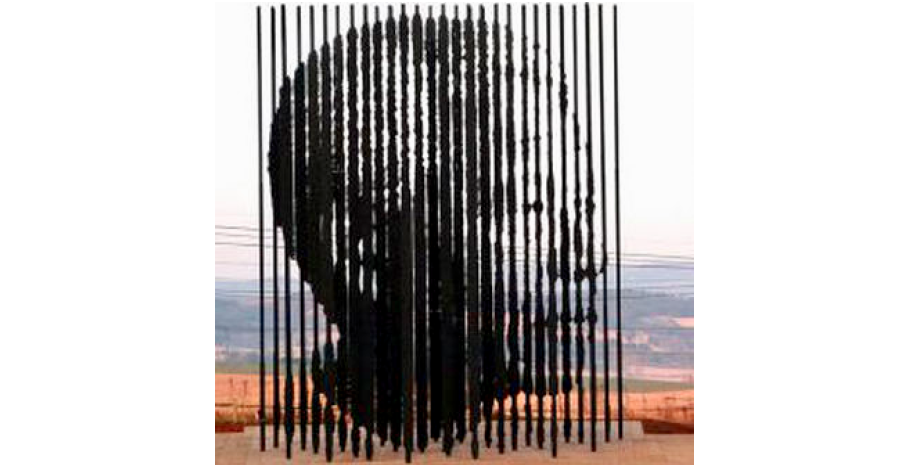 Tuesday, April 24, 2018 - 11:13
In the article below, journalist Lucille Davie recounts the fascinating story behind Nelson Mandela's capture near Howick in the early 1960s. The piece was originally published on the Brand South Africa website on 2 July 2013. Click here to view more of Davie's writing.
Nelson Mandela's head rises dramatically from the ground on a small plot outside the village of Howick in KwaZulu-Natal. His face is sculpted in 50 thin steel columns, marking the spot where he was arrested in 1962.
It was here, on 5 August 1962, that Mandela's car was stopped by the security police, and his life took a completely different course. He was on his way back to Johannesburg after visiting Chief Albert Luthuli, at the time the president of the African National Congress (ANC), in Groutville, some 80km north of Durban. He posed as a chauffeur, driving with Cecil Williams, a theatre director and member of Umkhonto we Sizwe or MK, the armed wing of the ANC.
The sculpture, by artist Marco Cianfanelli, consists of 50 steel columns, ranging in height from 6.5m to 9.5m. A path leads to the sculpture; at 35m, the portrait comes into focus, with the 50 columns perfectly in line to represent his face in a flat image. The site was unveiled in August 2012 – the 50 columns representing the 50 years since Mandela's capture. It was designed by architect Jeremy Rose of Mashabane Rose Associates.
Cianfanelli says that they "wanted to create an iconic and monumental sculpture of Mandela, that was unique and unconventional"
"I love the experience of moving towards the focal [point] and recognising the image of Mandela but my favourite part is the experience of walking amongst the columns of the sculpture."
Another Mandela sculpture by Cianfanelli was unveiled in May this year, depicting him in a sparring match with professional boxer Jerry Moloi on the rooftop of the South African Associated Newspapers building in downtown Johannesburg. The work, entitled Shadow Boxing, stands 5 metres tall and is based on Bob Gosani's 1953 photograph. The flat steel sculpture soars into the sky, juxtaposed between Chancellor House, where Mandela had law offices with Oliver Tambo, and the Magistrate's Courts, where he often represented clients.
The Shadow Boxer (The Heritage Portal)
On the run
Mandela writes in his autobiography, Long Walk to Freedom: "I wore my chauffeur's white dust-coat and sat next to Cecil as he drove. We often took turns behind the wheel. It was a clear, cool day and I revelled in the beauty of the Natal countryside; even in winter, Natal remains green."
He was looking forward to getting back to his wife, Winnie Madikizela-Mandela, and his young children. He was engrossed in conversation with Williams, discussing sabotage plans, as they passed through Howick, which is outside Pietermaritzburg, but he noticed another car. "At Cedara, a small town just past Howick, I noticed a Ford V-8 filled with white men shoot past us on the right. I instinctively turned round to look behind and I saw two more cars filled with white men. Suddenly, in front of us, the Ford was signalling to us to stop. I knew in that instant that my life on the run was over; my 17 months of 'freedom' were about to end."
That "freedom" consisted of Mandela travelling around the country in various disguises. He was co-ordinating plans and a three-day anti-government demonstration, and for the formation of MK, which the ANC had decided was a new strategy direction in its fight for democracy.
Shortly after the discharge of the accused in the Treason Trial in March 1961, a trial that lasted almost five years and which ended in 156 people being acquitted of charges of treason, Mandela went into hiding as the apartheid government cracked down, keen not to be embarrassed again. "I became a creature of the night," he writes. "I would keep to my hideout during the day, and emerge to do my work when it became dark. I operated mainly from Johannesburg, but I would travel as necessary."
The early stages of the Treason Trial happened at the Old Synagogue in Pretoria (The Heritage Portal)
In disguise
Normally tall and elegant, and speaking confidently and with gravitas, Mandela changed his gait and manner entirely, not standing as straight and speaking more softly, and becoming more unobtrusive. He stopped shaving and cutting his hair, and took on the disguise of a chauffeur, chef or "garden boy", wearing round, rimless glasses and a chauffeur's cap and blue overalls.
There was soon a warrant out for his arrest, with roadblocks thrown up around the country. He was labelled the Black Pimpernel, a reference to the novel The Scarlet Pimpernel by Baroness Emmuska Orczy, set during the French Revolution. He travelled across South Africa, attending secret meetings in the townships at night. "I would pop up here and there to the annoyance of the police and to the delight of the people." His disguises were so good that he was sometimes snubbed by people he knew.
He lived in empty flats, in people's back rooms, with Muslims in the Cape, with sugar workers in KwaZulu-Natal, with factory workers in Port Elizabeth. He moved into the farmhouse at Liliesleaf, a plot acquired for the underground ANC, some 20km from the city centre of Johannesburg. It was here that he was visited by Winnie and the children. "The loveliest times at the farm were when I was visited by my wife and family," he writes. "At these weekends time would sometimes seem to stop as we pretended that these stolen moments together were the rule not the exception of our lives."
Mandela decided to attend the Pan-African Freedom Movement for East, Central and Southern Africa meeting in Addis Ababa in Ethiopia, in February 1962. This movement later developed into the Organisation of African Unity (now the African Union), with the aim of drawing together the independent countries of Africa in promoting liberation movements on the continent.
He visited several African countries, as well as London, and received military training in Addis Ababa before he was asked to return to South Africa. Williams met him at the Botswana border town of Lobatse and from there they drove to Liliesleaf.
Liliesleaf Farmhouse (The Heritage Portal)
Non-racialism and communism
Mandela then visited Luthuli again in KwaZulu-Natal and briefed him on his African tour, emphasising that African leaders were prepared to support MK but that they were surprised that the ANC was taking the stance of non-racialism and communism, instead of the breakaway Pan Africanist Congress's stance of pure African nationalism. Luthuli was not happy. "He said we had evolved the policy of non-racialism for good reasons and he did not think that we should alter our policy because it did not suit a few foreign leaders."
Mandela responded by saying that the foreign politicians were not dictating policy but that they were the ones who were going to finance MK and so some adjustment had to be made. He suggested that the ANC become the dominant organisation in the Congress Alliance, with partners the South African Indian Congress and the Coloured People's Congress, while still keeping to non-racialism as the ANC's basic principle.
Mandela and Williams then decided to return to Liliesleaf. He spent the evening before they were to travel at the home of GR Naidoo, and enjoyed an evening with activists Monty Naicker, JN Singh, and Ismail and Fatima Meer, in a "combination welcome-home and going-away party". "It was a pleasant evening and my first night of relaxation in a long while. I slept well and I met Cecil on Sunday afternoon – 5 August – for the long drive back to Johannesburg in his trusty Austin."
They were stopped, Mandela was taken to The Fort in Joburg, and was charged with unlawfully leaving the country, and incitement to strike. He had been on the run for 17 months. He was convicted and sentenced to five years on Robben Island.
The Fort (The Heritage Portal)
Nine months into his sentence, on 11 July 1963, police swooped on Liliesleaf, and the top ranks of the ANC were arrested. The Rivonia Trial followed, and Mandela and seven others were sentenced to life. Six of them were immediately flown to Robben Island, the seventh served his sentence at Pretoria Central Prison.
Secret interview
While on the run, Mandela gave a secret interview to journalist Peter Hazelhurst in Johannesburg. The article, published in the Sunday Express on 14 May 1961, went missing, but with the assistance of the South African National Library, the Nelson Mandela Centre of Memory has traced it, and given it to Hazelhurst.
One day in May 1961, activist Ahmed Kathrada, a Robben Island prisoner and subsequently great friend of Mandela, approached Hazelhurst, asking him if he was interested in meeting the Black Pimpernel. The meeting was suggested by activist Ruth First, who was later killed by a letter bomb sent by the apartheid government to her in Maputo, Mozambique. Hazelhurst was taken to a shop in downtown Johannesburg, and interviewed Mandela in a back room for 70 minutes.
The reporter used a ruse to protect the shop owner, saying he was blindfolded and driven around before being introduced to Mandela. His article, headlined, "Native leader says: 'Violence is out'", begins: "They took the blindfold off. Sitting in front of me was Nelson Mandela, the most wanted man in South Africa."
Hazelhurst was upset that his headline of "African leader" was changed to "Native leader". He wrote: "The blindfold was removed and Mr Mandela rose from his desk to greet me. Wearing a black polo-neck jersey and khaki slacks, the new leader of black South Africa told me he was prepared to answer white South Africa's uncertainty about the forthcoming demonstrations."
Mandela was planning three days of demonstrations, protesting against the Nationalist Party government. He was at pains to indicate that the protests are not against whites, whether English or Afrikaans speakers, but against the government. "Mr Mandela, 42-year-old attorney, sat back and gave assurances about the forthcoming demonstrations."
Nothing to fear
Mandela said: "White South Africa has nothing to fear from our side. The main purpose of the three-day demonstration is to express to the Nationalist government our disapproval of the republic. It is the republic of a minority of the people of South Africa."
He stressed that strict instructions had been given that no violence was to be used by the demonstrators. Mandela headed the National Action Council, which had one simple goal: "a national convention of all groups of the country which would form a new non-racial constitution to bring about a new non-racial and democratic South African society".
Half a century later, when he met Kathrada again, Hazelhurst said he was amazed that Mandela said exactly that when he came out of prison.
It was a message he reiterated: Mandela spent a lot of time in his first years as president assuring minorities that they had a place in a democratic South Africa.
Lucille Davie has for many years written about Jozi people and places, as well as the city's history and heritage. Take a look at lucilledavie.co.za.
Disclaimer: Any views expressed by individuals and organisations are their own and do not in any way represent the views of The Heritage Portal.