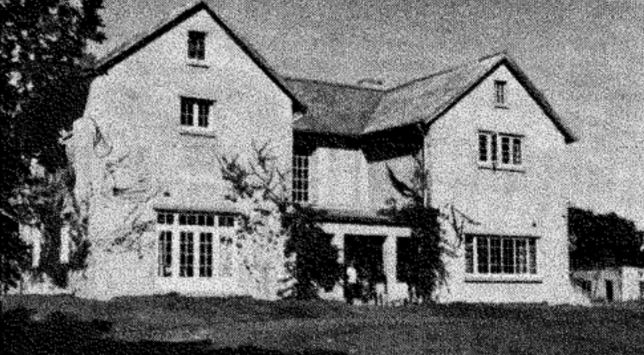 Monday, September 12, 2016 - 17:32
Forest Hall is an historic estate located in The Crags near Plettenberg Bay. It hosts a spectrum of high end functions including grand weddings and corporate events (click here for some recent pics). In the article below, first published in Restorica in 1977, Patricia Storrar delves into the history of this unique property. Thank you to the Heritage Association of South Africa and the University of Pretoria for giving us permission to publish.
It is impossible to write the story of Forest Hall, a spacious old house standing in the heart of forested land some 23 kilometres east of Plettenberg Bay, without sketching briefly the history of the man who built it more than a century ago. Because it was the character of this man and the background from which he came which determined emphatically the size and style of the house and the setting in which it was placed. 
In June 1847 young William Henry Newdigate, third son of Francis Newdigate and his wife, Lady Barbara Maria Legge, daughter of the third Earl of Dartmouth, arrived to put down his roots in the green Piesang Valley, Plettenberg Bay. A scion of one of the oldest and most distinguished families in Britain, he could trace his ancestry back on the paternal side through a long line of noble Newdigates - among whom titles abounded - to the 15th century. The Newdigate ancestral seat was - and still is today - Arbury Hall, Nuneaton, Warwickshire. William and two of his brothers were born at Astley Castle, the seat of his maternal grandfather, the Earl.
Arbury Hall (wiki commons)
William and his brother, George, had already spent ten months in South Africa, staying with the Hon. Henry Barrington on his estate, Portland, near Knysna, while looking for a farm to buy in the vicinity. They eventually purchased seven-eighths of Roodefontein, a farm of about 1 500 hectares in the Piesang Valley, from Hendrick Lodewyk Pio for £600. William modified the name Roodefontein to Redbourn, called a second portion of the farm Ladywood and a third Buccleugh. In time he also acquired Astley and Jackal's Kraal, adjoining his original purchase. Here he farmed industriously for 16 years and became the leading figure in the small local community. 
On Redbourn he built, in 1850, a little wooden church, St. Andrew's, out of yellow-wood cut on his own lands. This tiny building is the oldest church in the Diocese of George and was proclaimed an historical monument in 1963. From Redbourn, too, he married on 17th June 1851, Caroline, eldest daughter of Captain Thomas Henry Duthie and his wife, Caroline (born Rex) of Belvidere. In the substantial house which he built for his bride on Redbourn, the first six of his and Caroline's large family were born - three sons and three daughters - and thrived happily. 
In 1862 William's father died at his handsome home, Dartmouth House, Blackheath, Kent, and it was probably as a result of the bequest which he received that William bought in the following year 1 620 well-wooded hectares at Bowers Park - now known as The Crags. Here he built a spacious home to his own design - Forest Hall. According to a letter written by Caroline Newdigate in August 1863, mentioning that the brick-work of their new house was progressing well, they probably moved into Forest Hall before the end of 1863. Here they lived a self-contained life, modelled on that of a squire and his lady in the English countryside of the last century. They entertained Bishops and other dignitaries of the Church, important men such as Dr Guybon Atherstone and Thomas Bain (of mountain passes fame), officials of the Forestry and Roads Departments and visitors from overseas. Three of William's brothers came out to stay with them at various times - the eldest, who became Lt Colonel Francis William Newdigate of the Coldstream Guards; a younger brother who became Lt General Sir Edward Newdigate, Governor of the Bermudas after a distinguished military career, and the youngest surviving brother, Albert, a graduate of Christ Church, Oxford. The names of all these and many more are to be found in the Forest Hall visitors' book, still in use today.
Forest Hall Plettenberg Bay (Andre Pretorius Collection - Stellenbosch University)
Bishop Robert Gray and his wife, having stayed twice with William and Caroline in their home in the Piesang Valley, were also house guests at Forest Hall. Other travellers who have left records of their pleasant visits to the spacious house are Georgina Lister (daughter of Thomas Bain), J J Aubertin, Stanley Leighton, an English MP, and an unknown South African College student. Some of them mention the beautiful silver used at table and the fine portraits of Newdigate ancestors on the walls.
Architecturally speaking, Forest Hall is not a beautiful house, but the sheer size of it is impressive and there is a certain dignity in its rather austere, uncluttered lines. In the vast entrance hall, with its seven-metre high ceiling, the eye is drawn up irresistibly to the gallery, with its stinkwood balustrade, running the length of the hall upstairs. The height of the ceilings in most of the downstairs rooms is four metres and the fireplaces are huge by modern standards. The mantels of the fireplaces are of stinkwood, as are all the downstairs doors. The floors, of yellowwood planks more than 30cm wide, have been beautifully cleaned and polished in recent years.
And if there seems to be a certain severity about the rooms today, one must picture them as they would have looked a century ago, filled with Victorian furniture of gleaming English mahogany, elegant bureaux, davenports, chaises longues, chests and chairs, bright chintz curtains, frilled lampshades and charming pictures thick on the walls.
A certain pattern of living was established in William Newdigate's time, farming and the cutting of timber providing a fair living for the large family (three more daughters were born at Forest Hall), while shooting, boating and fishing parties, picnics, rides and musical evenings were organised for the entertainment of the many guests. As buffalo, elephant, buck and wild pig abounded in the forests surrounding the house, the shooting parties were the most popular of all forms of entertainment. 
William Newdigate, founder of the South African branch of the family, died on 4 November 1884 and was buried in the grounds of his little Church of St Andrew, Redbourn. A kindly and courteous man, he was greatly mourned in the area. 
It was not many years after his death that the Forest Hall estates began to run down. Francis, the eldest son, obtained a job in the Roads Department, Knysna, and then in 1890 married Katherine Caroline, daughter of the Hon Henry Barrington, and moved to Portland, the Barrington estate. William, the second son, had already qualified as a land surveyor and had moved to Kimberley where he became, in time, Chief Surveyor to De Beers Mines. Arthur Patrick, the third and last son, was just 21 when his father died and had not the experience or, in fact, the character, to keep Forest Hall in running order as well as looking after his mother and several unmarried sisters. The women of the family were fine horsewomen, good shots and extremely capable about the house, but even they could not halt the decline in the family's fortunes. 
The last decade of the 19th century and first few decades of the present century [20th] were sad ones for the old hall. Mrs Caroline Newdigate died in April 1922 and the house was finally vacated. Arthur and the four of his sisters still unmarried, had already moved to Longridge Farm, at The Crags, and were farming in a small way. Occasionally an inheritance would come their way from the Newdigate families in England and this would tide them over for a year or two.
Forest Hall fell into a pathetic state of disrepair. In 1948 Dr and Mrs W D T Sym, who now live in Knysna, rented it on a long lease. They effected considerable repairs to the house and filled it with their valuable furniture from Scotland and their own family heirlooms. For nearly 15 years they managed to restore its rightful character and make it again a centre of gracious hospitality, but they left in 1963 and for another eight years it stood empty. "It was used only by hippies, cows and bats" stated the present owner, Mrs Hilary Peter, ruefully. Mrs Peter, with her only sister, inherited Forest Hall in 1952 from her father, eldest son of William Henry Newdigate's eldest son, Francis. She obtained full ownership in 1971 and immediately set about restoring it to its position as the most important home of the Newdigates in this country.
Mrs Peter, who lives at Komga, is married to a lawyer, has five children and runs a small business, has limited time to spend at Forest Hall. She has, nevertheless, embarked on an ambitious programme of cleaning, painting, re-wiring and general restoration. Everyone who is interested in the preservation and maintenance of South Africa's old homes will hope that she succeeds in her courageous undertaking.
Disclaimer: Any views expressed by individuals and organisations are their own and do not in any way represent the views of The Heritage Portal.