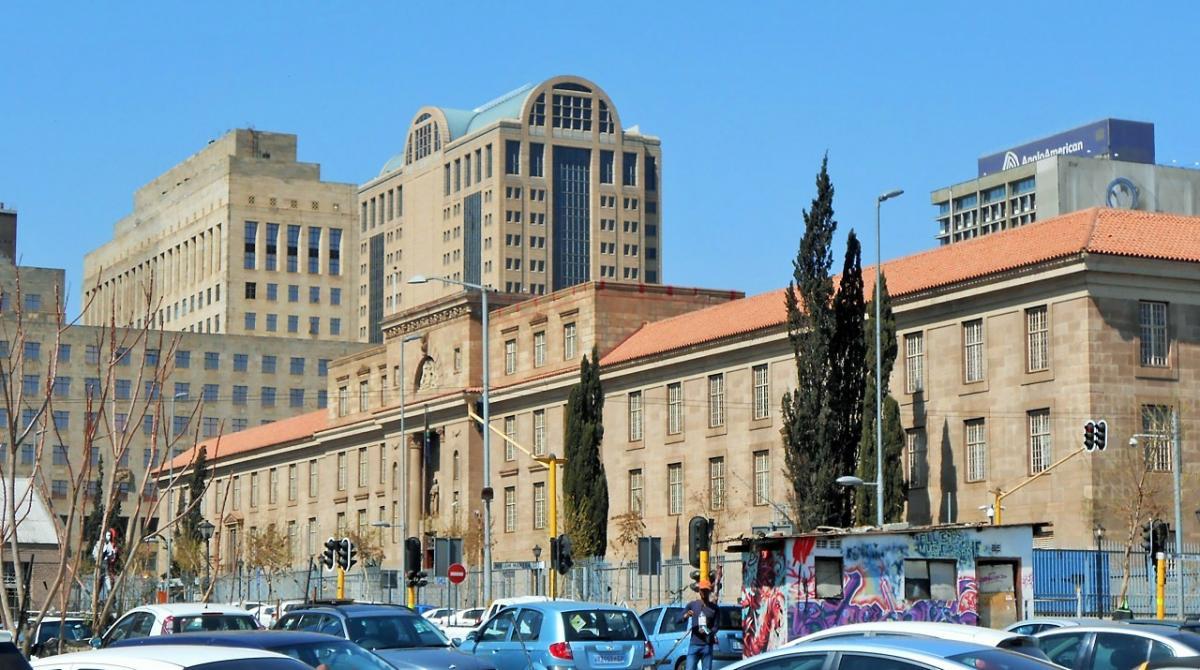 Monday, April 6, 2020 - 09:24
In the article below, journalist Lucille Davie unpacks the history and significance of the landmark Magistrates' Courts in Johannesburg. The article was first published on the City of Joburg's website on 7 June 2007. Click here to view more of Davie's writing.
Twenty years ago this year two car bombs went off outside the Magistrates' Courts in downtown Joburg. Three policemen died, and 15 were injured.
 
On 20 May, 1987 a decoy blast took place, and policemen from the then John Vorster Square (now the Central Police Station), six or seven blocks away, rushed to the scene. The second, more powerful blast killed three of those policemen.
 
These were the 11th and 12th bomb blasts in Johannesburg that year. Some of the others that occurred in the city were at the Sanlam Centre in Eloff Street, Sandton, the Civic Centre, Cosatu House and the Carlton Centre.
Carlton Centre (The Heritage Portal)

Twenty-four-year-old Hein Grosskopf, a member of the ANC's Umkhonto we Sizwe, was responsible for planting the bombs. He also placed bombs outside the Krugersdorp Magistrates' Courts and the Witwatersrand Command in Quartz Street. Two military personnel died in the Krugersdorp blast.
 
Bomb blasts through the 1980s escalated until by 1988, 281 blasts were recorded across the country.
 
Grosskopf, who grew up in a liberal Afrikaans home, matriculated from Hoerskool Linden in Joburg, studied at Wits University and was junior mayor of Joburg. He travelled to Botswana after the blast, and returned several months later to detonate a bomb outside the Witwatersrand Command (the Drill Hall). In 1988 a reward of R50 000 was offered by the police for information leading to his arrest. The Sunday Times described him as "SA's most wanted man".
Drill Hall (The Heritage Portal)

Grosskopf was tried and convicted while in exile. He appeared in 1988 at the Five Freedoms Forum meeting – a group of business and political meetings with the ANC in exile – in Lusaka. In 2000 he applied to the Truth and Reconciliation Committee for amnesty, which was granted, and he returned to the United Kingdom where he was living at the time.
 
The scene outside the Magistrates' Courts was typical of the aftermath of blasts that occurred everywhere: debris strewn across the road, the front sections of half a dozen cars dented and distorted as if a giant had reached down and smashed them with a fist. Windows of the courts were blasted out. Inside, the front office was strewn with glass, and there was a hole in the ceiling. And dazed people wandered around.
 
Joburg and South Africa were very different places in the 1980s.
 
Construction of the courts
 
The Magistrates' Courts were designed by Perry and Lightfoot of Cape Town (it was put out to tender), and construction was completed in 1941, at a cost of  £600 000. They were a replacement of the Johannesburg Law Courts in Gandhi Square, demolished in 1948 but closed in 1911.
Info panel including photo of the old Johannesburg Law Courts (The Heritage Portal)

In September 1936 Jan Smuts laid the foundation stone, in his capacity as minister of justice. The building was officially opened by minister of justice Dr CF Steyn in August 1941.
 
It's an impressive square three-storey building, the west, north and east side punctuated by grand columned entrances, although these days only two of those entrances are in use – west and east. The building takes up four blocks.
One of grand columned entrances (The Heritage Portal)

Those entrances lead the visitor into a grand concourse some 120 metres long, almost seven metres wide and five metres high, with Tabootie marble columns and terrazza floors. It's wide enough to permit a car driving each way, with original features like a four-sided brass clock hanging from the roof, and an illuminated robot showing directions to the various sections of the building. Original furniture like the long wooden benches are still to be seen in corridors.
Main concourse (Lucille Davie)
Long wooden benches (Lucille Davie)

The concourse is almost a continuation of Main Street, which continues westwards after the building.
It contains 16 criminal courts and 12 civil courts, with a four-storey office block adjoining the building on the southern edge, on Marshall Street.
 
The courts are insulated in the middle of the building by arranging the offices around the outer sections of the building. This means that the courts are immune to street noises and other outside disturbances.
 
The criminal courts are arranged in four groups of four on the ground floor, with courtyards in between, thus giving each courtroom natural light. Witness rooms and offices adjoin the courts, for ease of access. A stairway up from the basement cells also leads straight into each courtroom. Magistrates' offices are along the northern edge, on Fox Street, believed at the time to be the quieter side.
 
One of those courtyards contained an attractive fountain, now filled with untidy plants.
 
All the windows were frosted, even the ones overlooking the inner courtyards.
 
One of the courtyards (Lucille Davie)
 
Apartheid etiquette
 
However, this elegant building was a model of apartheid etiquette. The ground floor courts have four subsidiary concourses, especially created as a "native concourse" linking to an ordinary southern entrance reserved for black people, according to The South African Builder of August 1941.
 
"The native and Asiatic witness-rooms are so placed that these people have no need to use the public concourse or the European section," the journal explains.
 
Chief interpreter Abel Khoza recounts how blacks were served food in the canteen: "The court canteen allowed whites only to go inside and sit around tables and eat and the black members of the staff used to buy through an opening next to the entrance of the canteen. There was a white lady who was serving us through that open space. She always wears transparent gloves, she did not want to touch money from a black person without gloves.
 
"All stale food was put aside every afternoon and sold to the blacks the following day."
 
That serving hatch is still there, but covered by the wooden panel behind it, now housing an electrical fitting.
 
Sixty-two year old Khoza has worked at the courts for the past 38 years and speaks nine languages. He grew up in Alexandra and it's there that he says he was exposed to many languages.
 
Every aspect of interaction between blacks and whites was dominated by contempt and disrespect and waiting for whites to be served first in everything from getting a pay packet in an envelope, to black witnesses being called last.
 
Khoza recalls how, when blacks were found guilty, they were sent to jail without the option of a fine or suspended sentence, while these options were offered to whites.
 
Black witnesses and accused were refused letters to present to their employers as proof of their absence from work, explains Khoza.
 
Despite being a crucial cog in the court operation, interpreters were never referred to by their names, and were humiliated in the courtroom.
 
The court etiquette was a microcosm of how blacks were treated in the wider apartheid world.
Prisoners
 
Prisoners are brought to the cells through a large wooden double door from Ntemi Piliso Street. There are 15 cells in the basement, holding up to 500 prisoners most days. Attempted escapes have taken place from the cells, but most prisoners have been caught again immediately.
 
The basement also originally made provision for corpus delicti (evidence) storerooms and horse stables, indicates the journal. The horses were used by policemen for patrols.
 
The civil courts are arranged in the same way on the first floor. This floor also contains offices, detention rooms and probationers' offices. The second floor contains conference rooms for the magistrates and the neat but small Krause Law Library.
 
Exterior artwork
 
The exterior of the building, in classical and impenetrable lines, is constructed from brick, concrete, granite and stone. Waterpoort stone has been used, which presented challengers to the architects. "This stone is very fine in texture, but so hard that specimens had to be sent to Britain and America for testing and advice on the best machinery to be used for cutting."
 
Originally the four sides were finished with a neat lawn garden, with a fountain on the Fox Street side, but now the lawn only exists in Fox Street. The four sides are now sealed with tall steel fencing. Steel windows and cornices finish the exterior look, together with several impressive sculptured figures.
 
The major figure on the Fox Street entrance is a classical stone female sculpture symbolising justice, almost three metres tall, carved by Moses Kottler from one piece of stone.
 
Kottler was born in 1896 in Lithuania but came to South Africa with his parents as a boy. He was a self-taught sculptor but also had a reputation as a painter – he studied in Jerusalem, Munich and Paris. He was a contemporary of DC Boonzaier, and after living in Cape Town for some years, he settled in Johannesburg, where he died in 1977. He had associations with the Johannesburg Art gallery, which has his 1926 wooden "Meidjie" wooden, a poignant piece.
 
Accompanying this stone sculpture are two bronze sitting figures at the top of the stairs, the work of Coert Steynberg.
 
Steynberg was born in the Transvaal in 1905 and worked in stone, marble, brass, copper and wood. His work is represented around the country and abroad, in particular a Bartholomew Dias statue in SA House in London, an Andries Pretorius monument in Graaff Reinet, and a Peace of Vereeniging monument in Vereeniging.
Interior artwork
 
On the stairway from the Ntemi Piliso Street entrance are two large paintings – 4,5m by 3,6m – by Colin Gill, done in 1940. One depicts Captain Carl von Brandis, the town's first magistrate, settling a digger's dispute. The second, on the opposite wall, is incomplete, but depicts Louis Trichardt sitting in judgment on three boys during a Christmas outspan in the Drakensberg in 1887. The artist died after completing the outline of the figures in charcoal, and after some deliberation, the authorities decided to leave it in its incomplete state.
 
The Secretary for Public Works, in a letter to the Secretary for Justice, dated 21 May 1962, says: "The drawing presented an outstanding example of draughtsmanship and would be the subject of study by the rising generation of artists in South Africa. It was expressive and had a completeness in itself although it was unfinished. It was felt that it would create much general interest and be regarded by the public as a work of exceptional value."
 
After weeks of "arduous experiment", according to the Rand Daily Mail of 4 July 1964, PA Hendricks, curator of the Johannesburg Art Gallery, and Jacobus Hendrik Pierneef finished the work in a matt varnish and mounted it on the wall, where it remains today. Hendricks was apparently approached initially to complete the work, which he "properly refused to do", reports the Rand Daily Mail.
 
Up the opposite stairway on Miriam Makeba Street are two large paintings by Pierneef, who is considered by some to be among the country's most innovative artists. One depicts the mining village of 1886, and the other the town of late 1930s, at the time when the court was being built. Both paintings are filled with his usual emotive skies.
 
Pierneef was also commissioned to do work for another public building in the city: 28 panels for the Johannesburg Railway Station in 1929. Those works were removed in the 1990s to the railway museum in Graaff Reinet.
One of the Johannesburg Railway Station panels
Halfway down the ground-floor concourse are another two murals, by Le Roux Smith le Roux, called "Justice in Industry", and "Narrative of History". The former is filled with busy figures dominated by the traditional female figure of justice, with a black miner encased underground, working a drill. The latter depicts an agricultural scene. They are done in wax on canvas. Le Roux has done murals for South Africa House in London and a large mural for SA Mutual Buildings in Cape Town.
 
Above the staircase of the north entrance is another mural – by Yolande Friend, entitled "Trial by witchcraft". It depicts a sangoma throwing the bones with warriors sitting in a circle around him, and huts in the background.
Interior finishes
 
The walls of the main concourse are lined with cream-coloured terrazzo, with grey stone on the floors, bordered with black slate.
 
The courts are all finished in teak panelling, with teak docks and a teak balustrade railing around the magistrate's raised bench. The court ceilings and walls have been finished in acoustic tiling and plaster, to enhance their soundproofing.
 
Every detail was considered. The walls of the juvenile waiting rooms were finished in a special coloured cement mixture, sprayed on by a machine. "Being rough and very hard, this finish will prevent scratching and marking by juveniles," indicates the journal.
 
Other rooms had special finishes too. The dignified office reserved for the minister of labour was panelled to door height with iroko wood, a dense, durable wood from the west coast of Africa, with teak wooden block flooring. The chief magistrate's office has stinkwood wall panelling, with teak flooring.
 
Iroko wall panelling has been used in the public committee rooms while the conference room, beneath the juvenile court, is lined with teak panelling.
 
Gleaming linoleum has been used in the corridors and rich cream walls. The many windows have attractive opaque glass, with solid old brass fittings. The original round brass door knobs are mostly still in place.
 
The heating and cooling of the building was also carefully considered. The building is air-conditioned for summer along the western edge but not along the eastern, southern or northern edges, notes the journal, as they are sufficiently cool in summer. On the other hand, these three sides have central heating for winter, unlike the western perimeter.
 
"Naturally, this simple adjustment is practicable only because of the relative dryness of the Transvaal atmosphere," explains the journal.
 
There's a subtle presence of Von Brandis in the building. Besides the Gill painting, a stroll into the Krause Law Library reveals two bold photographs of him, with his full white beard and stern but astute face.
 
The city's newest court building, the Constitutional Court, stands in strong contrast to the Magistrates' Courts, both in its large art collection, and in its architecture, designed as a more people-friendly court. But both are striking buildings, fine examples of their time.
Constitutional Court (The Heritage Portal)
 
Interpreter's statement
I interviewed the interpreter Abel Khoza for this story, and asked him to write a statement on conditions before 1994, which appears below. Khoza started working as an interpreter at the courts in 1968. 
 
Courts
 
Divided in two halves, one side whites only and the other side non-whites.
 
Whites to sit first and the blacks when they told to sit. Some courts had two witness stands, whites only and non-whites only.
 
Benches in the corridors - most of them were whites only and few for blacks only.
 
Big entrance and exits were for whites only and there were smaller entrances for blacks.
 
In courts white cases got first preference and blacks cases were sometimes crowded out even if the case was ready to proceed before the white cases.
 
We did not have black clerks of the courts, black prosecutors, black cleaners, and only black people were interpreters and black police officers who were court orderlies.
 
In the courts blacks and whites charged for the same offence were not treated the same. Some blacks who were found guilty were send to jail without the option of a fine or suspended sentence and whites were given fines or suspended sentences.
 
Magistrates had tearooms and whites-only toilets as members of the staff and black members of the staff had to share toilets with members of the public.
 
Black members of the staff did not have offices, did not have toilet facilities.
 
Canteen
 
The court canteen allowed whites only to go inside and sit around tables and eat and the black members of the staff used to buy through an opening next to the entrance of the canteen. There was a white lady who was serving us through that open space. She always wears  transparent gloves, she did not want to touch money from a black person without gloves. All stale food was put aside every afternoon and sold to the blacks the following day.
 
Staff members: clerks
 
We had only white clerks who did not have patience for blacks who were illiterate whom they shouted at and chased them away when they needed clarity.
 
Black members of the public suffered because they were sometimes given false information and later landed in trouble when they did not understand what the white clerks told them.
 
They refused to give witnesses and accused letters to produce to their employers as proof that they attended court proceedings.
 
We were paid cash which were in pay packets, the paymaster will always pay whites before blacks.
 
Interpreters who were sent to fetch charge sheets at the clerks' office were made to wait until whites were served.
 
They copied what their seniors taught them by calling us "kaffirs" and not by our names or surname. They were always unwilling to serve blacks, these resulted that black interpreters volunteered to assist blacks in the clerks office by interpreting when their courts were busy with white persons' cases.
 
Prosecutors
 
As they did not respect blacks who were accused or witnesses. In the morning the prosecutor would ask the court orderly to call out names of witnesses and one would find that there was old people who [were] witnesses; he will not start immediately with their case, he ask the court to adjourn and wait for white witnesses to arrive in court and call their cases first.
 
They did not have respect for black interpreters, they called us tolkie [diminutive of interpreter] and by our names they did have decency of talking to us in decent manner, one would call you "Kaffir, gaan koop my vuurhoutjies"; "Kaffir, go and buy me matches and you must hurry up, if you…"
 
You will be discussed in their tearoom and then harassed in every court where you are placed by the prosecutor and the magistrate. When the prosecutor present a case he will state the following when the accused is Mr So-and-so Magistrate, Mr So-and-so Prosecutor, Mr So-and-so interpreter would be referred a tolkie so-and-so and not Mr So-and-so.
 
Magistrates
 
They had no respect for blacks, they did not give them fair trials, they did not address them the same way they addressed whites. Cases were conducted with contempt when it was blacks and with dignity when it was whites. They did not respect interpreters, court orderlies, black police witnesses, some of them called us tolkies, not considering your age.
 
Some magistrates intimidated accused persons who pleaded not guilty by postponing their cases without fixing the amount of bail and sending them to number 4 the Old Fort Prison.
 
During that time things were bad for prisoners because there were gangsters who were killing each other and fixing other prisoners and if they do not have money they would assault them and rob them of their clothes. So people would rather plead guilty even if there were not guilty, avoiding to be sent to jail as awaiting trial prisoners. There was discrimination when they passed sentences [on] black people, whites, coloureds and Indians were third and blacks were number last.
 
Chief Magistrate's office had a red carpet and in Afrikaans it was called "Rooi tapyt". Whenever a member of the staff was summoned to that office one was so scared that he shivered. When he enters that office and one was only received when he get good news of promotion or merit awards. The office was no go area, nobody was allowed to go there without his supervisor, supervisors had to accompany their subordinates.
 
Interpreters' section
 
We had white chief court interpreters whom were never in courts to listen to interpreters while interpreting; they were about three chief Interpreters who were never placed in courts.
 
Most of them could not speak our languages Zulu, Sotho, Tswana, Xhosa but they were senior interpreters, they were in the comfort zone since chief interpreters were whites and interpreters inspector was also white.
 
I was sent around South Africa, the former Free State, Transvaal, Natal and Cape Province to interpret languages not spoken by the interpreters of that region. We were not allowed to drive state vehicles. They did not allow us to fly, when I was sent to Evander I would travel by train which leave Johannesburg and arrive at Kinross station at 12h00 midnight and spend the rest of the time in the office of the Station Master waiting for the police to come and fetch me and transport me to Evander Court.
 
Blacks were not allowed in the whites-only hotel when you arrive at the court one would wash at the toilets, change clothes in the toilet. There were no taxis like today.
 
Some hotels had a big garage which was called Boys room, it accommodated blacks who [were] driving their white bosses around. Sometime we arrived at the courts at early hours and would have our bath at the toilets; sometimes sleep in the cells or at the Police offices.
 
Today blacks who have drivers' licences are allowed to drive state vehicles from one magistrate's office to another, they are also allowed to travel by air and to sleep at any hotel in our country.
 
Benefits
 
We did not qualify for medical aid, did not qualify for housing subsidies, did not qualify for bursaries until late seventies when we first qualified for the above-mentioned benefits.
 
Insurance policies were only for whites and not for blacks, there were no black reps from insurance companies, the reps were only whites and when they visited the magistrates' office our chief interpreters did not allow them to talk to us because they told them that blacks know nothing about insurance.
 
Transporting members of the staff to branch court - some magistrates and prosecutors were not willing to drive around with black personnel.
Lucille Davie has for many years written about South Africa's people and places, as well as the country's history and heritage. Take a look at lucilledavie.co.za
Disclaimer: Any views expressed by individuals and organisations are their own and do not in any way represent the views of The Heritage Portal.