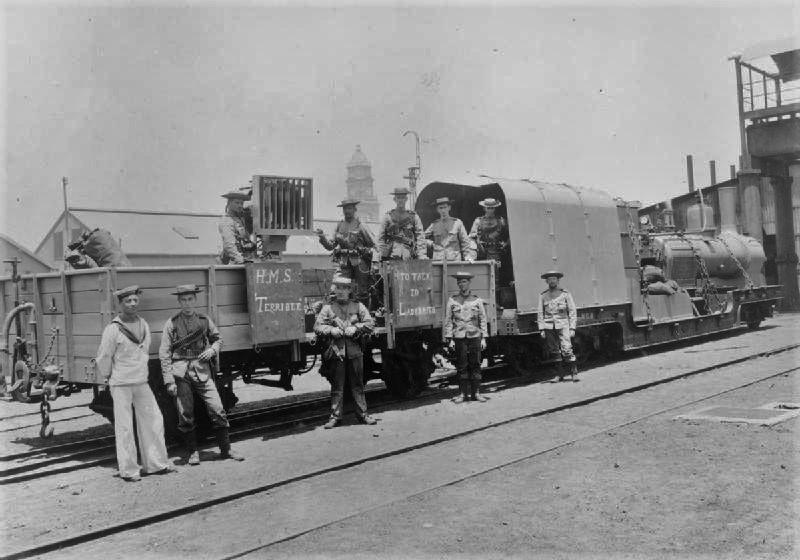 Disclaimer: Any views expressed by individuals and organisations are their own and do not in any way represent the views of The Heritage Portal. If you find any mistakes or historical inaccuracies, please contact the editor.
Wednesday, October 4, 2023 - 22:22
Recently I came across what may well be classed as the first example of what we now call "electronic warfare". It was described by no less a writer than Winston Churchill and it appears in his book "London to Ladysmith via Pretoria" (1900).
This intriguing incident occurred during the attempt by the British Army to relieve Ladysmith, then under siege by the Boers. I shall leave it to Churchill to describe what happened:
That night we tried to congratulate or encourage Ladysmith, and the searchlight perseveringly flashed the Morse code on the clouds. But before it had been working half an hour, the Boer searchlight saw it and hurried to interfere, flickering, blinking, and crossing to try to confuse the dots and dashes, and appeared to us who watched this curious aerial battle - Briton and Boer fighting each other in the sky with vibrations of ether - to confuse them more effectually. Next morning, however, the sun came out for uncertain periods, and Ladysmith was able to tell her own story briefly and jerkily, but still a vey satisfactory account.
It occurred to me that the searchlight used by the Army signaller in tapping out the Morse code, was most likely mounted on an armoured train and somewhere in my collection of Boer War artefacts was a photograph of just such a train. Not only was there a "shutter telegraph" mounted upon a searchlight on an armoured train but the train carried two significant sign boards attached to its side. The first contained the ominous title  "HMS Terrible",  the second said "To Talk To Ladysmith".
"HMS Terrible" was a Royal Navy cruiser then moored in Simonstown from which the heavy guns had been removed and mounted on makeshift gun carriages to be transported to the front to bolster the Army's artillery. Also removed, we can now assume, was the warship's shutter telegraph. It was then positioned on the armoured train destined for Ladysmith as those signs reveal. The photograph shows all these details as well as Ladysmith's clock tower in the background.
Churchill's telling of what took place when the train was still some distance from Ladysmith - and thus beyond "line of sight" of the town - is, most likely, the first description of the arcane art of electronic warfare, now known ubiquitously by its practitioners as EW. Of course, electronics did not exist in 1900 but the cunning ploy of using light waves, bouncing off the clouds, to send messages in Morse code beyond the horizon clearly did. And then, when the Boers used their searchlight to interfere with those ethereal British dots and dashes the skulduggery of "EW" had most assuredly arrived.
I hope this little bit of Boer War technology will be of interest to the heritage community.
About the author: Dr Brian Austin is a retired academic from the University of Liverpool. Born and educated in South Africa, where he studied Electrical Engineering at Wits, he spent a decade in industry, mainly at the Chamber of Mines Research Organisation where he led the team that developed the world's first "direct-through-rock" underground radio system. He then joined his alma mater as an academic before emigrating with his family to England where he joined the Department of Electrical Engineering and Electronics at the University of Liverpool. Now retired he has long had an interest in military history and especially the part played by radio and radar in all conflicts. In 2001 his biography of Sir Basil Schonland, called "Schonland Scientist and Soldier" was published. He served as an officer in the South African Corps of Signals (CF) for many years. He was recently awarded the Master of Signals Commendation of the Royal Corps of Signals.