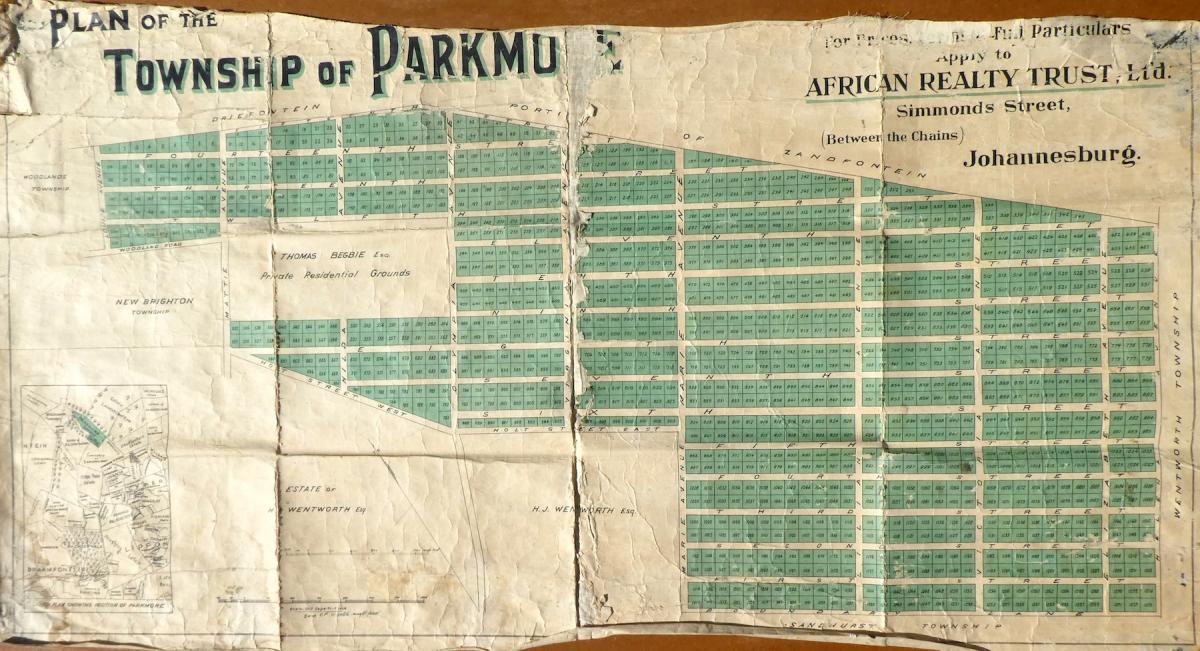 Saturday, July 10, 2021 - 19:42
The township of Parkmore was established in 1904 – making it one of the oldest northern suburbs in the Johannesburg Metro. Parkmore was proclaimed in the aftermath of the South African War (1899-1902). The ending of hostilities brought with it the expectation of economic stability and a rise in property prices in what had become the British colony of the Transvaal.
Sketch plan showing position of Parkmore
The area that once comprised the independent town of Sandton, north of Johannesburg, originally consisted of four large farms that settling Voortrekkers had taken up, displacing the African communities that had used the area for many centuries before them. One of these was Zandfontein (No. 1, later No. 42 IR), part of which was to become Parkmore. The whole farm had been owned by Jan Christoffel Esterhuysen who, in the late 1840s, had arrived from Natal with his large family. After Britain had annexed Natal in 1843, he and others found themselves under the same uncongenial British rule from which they had intended to escape in the Cape Colony and so they trekked again.
Esterhuysen Monument (The Heritage Portal)
By the end of the 19th century Zandfontein had been subdivided among a younger generation comprising many members, some of whom sold their shares. One who did so was Hendrik Abraham Esterhuysen, one of Jan's grandsons. In June 1904, Hendrik sold Portion 28 (portion of portion 7), to Henry John Alfred Wentworth, a property developer. Hendrik was also the owner of the farm portion that became Parkmore; he had inherited this property from his father, Barend Daniel, the previous year.
Around this time, some wealthy men purchased large recreational 'country estates' to the north of Johannesburg. In 1904 Thomas Begbie (1845-1912) bought 'Shandon'  (also a portion of portion 7 of Zandfontein), perhaps named after the village close to Glasgow, his birthplace. It is now surrounded by the suburb of Parkmore and shown as Begbie's 'private residential grounds' on the 1904 plan (see main image). In 1887 Begbie established a company that still exists today and he owned an iron foundry in Johannesburg which the Boers had commandeered as a munitions factory during the war.
A blue plaque marks the site of Begbie's Johannesburg Foundry (Johannesburg Heritage Foundation)
Rand pioneers Alfred and Catherine Langebrink bought 200ha of Zandfontein and established Riepen Estate. North of Johannesburg there were numerous tea gardens and recreational destinations to which citizens could escape on weekends. Rattray's Dam in Craighall, and 'Pilkyvale' near Benmore Gardens, were extremely popular. There were two access roads into the area – Rivonia Road and the extension of what is now Jan Smuts Avenue into Ferndale. At least a few hours' journey by horse-drawn carriage or early motor vehicle was needed to get to these places.
Craighall Lake (Like it Was)
However, after peace had returned to the region in 1902 there was also considerable activity in the market for smaller properties. Townships on various farm portions sprang up; Sandhurst (1902), Wynberg (1902), Rivonia (1903), Inanda (1903), Atholl (1904), Illovo (1905) and New Brighton (1905). Parktown had been a very successful development and the word 'park' seemed to be a mantra: Parkhurst (1903), Parktown North (1904), Parkview (1906), Parkwood (1906) – and Parkmore.
The first record of Parkmore is an old map of Zandfontein (1889) in the Deeds Office on which the area of Parkmore has been outlined by hand. The formal Parkmore township sales plan is dated 8 August 1904 and the development company that bought the property was African Realty Trust. This was a new venture, founded by Isidore W. Schlesinger (1871-1949), who was active in developing townships in Port Elizabeth and Cape Town as well as in Johannesburg. David Holt (after whom one of Parkmore's streets is named) was also a director.
Parkmore outlined in relation to Zandfontein farm portions on map dated 1889
Portrait of Isidore W. Schlesinger by South African artist Edward Roworth
The developers were taking a large risk in putting onto the market a township of small stands beyond the boundaries of Johannesburg and one so difficult to reach. It has been said that there were plans to build a railway goods yard near Parkmore and the reason for the small plots was that many railway workers would be looking for housing close to their employment. In 1904 no municipal services of any kind were provided to the area and there was no sanitation or water supply. Naturally, these were not necessary for the larger properties outside Johannesburg which could rely on their boreholes, nearby rivers, and septic tanks, but would certainly have been required in order for a dense township like Parkmore to succeed.
The absence of services meant that no rates or other municipal taxes were levied and there were no usage constraints. This had been a boon to poorer people who wanted to live close to Johannesburg but not within it or liable for rates. One such family was the Wilhelmi clan who had emigrated from Germany in the 1880s and had bought part of the farm Driefontein, adjacent to Zandfontein on the north (their home is a heritage site). In 1911 Elsa Wilhelmi badgered the Transvaal education department into establishing a school in Parkmore so that her children would not have to travel the long distance to Fontainebleau (in the present-day Randburg area) each day. The archival record of the school ends in 1950, but in 1978 the ruins of the school could still be seen on stands P346/359. In addition to the landowners, there were many Africans who worked for them and whose efforts produced the fresh vegetables and flowers that were profitably sold at the market in Johannesburg.
Driefontein Farmhouse, home of the Wilhelmi family (The Heritage Portal)
Old photo of Driefontein School
Put simply, at the time of its proclamation Parkmore was a property development failure. Without services, easy access, and employment nearby, there was no interest in a suburb of small stands. On 22 January 1906 the African Land Corporation (which had replaced African Realty Trust) appears to have sold Parkmore to one J. Lennon. 
In the inter-war years, Parkmore did not develop, but the surrounding landscape began to change as larger properties were continually subdivided and Johannesburg's population expanded. In 1917 a tannery was established in New Brighton and water from the Braamfontein Spruit was used to wash the hides which were put out to dry along the banks. There was agricultural development too. Small market gardens lined the Braamfontein Spruit and vegetables and flowers from the area sold well in the city.
Map showing the location of the tannery (Sandton Historical Association)
The second spurt of residential development in the Parkmore area came after the Second World War when there was another burst of property speculation. By the late 1940s a local government structure – the Peri-Urban Areas Health Board – had been established by the Union government and it was tasked with developing the areas under its control. Moreover, the population was increasing in the peripheral areas and so were demands for service delivery. Bryanston was established in the late 1930s by Abe Bailey's South African Townships and stands sold well after the war. The property companies and residents put pressure on the Peri-Urban Areas Health Board to provide adequate infrastructure. A more regular bus service came into being, electricity was provided, and finally, water, without which development cannot take place. In the mid-1950s the Board commissioned a comprehensive water supply scheme, and it gradually began to operate successfully.
Consequently, interest in Parkmore began to pick up. The archives record Parkmore's formal establishment under the aegis of local government in 1946, and town planning began in 1952. Foreseeing a potential future boom, in 1944 Johannesburg acquired Woodlands, a property along the Braamfontein Spruit, that the city might have required for the sewage scheme that was in the planning stage. Begbie's property, Shandon Estates, was purchased by African Film Productions in 1948 with the aim of establishing a film studio to complement that established at Killarney. (This did not eventuate, and the property was sold in 1959.) In 1951 Parkmore was described as 'A few little shops in 11th Street, a sprinkling of depressed cottages on 4th and 5th Streets and a tiny school … dusty roads meandered across the veld …'. But it grew. Lithuanian immigrant Harry Saks opened his store in 11th Street in 1940 and having made a little money, he purchased neighbouring Parkmore stands for £150 which he later was able to sell at double the price.
Mid-1950s aerial photograph looking south towards Johannesburg
Old photo of Saks Corner (Sandton Archives)
There were five factors that contributed to Parkmore's success in the late 1950s and 1960s: post-war economic prosperity; private motor-car ownership; an increasing urban population; a local government structure; and the availability of municipal water. Equally important, however, was the construction of the P79, the 'William Nicol', a major road that links Bryanston with Hyde Park and provides access to the western side of Parkmore.
A more recent photograph of William Nicol
In the 1960s, after Randburg's independence in 1959 and with autonomy looming for the area that was to become Sandton, together with the promise of municipal services in the near future, sales in Parkmore began to accelerate. This was assisted by an Ideal Homes exhibition, supported  by the press and construction companies. Thereafter, in the 1960s and 1970s the growth and development of Parkmore is recorded in hundreds of files in the state archives. Initially presenting a rather raw view with new dwellings and few trees, Parkmore has matured into a still-popular suburb with easy access to what is now the hub of the Sandton Central Business District.
About the author: Jane Carruthers is Professor Emeritus at the University of South Africa, elected Fellow of the Royal Society of South Africa and Member of the Academy of Science of South Africa. She has been awarded many international visiting research Fellowships, including at Cambridge University, the Australian National University and others. She is a former President of the International Consortium of Environmental History Organizations, the Southern African Historical Society, Chair of the Academic Board of the Rachel Carson Centre Ludwig Maximilian University, Munich, Editor-in-Chief of the South African Journal of Science, and recipient of the Distinguished Scholar Award from the American Society for Environmental History. She pioneered the discipline of environmental history in South Africa and her book, The Kruger National Park: A Social and Political History (1995) has become a standard reference worldwide. Her research interests are broad, and include environment history, national parks, the history of science, land reform, colonial art, ad comparative Australian-South African history. She is the author of numerous books, as well as many book chapters and articles in scholarly journals.
Bibliography:
Carruthers, J., Sandton: The Making of a Town (Johannesburg, 1993)
Carruthers, E.J., 'The growth of local self-government in the peri-urban areas north of Johannesburg', MA thesis, University of South Africa, 1980.
Marais Louw, Juliet, Wagon-tracks and Orchards: Early Days in Sandton (Johannesburg, 1976).
Sandton Historical Association, Annual Magazine, 1976-1994.
Disclaimer: Any views expressed by individuals and organisations are their own and do not in any way represent the views of The Heritage Portal.