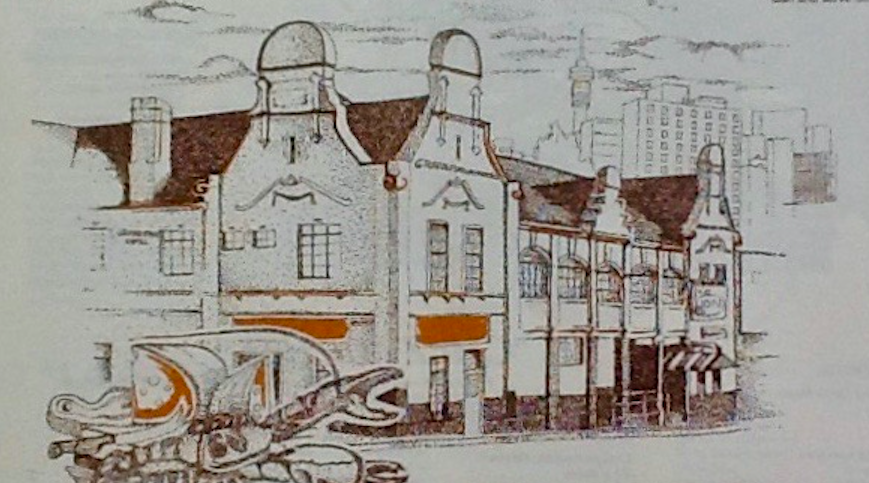 Monday, March 30, 2020 - 17:59
Today I browsed my recipe book collection and randomly pulled out a thin paper cover recipe book called The Caltex Recipe Collection (published in about 1983 by Caltex). The book is a compilation of recipes from the Caltex Recipe Calendar series over the period 1979 to 1982.
Book Cover
The 1982 calendar presented recipes from 12 South African restaurants with drawings of the restaurants by the Cape Town artist Christiane Janssens.
I was delighted to find that Norman's Grill, a choice place for LM prawns, was one of twelve South African restaurants selected. Norman's Grill was located in the Grand Station Hotel at 302 Main Street in Jeppestown. Finding this particular page is poignant as in 2019 it was lost to fire and Norman's had passed on and his restaurant was no more. In 1986 the building was awarded a Johannesburg 100 blue plaque by the Simon van der Stel Foundation. I have fond memories of the ultimate seafood feast at Norman Gaffen's Grill in the 1970s and 80s. So at this time of anxiety it is a small pleasure to remember Norman's Grill and to unearth four of Norman's recipes. Our at home holiday is a good time to rediscover old recipe  books.
A Norman's Grill Recipe
Burnt out shell of the Grand Station Hotel (Kathy Munro)
The Caltex recipe book features two other popular restaurants of that era: Le Francais, located at the Mall of Rosebank and The Crown Reef at the Gold Mine Museum at Crown Mines. This Crown mines complex later evolved into the theme park Gold Reef City. Do any of our Heritage Portal readers have memories of these latter two restaurants? 
Entries for Le Francais and The Crown Reef 
Recipe books are another facet of specific decades and eras and reflect culinary tastes, popular recipes of the time and are an aspect of cultural history. The 1980s seems such a short time ago but then I am jolted to reality that it's nearly 40 years ago and speedily passing into the forgotten past.
Another page of this recipe book from the 1981 South African recipes calendar features recipes from the then popular magazine Your Family. The theme was Transvaal cuisine. We can look back with a nostalgic nod to Transvaal Currie Cup provincial cricket, an old mine headgear along the line of the Witwatersrand mine dumps and the productive farmers with their mealies and their prize cattle competing for top medals at the annual Witwatersrand Agricultural Society's Easter Show at Milner Park. All now passed into memory and through the sands of time. This year the Rand Easter Show now located at NASREC has been postponed.
The theme was was Transvaal cuisine
I am about to step into the kitchen and try my hand at some of these old South African recipes!
Kathy Munro is an Honorary Associate Professor in the School of Architecture and Planning at the University of the Witwatersrand and chair of the Johannesburg Heritage Foundation. She enjoyed a long career as an academic and in management at Wits University. She trained as an economic historian. She is an enthusiastic book person and has built her own somewhat eclectic book collection over 40 years. Her interests cover Africana, Johannesburg history, history, art history, travel, business and banking histories. She researches and writes on historical architecture and heritage matters. She is a member of the Board of the Johannesburg Heritage Foundation and is a docent at the Wits Arts Museum. She is currently working on a couple of projects on Johannesburg architects and is researching South African architects, war cemeteries and memorials. Kathy is a member of the online book community the Library thing and recommends this cataloging website and worldwide network as a book lover's haven.
Disclaimer: Any views expressed by individuals and organisations are their own and do not in any way represent the views of The Heritage Portal.