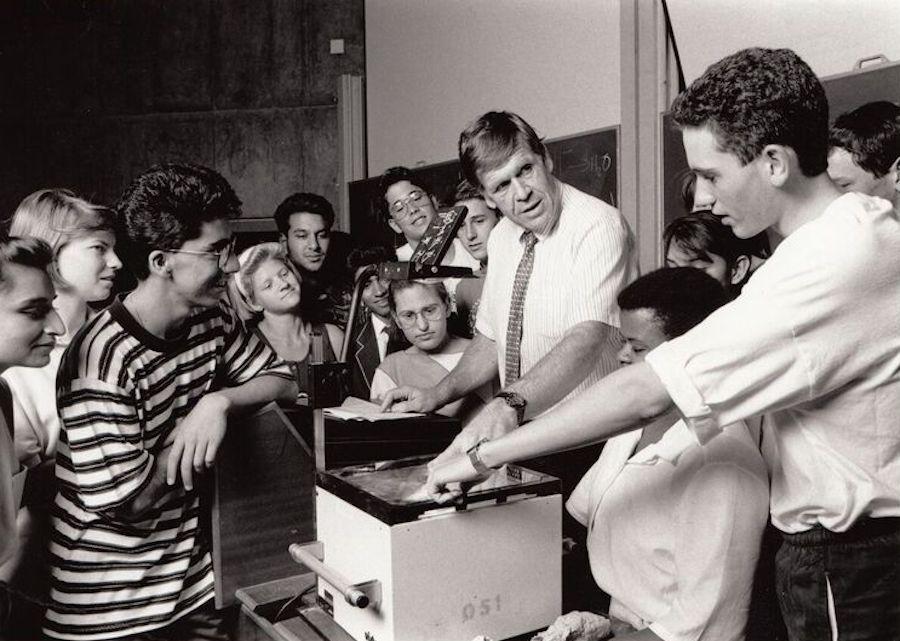 Monday, February 14, 2022 - 13:14
In the article below, researcher and writer Martin Hatchuel delves into the life of William Smith, one of South Africa's most recognisable teachers. Hatchuel charts Smith's entrepreneurial flair in education and tourism and digs into the archive to reveal some fantastic photographs of Smith growing up.
Education and early career
Smith was born in Makhanda (Grahamstown) on 25 June 1939 to the ichthyologists, Professor Margaret Smith and Professor J. L. B. Smith, the man who identified and described the coelacanth. [Bruton, 2018]
A young William Smith
Smith attended St. Andrew's Preparatory School in Makhanda, and Union High School in Graaff-Reinet, from which he matriculated in 1956. [Bruton, 2018] He then enrolled at Rhodes University, where he obtained a Bachelor of Science degree in physics and chemistry, and an honours degree (cum laude) in chemistry. He earned a master's degree from the University of Natal (Pietermaritzburg campus) in only five months in 1961 (conferred in 1962). [Bruton, 2018] [Smith, pers. comm.] [Rhodes, 2019]
Rhodes University (Wikipedia)
Graduation Day
During his time at school and university, Smith showed an interest in film and camerawork, scripting, shooting, and producing the 50-minute feature documentary, 'The Garden Route,' in 1960. The film was digitised and relaunched in 2010. [Hatchuel, 2010]
Smith began his working career in 1962 in the Work Study Department of the South African chemicals group, AECI Limited, before moving on to other companies in the chemical industry. At the age of 29, he was appointed technical manager and head of the welding school at Afrox (African Oxygen, a subsidiary of the British Oxygen Company, BOC), where his work included research into the use of gasses that prevent the oxidisation of apple juice, which facilitated the development of the popular sparkling drink, Appletiser.
Teaching career
Early success at providing teaching assistance to struggling first-year university chemistry students gave Smith the impetus to begin a business offering supplementary classes. Besides chemistry, the company also offered help in first-year English - at that time a compulsory course for accounting students, but one that was beset by high failure rates. Smiths' students were drawn from the University of the Witwatersrand, which was located two city blocks away from the building where he gave his lessons. [Smith, pers. comm.]
Wits Great Hall (The Heritage Portal)
At the suggestion of a high school English teacher, Smith expanded the concept to focus on high school pupils, and for this founded his 'Star Schools' in 1970. [Smith, pers. comm.] The business was named for the mass-circulation Johannesburg newspaper, The Star, which published in its pages educational material prepared by Smith.
Star Schools offered extra tuition in physical science, mathematics, and English. Fees were kept deliberately affordable thanks to the newspaper's promotional support.
To secure a good, popular English teacher, Smith asked the head of the English department at Greenside High School, Jacques Sellschop, to join Star Schools on a full-time basis. [Star Schools, undated] [Anon, 2018]
Classes were held on Saturdays and during school holidays in lecture rooms at two centrally-located venues: the University of the Witwatersrand, and the Johannesburg Technical Training College (now the Central Johannesburg TVET College). [Smith, pers. comm.]
As demand grew, the company's reach quickly expanded to community centres in other suburban areas.
Most pupils who attended Star Schools were enrolled for full-time education at government schools, where the quality of teaching could often be described as questionable. [McKeever, 2017] Star Schools differentiated itself by providing top-class teachers who delivered lessons in the style of university lectures, and who quickly resolved their pupils' academic problems.
Pupils who attended Star Schools achieved excellent exam results, and more and more of them began joining the programme.
Smith ran his first multi-racial school in the 1970's, despite problems with the Apartheid authorities. At that time, education facilities were segregated under legislation such as the Bantu Education Act (1953) and black children were prohibited from attending classes on campuses that had been reserved for whites. Smith, however, never turned any black student away from any class, and made Star Schools more accessible by offering instruction in subjects that weren't adequately covered by the Bantu Education system - such as mathematics and physical science. (Bantu Education was reserved for black learners, while Christian National Education was reserved for whites. Under Apartheid legislation, South Africa had as many as nineteen different education departments!)
Additionally, Star Schools' classes focused on critical areas in the Bantu Education syllabi and were offered during the black school holidays (which were often different to the dates of white school holidays). Smith also addressed accessibility to these classes by presenting his supplementary lessons at venues in the black residential areas of Soweto and Boksburg.
In 1972, Smith developed the radio programme 'Let's Speak Afrikaans' to teach Afrikaans to English-speaking listeners of the South African Broadcasting Corporation (SABC). When it aired, it achieved the highest listenership of all English Service programmes.
In 1973, the SABC began broadcasting Smith's radio programme, 'The Set Book Scene,' which covered the matric literature syllabus complemented with written support in the national press. The Set Book Scene was the first audio-visual teaching service of its kind.
In 1974, Smith began publishing a series of mini books under the Star Schools imprint. These books were written by himself and by other specialists in their fields. It was through this series that Smith introduced his Island System, a unique learning method that simplified physics for high school students. [Smith, 1974] [Smith, 1974(2)]
Marketing the Island System
Tape Tutoring Service
In 1976, Smith launched the Star Schools' Tape Tutoring Service, which delivered material prepared by specialist teachers via audio cassette-tape to pupils around the country. [Smith, pers. comm.]
Pupils could order the tape tutoring sets to assist in their preparation in mathematics, physical science, biology, or English, in order to help them achieve good-end of year results for university entry. Each set included an audio cassette-tape, and a mock exam paper at the expected matriculation examination level.
Side A of each tape was pre-recorded by a specialist educator, and included a summary and description of the requirements of the given syllabus. Star Schools would match each pupil with a specialist tutor - often a retired teacher - who lived in close proximity to the student to ensure quick postal turnaround times. Once the pupil had studied the specific topic, they would answer the questions - a kind of trial exam at home - and then send their answers to their personal marking tutor. The tutor would record a commentary on Side B of the tape, providing explanations to correct any errors the pupil may have made, and also offering insights on how the pupil could obtain better results when sitting the actual final exam.
The tape and answer paper were then returned to the pupil by post . 
This approach was novel at the time, and through it, many pupils who were unable to attend live Star Schools classes in the larger centres, were exposed to quality supplementary education, and could practice by answering past final matriculation examination papers. 
Through this project, Smith was starting to perfect the techniques and protocols he would later apply when the Learning Channel was launched: providing video-taped lessons using the best teachers available, and supporting their lessons through printed worksheets. The concept would eventually expand to include live televised broadcasts, with support material carried in the daily press. 
The University of South Africa (UNISA) coincidentally also introduced audio-cassettes in its correspondence courses at this time. [Suttie, 2006]
UNISA Campus (UNISA)
Big-group teaching
By 1980, Smith began offering supplementary education to large groups of learners in mass event venues such as the Great Hall at the University of the Witwatersrand, the Nico Malan Theatre (now the Artscape Theatre) in Cape Town, and the Opera House in Durban. These classes took place outside of normal school hours - on weekends and during school holidays - so, in order to cover enough of each syllabus, each session would typically last for up to eight hours, with appropriate breaks for rests and meals. [Smith, pers. comm.]
Another shot of the Wits Great Hall (The Heritage Portal)
The Learning Channel
In 1981, Smith developed a one-person studio in his offices in Braamfontein to deliver video teaching at a fraction of normal production costs. [Ivala, 2009] The system bypassed the need for actors and scripts, and for the large production crews (camera operators, sound engineers, lighting engineers, etc.) that conventional educational programmes require.
Instead of utilising actors reading scripts written by teachers, Smith's studio freed the teachers to present their own subjects spontaneously, much as they would teach in their own real-life classrooms.
In 1984, Smith's 'Basic Mathematics' video series - designed to bridge the gap between primary and high school mathematics - received international recognition.
In 1990, Smith began negotiations with SABC-TV for national airtime to carry the material that he had been producing in his one-person studio under the name, The Learning Channel. [Ivala, 2009] 
With sponsorship from Barlow Rand, the studio was upgraded to produce broadcast-quality material, and The Learning Channel began supplying the national broadcaster with more than thirteen hours of syllabus material every week.
Smith's association with the national press through the then Argus Group of newspapers, which had a daily readership of 1.7 million, and which published the supplementary educational material supplied by The Learning Channel, formed part of the initiative to teach the nation.
In 1996, Smith introduced live phone-in broadcasting to The Learning Channel. These broadcasts were delivered directly to classrooms across South Africa. Schools were able to select topics, and teachers and pupils were able to call into the studio with their questions. In 1997, more than 600 hours of these interactive, live educational broadcasts went out over SABC3 and SABC2, while more than 2,000 schools and other institutions were using the channel's video-tapes as part of their daily educational services.
The Learning Channel was acquired by Johnnic Communications (later the Tiso Blackstar Group) in 2002, at which time Smith's one-person studio was moved to the SABC's head office building in Auckland Park. [Ivala, 2009]
Nation Building
Following nationwide examinations boycotts during political unrest in South Africa in 1986, the journalist Aggrey Klaaste asked Smith to establish a rewrite school to help pupils pass their supplementary matric examinations. [Smith, pers. comm.]
In South Africa, these supplementary exams are usually held three or four months after the close of the academic year for learners who wish to improve their end-of-year results. Since the unrest had disrupted much of the year's teaching programme, Smith was concerned that three months wasn't enough time to teach a full year's syllabus. Klaaste therefore negotiated with the national ministers of finance and education, and received permission for pupils registered with the Star Schools Matric Rewrite Programme to rewrite their finals at the end of the year.
Smith began offering weekly classes at the University of the Witwatersrand in 1987. The first 950 pupils rewrote their exams at the end of the year, achieving an average pass mark of 72%. (By 2017, the Star Schools Matric Rewrite Programme had become "one of the biggest and most successful in the country, yielding an average annual pass rate of around 78%." [Dlamini, 2017])
Klaaste introduced his philosophy of Nation Building to readers when he became editor of The Sowetan newspaper (at that time the largest circulating black newspaper in the country) in 1988. His "big idea" was to unite and engage black South Africans to improve their lives and communities through practical measures - including improved education. [Cowling, 2021]
Klaaste pushed his campaign through the pages of The Sowetan, and through his column, 'On the Line,' in which he advocated for a non-racial South Africa. 
Following the sale of The Sowetan to New Africa Investments Limited in 1994, Smith invited the paper to partner with The Learning Channel to bring educational material to its readers, and Klaaste saw immediately that doing so would support his ideals.
With sponsorship from the Liberty Life Foundation, The Sowetan began publishing the daily schedule of educational broadcasts as part of its daily television guide, and also began producing a weekly, twelve-page education supplement, which included six pages prepared by Smith. These supplements appeared on Fridays.
These innovations in educational broadcasting and publishing were later cited as being amongst the main reason for The Sowetan's rapid growth over the next two years: between December 1994 and December 1996, the paper's advertising revenue increased by fifty percent, its average page count grew from 28 to 32, and its circulation grew from 175,000 to about 240,000 copies per day. 
Oakhill College
Following the unexpected departure of the principal of the privately-owned Oakhill College in Knysna, Smith offered his services as interim headmaster for a period of six months in 1998. In this part-time role, he acted as a custodian and mentor to allow the board to concentrate on recruiting a suitable person during a key period in the school's early years. Smith saw his role as a contribution to the community of Knysna, and he expected no remuneration in return. [Smith, pers. comm.]
Broadcasting to Africa
In 2000, Smith began broadcasting to other countries in Africa through their regional ground stations. [Ivala, 2009]
Planning for live, interactive education began in 2001, and, using the TV-Africa satellite signal, these broadcasts began in 2002 - with satellite telephone lines feeding viewers' questions live into the studio.
Years later, when Rhodes University conferred on Smith an honorary doctorate, the University would note that "dealing with three completely different syllabi and several languages simultaneously and a three or four second delay each time when talking to the pupils proved to be one of the most difficult things [he] ever undertook." [Rhodes, 2019]
Although the channel quickly reached a daily viewership of 100 million pupils in 27 different countries (peaking at 120 million in one day), it was forced to close due to lack of funding. [Ivala, 2009]
Advertising
During his career, Smith starred in a number of educational advertisements for products ranging from calculators to cell phones. 
In 2007, he presented two 30-minute educational programmes for SARS (the South African Revenue Service) to introduce the country's new e-Filing system. In these programmes, Smith explained to individual taxpayers how to complete the new, simplified income tax return forms, how to avoid the most common mistakes when completing them, and how to submit them electronically and securely. [SARS, 2007] 
In 2020, Smith endorsed Paper Video, an edtech social enterprise that provides access to excellent teachers, model exam questions, and solutions videos for 8th- to 12th-grade learners studying mathematics, physical sciences, life sciences, or accounting.
Entertainment
Smith acted as a judge in the Miss South Africa Pageant in 1998 and 1999.
Beginning in 2000, he provided educational background material for A Word or 2, the South African version of the French television game show, Des chiffres et des lettres.
Produced by Johan Stemmet and hosted by the radio and television personality, Jeremy Mansfield, A Word or 2 ran on SABC-TV2 from 1998 to 2003.
Smith appeared as the 'numbers man' for the entire series. [Meiring, 2006] His role included discussing and resolving each week's numbers conundrum, which required contestants to arrive at a targeted three-digit answer by applying the four basic operations of arithmetic (+, -, ×, ÷) to six other numbers. ("It's not mandatory to use all the numbers. All numbers used must be positive integers" ~ Wikipedia.)
Smith's role was unscripted: like the contestants, he came to each week's challenge without knowing the answer beforehand.
At the 2006 Golden Plumes Awards, during which Smith and Stemmet were both honoured, Stemmet is reported to have said, "William Smith from the Learning Channel received an award and I thought, 'Wow! He really deserves it. This man helped me with my Maths and he is actually a bigger star than any kwaito/movie star because what he gives is more valuable than music or a movie'." ['Brown', 2006]
Awards & recognition [Smith, pers. comm.]
1980: Smith researched and produced a video series to bridge the gap between primary and high school mathematics. At the Brighton Video Conference, this series was judged best in the world.
1991: Smith won the Technotron/Barlow Rand/Pretoria University 'Teacher of the Year' award. [Bruton, 2018] 
1992: Received the South African Association for the Advancement of Science (S2A3) Certificate of Merit for the highest contribution to the advancement of science in South Africa. (Smith's mother, Prof. MM Smith, had received the same award in 1983) [S2A3, undated]
1995: Nominated for an SABC-TV Artes award for best educational presenter and producer 
1997: Placed as one of the top three TV presenters in South Africa in research conducted by Heart and Soul. [SABC-TV, 1997]
1999: Included in the Independent Newspapers 'Top 100 People who, in the last millenium, made South Africa what it is today' - placed at number 58, and 12th amongst those still alive at the time.
2004: Smith was voted 86th in the SABC3 television series, 'The Top 100 Great South Africans.' The nominees for these honours were elected in an informal, nationwide poll conducted online and by SMS.
2004: Awarded honorary life membership of the Golden Key International organisation in recognition of his contributions. 
2006: Received the Department of Communications' Golden Plumes Award in recognition of his contribution to the South African television broadcast industry from 1976 - 2006 ['Brown', 2006] 
2008: Received the Toastmasters (Southern Africa) Leadership Award for outstanding dedication and contribution in the area of education
2019: Invested with the Order of the Baobab in Silver (see below)
2021: Received an honorary doctorate from his alma Mater, Rhodes University (see below)
William Smith, Educator
National Orders
Smith was invested by South African President Cyril Ramaphosa with the Order of the Baobab in Silver on 25 April, 2019, "For his excellent contribution to the teaching and demystification of mathematics and science. Through the medium of television (TV), he made mathematics and science accessible even to the most marginalised in our society." [Presidency, 2019]
The citation booklet notes:
His ground-breaking TV programme in the 1990s was called the Learning Channel on the SABC platform. The programme was essentially an open South African school teaching physical science, mathematics, biology and English.
He made an exceptional contribution to the field of education in South Africa, particularly the innovative teaching of science and mathematics. His Learning Channel platform revolutionised teaching even in the most underprivileged areas of the country and in turn, South Africa produced many scientists.
On a basic TV signal, he gave the best education for free and many people who grew up in the 1990s supplemented their knowledge of mathematics through Smith. His face is iconic for many black youth of the 90s, some of whom have gone on to become leading engineers and scientists.
Receiving the Order of the Baobab in Silver
Honorary doctorate
Smith received a Doctor of Laws (LLD) (honoris causa) from his alma mater, Rhodes University, on 28 April, 2021.
According to the university's website, "During 20 years with Mr Smith at the helm, Star Schools was responsible for some of the most innovative advancements in education ever seen in South Africa, including the Pre-University School, which prepared first year students and was adopted by universities across the country." [Rhodes, 2019]
William Smith at Rhodes
Tourism and conservation
Smith's lifelong interest in conservation was sparked by his early experiences fishing and collecting natural specimens with his parents, the ichthyologists JLB and Margaret Smith. [Smith, pers. comm.]
William and his mom, Margaret, on a sailing trip
A young fisherman
Using the proceeds from his book about the Coelacanth, Old Four Legs, JLB Smith had bought land on The Heads in 1950 (Portion 60 of the farm Uitzigt 216 - the property with the iconic cliff face on the Western Head of the Knysna River mouth), and had also bought the neighbouring property in 1953 (Portion 59, commonly known as Featherbed Bay), which he acquired on William's behalf when William was 14 years of age. [Bam, 1990] (To secure easier and less damaging access to these iconic properties, Smith and his wife, Jenny, would purchase Portion 58, which lies between the reserve's boundary and Knysna's landmark communication towers, in 1988).
Early shot of the Knysna Heads (Knysna Historical Society)
In the early 80s, Smith fenced portions 59 and 60 to form Featherbed Nature Reserve, which he opened to the public via guided walking tours in 1984, "so that people could enjoy the property, leave footprints and take photographs." [Smith, pers. comm.]
The property was managed and operated in accordance with the legislation at the time, and was declared a Private Nature Reserve by The Department of Cape Nature Conservation in 1985. It was also declared a National Heritage Site under the prevailing heritage legislation.
Smith would later say that he built the reserve as a "tribute to them (his parents). I know they would approve." [Bam, 1990]
Although already a popular destination for visitors, Knysna was in those days beset by the problem of seasonality, which made it impossible to sustain tourism jobs - and, indeed, tourism businesses - through the quiet, winter months.
Realising that the answer lay in attracting South Africans during the South African summer, and international visitors in the quiet times, the Smiths set about developing the reserve as an indispensable attraction on the itineraries of international tour operators bringing visitors to the Garden Route.
Smith's marketing of Knysna was sometimes considered controversial. Famously, he taught on television in front of an aerial photograph of the Knysna Lagoon, with the town's name prominently displayed - which attracted the opprobrium of some local residents, who may have favoured a less bold approach, and thought that Smith took unfair advantage of his position as a broadcaster who owned a tourism product.
Nevertheless, Featherbed quickly earned its position as a premier attraction, with Smith partnering with other attractions in the area - the Waterfront Knysna, the Knysna Quays, the Outeniqua Choo Tjoe steam train, and others - to grow the tourism economy.
Outeniqua Choo Tjoe steam train (Peter Ball)
To support the tours of Featherbed, Smith designed and launched two aluminium catamarans, or 'Rivercat Ferries:' the 80-seat 'Three Legs, and the 120-seat 'Spirit of Knysna.' 
Three Legs was built around 1990, and featured three retractable hydraulic rams or 'legs,' which were able to push down onto the floor of the lagoon to raise the entire craft for the purpose of safely loading and unloading passengers. 
The vessel was featured on the TV programme Beyond 2000 (now Beyond Tomorrow).
Spirit of Knysna was launched soon afterwards - in 1992 or 1993.
In 1989, Smith also acquired the 100-passenger, wooden restaurant boat, 'mv John Benn,' which had been designed and built in Knysna by James Edwards of Lucky Bean Marine. And then in the early 2000s, he commissioned the 120-passenger 'Paddle Cruiser' from 2 Oceans Marine in Cape Town.
Paddle Cruiser was delivered under tow by sea to Knysna in 2003, although she did fire up her engines to enter The Heads under her own steam.
To add sailing trips through the Knysna Heads to its product offering, the company ordered a 45 foot sailing catamaran from Cape Town's Voyage Yachts. Heads Explorer was launched in 2005. 
Smith sold Featherbed Nature Reserve, the boats, and The Featherbed Company, the operating company that manages them all, in 2008. [Bamford, 2008]
Paddle Cruiser (Ronel Victor)
Family
Smith married Jennifer Bawden in 1969. The couple had two children, David and Lee-Ann, and later divorced.
Smith married Jennifer Bailey in 1976. They have three children - Helen, Jessica, and Bronwyn - and five grandchildren. The family now lives in Australia. [Smith, pers. comm.]
About the author: Martin is a writer, horticulturist, and tourism consultant with interests and experience in writing about history, culture and the environment.
References
Anon. 'Jacques Sellschop and Madiba: Tales of tennis, phone calls and a secret oxtail dinner' South Coast Herald. 18 July, 2018
Bam, Trisha: 'A Featherbed reality for all to share.' Sunday Times Magazine, June 10, 1990
Bamford, Helen. 'Maths boffin sells the heads' iol.co.za, 16 August, 2008
Bruton, Mike. 'The Fishy Smiths: A Biography of JLB and Margaret Smit'. Penguin Random House, Cape Town, 2018 
Cowling, Leslie. 'How South African editor Aggrey Klaaste put himself on the line with his contrarian idea' edited extract from the book 'Public Intellectuals in South Africa: Critical Voices from the Past.' Ed. Chris Broodryk. Wits University Press, 2021
Dlamini, Awande. 'Star Schools gives pupils another chance' . The Star, 6 November, 2017
Hatchuel, Martin. 'A lesson from 60s-style marketing' thistourismweek.co.za 2 December, 2010
Ivala, Eunice Ndeto. 'The uses of television broadcast-based distance education : a case study of Liberty Learning Channel programme.' Submitted in fulfillment of the requirements for the degree of Doctor of Philosophy, in the Graduate Programme in Culture, Communication and Media Studies, Faculty of Human Sciences, of KwaZulu-Natal, Durban, 2009
Maphanga, Canny. 'SA hails nation's maths teacher William Smith after national order honour.' news24.com. 26 April, 2019
McKeever, Matthew. 'Educational Inequality in Apartheid South Africa' in American Behavioral Scientist, January 2017
Meiring, Lizz: 'Die superster van syfers - William Smith.' Rapport, 22 January, 2006
Presidency, South Africa. 'Mr William Smith The Order of the Baobab in Silver.' presidency.gov.za 2019
Rhodes University Alumni Relations. 'William Smith.' 2019
SABC-TV media release placed in The Star 'Tonight' supplement, 1997
SARS. 'South African Revenue Service on income tax returns assistance' 21 September, 2007
Smith, William. 'An Introduction to Organic Chemistry' Smith/Sellschop mini-book series, 1974
Smith, William, pers. comm, 2022
Smith, William. 'The island system. Solving problems in mechanics, electrostatics, electricity, magnetism: including equations of motion, ticker tapes, circular motion'  Smith/Sellschop mini-book series, 1974(2)
S2A3 (Southern Africa Association for the Advancement of Science). 'List of award winners: S2A3 Certificate of Merit.' (Undated)
Star Schools: History (Undated)
Suttie, Mary-Lynn. 'The University of South Africa Library: From the Soweto Rebellion to the Beginning of the End of Apartheid, 1976±1990' University Library, University of South Africa, 2006
'Brown Shuga.' Golden Plumes: Best Awards Show of 2006
Additional Reading
Smarties, projector pens and naughty jokes – How William Smith taught a nation Mandy Wiener, 28 Apr 2019
"With his white board markers, a projector and a box of Smarties, against the backdrop of the picturesque Knysna Lagoon, William Smith demystified maths and science for generations of South Africans. Across the country through the 1990s, he made the subjects accessible to children irrespective of race or class as they watched and learnt from the ground-breaking Learning Channel on SABC 2."
'There is no greater feeling than knowing I made a difference': William Smith Cebelihle Benghu, 2 May 2019 
"Veteran physics, maths and chemistry teacher William Smith said he was amazed by the love he had received from thousands of South Africans who had conveyed their gratitude for his contribution to their academic success. Smith, who taught mathematics on television for almost 16 years, received the Order of the Baobab last week for his contribution to teaching the subject."
It doesn't add up: veteran teacher William Smith 'wasn't good at maths' Cebelihle Benghu, 7 May 2019
"Veteran teacher William Smith, whose 16-year stint as a television tutor earned him star status, says he was not great at maths in school, but perhaps that was the secret to him becoming a great teacher."
Disclaimer: Any views expressed by individuals and organisations are their own and do not in any way represent the views of The Heritage Portal.