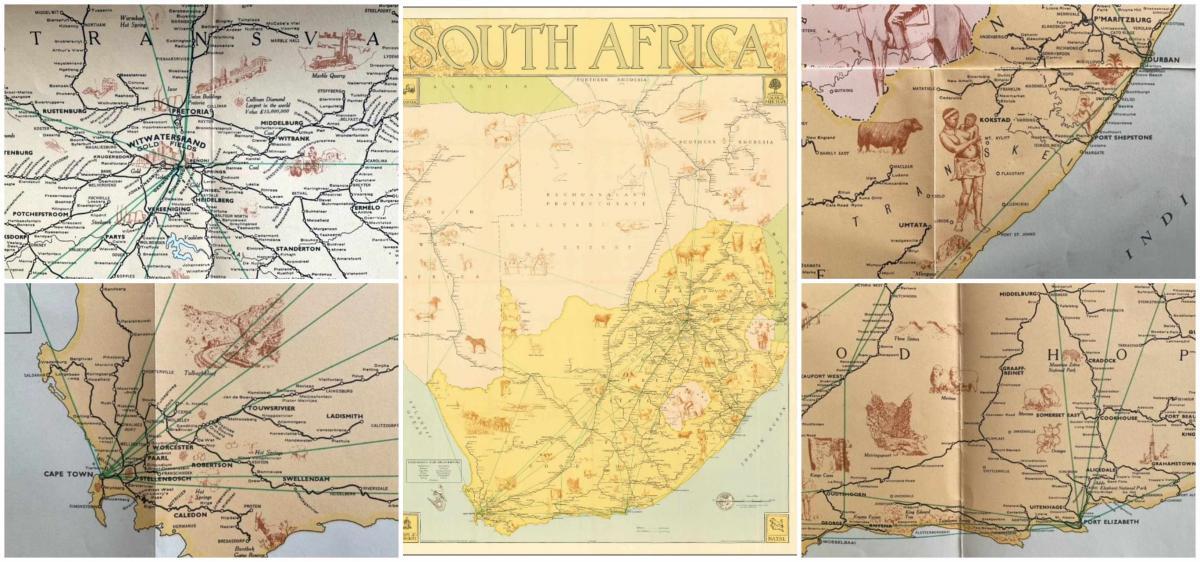 Monday, May 9, 2022 - 09:42
Sometimes one longs for bygone days when one encounters a rare relic of a functioning and proud South African transport system that ran a complex railway and air network effectively as a business enterprise run by government.
I recently obtained a copy of this unusual 1954 railway map of South Africa showing each and every railway station throughout South Africa, South West Africa (now Namibia), Southern Rhodesia (Zimbabwe) and the Bechuanaland Protectorate (Botswana). The map also shows the principal air routes of Southern Africa. It was issued by the Publicity and Travel Department of the South African Railways and was printed by the Government Printer in 1954. The map was designed and drawn for the SA Railways by the Trigonometrical Survey Office in 1947 and revised in 1953 (I wonder if there were earlier versions of this map?). It folds out measuring 28.5 x 38 inches and folds up into 4 segments across five divisions. It is enclosed within grey paper covers.
The Map
It was meant to be a tourism promotion item with enquiries being directed to the London and New York commercial liaison officers of the South African Railways. At one time such maps must have been handed out as part of the travel planning advice for potential tourists who could have travelled entirely by rail throughout Southern Africa, or have been more adventurous and flown from the coast inland. But it was still the era when more people would have travelled by train than have flown and Johannesburg had just completed its new station with its vast light filled concourse. It is interesting because no roads are shown. I remember 1954 when I was growing up in Johannesburg as a time when any trip to the coast would have been a once a year holiday adventure and we travelled with all the paraphernalia of a complete mechanics tool kit, a canvas water bottle cooling on the radiator; there were no motorways and a journey from Johannesburg to a South Coast (Natal) holiday destination probably took 10 to 12 hours and we always stopped over in Ladysmith at the Royal Hotel.
Each corner of the map shows the pictorial logo of one of the four provinces of the Union of South Africa (1910 – 1961): Natal, Transvaal, the Orange Free State and the Cape Province. The country had not yet become a republic nor had the mad scheme to create 10 Bantustans and debar black people from citizenship of South Africa yet been developed and implemented.
Pictorial logos of the Provinces
The map presents South Africa as a fabulous and romantic tourist destination in the pictographs. It is the slice of Africa with all the possibilities. The small pictographic icons within the map conveyed semiotic messages about the appeal and essence of a South Africa of sunshine, beaches, blue skies and wide spaces. It is all about advertising the best of the country but in a tourist friendly way – the perfect destination for those who sought out idyllic train journeys. The images show the big five wild beasts, domesticated animals, villages, waterfalls, mines, a marble quarry, hot water springs and more. South Africa's people are portrayed as rural (not urban). The modern economy of industry and mines did not include a glimpse of the migrant male mine worker.
Image of a bare breasted Transkei woman with baby on her hip
The blanket clad Basotho man on his mountain pony
I liked the image of Sir Malcolm Campbell's Blue Bird on Verneukpan, in the Northern Cape. In 1929 Campbell, a British motor racing and speed obsessed personality, unsuccessfully attempted to break the land speed record in his Napier-Campbell Blue Bird.
Blue Bird on Verneukpan
Tourists of that era would have been reading books such as HV Morton (In Search of  South Africa, 1948), Francis Brett Young (In South Africa, 1952) or perhaps taken their insights from Sarah Gertrude Millin (The People of South Africa, 1951) or James Morris (South African Winter, 1958).
The election of the National Party to power meant that the country was well on its way to the apartheid philosophies translated into race based pass laws, racial classification, job reservation, group areas, designated residential areas based on race and Bantustans. The reality was race based removals of people and the acceptance of a colour bar that defined and labelled citizens; decreeing where they could live, work, and study.
This map is interesting too because it hardly highlights the importance of Johannesburg. Within the railway system Johannesburg was simply a station within the greater Witwatersrand Goldfields.
Section of the map showing the Witwatersrand Goldfields
1954 was the year of The Natives Resettlement Act, designed to remove black people from Sophiatown to Meadowlands, Soweto. Chillingly it was a law that permitted the removal of blacks from any area within and next to the magisterial district of Johannesburg by the South African government. 
South Africa's railway network is theoretically today the eleventh-largest in the world at 22 387 route-km or 30 400 track-km. It comprises 12 801km of national network, 7 278km of branch lines and 2 228km of narrow gauge urban network, as well as 80km of standard gauge regional rapid transit network (information sourced from Wikipedia). According to the Department of Transport website, in 2017 there were 525 train stations in South Africa. However, today we hear much about the decaying railway network, stolen tracks and abandoned station buildings. The reality is a once fine railway system in disarray. South African Airways fell on desperate times during Covid and ceased operations for 18 months.
In the apartheid era it was a different narrative. Like Mussolini's fascist Italy, the trains ran on time and a beautiful map accompanied you on your travels. The map is a souvenir of bygone days.
Kathy Munro is an Honorary Associate Professor in the School of Architecture and Planning at the University of the Witwatersrand. She enjoyed a long career as an academic and in management at Wits University. She trained as an economic historian. She is an enthusiastic book person and has built her own somewhat eclectic book collection over 40 years. Her interests cover Africana, Johannesburg history, history, art history, travel, business and banking histories. She researches and writes on historical architecture and heritage matters. She is a member of the Board of the Johannesburg Heritage Foundation and is a docent at the Wits Arts Museum. She is currently working on a couple of projects on Johannesburg architects and is researching South African architects, war cemeteries and memorials. Kathy is a member of the online book community the Library thing and recommends this cataloging website and worldwide network as a book lover's haven. She is also the Chairperson of HASA.
Disclaimer: Any views expressed by individuals and organisations are their own and do not in any way represent the views of The Heritage Portal.