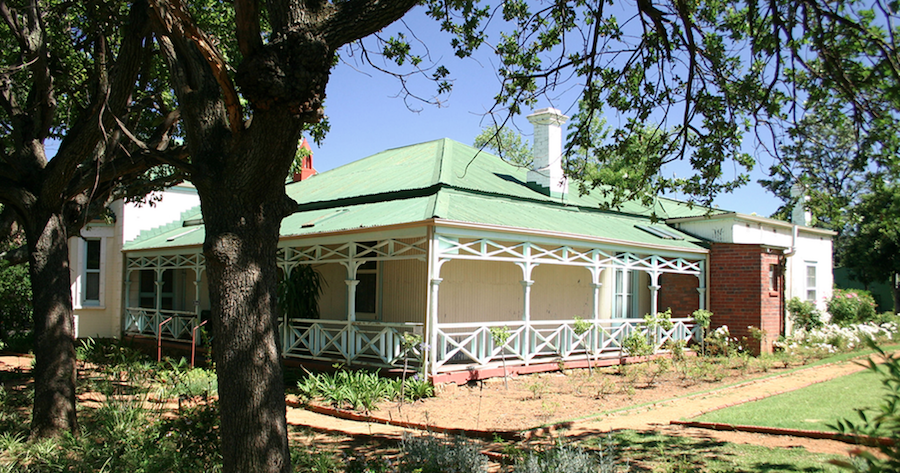 Saturday, November 3, 2018 - 08:08
Below is the third installment of a fantastic series on Cullinan based on John Lincoln's book 'Stories from a Diamond Mine'. It highlights the work of William McHardy, the General Manager of Premier Mine, and reveals details of family life in the village. Click here to view the series index.
The McHardy Family
In April 1903 the Premier Mine acquired the services of a first-class manager, namely William McHardy. He was originally from the Kimberley Central Diamond Mining Company Limited and was appointed General Manager of Premier Mine.
He introduced the "direct double treatment system", where the ground was crushed instead of being floored to allow the ground to deteriorate naturally, and through it achieved great success.
It was also due to McHardy that when the railway line between Pretoria and Premier Mine was completed in 1906, the village was named after T M Cullinan.
That McHardy was a man of strict integrity and high reputation is without question. In a book, BI Barnato, written by Harry Raymond shortly after Barnato's death is the following passage:    
Mr McHardy said: "Although I am an old inhabitant of these fields I have never spoken at a public meeting before and so you must make allowances for me. I should not speak now, but a great number of you must have heard the whisperings at street corners, and have seen the winks and nods which in this place are all that are necessary to damage a man's reputation. I have a thorough knowledge of the Kimberley mine and of the circumstances under which Barnato Brothers became claim-holders in the mine. Their property was so rich that people whispered that Mr Barnato had some means of finding diamonds that other people had not. It was remarked that the ground yielded on an average from two to two and a half carats a ton, and it was even asked whether this was not sufficient to convict him. There have been other men, and honest men too, whom I have known, and whose reputations have been blasted by such tittle-tattle. Well, as you know, this property came after it had passed from Barnatos Brothers' hands, under my own management, and I worked it separately; with the result that I found it did actually yield two to two and a half carats. I hope that for the future people will be very careful how they come to conclusions on such evidence."
The author continues:
I need only add that McHardy was a man of such strict integrity and high reputation that even in Kimberley there was nothing to be said against him.
William McHardy on the stoep of his house in Oak Avenue (Cullinan Mine Archives)
McHardy arrives on the mine
The first residence to be erected was the house of the General Manager of the mine. The McHardy family, who had arrived in Cullinan from Kimberley earlier that year, initially lived in a tent on the stand where the mine was constructing their residence.
The family consisted of William McHardy, his wife Evalina, their three daughters named Mary-Anne, Evalina and May and four sons, namely Donald, William, James and George. Two of his daughters, Evalina and May, continued to live in this house at 101 Oak Ave until their deaths in 1984 aged 94 and 98 respectively.
McHardy Family Portrait (Cullinan Mine Archives)
Before 1908, probably taken not long after the house was completed in 1903 (McHardy Family)
The back gardens of McHardy house with Mrs McHardy and probably her three daughters (McHardy Family)
Evalina McHardy. This photograph was taken before 1908 as the main bedroom had not yet been built. In the background the area known as Gear View with streets named Canvas St. and Hill St. can be seen. (McHardy Family)
The McHardy Family and the Golf Club
William McHardy was from Scotland. His wife, Evalina, was South African and all of their children were born in Kimberley. He was the first president of the golf club and his son, Donald was the second president from 1913 to 1945. One of his other sons, George, was captain in 1938, as were his grandsons, Billy and Guy, in 1943 and 1976. Three of his descendants were men's champions and there were also three ladies' captains and two ladies' champions in his family. Between them, his descendants have also recorded five holes-in-one.
The course was opened by his daughter Mary-Ann, who played to an eight handicap. Sadly, she died at quite a young age. Not so her two sisters. They played at Premier Mine GC until the youngest, May, was 80 years old. They only stopped playing due to the elder sister, Evalina's failing eyesight. Both achieved holes-in-one on the course.
The McHardy Sisters' Recollections in 1975 (From the Cullinan Chronicle)
"I actually held the Cullinan Diamond in my hands, but remember being dreadfully disappointed, expecting it to be bright and shiny, not like a piece of old broken glass." Miss Evalina McHardy laughed heartily last week when she recalled how unimpressed she had been, as a young girl, with one of the most important diamond discoveries in history.    
Miss Evalina and her sister, May, arrived in Cullinan with their family on May 13 1903. They have since become two of the best-known faces on the mine. Their father, Mr William McHardy, was the general manager of the newly opened Premier (Transvaal) Diamond Mining Company Limited and both sisters have vivid memories of entertaining directors and consultants to breakfast in tents in the middle of the bushveld.
Evalina and May McHardy (Cullinan Mine Archives)
"The house in which we now live had not yet been completed and apart from a little wood and tin shack, there was not a single dwelling on the mine. We arrived in ox wagons in the dark and when the tent was pitched, Mrs Fitzpatrick, the wife of the prospector and the lady living in the shack, brought us a most welcome cup of tea," said Miss May.    "But once the house was completed, it was like living in a hotel. It was a most unusual week when there was not at least one visitor. Sir Tom Cullinan spent a great deal of time with us and he used to say that it was one place where he could be sure of getting an excellent meal."
Miss May and Miss Evalina remember Sir Tom as a very friendly man and "not a bit of a swank." He was the instigator of numerous dances in the old boarding house and the music was supplied by the local concertina player.
Being so far from the bright lights, the youngsters of the growing village had to make their own entertainment and judging from the tales related by the Misses McHardy, they made a very good job of it. There were all-day picnics on the Elands River, a 15 minute drive by car but a good deal longer by ox wagon, and tennis parties at the tennis courts built by Sir Tom. Evalina, mother of the sisters, was the first person to hit a tennis ball over the net.
McHardy family on an outing, probably at the Elands River (McHardy Family)
Miss May remembered her mother being horrified when she insisted on wearing a tennis dress with no sleeves. "But I played with an eminent gentleman of the church and he didn't seem to mind my sleeveless dress at all."
The churches also contributed to the entertainment field with bazaars and socials. All the churches would take part in each function and the proceeds would be split evenly. To start with, Roman Catholic services were actually held in the house occupied by the Misses McHardy.
Organised social activities revolved around the recreation hall, which was later turned into a school. Soon afterwards it burnt down, and then, according to Miss Evalina they had to build a school.
Mining activities stopped for a period of eight years, including the years of World War II. "They said the mine would never open again, but look at it now," said Miss Evalina. "It was very dull during those years, but May and I used to work shifts in the canteen at the Sonderwater Camp. This was interesting and we used to meet a great variety of people."
Miss Evalina remembers a rather sad incident when several Italian prisoners of war were killed by lightning on Christmas day and their friends came to ask if they could take some flowers for the graves.
The two ladies have literally watched Cullinan developing from a couple of tents in the bush into the bustling little village it is today. The single quarters, no longer occupied, drew derisive remarks. "They were commonly known as Bug Walk, for obvious reasons. It is probably just as well they are no longer used," said Miss May.
"Sir Tom gave us his old Packard, which we had for many years before getting rid of it, and we are very annoyed we did get rid of it. Not only would we have had a valuable vintage motor car, but it had immense historical value as well," said Miss Evalina.
Disclaimer: Any views expressed by individuals and organisations are their own and do not in any way represent the views of The Heritage Portal.