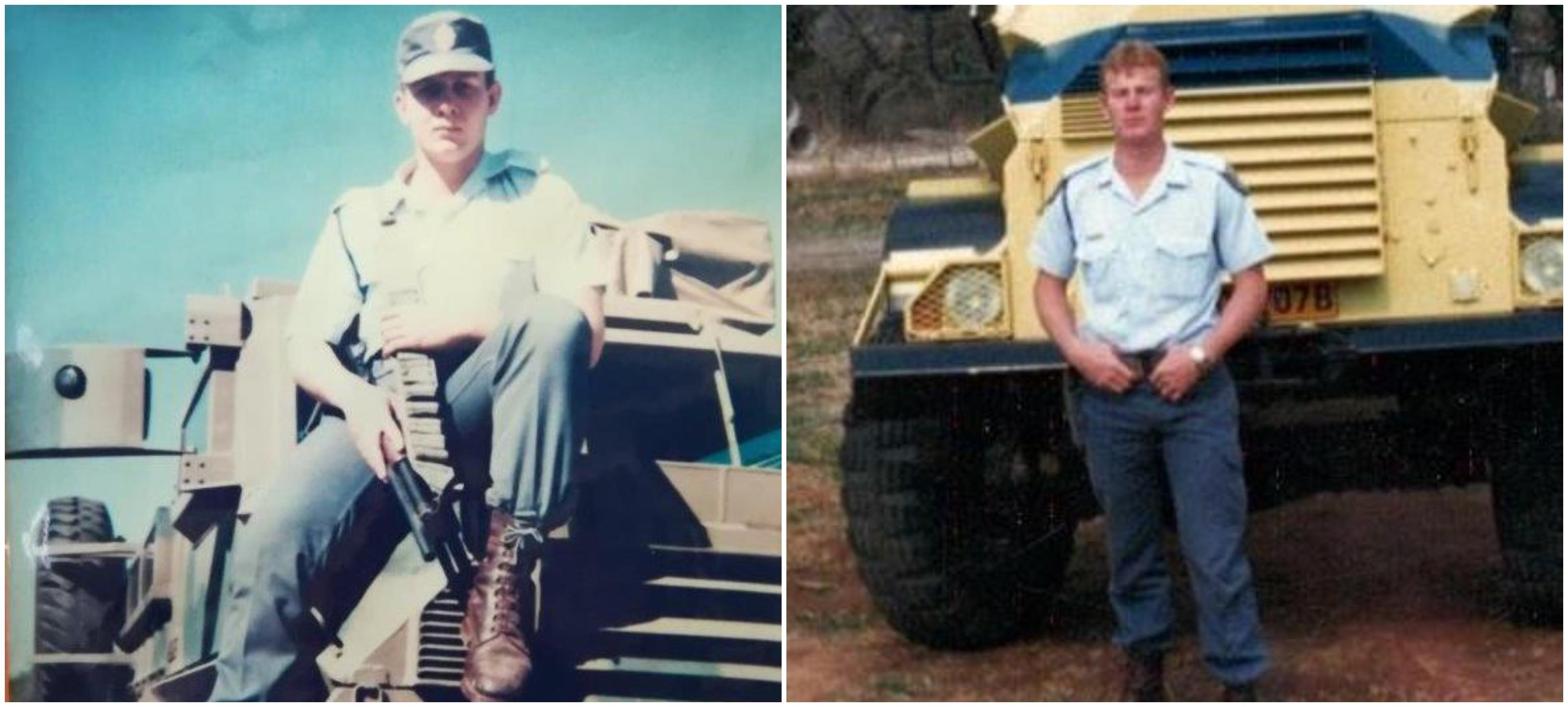 Thursday, September 9, 2021 - 15:46
The South African Police Silver Cross for Gallantry was instituted in January 1985 and it was only awarded to members of the South African Police who had displayed conspicuous and exceptional gallantry or had performed a fearless or outstanding act through which they lost or imperilled their own lives.
Marthinus Jacobus Nel, fondly known by his family as "Marti" or "André", was born in the Vryheid Government Hospital on Monday the 28th of February 1966. Marti was the middle child of the three children of Ben and Francis Nel, and he had an older sister Antoinette Muriël "Toontjies" van Zyl, and a younger brother Francois Webb Nel.
Marti grew up at Inyathi, a small mining town near Hlobane, where his father had been employed on the mine as a boilermaker. The Nels were part of the pioneers of the Inyathi area. Antoinette van Zyl once wrote how her brother Marti and his friends used to spend many hours playing in the bushes and mountains surrounding Inyathi. Marti's grandmother, on his mother's side of the family, was Muriël Koekemoer who lived in Mason Street in Vryheid. Francois Nel says that "Ouma Muriël" was Vryheid's very own fortune teller and that all of Vryheid's "Wanna know the futures" paid her a visit at some point to have a cup of tea and see their futures in the bottom of a cup. Muriël moved to the Old Age Home in Utrecht in later years where she passed away and was laid to rest.
Marti started his schooling career at Inyathi Primary School, and he completed junior school at Lucas Meyer Primary School in Vryheid. He matriculated at Vryheid High School at the end of 1985, where he was a school and hostel prefect. He loved sport, fishing and hunting, played first team rugby, and represented Northern Natal at the Craven week for Rugby in 1983, 1984, and 1985. Nel's brother, Francois says that Marti adored his Ford XR3, but that the love of Marti's life, was his girlfriend, Petra Swanepoel. Petra was from Babanango and in those years her parents owned the farm Driefontein on the road towards Melmoth.
Marti Nel posing with a pump action shotgun on the top of a camouflaged police Casspir armoured vehicle
After the completion of his six months of basic training in 1986 at the South African Police College in Pretoria, Marti Nel at first served with the Presidential Guard Unit in Cape Town, then was a policeman nearer to home at Himeville in the Natal Drakenberg and thereafter he joined Unit 19 of the South African Police and was based in Pretoria. 
At just after midnight on the 13th of April 1988, Constables Nel, Venter, and Oosthuizen together with other members of the South African Police were on a foot patrol in the Mpumalanga Township near Hammarsdale in KZN, when they came upon two trained 'insurgents', one of which was armed with an AK47 assault rifle and a hand grenade. The policemen gave chase and caught up with one. During their attempt to disarm the suspect, he pulled out the safety pin of the hand grenade. Only moments after a sharp warning shout by Constable Venter "Granaat!!!!!!!!" did the grenade detonate, killing both Constables Nel and Oosthuizen, and wounding Constable Venter. The perpetrator who was also killed in the blast was later identified as Oscar "Shakes" Maleka. In a follow-up operation the other 'insurgent', later identified as Jabulani Aubrey "Duma" Ndaba, was shot by security forces. The Witness ran an article on Friday the 11th of March 2005, wherein the brother and sister of Constable Nel expressed their dissatisfaction with a previous article in the same newspaper relating to the deaths of the two policemen, and one of the two insurgents in 1988. The family felt that the article was biased. In the same article the Nel family called for peace and asked for help so that the families of the two policemen could meet with the families of the two 'insurgents' to "bury the hatchet". This meeting never happened.
At the time of Marti Nel's death, his parents Ben and Francis Nel were resident in Emmett Street in Vryheid and they currently live in Ermelo. Ben, who is a very ill man, and Francis are still devastated over the tragic death of their child.
Gerhardus Cornelius Oosthuizen better known as "Gert" or "Ouboet" to his family, and fondly as "Sonhartjie" to his mother, was born on Sunday the 6th of October 1968 in Nylstroom. His parents were Gert and Antjie Oosthuizen. Ouboet started his schooling at Naboomspruit in 1979, and he matriculated at Hoërskool Retief in Kestell at the end of 1986. After the completion of his six months of basic police training, Gert was sent straight to Unit 19 in Pretoria. Gert drove a red Ford Cortina sedan that he named "Katrina", and he also owned an older model motor cycle with a side car.
Gert Oosthuizen senior was a school teacher and later became a lecturer at the Tsiya Teachers College at Witsieshoek near Kestell in the Free State. Ouboet had two sisters Riana Venter, and Suzette Annandale, and a brother, Ben. Gert's parents died tragically in 2011 after a leaking gas heater caused them to fall asleep and never wake up again. Suzette died in 2018 after suffering from cancer.
Gert Oosthuizen posing in front of a yellow and blue Police Casspir
On the 19th of April 1988, Constable Marti Nel was honoured with a full military funeral from the Dutch Reformed Church "Klipkerk" in Vryheid and he was laid to rest in the Vryheid Cemetery, right next to Lance Corporal André Dan Mostert who was laid to rest there five years earlier. Also present at his funeral were Generals Cloete and Van Eyck. Constable "Ouboet" Oosthuizen was laid to rest with full military honours in Kestell in the Free State, and his funeral was attended by General Bert Wandrag. Oosthuizen's girlfriend Annaline Marais was there when Ouboet was laid to rest in the Hero's Acre. The inscription on both their grave stones are exactly the same: "Ek het jou by jou naam geroep, jy is myne. Jesaja 43 vers 1".
Nel's name is inscribed on the War Memorial at the St. Peter's Anglican Church in Vryheid, together with the name of Constable Oosthuizen, and sadly too many other policemen and women. It also appears on the South African Police Memorial at the Union Buildings in Pretoria.
The then State President of South Africa, Mr. P.W. Botha, posthumously awarded the South African Police Silver Cross for Gallantry to Constables Marthinus Jacobus Nel, and Gerhardus Cornelius Oosthuizen, and at a ceremony held at the South African Police College in Pretoria on 21 June 1989, their bravery medals were officially handed over to the fathers of Constables Nel and Oosthuizen, by the then Minister of Law and Order, Minister Adriaan Vlok.
Servamus et Servimus.
Andre is a policeman living in Vryheid but is fascinated with local history. He regularly writes articles about people and events from the area.
Disclaimer: Any views expressed by individuals and organisations are their own and do not in any way represent the views of The Heritage Portal.