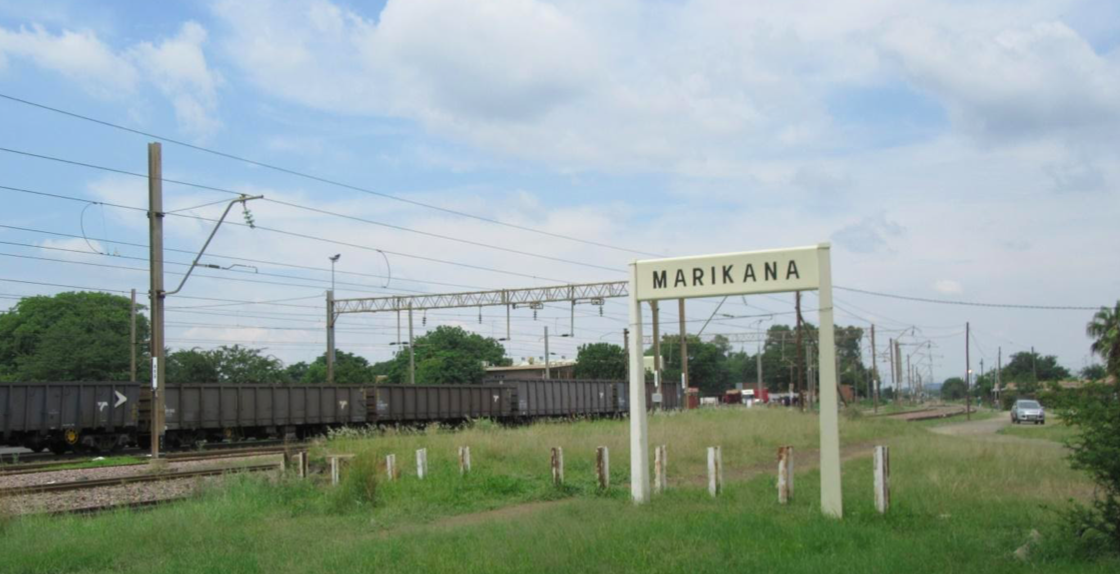 Thursday, June 4, 2020 - 15:53
The tiny town of Marikana (established in 1870) was never much of a town and for a long time was really no more than a railway station and a collection of shops. In fact, the outside world would not have heard of Marikana at all if it were not for the notorious Lonmin Marikana platinum mining strike and shooting, where 34 striking Lonmin miners were shot and killed by police in 2012. I visited Marikana three times for a research project on visual activity, looking to record visible signs of the 2012 atrocity - graffiti, posters, stencilled signs saying "Remember Marikana" - but there is no visible trace and no memorial. There is only the shabby town in the shadow of Lonmin's platinum processing plant within whose ambit, thousands of people live in poverty. So much platinum has been hauled out of the ground, you would think the place would be electroplated in money, but it is not.
Stencilled sign
A few shops and a railway station
The current form of the town of Marikana reflects an early white Afrikaner farming history, with small shops and a railway station on the early Pretoria-North-Midway line. In about 1910, the farmers from the area around Marikana requested the railway siding on this line so that they could transport their agricultural goods to urban markets in Pretoria. To this end, a railway station and railway sidings were built. As well as goods, passenger services ran once a day until the 1970s, and there was a passenger waiting room and parcels office, carefully segregated into 'Blankes' and 'Nie-Blankes'. Passenger services are no longer offered.
Some of the original (circa 1910) buildings of the town of Marikana can a still be seen in and around the current railway station at the north end of town, along with the remnants of newer railway station infrastructure dating from the 1950s. One of the old buildings, shown below, is represented on a 1995 plan for the refurbishment of the railway station and also a plan for other changes dated 1970. Because of its humble design, it is surely one of the original buildings associated with the Marikana railway station. It probably was a general store for a long time, but in more recent times, it was repurposed and functioned as a 'muthi shop' but was standing empty as at December 2019. Behind the yellow sign that reads "Doctor Chemist' is a very large granite block which has been placed there to stop the many large mining trucks and other vehicles from crashing into the building.
One of the very old buildings in Marikana, functioning as a 'muthi' shop for around 10 years, but now empty (Google Earth street view image, dated 2010). This building is on the south (town) side of the railway line.
Marikana railway waiting room and other heritage railway buildings
The original 1910 Marikana station railway buildings and waiting rooms no longer exist, and were apparently replaced in the 1950s after a fire. The 1950s waiting room and other buildings are still in existence and are not physically secured as 'heritage' i.e. fenced in any way. They have been stripped of their original 'waiting room and ticket office function, and are inhabited by local persons under uncertain tenure. Railway staff houses were also built, as well as other structures linked to the operation of the railways (store rooms, water tanks). These buildings are all are fragile and in dire need of preservation. In 2020, most of the town is very shabby, and has been shabby for a long time, with a number of 'heritage' buildings (older than 60 years) needing more care than they are getting.
The old station master' office, parcel office railway passenger waiting room at Marikana station, apparently built after a fire destroyed the original 1910 waiting room. The date of this building is not confirmed as the style seems much older. These buildings are on the north side of the railway line. December 2019.
A rather fragile railway building (date of building not known) alongside of the railway line at Marikana, and on the north side of the railway line. None of the old Marikana railway buildings are secure from vandalism or fire. December 2019.
More modern, yet shabby railway housing for staff members. The date of these building is unclear, but architecturally seem to be from the 1960s. These houses are still occupied by families and may still be for workers associated with the railway station. December 2019
The missing hotel
A hotel was built by a private individual at some point (date not known). Curiously, this hotel, visible in South African Railway (SAR/SAS) Marikana railway station plans dated 1970 seems to have vanished. I have not been able to trace photographs of the hotel, but the hotel appears on various plans and maps of the railway station. I aim to investigate a rather ugly clothing shop (yellow circle in photograph below) where the old railway hotel should be. I suspect the old hotel is either underneath the modern cladding, or may have been demolished. It would have been built soon after 1910 when the original railway station was built
Google Earth image (2020) of the existing railway lines at Marikana and the locality of the railway waiting room (orange circle) and the site of a 'lost' hotel, and showing the most likely path of a walk from platform to hotel (blue arrows).
From a rail passenger's point of view, it would be a long walk (approximately 0.5 km) from the railway waiting room to the nearest (only!) hotel in town (yellow circle). Perhaps there was transport in the form of a horse and cart, or later on, a metered taxi. Black chromite can also be seen in this photograph where a modern facility for loading this material has been built for the Tharisa mine. Does this mean that there was another passenger platform on the town side of the railway line so that passengers coming from Pretoria could easily alight and walk into town? If so, it has long since vanished. Also, I have not yet been able to find where the agricultural goods were loaded. 
Industry comes to Marikana via the railway
As iron ore was found in Thabazimbi in the 1930s, the Pretoria-Midway line was extended past Midway to Thabazimbi. From 1932, iron ore was transported on this line to various smelters in South Africa, including to Iscor outside Pretoria. This activity continued until the iron ore reserves were depleted in the 1980s and the Sishen mine became South Africa's predominant iron ore mine.  The ore trains just passed through Marikana with little change in the character of the town. However, when the Marikana railway station was upgraded in the 1990s with infrastructure for loading other commodities, the impact on the town was much greater.  New industrial activities included the cleaning and loading of granite blocks mined in the area.  Another mining sector served was the transport of coal from Lephalale to Richard's Bay.
Granite blocks at Marikana station waiting next to huge cranes to be loaded onto railway wagons. The granite washing and loading facilities nest to these loading yards were established for the company Marikana Graniti in 2001. Photograph SJ Taylor, 2018.
From 2009, with the opening of the Tharissa Mine located about 2 km south of the town of Marikana, about 160 000 tons of chrome concentrate are produced each month and are taken by road through Marikana to the Marikana rail siding and loaded onto trains destined for Richards Bay and export to China.
Stockpiles of black chromium concentrate at Marikana station waiting to be loaded onto rail. The cranes in the background are part of a separate operation for loading granite blocks onto trains. December 2019.
Click here to see another article I wrote on Tharisa Mine and chromite.
The number of large trucks travelling through the tiny town of Marikana is alarming until one understands that about 600 independent truck drivers and a motley collection of ore trucks from many different operators are involved in the transport of the chromite, and are part of Tharisa's activities to benefit local communities. It goes without saying that the town's roads are being destroyed. 
An assortment of large trucks trundle through the small town of Marikana on a continual basis, transporting the chromite between the Tharisa mine just outside Marikana and the Marikana station, where it is taken to Richard's Bay and then China. December 2019.

Healing Marikana 
The industrial and mining activity around Marikana forms a harsh industrial element to an otherwise faceless small farming town. Thousands of work-seekers have flooded into this area, not even seeking their fortunes in a typical mining boom town rush, but just seeking a job. Local town planners failed to anticipate the massive need for low-cost housing and services. As we now know, all is not well at Marikana, as attested by the Lonmin mine-worker strike for higher wages and the infamous Marikana massacre of 2012. Various academic authors have described the landscape surrounding the Lonmin Marikana Platinum Mining Operation as an unbearable place. Also, the location of the hazardous industrial and mining footprint to the north of the town of Marikana where the poor people live is such that it preserves southern part of town for more affluent persons, thus perpetuating apartheid town planning and design.
If anyone cares about the future of Marikana, they must first attend to the needs of the mine workers and the many thousands of destitute work-seekers, trafficked women, and those whose health has collapsed because of living and working in the area – and then worry about the few heritage buildings. A different, new history is unfolding in the Marikana area.
An asset for railway history research - the Transnet library in Braamfontein
The Transnet library provided access to its collection of official railway drawings for Marikana although the plans for the original 1910 Marikana railway station and its buildings are no longer traceable. Architectural plans for this essay were for dates later than 1910 (and were for 1950, 1969, 1979, 1981 and 1995). Transnet library has about 10 000 large format, rolled up architectural and railway engineering drawings and blue prints that have not been examined, catalogued or digitised, making it very difficult to search for a particular item or era. About ZAR 1 million should enable this work to be started!
Transnet Building Rissik Street (The Heritage Portal)
About the author: Sue Taylor holds a PhD in Plant Biotechnology from the University of KwaZulu-Natal, South Africa, and has worked in the agricultural sector undertaking crop research. She recently spent five years at the University of Pretoria, South Africa, coordinating an African mountain science network funded by the Swiss Agency for Development and Cooperation (SDC). During this time she organized two mountain research conferences, one in Ethiopia and one in Tanzania. Her current interest is in climate change and health, and researching resilient cities and small towns. Sue has been researching the visual aspects of the town and the massacre since 2018, via a MA in Art History at Wits University (in abeyance for now).
Disclaimer: Any views expressed by individuals and organisations are their own and do not in any way represent the views of The Heritage Portal.