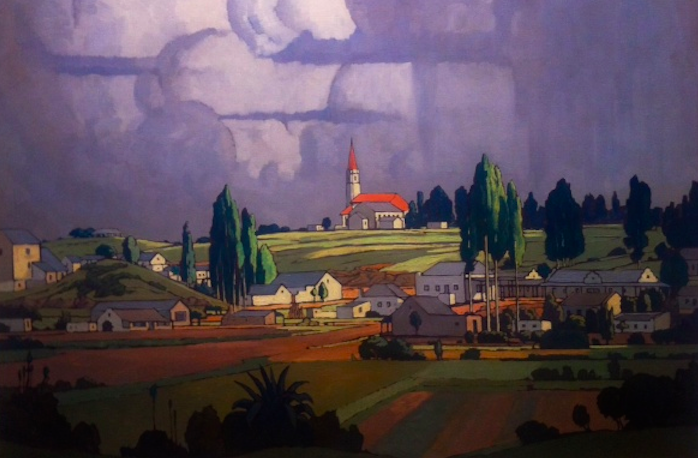 Tuesday, October 20, 2015 - 22:18
[Originally published 2 September 2015] The Standard Bank Gallery has put on something incredibly special and you only have until 12 September 2015 to see it. This is, of course, the Pierneef Exhibition. Kathy Munro, Honorary Associate Professor in the School of Architecture and Planning at Wits, visited the exhibition recently and compiled this absorbing piece. Enjoy.
The Standard Bank Gallery is an art gallery of distinction in Johannesburg. Their exhibitions are of a high standard, well researched, often beautiful and always stimulating. The current exhibition "Space for Landscape the work of  J H Pierneef" is no exception and its popularity has spread by word of mouth. It is a splendid "must-see now" exhibition. This is the first major exhibition of Pierneef's work in 35 years. Give yourself a visual treat and drop by at the gallery before the exhibition closes on 12th September. There are 56 works on display and remarkably four of the grand Johannesburg Station panels, belonging to Transnet have been brought to Johannesburg from their permanent / "on loan" home at the Rupert Gallery in Stellenbosch and given place of honour in the exhibition in the central gallery. The exhibition has been skillfully assembled by curator,   Wilhelm Van Rensburg. 
A gorgeous Witwatersrand Gold Mine drawing.  It is emphatically black and white but look at the handling of the clouds (Pierneef work photographed by Kathy Munro)
It is a well balanced exhibition including early works dating from the turn to the century to the very last painting by Pierneef in 1957.  Pierneef painted large canvases and small, worked in a range of media-oils, water colours, pen and ink. As a young man Pierneef travelled to South West Africa (now Namibia) and was fascinated by Bushman rock art. He also visited London and one surprise for me was a small painting of Redcliffe Gardens, in London. I once lived for a month in this area and this is a nostalgic view of a London scene.  
Pierneef travelled abroad at a formative period and his overseas travels introduced him to new thinking and trends in European art, the cubists effects are in so many paintings.
This is one of the Station panels. An unusual view of Table Mountain  (Pierneef work photographed by Kathy Munro)
The exhibition offers the opportunity for a more mature assessment of the evolution of the style that we now immediately recognize as Pierneef.  He was a prolific artist. His forte were the landscapes of South Africa, revealing scenic beauty, subtle colours and an aching nostalgia for almost mythical lifestyle. The subtle colours of blue, browns and rust mountain kloofs capturing the deep shadows of dawn or dusk speak to the soul. Images of early Pretoria and Johannesburg have an almost documentary feel. 
I have always enjoyed landscape paintings and fell in love with Pierneef when I was a child. His art was as accessible as it was haunting. I was lucky enough to be of an age that I came to know South Africa's beauty through the station panels when they hung in the open main court of the Leith designed Johannesburg Station and one was on best behaviour for a superior meal at the Blue Room. Pierneef combined with the museum steam engine lured me into the romantic possibilities of train travel in South Africa.  Later I enjoyed visits to the Johannesburg Art Gallery because I knew that Pierneef would offer a familiar  welcome. In recent years a visit to Stellenbosch is incomplete without a sojourn at the Rupert Museum.  
Pierneef was interested in the many elements of the South African countryside, from early bushman art to the treed landscape of the Platteland town. 
Perhaps it is the ultimate accolade that today one might look at a cloud or a babobab tree and see shape and form through the eyes of Pierneef recognizing beauty.  He was a man of his era, class and background and painted what he enjoyed.   
Pierneef work photographed by Kathy Munro
Of course the questions arise did he have a political agenda or was his art posthumously appropriated by apartheid era politicians who wanted to seek the myth of order  and imposed beauty. Pierneef unfairly became the whipping boy of a new generation of rebellious South African artists of the eighties. But I think he needs to be appreciated on his own terms and now with the efflux of time there is the distance and space to accept and celebrate Pierneef's works for what they are, not as a social commentary on political issues and turmoil of the 20th century, but as art works of tranquility and great beauty. Give yourself time to marvel that an artist could capture mood and moment to be enjoyed by later generations.  
Top marks to the Standard Bank Gallery for assembling the exhibition and bringing us a fabulous celebration as well as serious reassessment of Pierneef as a South African icon. A catalogue accompanies the exhibition and sadly has been sold out but is offered free electronically (I have struggled to get hold of this).
Best of all is a visit to the Standard Bank Gallery, corner of Simmonds And Frederick Streets. Do take time out of your busy day to enjoy a lyrical art treat.
Kathy Munro is an Honorary Associate Professor in the School of Architecture and Planning at the University of the Witwatersrand. She enjoyed a long career as an academic and in management at Wits University. She trained as an economic historian. She is an enthusiastic book person and has built her own somewhat eclectic book collection over 40 years. Her interests cover Africana, Johannesburg history, history, art history, travel, business and banking histories.
Disclaimer: Any views expressed by individuals and organisations are their own and do not in any way represent the views of The Heritage Portal.