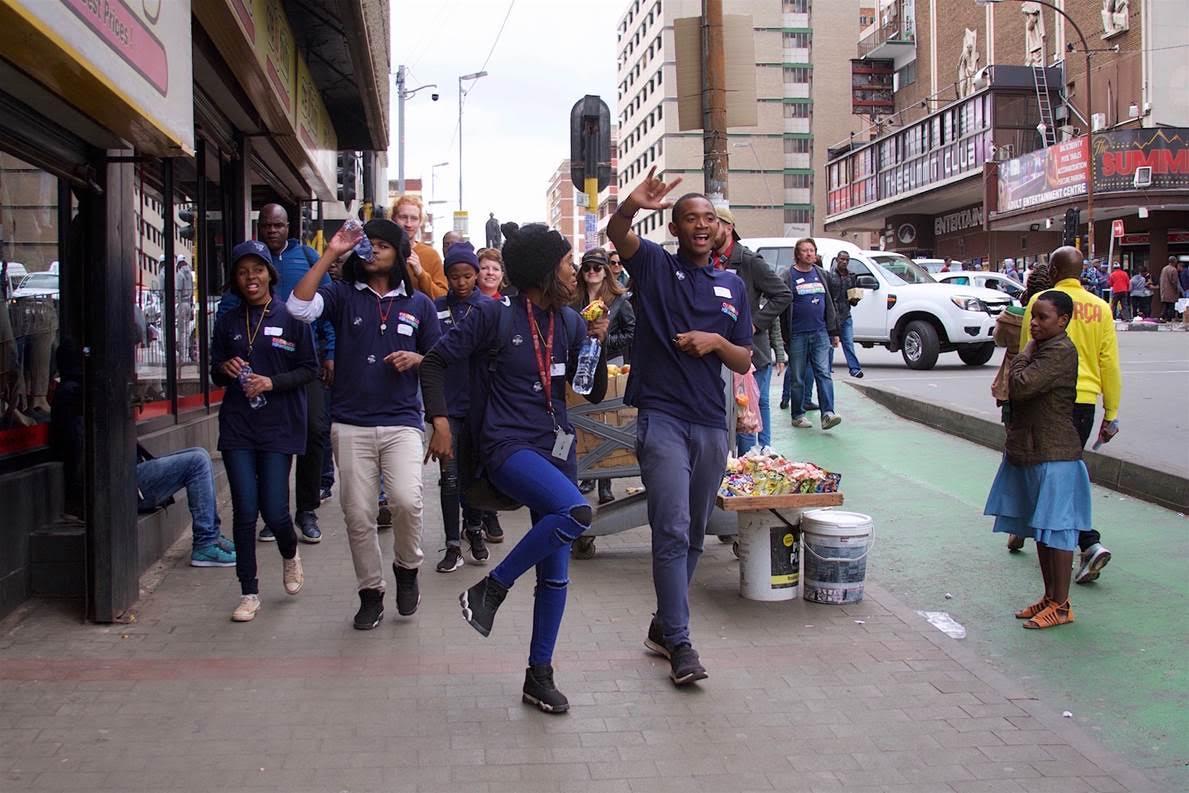 Friday, June 1, 2018 - 20:34
The recent Jozi Walks weekend brought a new verve and vibe to Hillbrow. Gerard Bester and his team of extraordinary young people of Hillbrow showed off the good, the funky and the dramatic side of Hillbrow life. It was a Hillbrow experience of note! Both the Saturday and the Sunday tours were fully booked. It is a first for the Theatre Community Centre and for the Johannesburg Heritage Foundation.
Where did the initiative start? Gerard Bester of the Hillbrow Theatre Project at the Hillbrow Theatre Community Centre initiated a partnership with the Johannesburg Heritage Foundation for the 2018 Jozi Walks (promoted by the Johannesburg Development Agency). Gerard met Flo Bird and me (representing the JHF) for a coffee and our imagination was fired by the possibility of a new and inspiring partnership. Last year the JHF offered an Orange Grove / Maryvale walking tour but this year we decided to work on the Hillbrow project. We were all delighted when the JDA selected our proposal. Flo and I joined the Hillbrow community team led by Erica Lüttich and Gerard to plan a route and unearth the history of the area. The stars of the project were the young people of Hillbrow.
Tour Guides lead the way (Erica Lüttich)
One of the stars of the project (Kathy Munro)
Jozi Walks stipulated some precise terms: The walks had to be designed as a route of one to three hours duration and they should combine elements of local culture, social history and encounters with people who are part of the local neighbourhood. The focus had to be on communities, places and experiences. Documentation was everything.
Nothing succeeds like preparation so we embarked on a month of effort and creative planning. Twenty young people who live in Hillbrow or are members of the centre signed up for the experience. We were nervous, excited and keen.
I arrived with a selection of maps of Hillbrow (old and new) and our first task was to agree on the boundaries of the suburb. We discovered that Hillbrow is quite imperial and has expanded into neighbouring areas. It seems to start at the edges of the old CBD and lies somewhere between Parktown and Berea. Hospital Hill is to the East and Berea to the West. We came to the conclusion that Hillbrow is more of a state of mind than a precise place.
View of Hillbrow from above (The Heritage Portal)
What other research material could we access? Street name origins could be found in Anna Smith's tome. Clive Chipkin wrote about the "Hillbrow vernacular" in his book  Johannesburg Style. Flo sent research notes she had compiled for her 2015 tour of Hillbrow, a tour that concentrated on the western edges of the suburb, Hospital Hill and the old Fort / Constitution Hill. I found an old Sunday Times Weekend Magazine article on the Face of Hillbrow circa 1974. Griffiths and Clay did a wonderful book on Hillbrow in the early eighties that has now become a classic collector's item. Hillbrow was never just a place in the city, it was an alternative lifestyle. Aha… a potential theme: How Hillbrow reflects a revolution in city living over a century.
Gerard started with a questionnaire for our participants and invited them to write a poem or letter to Hillbrow. A lively discussion followed on what should be included in a "live Hillbrow experience" tour. We debated what not to show the visitor (e.g. too dangerous or too far). The group wanted Hillbrow people to adopt the tour and be ready to share their lives in Hillbrow. Noni Seleka, Tshepiso Puka, Tshepo Mokgata, Lordwick Madiba, Tahliso Makaleng and Shaun Maluleke emerged as the tour leaders embracing the project with youthful imagination and verve.
We talked about tour protocols, managing people on a tour, comfort breaks with clean loos, dealing with emergencies, crossing streets in a crowd, security and so much more. We also debated how to handle the potentially over enthusiastic and intrusive photographer. The biggest challenges were to decide on the ideal route and to train our young people as guides and working teams in a short period of time.
Hillbrow perhaps more than any other part of Johannesburg has been the bellwether of changing times in our city and South African society. From the earliest days of the 1890s, it was a suburb that expressed all the hopes of a golden future with its mining street names such as Quartz, Claim and Banket. The name Hillbrow signalled the geography of location. There was no gold to be found in Hillbrow and, following an auction sale of stands and plots in 1895, Hillbrow became a residential suburb, not quite in the centre of the city but close enough to offer a superior lifestyle. The style and types of accommodation changed through the decades with an evolution from small modest cottages through to double storey boarding establishments and hotels to the high-rise apartment blocks of the fifties and sixties.
From house to apartment building to tower (The Heritage Portal)
Perhaps Hillbrow changed most from the 1950s to 1970s when so many of the high-rise blocks took the place of the earlier bungalow dwellings. City building regulations changed allowing structures of 11 to 14 storeys to fill stands and entire city blocks separated by the narrow sanitary lanes. North facing blocks were most desirable with small high level open balconies meant to be sun traps. It did not matter that natural light at street level was dimmed and buildings cast long shadows. The names of the apartment blocks transported the residents to imaginary other places - sometimes in South Africa (such as Groot Drakenstein and Plettenberg) or abroad (Santa Barbara, La Crete and Everest) or sounded posh (Carlington and Edenroc). These blocks were invariably speculative investments owned by landlords with an eye on high rental returns. Today many of these blocks have fallen into neglect; it is an ageing housing stock. Large round television satellite dishes extend from balconies and spoil the architectural lines.
Mention Hillbrow in a conversation and there is often a frisson, either of anxiety with thoughts of crime and grime springing to mind or rueful nostalgia for a lost youth in bohemia when Hillbrow was the place of swinging living in the sixties and the seventies. Hillbrow for the coming of age Joburg white teenager was the place to party, to enjoy Exclusive Books, see avant garde films (it was the pre-television age and we were starved of international culture), find the latest long playing records, meet for a coffee at the Florian Café or always find a cooked chicken at the all night Fontana. Hillbrow was our Carnaby Street and Times Square. Hillbrow of those decades was where you danced in a strobe lit discotheque till after midnight with a jiving ducktail boyfriend. The Summit Club was where you seriously trained as a competitive swimmer in its heated state of the art indoor swimming pool.
Hillbrow is a place that features in novels, my favourite writers being Tim Ecott and Ivan Valdislavic; each writer captures a moment in time of his or her Hillbrow but it's a moving kaleidoscope.
Hillbrow was always a place of migration and people passing through as newcomers put down roots in the city, got established and dreamt of moving on to the 'real' suburbs. Hillbrow never seemed a place for family life, although Johannesburg's oldest school, Barnato Park Primary and High School has served the community for a century and there are churches in Hillbrow such as the Friedenskirche Lutheran Church established in 1912 and the Baptist Church. 21st century Hillbrow is still a place of migration but with ever higher population densities as newcomers from across the continent are drawn to the prospect of 'making it big' in the city. The same dreams and hopes and excitement of life in Hillbrow are repeated for a new generation.
Landmark Friedenskirche Lutheran Church (The Heritage Portal)
Life in Hillbrow is often tough. There are too many crime hotspots, hijacked apartment blocks, drug corners and prostitution webs; the pubs and drinking spots regularly overflow onto the pavements. There is the stench of overcrowded living, sewerage seeping into the streets and litter piling up quicker than Pick it Up can clear it. Hillbrow pulsates with life - people, garish adverts and street life assault the senses. As I ventured down Edith Cavell during the preparation phase I wondered whether we could pull off a miracle and sell Hillbrow as a walking route.
As the tour weekend drew closer I morphed from tour planner into tour participant. We decided Gerard, Erica and I should be the trial tour group on a Friday afternoon. This was the dress rehearsal. The route took us from Edith Cavell Street to Klein Street towards Esselen Street and past the old General hospital complex, the new clinics and the second Wits Medical School. The Pabst designed Colin Gordon Hospital still looks strikingly modern but the old Florence Nightingale hospital has become a dangerous hijacked building.
We swapped stories about life as it was in the Quirinal Hotel. Then it was on towards all the civic buildings, famous and infamous: the Fort, Constitutional Hill and the Hillbrow police complex. We then headed north to Clarendon Place with its mix of better quality apartment blocks (Majestic Towers), old art deco blocks (such as Circle Court) and Christ Church (the old Church of England in South Africa). We crossed back into the densely clustered block of Hillbrow past a small crumbling park with damaged play equipment. The route passed one of the oldest boarding houses of the suburb dating back to the 1920s or perhaps even earlier. I had to watch my step to avoid stumbling over broken pavements and falling into open manholes.
Alpine Court Entrance (The Heritage Portal)
My senses seemed much sharper at least for an hour or two. Heritage and nostalgia mixed with observing the harsh modern realities of inner city life. People were everywhere – some undertaking daily errands, others walking children home from school. Too many young men seemed to be lounging against walls with time on their hands - members of the army of unemployed. I noticed a spectrum of people trying to scratch a living: women bent on haunches selling sweets or snacks off a battered board, a brazier charring a mealie cob, a man selling a live chicken in a coop piled on a bakkie. There seemed to be the potential for crime on every corner. But in our case there was safety in numbers as my young friends held my hand and grabbed my elbow to make sure I avoided all the obstacles. I enjoyed their protection, their commentary, their chatter and their Hillbrow experience. They exude life and enthusiasm. We saw so many old superb buildings in decay and kept an eye out for the architectural gems.
At the mid-point of the tour we stopped at Edeleon Mansions, a surprisingly well maintained 1930s apartment block. The entrance hall is panelled in marble and there are two old but working lifts. We headed to the top floor of this eleven storey building and then scuppered up the dizzying fire escape onto the roof. The plan was to offer the Jozi Walkers a street food purchased picnic up on high with the finest views to the north and west and with a new perspective of the Hillbrow Tower.
On the roof of Edeleon Mansions (Kathy Munro)
Shot from the roof on the day (Gerard Bester)
Hillbrow is a place of exhilaration and youth. Despite the visible poverty on the streets, the young tour guides have hope and they are the real stars of Hillbrow. These teenagers  are the flowers and blossoms of the city, full of confidence, energy and verve. They have the flair and style of street actors and are perfect for the role of guides to their city and their world.
We left the roof, headed back to street level and passed the old Hillbrow Post Office where people post To Let notices. A bachelor flat in Hillbrow goes for about R3800 a month but you can also share a room for a lot less (perhaps R800 a month). Gazing up we now had an ants eye level view of the soaring Hillbrow tower.
To Let Notice (Mark Straw)
Hillbrow Post Office (The Heritage Portal)
View of the Tower from the Street (The Heritage Portal)
We ambled past the Quartz Street Market – it is quite a narrow now pedestrianized street converted into stalls selling fresh fruit and vegetables, old electrical appliances, and medicinal herbs. There is muti for every ailment. As we headed back to Kotze and Pretoria Street we noticed smart clothes shops selling the latest fashions. We wandered through Highpoint where Fontana / Spar / Checkers remains open 24 hours a day. Highpoint, between Kotze and Pretoria Streets, was a "super block", a  confident concrete high-rise tower block in American shopping centre style which included residential flats. It was designed by architects Monty Sack, Mallows, Summerley, Ringrose and Todd in the sixties (completed in 1970). Highpoint offered the ultimate glamourous Hillbrow lifestyle with enclosed retail shops, cinemas, offices and apartments reaching to a height of 33 storeys. It was the ultimate city lifestyle. I remember its dress shops, second hand bookshop and record shop. Today, Highpoint moves to a cosmopolitan African beat. It is here that Fontana is now located, open for grocery shopping twenty four hours a day. A unisex hairdresser on Kotze Street offers haircuts for R20 and quality hair extensions for R50 to R 70. Incredibly the Joburg city fathers have installed bicycle lanes on every street but one would be lucky to spot one cyclist a month! 
Highpoint Hillbrow (The Heritage Portal)
Another shot of Highpoint (The Heritage Portal)
Several buildings have been turned around by social housing Trusts but you can still hurry past Vannin Court (a hijacked building dating from before 1939, the architect was John Russell Boulton). At the next block we spotted George's boxing academy and an exercise yard close to the very pleasant Ekhaya park.
Vannin Court (The Heritage Portal)
Entrance to Vannin Court (The Heritage Portal)
Looking over Ekhaya Park (The Heritage Portal)
My thanks for Gerard and the Lutheran Church for their sterling work and for giving new life and opportunity to our Hillbrow stars. Here is a toast to the young people of Hillbrow and their hopes and dreams for the future. 
What do you think of Hillbrow? (Erica Lüttich)
Below are two powerful poems to Hillbrow that emerged from the project:
Hillbrow by Bongani (16) 

Spick span, Spick span

Faster than the speed of lightning, thoughts of creativity,

Men talking of killing time, 

While time kills them quietly and unrealised

Hillbrow chooses no colour or size

Everyone can fit in perfectly

And it's heavenly medicated

This city never sleeps

Emotions deeper than the roots

Not all africans are black

and not all blacks are african

So they lied to us ..... 

God missing in action, as if life is compressed to a movie



Hillbrow City of Dreams by Bongiwe Mongena (17) 

In the city of lost dreams

Lurks no silence, but sudden screams

sound of a mother's sorrowful cry 

Mourning and weeping, oceans of 

Salt water in her eyes

She couldn't understand , but finally realized 

Her son was taken away from this crooked street

but suddenly there was peace and harmony so deep

It brought happiness and joy in one's heart

Voices singing songs of companionship

Together the city stand hoping not to fall apart

Now a place of hope and lost time

The city was freed from the captivity of dirty crime

Children smile and play on its once wicked road

Hoping for a better tomorrow or even more 

Sleeping in peace again ,

the sudden tears were sent to snore.
Kathy Munro is an Honorary Associate Professor in the School of Architecture and Planning at the University of the Witwatersrand. She enjoyed a long career as an academic and in management at Wits University. She trained as an economic historian. She is an enthusiastic book person and has built her own somewhat eclectic book collection over 40 years. Her interests cover Africana, Johannesburg history, history, art history, travel, business and banking histories. She researches and writes on historical architecture and heritage matters. She is a member of the Board of the Johannesburg Heritage Foundation and is a docent at the Wits Arts Museum. She is currently working on a couple of projects on Johannesburg architects and is researching South African architects, war cemeteries and memorials. Kathy is a member of the online book community the Library thing and recommends this cataloging website and worldwide network as a book lover's haven.
Disclaimer: Any views expressed by individuals and organisations are their own and do not in any way represent the views of The Heritage Portal.