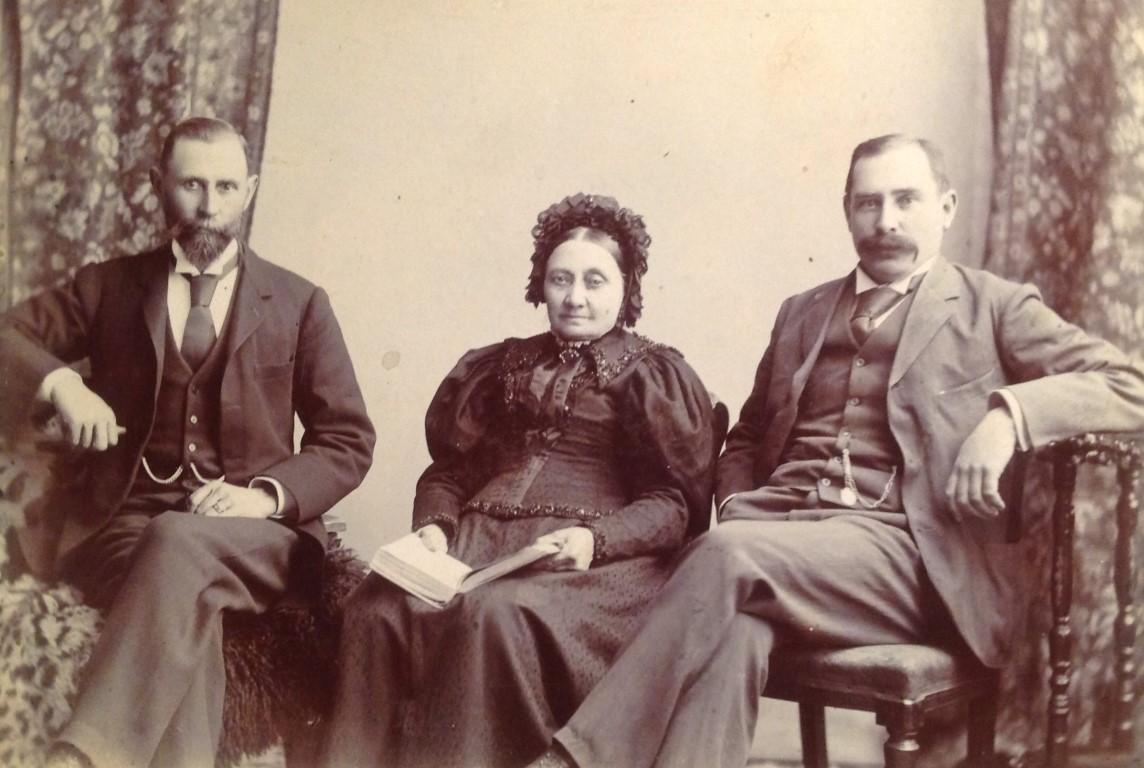 Saturday, August 12, 2017 - 09:47
Joseph Calder Munro, a Scot by birth, made a significant contribution to Pretoria's photographic history. Many of his photographs have survived and can be found in various national and private research collections. Photographs produced by him still surface on a regular basis - mainly at antique fairs.
After completing training and an internship in England, Munro continued his photographic career in Pretoria during 1890 (then aged 25), some 15 years after Pretoria's first photographer the Swiss HF Gros established himself in Pretoria (click here for details).
Although he was not the first photographer to settle in Pretoria, he became known as one of the more prolific portrait photographers of his time. Many well-known personalities and leading citizens of the capital frequented his studios.
Amongst all those that attempted to earn a living from photography during Pretoria's earlier years, Munro was the longest practising photographer – Some 50 years! His activity ranges from 1890 to 1940 (until the time of his death).
Two different poses. Why is it that men were typically seated during portrait photography sessions during this era? It has been suggested that it was protocol in those years, mainly for the female to show off her dress. Couple on the right have been recorded as Piet and Marta Rautenbach.
Scottish background
Joseph Calder Munro was born in Aberdeen, Scotland during 1865 to Symon (some records spell it Simon) C. Munro and Isabella M. Munro, who resided at 3 Chapel Court at the time. Symon Munro was a wine and spirit merchant and traded from 51 Guest Row.
The first record of Joseph Calder Munro is in the 1881 census when he was 16 years-old. He is described as an artist and photographer working at the Principle studios, 115 Union Street, Aberdeen.
Munro had a step brother of the same age called William Leith Beaton, who was born in Old Machar to the same father. William was interestingly also listed as an artist and photographer. The last entry for Joseph Calder Munro is in the 1889 census when the family was living at 14 Correction Wynd, Aberdeen.
The Munro studios in Pretoria
Shortly after his arrival in Pretoria, Munro worked as an assistant to the Swiss photographer Perrin for some two years prior to him opening his own studio in 1892.
Back of a Munro Cabinet Card where it is confirmed that he originates from the Principle studios in England & Scotland and that he worked for J. Perrin in Pretoria before
Once he started his own photographic business, Munro moved studios fairly often. The following is a list of studios from which Munro operated:
Between 1892 & 1906 - His first studio was based in Market Street, Pretoria. During 1892 he advertised his studio as follows: 2 Doors from British residency - Practical photographer for nearly three years at studio of Mr J Perrin. He further advertised: Speciality: Semi-tinted life size enlargements & enlargements made on paper and porcelain. During September 1898 Munro advertised in the Pretoria News that: (he) resumes photographing the sitter personally after his return from his recent inspection of the leading studios of England and the continent, possibly indicating that he went back to Scotland to visit his parents. Munro also appointed assistant photographers as the record shows that he had a Peter Wood employed in his studio during 1903.
Photograph by another Pretoria based photographer Robertson showing Munro studio signage on the right (Market street south) – Circa 1900
During 1906, the directory consulted indicates that Munro also seems to have had a studio at both Arcadia Street and 130 Church Street, Pretoria. The likelihood of this being correct is however questionable.
Between 1906 & 1908 Munro was based at 220 Church Street, Pretoria (Bowers' old studio).
Between 1909 & 1912 Munro was based at 297 Church Street, Pretoria (Gros's old studio).
Between 1913 & around 1930 Munro was based at 291 Church Street, Pretoria known as The Munro Studio. On 5 January 1920, Munro advertises in the Pretoria News: Still time to get that Xmas photograph taken of yourself or the children.
From around 1930 until his death during 1940, Munro was based at 271 Church Street, Pretoria in the African Arcade, with the studio on the 1st floor and his residence on the second floor. The studio was known as the Central Studio.
Munro also had a studio in Wynberg (Near Cape Town) from late 1899 until late 1900. This studio might only have been operational for one year (until November 1900) when he returned to Pretoria. However, the possibility exists that the studio might have been managed by an assistant on his return to Pretoria.
Who are these two rather distinguished looking gentleman. The image on the left confirms that Munro was also active in Wynberg for a while – both Circa 1908
Young couple Danie and Nettie de Kock – Circa 1905
Married Life
Munro married a widow Pauline Bertha Montgomery (German by birth - born Kurtzhan) in Pretoria on 16 March 1895. Both were aged 30. Bertha's first husband (William Montgomery) passed away in Australia around 1894. From her first marriage she had one daughter, Marguerite Violet Elenore (Later Wilmot). There were no children from Bertha's marriage to Munro.
They were divorced 12 years later (16 August 1907) after Bertha filed for a divorce "on grounds of his adultery". Documents submitted to court by Bertha indicate indiscretions on Munro's side. Pauline returned home one evening to find him involved with their "servant" Louise Rose Riesen.
Bertha Munro never remarried. She was admitted to a homestead in Johannesburg on 29 January 1932 under the Mental Disorder Act. She was declared mentally disordered due to dementia on the date of her admittance. Mrs Munro passed away on 6 April 1932. She must have been 67 at the time of her death (documents indicate 88). Her daughter Marguerite was at her deathbed.
Prior to being admitted to the homestead, Bertha resided at 899 Arcadia Street, Pretoria. This house, a rare example of well-preserved Victorian influenced architecture, built at the turn of the century (between 1905 and 1907) is still in existence today. JC Munro was the first occupant and owner of the house and lived there until the early 1920's. It seems that his step-daughter Marguerite (who married a Wilmot) then stayed in the house for another 10 years or so.
Munro however remarried. This time to Evelyn Chamberlain (a New Zealander). From this marriage two children were born, namely Gordon Munro who died at an early age and Eranie Isa (Les) - born on 19 August 1919. Eranie married Alphons van der Spek. Evelyn passed away in Pretoria on 30 December 1946 aged 63.
Back of two different Cabinet Cards whilst Munro was based at the Market street studio. Note the comments about the president on the card on the right
Anglo Boer War
Munro left the Transvaal for Wynberg in the Cape Colony on 16 October 1899. On his return from the Cape Colony (4 November 1900), Munro had to reside at Erf 825 Boom street, Pretoria as he found that his house on Erf 524, Arcadia, Pretoria had been commandeered by British forces during January 1900. General Jones occupied the house between June 1900 and November 1900. Munro was threatened with arrest when asking questions of a soldier about the commandeering of the house.
Lengthy communications also indicate that Munro enquired about the whereabouts of the horse he left behind.
Munro initially submitted a claim to the Military compensation board for £400 for the land and £1400 for the building on Erf 524. This claim was marked as "too late".
During 1903, Munro, as a British subject, submitted a claim for losses suffered during the war. He claimed £473.50. Only £265 was granted.
Unknown Boer War soldiers. Note how Munro requested men to pose in a similar manner. Circa 1902
Military related photographs. Cabinet photographs showing weapons are uncommon. The soldier on the right is George Hesketh – Circa 1902
Achievements
Munro was awarded a medal for his entries in category "Panel and Group Photos" during the 1898/99 South African Industrial & Arts Exhibition held in Grahamstown.
He took pride in the fact that well-known citizens requested him to take their portrait photographs, so much so that he advertised this on some of his cabinet card format photographs -"Patronised by the President & Family and leading citizens of the Capital"
Munro died on 28 May 1940 aged 57 according to his death certificate. This is clearly an error as he was born in 1865 which would make him 75 at time of his death. He was still residing at 21 African Arcade at the time of his death. His estate indicates that he left two cameras, which confirms that he was still active as a photographer during the latter part of his life.
Munro clearly focused on studio photographs as no landscape photographs taken by him have been identified by the author to date.
An unusual larger format photograph of two soldiers in formal military attire. Could these two men have been part of the president's guard?
To date, the author also has not located a photograph of Munro himself.
Main image: Photo by JC Munro - Brothers Pieter & Stefanus Botha with sister Anne Dyason – Circa 1905
All photographs included in this article (with the exception of the Market Street photograph) are from the Hardijzer Photographic Research collection.
About the author: Carol is passionate about South African Photographica – anything and everything to do with the history of photography. He not only collects anything relating to photography, but also extensively conducts research in this field. He has published a variety of articles on this topic and assisted a publisher and fellow researchers in the field. Of particular interest to Carol are historical South African photographs. He is conducting research on South African based photographers from before 1910. He is also in the process of cataloguing Boer War stereo images produced by a variety of publishers. Carol has one of the largest private photographic collections in South Africa.
References:
Aberdeen Central Library – Local studies section.
http://able.wiki.up.ac.za (899 Arcadia street house)
Braby Transvaal & Rhodesia Directories – Various dates
Hardijzer, C.H. (2005). Pretoria based photographers between 1875 and 1915. Africana Society Bulletin.
State archives - Source CJC, Volume 67, CJC1270 – Claims for compensation British subjects Transvaal. Pretoria. 1903/4.
State Archives - Source MHG, 505/47, Munro Evelyn, 1946
State Archives - Source ZTPD 5/561, Illiquid case, ejection, Joseph Calder Munro versus Mahomed Banjee, 1904
State Archives - Source 1783/40 – Evelyn Munro born Chamberlain
State Archives - Source MHG 77275 – Illiquid case, divorce, Pauline Bertha Munro, born Kurtzahn
State Archives - Source ZTPD Vol 5/638, 127/1907
United Transvaal Directories – Various dates between 1918 and 1940.
Disclaimer: Any views expressed by individuals and organisations are their own and do not in any way represent the views of The Heritage Portal.