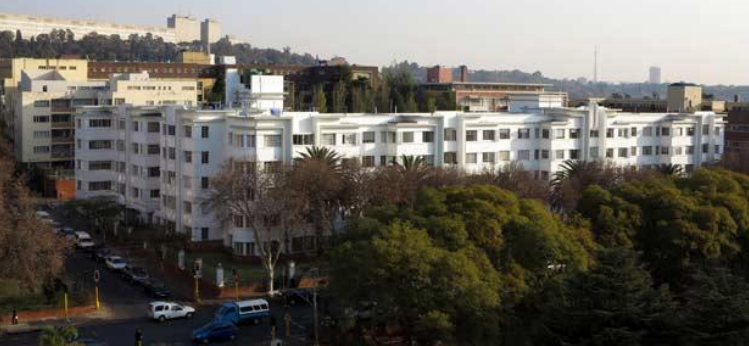 Tuesday, February 16, 2016 - 05:58
Daventry Court is one of Killarney's heritage landmarks. It was built in 1934 and is located on a block surrounded by Riviera Road and 4th Street. After extensive research, Boris Gorelik published the wonderful report '80 Years of Daventry Court' in 2013. Below are a few passages from the report highlighting growth and change in Killarney and revealing the significance of this iconic building.
Daventry Court was commissioned and financed by brothers Samuel Hillel and Woolfe Jossel, who ran their property development company under the name of Jossels Mansions (also known as S W Jossel Investments Pty Ltd). It was Samuel, according to his son Brian, who masterminded the operations.
Sam Jossel was born in the Russian Empire, probably in present-day Lithuania or Poland. The family came out to South Africa in about 1902. His father spoke Yiddish and Russian but only had a smattering of English until the end of his life. Sam's beginnings were humble but he had a considerable business talent. At an early age, he learnt bookkeeping on a farm, and this stood him in good stead later. In 1924, the Hebrew Order of David, a fraternal philanthropic Jewish society, needed to purchase a building to house its offices. Samuel Jossel was entrusted with this task. He found a suitable property, and a price of £150 was paid for it. Located in De Villiers Street in town, which soon became a sought-after area, this property proved to be an extremely valuable investment.
Samuel Jossel
Jossel's commercial interests were quite diverse. He had a furniture business, and his firm eventually grew to be one of the biggest wholesale traders in the Transvaal. He was also a stockbroker and a farmer. But his most enduring legacy turned out to be his development projects. He was one of the speculator developers who benefited from the building boom of the 1930s. Apart from Daventry Court, his firm erected (independently or in partnership) such prominent buildings as:
Gainsborough Mansions, Berea
Automation House, Marshalltown
Longsbank (one of the first parking buildings in Johannesburg)
Jossels Mansions, Hillbrow
Brenthurst Court, Killarney
Duke's Court, Killarney
Emmarentia Shopping Centre
In the early 1930s, the land in Killarney, an outlying northern suburb, belonged to I W Schlesinger's African Realty Trust. 'The Uncrowned King of Africa' had bought the 43-hectare for £120,000. 'According to his plan,' says Brian Jossel, 'the majority of the sites were not to be built up. They were to remain a park area. Still, he demarcated a few areas for buildings. My father purchased three sites and started to develop them.'
In its adverts, African Realty Trust used to describe Killarney as 'a garden, an orchard, a vineyard, an orangery, a shrubbery, a pinery, a paradise, a picnic spot, a health resort, a township and a home'. Schlesinger, who lived in Whitehall Court, wanted to preserve this character of the suburb and was very particular about tidiness. Sam Jossel remembered that if the construction workers accidentally spilt sand or some rubble over the sites' boundaries, he immediately received a letter from Schlesinger's office: 'Please, keep Killarney clean!'
Whitehall Court (Desmond Oxford)
The original design of Daventry Court was produced by three young architects from Johannesburg – Israel Wayburne, Leopold Grinker and Hugh Robert Skelly. For all of them, it was their first big project. The builder was an Epstein.
The block, completed in 1934, was built along Riviera Road, at stands No 4–9. The left part of the building did not reach 4th Avenue at the time. In 1936, an extension to the building along 4th Avenue was erected (stands 85–80), designed by a prominent Swiss-born architect Theophile Schärer in association with South African Charles Small. Their design followed the general pattern set by the original project.
Daventry Court - First phase completed 1934 
Perspective View of Daventry Court from 4th Avenue, by Schärer and Small (1935)
'My father believed that Killarney was destined to be a prestigious suburb', continues Brian Jossel. 'And so he built Daventry Court as a prestige building. And it was always fully let. He had incredible insight.' In the first years, the rent amounts ranged between £1.5 and £1.7.6. All the children of the Jossel brothers resided at Daventry Court at some point. And each of them paid rent like the other tenants. Brian Jossel lived in the building in the 1950s-60s.
US-born Schlesinger wanted to transplant American ways to South African soil, and particularly to his domain, Killarney. On the grounds currently occupied by the mall, he built African Film Studios, Johannesburg's answer to Hollywood. This man, one of the richest in the country, preferred to live in a flat, New York-style. This might explain his decision to sell sites in the suburb for development of modern apartment blocks. And Daventry Court, with its art deco-inspired streamlined design and obvious references to progress and technology, was part of his vision.
Main Entrance (Boris Gorelik)
'Daventry Court was initially populated by the rising middle class', says architect and historian of Johannesburg architecture Clive Chipkin, who worked under Wayburne and Grinker and Skelly early in his career. 'The tenants were mostly enlightened, educated people, who were prepared to give up the spaciousness of houses for the modernity of flats, which they possibly associated with Europe and America. Moving to flats was a new trend in the early 1930s.'
The area attracted many Jews. I W Schlesinger, the initial developer, was always open about his Jewish identity. He set up several facilities in Killarney that welcomed his co-religionists: the Transvaal Automobile Club or the Killarney Golf Course. There were quite a few Jewish tenants in Daventry Court from the very beginning.
Daventry Court was probably the first multi-storied block of flats erected in Killarney in the 1930s. By the 1960-70s, the status of Daventry Court status had changed. It was no longer a residence of choice for the forward-looking people. Just like in the rest of the suburb, the average tenants were middle-aged or even elderly. Fay Susser-Sher remarks in her thesis on Killarney: 'Often after having brought up children on large plots in the very affluent suburb of Lower Houghton, the parents, after the children had left home, sold the houses and then moved into flats in Killarney.' Many of them settled there for life. A very prominent section consisted of affluent Jews, members of the Oxford Shul congregation, attended by Black domestic servants who lived in the outbuildings next to the block. According to the 1985 census about half of the suburb's White population were older than sixty five. This must have reflected the age profile of Daventry Court tenants at the time, too.
In the 1980s, the building underwent a major renovation. 'Everything was renewed, not simply patched', says Brian. 'I resisted the temptation to modernise. The lifts required an upgrade but we didn't want to replace the unique, custom-designed doors and the cabs decorated with walnut panels. Instead, we kept the décor but changed the mechanisms. We had done the same in our other property.'
Main Lobby (Boris Gorelik)
In July 1986, the building was sectionalised but it remained under single ownership. Only three years later, the Jossels started to sell the units. Presently, the building is under multiple ownership. While the art deco era buildings in town, such as Leopold Grinker's Normandie Court, have turned into slums, Daventry Court and other Killarney blocks remain desirable addresses. These days, Killarney is no longer the sparsely populated suburb it was at the inception of Daventry Court. There are almost sixty apartment blocks here, of which Whitehall Court and Daventry are the oldest.
Killarney has become more cosmopolitan. Though Pick 'n Pay at the mall still has a large kosher department, the suburb has lost its predominantly Jewish character. Gone are the well-to-do 'blue rinsed grannies of Killarney'. Since the early 1990s, the area has attracted the new multiracial middle-class, younger upward-mobile people. Many of them moved into Daventry Court, once again changing its average tenant profile. What's more, occupancy and ownership have become more fluid. Nowadays there are only several people in the building who have resided here for more than fifteen years.
The unveiling of a prestigious blue plaque (Boris Gorelik)
Disclaimer: Any views expressed by individuals and organisations are their own and do not in any way represent the views of The Heritage Portal.