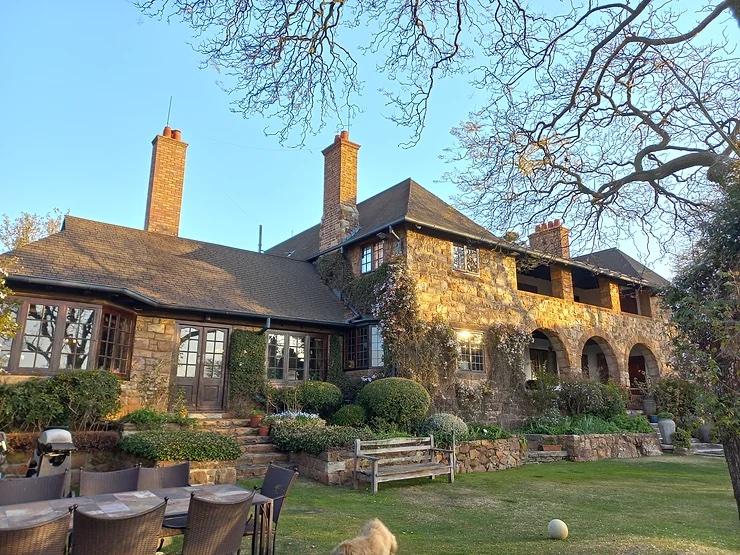 Disclaimer: Any views expressed by individuals and organisations are their own and do not in any way represent the views of The Heritage Portal. If you find any mistakes or historical inaccuracies, please contact the editor.
Wednesday, February 8, 2023 - 21:30
A few months ago I was taking a group on a tour of the Randlords and their homes, and we were standing outside Sir Herbert Baker's lovely Stonehouse in Parktown, when the owner, Colin Barrow, walked up to the gate with an enormous smile. I nearly did a cartwheel when he said: "Would you like to come in?" After all, it's not every idle Tuesday morning that the owner of a historic home invites a bunch of strangers to walk through his home. It was a delightful tour within a tour.
Stonehouse (The Heritage Portal)

Built in 1902, the house literally grows out of the stone koppie, up two finely crafted stone storeys, and is testament to Baker's simple but homely taste. It's built on his trademark H-plan, with a central atrium, and two wings on either side. It's an example of the Arts and Crafts back-to-nature style, and could fit easily in the English countryside. Baker trained stonemasons on site, and used Cape Town metalworker George Bess to fashion the lovely brass door handles and knockers, chandeliers and light switches. 
It has seven colourful tile and wood fireplaces, often with a moulded motif or ornamental alcoves above them, vaulted ceilings, wooden floors and leaded windows, tall, elegant chimneys, and a shingle roof. It is an elegant and comfortable home, with a lush garden arranged in terraces down the koppie. I ask Barrow if I could come back and interview him, and he generously agrees. 
Twenty-one years in SA
Baker was born in his family home in Owletts in Kent, a house dating back to 1684, which his family acquired in 1796. He died there in 1946 at the age of 84, and it is still occupied by the Baker family. To me there is always something satisfying and fulfilling about being born and dying at a good age in the same home. It's a circle completed.
Baker spent 21 years in South Africa, arriving in Cape Town in 1892, and moving to Johannesburg in 1902, at Lord Milner's invitation after the South Africa War, to help reconstruct the town in more tasteful fashion than the imported and packaged building materials that had been used till then. Milner detested these ready-to-assemble materials, and Baker was the perfect antidote. In Cape Town Baker had found a benefactor in Cecil John Rhodes, who twice got him to re-imagine Groote Schuur, the second time after a fire had devastated it.
Groote Schuur (Wikipedia)

Baker proceeded to design a whole row of homes along the ridge for the wealthy and elite in Westcliff and Parktown, where they had established themselves in an exclusive fenced enclave away from the noise and dust of the town, complete with a cricket oval and meadow for the cows. 
Neighbours of Stonehouse are Pilrig, St Margaret's and Clovelly, and at the end of the road, the 40-room mansion of Northwards, commissioned by John and Jose Dale Lace, built in 1904, which rises grandly from the koppie, all designed by Baker.
Clovelly (Pam Golding)
Northwards (The Heritage Portal)

Baker's great granddaughter, Camilla Baker, admitted in a webinar last year that "Baker made his name in South Africa", much like Mahatma Gandhi formed his Passive Resistance movement in the 21 years he spent in the country. 
Baker left a huge legacy – several hundred homes across the country, churches, schools (the original design of St John's, with later additions by his partner Frank Fleming), the Medical Research Institute in Hillbrow, the first Wits University buildings, the Mt Nelson Hotel and the Rhodes Memorial in Cape Town, and the majestic Union Buildings in Pretoria.
Early photo of St Johns (SA Builder)
Medical Research Institute (The Heritage Portal)
Union Buildings
The house was built by Barrow Construction, and Barrow is the fifth generation Barrow, caring for the home that his great great grandfather, John Barrow, built when Parktown was just a rocky ridge with horses and carriages riding its dusty roads. Another circle completed. 
Favourite room
Barrow welcomes me warmly into his home when I go back to interview him. His family have lived in the hourse for the past 12 years. I ask him what his favourite room in the house is. "It's the back stoep", overlooking the terraced garden, sunken rose garden, a wild pool (created by him, and occupied by trout and koi), in addition to a swimming pool, tennis court and spacious garden flat. Baker designed gardens and furniture, and we sit down for tea on his stoep furniture, the only memorabilia left by the architect. He created a rockery, and planted the trees. It's easy to see why Barrow enjoys the stoep with its well worn stone steps - it stretches down the koppie, with views past Sandton, and on clear days, to the Magaliesberg.
The Stonehouse stoep (Lucille Davie)

The rooms are modestly sized but comfortable, certainly compared with the lavish rooms of Northwards down the road, with several modern-day alterations that enhance the spaces. Barrow has given the house a more contemporary feel with charming wallpapered rooms, spacious ensuite bathrooms, and black and white tiles in the kitchen.
Stonehouse kitchen (Lucille Davie)
He was a genius in terms of architectural design," says Barrow, "he created something that really appeals, with timeless design, never out of fashion."
Heritage architect Brian McKechnie concurs. "Baker was a very astute architect." He adds that Baker "was very interested in the relationship between buildings and the landscape and the siting of Stonehouse is on the prominent Parktown ridge. He designs the house from the same koppie stone as the ridge, so it's almost seen like a form that grows out of the ridge. You've got this beautiful koppie stone that really speaks to the natural Parktown ridge, and you get this home that feels like an extension of the ridge."
Barrow says he can imagine Baker living in the house and garden, where he devoted a lot of energy. A three-metre long wall, a remnant of a blockhouse from the war, remains on the edge of the property. 
He says building is "in the blood" of his family, and he is clearly content in the house. "A house must sit comfortably on its property." And Stonehouse certainly does, with its well-designed garden (greatly enhanced by Barrow), and mature trees offering shade and purple splendour in Spring. "Baker had a great appreciation for the environment." 
Stonehouse garden (Lucille Davie)

A jewel castle
Architect Charles Ashbee, a contemporary of Baker's, and a great proponent of the Arts and Crafts movement, visited Stonehouse in 1903. He described the house in his journal as "a jewel castle... is one of the most exquisite pieces of architecture I have seen. Baker had built an undoubted masterpiece."
Baker loved this house, and couldn't sell it. It was rented when he left the country and eventually sold on his death. 
"My wife and I lived very happily at Stonehouse and its kopje garden, and our three sons were born in the house. The Duncans who lived there when I left for New Delhi and England, also had three sons; so we called it 'the six-boy kopje,'" he wrote in his autobiography, Architecture & Personalities: An Autobiography.
Baker left South Africa in 1913 and went on to design the grand government buildings in New Delhi, when the capital switched to that city from Calcutta. South Africa House on Trafalgar Square in London is also his design, as is India House in the city.
South Africa House (Wikipedia)

His ashes are buried in Westminster Abbey.
Herbert Baker
Lucille Davie has for many years written about South Africa's people and places, as well as the country's history and heritage. Take a look at lucilledavie.co.za