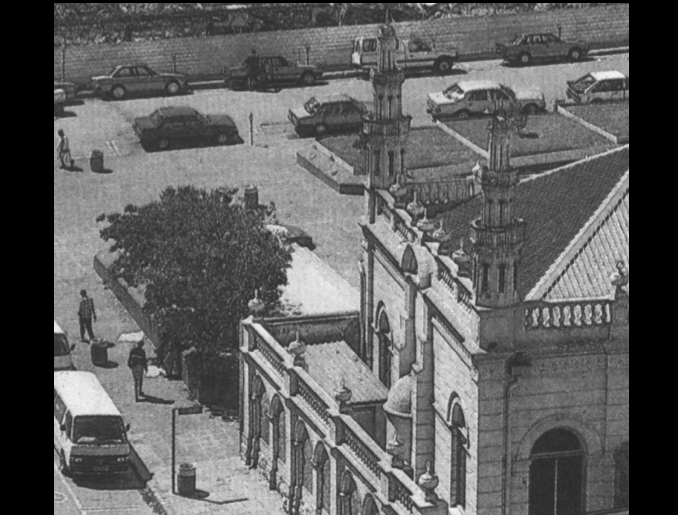 Sunday, January 3, 2016 - 06:28
In the early 1980s in the lead up to Johannesburg's Centenary celebrations, the Joburg 100 Committee placed the Second Kerk Street Mosque on its list of one hundred buildings of great significance worthy of preservation. The building was controversially demolished in 1989 to make way for the Third Kerk Street Mosque. The latter has since become a landmark in its own right. Below is a description of the Second Mosque compiled by Marilyn Martin and Bernard Cooke in 1984. The photograph above appeared in a 1989 edition of The Star.
This is the oldest mosque in Johannesburg. Known as the Jooma Masgid Mosque, the foundation stone was laid on 15 May 1918 by Syed Jammool Hoosain Mashade, an important religious man who happened to be visiting Johannesburg at the time.
The mosque is still active, holding five daily calls to prayer. It is usually filled with people from the surrounding area and local businessmen who say their prayers there.
The rectangular building is set slightly at an angle with the street, according to its relationship with Mecca, and is enclosed by a high decorative wall. The latter has six arched recesses and a seventh arch forming the main entrance.
The remarkable feature of the building is the four identical minarets at each corner. They are three-storeyed with balconies around the upper two and delicate detailing. The minarets are scaled down to about one quarter of full size. Although no muezzin could call the faithful from the minute balconies, they serve their purpose most successfully, in symbolically imparting a strong and traditionally Islamic character to the whole building.

The interior of the mosque has white painted and plastered walls. Between the arched windows are pilasters and capitals with a richly decorated frieze in the cornice. The semi-circular apse in the centre of the end wall, together with the ceremonial flight of steps next to it forms the centre of ritual. The cornice above is topped with a trio of urns with star and crescent motifs. The windows are glass louvred and the interior light is soft.

The entrance portico is the richest part of the building. It has three arches, the end ones being scalloped and moulded with a strong Islamic character. Opposite the portico is an elaborate area for ritualistic ablutions.

The Kerk Street Mosque is of great interest to the Johannesburg population in general, to the Muslim community in particular and its architecture reflects skill and care.
The Third Kerk Street Mosque (The Heritage Portal)
 
Disclaimer: Any views expressed by individuals and organisations are their own and do not in any way represent the views of The Heritage Portal.