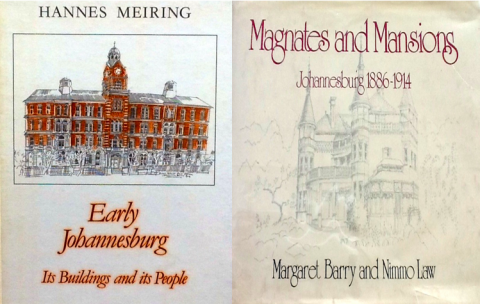 Early Johannesburg Its buildings and its People,  Hannes Meiring, with text by G-M van der Waal and Wilhelm Grutter, Human & Rousseau, 1986. 143 pages. This book has the feel of a album and was published in the Johannesburg centenary year. I think it was one of the most appealing of centenary publications. The inimitable Meiring style comes through in his light touch but detailed sketches of Johannesburg buildings. The project started as drawings in a series, "Ou Johannesburg ", for Die Beeld.  It is Meiring's eye as an artist and architect that is so appealing. Some of the sketches are quite miniature and the bigger page size illustrations with detailed information are more effective . The text by G-M van der Waal ( who himself published the more scholarly and comprehensive From Mining Camp to Metropolis) and Wilhelm Grutter is well researched and should have been honoured as joint authors with Meiring . Because the arrangement is around the original Randjeslaagte and the farms on which the city grew the book is really for the armchair explorer, though selected maps assist in navigation. Labelling could have been more distinctive. Overall the book is a compilation of the wandering artist and his Johannesburg as he preserved the city of the mid 1980s  through his pen . It would be fun to do a tour of Meiring's Joburg to see how his buildings have fared. 
2015 Price Guide: R125 to R200
Magnates and Mansions. Johannesburg 1886-1994. Margaret Barry and Nimmo Law, Lowry Publishers, Johannesburg, 1985. 162 pages. This small book also has the feel of a family album, it is filled with a selection of photographs of early Johannesburg streets, people and suburbs and pen and ink sketches by Barry of Johannesburg's earliest mansions. It's a fairly light weight Johannesburg social history aimed to mark the 100 year birthday of the city. The style of the text , relying on secondary sources, is anecdotal and offers cameo sketches of early Johannesburg life and mining magnates. The most valuable part of the book is the coverage of 17 specific grand homes which speedily sprang up in a range of eclectic styles, many now demolished, in Doorfontein, Berea, Jeppe, Emmarentia, Parktown, Westcliff,  Bedford Farm, and Modderfontein. The book is useful as a heritage resource. 
2015 Price Guide: R125 to R200
My preference is the Meiring book, although together the two volumes show that our knowledge of Johannesburg history is built up through the many contributions of heritage and city enthusiasts, and show how rapidly even a 30 year old book becomes a collectors items. Both books are obvious choices for a "Johannesburg" library 
Kathy Munro is an Honorary Associate Professor in the School of Architecture and Planning at the University of the Witwatersrand. She enjoyed a long career as an academic and in management at Wits University. She trained as an economic historian. She is an enthusiastic book person and has built her own somewhat eclectic book collection over 40 years. Her interests cover Africana, Johannesburg history, history, art history, travel, business and banking histories.  She researches and writes on historical architecture and heritage matters. She is a member of the Board of the Johannesburg Heritage Foundation and is a docent at the Wits Arts Museum. She is currently working on a couple of projects on Johannesburg architects and is researching South African architects, war cemeteries and memorials. Kathy is a member of the online book community the Library thing and recommends this cataloging website and worldwide network as a book lover's haven.
Wednesday, October 14, 2015 - 15:04