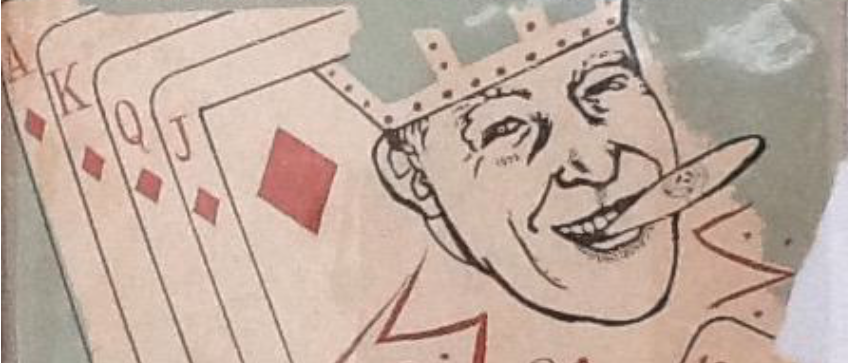 I fell upon this memoir by chance. It is old, out of date and a book passing into history as it was published over half a century ago (published by Howard Timmins in 1965). Jack Stodel does not feature in the standard encyclopedias or biographical dictionaries. Why bother with such a book? Memoirs give us a flavour and taste of the lives of a bygone generation and recall amusing experiences and anecdotes. We learn about the lives of others, how they lived and what the issues of the day were. Memoirs become building blocks in  the writing of history. Of course a memoir has its pitfalls as the author is by no means obliged to tell the unpleasant bits; an author of a memoir often wants the book to show himself in a good light.
Jack Stodel's story is entertaining and if a life is to be measured by luck, good cheer, a positive spirit, and longevity then Jack Stodel lived a good life. He certainly did well to write two memoirs. "Jackpot story" was the sequel to his first which was titled "The Audience is Waiting".
This specific memoir has become a collectors' item and must be quite difficult to find. I think its appeal is that it combines wildlife, fishing, hunting, conservation, wartime memoir and Stodel's contribution to the development of South African theatre and film.
Book Cover

Jack Stodel was described as a warm hearted, kindly, perhaps erratic personality (see the quotes on the dust wrapper – those promotional blurbs taken from the review of his first book). The love of his life was the stage, movies, acting and theatre. He was evidently someone with fizz and an outgoing personality. The impression is that he lived by his wits; he had an entrepreneurial streak and went through life with a fair measure of luck coming his way. The cover illustration shows a sketch of Stodel in Churchill pose with cigar and forefingers in V for Victory sign, against a suit of cards of all the diamonds. Could he have been a gambler and a card player; I was left wondering.
Jack Stodel earned a short entry in The Encyclopedia of South African Theatre, Film, Media and Performance (ESAT), an online source. Here he is described as a theatre personality and entrepreneur who tried his hand at many projects during his lifetime. Theatre, movies, acting and the world of make believe turned him on but he must have had his fair share of failures and setbacks. He was born in 1899 and died in 1979 and in 80 years he lived life to the fullest. He was also a big game hunter and a game fisherman, but shifted from hunting to take up the cause of wildlife conservation before the end of his life.
There are five  Stodel entries in ESAT so here was a theatre family of note. Jack Stodel was the son of Harry Stodel, who was an early music hall actor in Johannesburg circa 1890. Harry was a travelling salesman and invested in a small hotel in Johannesburg which he called Stodel's Music Hall. By 1897 Harry had leased the Gaiety Theatre as a music hall and was in competition with the Theatre Royal. During the Boer War, the Stodels moved to Cape Town and Harry bought the Tivoli Music Hall in Darling Street in 1910. He occasionally leased the Opera House for visiting comedy and dramatic companies. Harry was the original theatre entrepreneur and by 1908 he had established a film distribution company. He clearly spotted trends and new directions as cinema displaced the music hall style of entertainment. In 1913 Harry Stodel joined I W Schlesinger, the American theatre impresario to establish the African Theatre Trust. Harry was appointed resident Cape director of the new African Theatres circuit as well as of African Theatres Trust. The mail boats brought a variety artists on a regular basis to tour the country. (Details via the ESAT website). Harry Stodel has an entry in the  SA Dictionary of National Biography vol 4, but there is no entry for Jack Stodel.
Jack  grew up in the shadow of his impressive father. This memoir is different in as much as it opens with Jack's reminiscences of big game hunting, encounters with the San people (or as he calls them the Bushmen) and game fishing. The second part of the memoir is about his travels in America and concentrates on a single year, 1954. This is the most boring part of the book as it is a travelogue of what he and his wife did in the States and he name drops excessively. He liked meeting the celebrities and stars of the movies.
The best and most interesting and enduring part of the book is Part 3, which recounts Jack's experiences as a soldier in World War I. This is the part of the book that is worth reading and earns these reminiscences a spot on my First World War bookshelf. Jack remarkably fought for South Africa in support of the allied cause in three theatres of war. He wrote up his experiences though by the time he wrote his memoirs he was looking back on those years from a position of some maturity and relying on his memory. He was a boy soldier and enlisted in Cape Town in 1914, aged only 15. Although his first attempt to enlist at the Drill Hall in Cape Town earned the instruction from the recruiting sergeant to "go back to your mother", Jack went off to his family's theatre garb, arrived at a different recruiting table and joined the Cape Town Highlanders. Jack relates his experiences in German South West Africa (now Namibia), German East Africa and finally going to England and fighting in France.
In Africa he fell prey to recurrent bouts of malaria but survived. The account of a young soldier in three theatres of war is unusual. In France he fought in the Fifth Battalion Tank Corps. Here is an authentic account of tank warfare. He relates that he became a casualty when hit by machine gun splinters in his face. He was lucky as his injuries were not serious and for him it all sounds like a bit of a lark. For a young man who did not get himself killed, the thrill of travel, seeing Paris and London was an adventure of a lifetime.
He does not talk about shell shock nor does he place too much stress on the horrors of war. However, there is one insightful recollection of one of their own machine gunners firing and killing Germans who had their hands in the air for surrender because his own brother had been killed in action the night before. Stodel comments laconically that he took the man off the machine gun and put him on observation. There is another vivid recollection of a British soldier who opened the mouths of dead men to recover gold teeth. Apparently he was a dentist in private life and Stodel comments that he resented this behaviour. He also comments that warfare in France was very different from the campaigns in East Africa and German South West Africa because of the deadly range of heavy artillery and that men 10 miles behind the front line were as vulnerable as the men on the front line. Rifles, machine guns, heavy artillery, bayonets and grenades explained the heavy casualties of the Western Front.
Following the armistice and the prospect of repatriation, Stodel's theatre background and flair as an impresario came in useful. He came up with the idea of a home made fireworks display for entertainment, as once the guns fell silent there were large supplies of cordite, starshells, verey lights and gelignite lights that could be put into a pyrotechnic spectacle although not without a serious casualty because Stodel and his mates were amateurs at turning fire power into fireworks.   This is the first time I have read of a fireworks display taking place and that it included a rendition of God Save the King. I wonder if this is in an official war history. 
Stodel also rose to the challenge of building a theatre whilst waiting to be shipped back to England at the end of the war. His story ends with his return to South Africa on the Ingoma, a South African troopship. He was only 19 when the war ended, he had survived, he was full of life, energy, resourcefulness and talent and he was one of the lucky ones for whom war had stretched his horizons. He had been promoted to the rank of Captain and so joined the officer class. Jack Stodel also served in the Second World War and the book includes a delightful photo of the Stodel family during the war showing Jack and Jimmy Stodel and remarkably seven women of his family who are all in uniform.
Stodel Family
After the war Jack was a branch manager of the African Theatres in Cape Town and a number of cinemas in the Cape Peninsula were built under his supervision. His impresario efforts extended beyond the Cape as for a period he managed several cinemas in South Africa and organized travelling theatre companies to travel around the country. 
In 1930, when his father Harry retired, he took over as branch manager of African Theatres and other companies in Cape Town. His first book, The Audience is Waiting, has now been added to my desirable books to be acquired list. I would have awarded Jack an entry in the S A Dictionary of National Biography.
Guide price: Out of Print. Best option to keep hunting for this type of book at a local second hand or charity shop. None available on Amazon or Abe books. Of course once a book is out of print the internet price shoots up.
Kathy Munro is an Honorary Associate Professor in the School of Architecture and Planning at the University of the Witwatersrand. She enjoyed a long career as an academic and in management at Wits University. She trained as an economic historian. She is an enthusiastic book person and has built her own somewhat eclectic book collection over 40 years. Her interests cover Africana, Johannesburg history, history, art history, travel, business and banking histories. She researches and writes on historical architecture and heritage matters and is well known for her magnificent book reviews. She is a member of the Board of the Johannesburg Heritage Foundation and is a docent at the Wits Arts Museum. She is currently working on a couple of projects on Johannesburg architects and is researching South African architects, war cemeteries and memorials.
Sources:
S A Dictionary of National Biography
Material on Harry Stodel in Thelma Gutche's book: The History and Social Significance of Motion Pictures in South Africa 1895- 1940 but no mention of  Jack Stodel.   
Friday, November 23, 2018 - 18:47