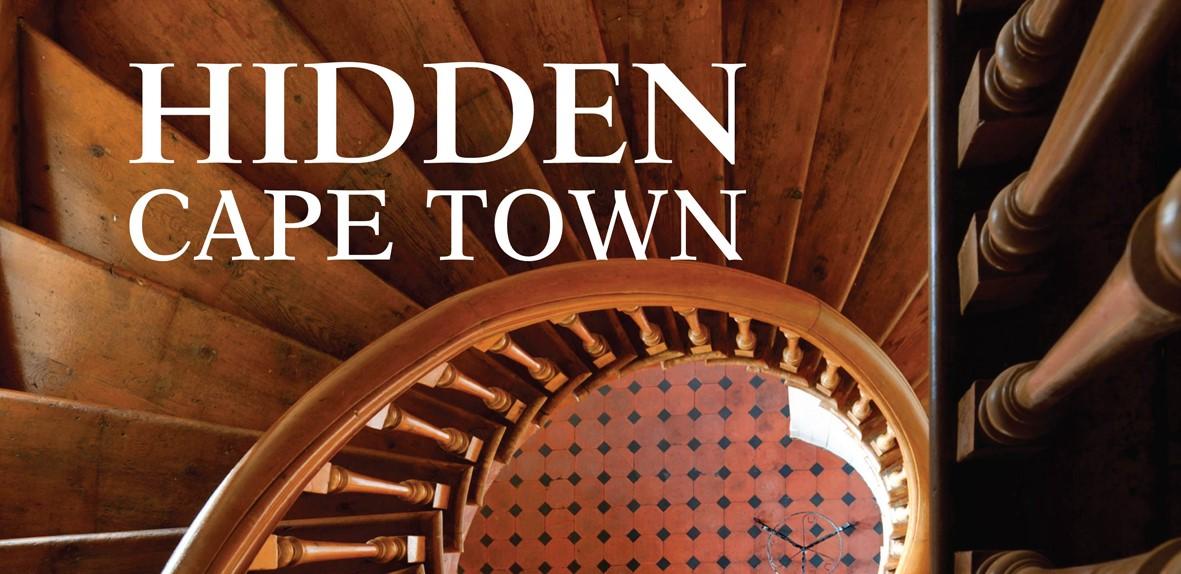 Hidden Cape Town by Paul Duncan and Alain Proust, Publisher: Struik Lifestyle. Illustrated, 1st edition published 2013 (240 pages & ISBN 978143170299) and 2nd edition published 2016 (232 pages & ISBN 9791432307936).
Paul Duncan (the author) and Alain Proust (the photographer) make a superb team in creating this book. It is a top quality artistic creation as a book which delights and pleases the senses. The photographs are exceptional. As Cape Town people, Duncan and Proust have a warm, empathetic feel for their city. Their emotional pride and love of Cape Town comes across in their selection of stunning Cape Town Interiors of fine old heritage buildings. The objective is to draw attention to selected architectural heritage of note.   
Book cover
At first glance the book seems to be all about Cape Town's churches, synagogues and mosques with an interdenominational meandering through the multi-religious strands of four hundred years of city history. However, there is a good spread of museums, august (Old Mutual) as well as quaint (Mullers Optometrists) business establishments, the City Hall, the Castle (Secunde's house and the Duke's officers mess), a school (Bishops), the National Library and some gracious homes (Welgelegen and Groote Schuur) included in their list. It is a personal selection (they cherry picked historic buildings mainly from the centre of the city) but you would never know, if this book were your starting point, that Cape Town is a port city, with its once difficult harbour and that for most visitors, it is the spectacular landscape between Table Mountain and the Atlantic Ocean that makes the city a natural wonder of the world. There is no whiff of the salty sea air here.  
Inside Cape Town City Hall (The Heritage Portal)
Entrance to the Castle (The Heritage Portal)
Hidden Cape Town is not time bound and does not make a fuss about date for a building to make the cut. Their youngest building is Gerard Moerdyk's 1952 Gereformeerde Kerkgebou, Hof Street Gardens. Their most imaginative choice is the Taj Hotel (St George's and Wale Street) as this building was designed by the architect James Morris as the Cape Town Reserve Bank building and, fairly recently, repurposed as a smart city boutique hotel. The city's history has both shaped and been shaped by the built edifices and most especially the tastes and style that each generation leaves in imprint.
I agree with our authors that this is just a taste of the riches of Cape Town. A whole series of books would be required to cover everything down to Cape Point, out to Somerset West and beyond to Stellenbosch. 
There is one interesting Johannesburg connection in the Hidden Cape Town book. The Old Synagogue features showing the sculptor, Herman Wald's Wings of Shechinah, framing the Ark. This religious work of art was designed by Wald in 1967 for the Berea Synagogue on Tudhope Road. It is made of beaten copper and stands some 6 meters high. 
Although the author points out that though the "hidden" title implies that many of these places are intentionally hidden from view and inaccessible, this is not the case. One needs to use this homage to Cape Town as the invitation to step inside through the often familiar entrances to penetrate the recesses, stairwells and deep interiors. However, the book is not an easy guide book, there is no map, there are no addresses or advice about how to find a particular building (or where to park). There is a list of useful contact information on the final page (mainly website references) together with a shortish selective bibliography.
This is a coffee table book deluxe. It works better as an armchair volume with a glass of great Cape wine in hand and the book on your lap to turn the pages and savour the splendid Proust photographs. The book has a sensuous, sensory appeal that makes one want to reach out to grasp the craftsmanship that has been nurtured through the centuries in South Africa's mother city. The angles, and positioning of the camera lens draw you to concentrate on details, ornaments, textures and finishes. The book purports to be a book about the architecture and architects of central Cape Town but it is more about the style, interior décor and all those marvellous antiques - organs, sculptures, chairs, paintings, stained glass windows, staircases and fine furniture. The chair, whether it be a pew, a dining chair, a library seat or a wrought iron hall seat features prominently. There is a vacant seat in each of these fine buildings for lingering and contemplation of quiet interior spaces.
The Hidden Cape Town book was first published in 2013 and a second edition was published by Struik in 2016.  Hidden Cape Town is the companion volume to the Hidden Johannesburg book (click here to read a review). I think both are desirable, appealing and belong together on a shelf. Those Johannesburg people who love Cape Town as their favourite holiday destination will surely wish to own both books.
Hidden Johannesburg book cover
There is one significant difference between the 1st edition and the 2nd edition of Hidden Cape Town. The first edition is 240 pages long and the last chapter (filling 8 pages) is a visual tour of the Irma Stern Museum. The museum called The Firs, was the home and studio of South Africa's most famous artist for almost forty years. The address is Cecil Road, Rosebank. It is one of my favourite Cape Town museums because you can feel the presence of Irma Stern as you step inside. Established in 1971, five years after her death, it is one of those lesser known treasures of Cape Town and the National Estate. The Museum is governed by the University of Cape Town and the Irma Stern Trust. However, I believe that a controversy over copyright fees imposed in terms of current legislation on the reproduction of artists' works and the excessive expense of such fees, caused the authors to drop this final section from the new 2016 edition. The result is that the second edition is exactly the same as the first edition but it comes in at 232 pages and we have all been impoverished by the omission. Surely there is something wrong with copyright legislation, management and fee structures if an authentic writer and talented photographer are disabled in this way? The second edition makes no mention of this evident debacle. My suggestion to the owner of the second edition is to turn to online information on the Irma Stern Museum and print out for your own edification the information you require (click here for a start). Better still, make sure you visit the Irma Stern museum when next in Cape Town.
There is a hint in the introduction by Duncan of the difficulties faced gaining access to buildings and interiors. There were several sites that the author/photographer would have liked to have included but could not. For example, UCT wanted enormous fees for permission to photograph the Smuts Hall. Our post 1994 democracy seems to have failed us as the author's request to photograph the interior of the Houses of Parliament was declined. Duncan quite rightly says Parliament's fine interiors deserve coverage in a book such as this. Like them, I too find places of national heritage and community ownership far more inaccessible today than say 30 years ago, all because of the step up in security and the need to protect these assets from rogues. But what about the honest citizen and serious art or architecture enthusiast?
Parliament (The Heritage Portal)
Although the authors make no mention of other books on architecture and hidden interiors, I wondered if they had ever encountered two marvellous books by John Freeman, "London Revealed" (Macdonald, Orbis, 1989) and "Moscow Revealed" (Doubleday, 1992). I immediately thought of these older books as models of studies of special places in other cities. Freeman, an English photographer, also captured amazing interiors in those cities. I actually wrote to him a while ago and asked him if he had plans for books about other cities. His reply was a disappointing "no". Another local book on a parallel theme is "Secret Southern Africa: wonderful places you've probably never seen" published by the AA Motorist Publications in 1994. This was an ambitious book that takes the motorist and traveller off the beaten track to selected unusual houses and scenic places. Its choice for the South Western Cape/Cape Town included the stone church on Robben Island (designed by Herbert Baker), Bertram House (a 19th century house situated at the top end of the Cape Town Gardens), Groote Schuur and the Police Museum at Muizenberg.  
There is always the facile contrast between old (Cape Town) and new wealth (Johannesburg) but this misses the point about quality. Herbert Baker started and consolidated his South African years in Cape Town but the activity and affluence of the golden city and the excitement of new commissions and work in the Transvaal drew him to Johannesburg. The appeal of Cape Town is certainly there with its older city traditions, buildings and grand architecture of churches, City Hall and Castle. But Johannesburg, now aged 130 years, has some equally fine interiors and Cape Town architects, such as John Perry (the architect of the Johannesburg Public Library) and Hawke and McKinlay (the architects of the Johannesburg City Hall) rapidly and readily bid for Johannesburg public tenders.
View towards the Johannesburg City Library across Beyers Naude Square (The Heritage Portal)
The Duncan and Proust books are appealing and collectable. The books make for fresh insights and reassessments. On my next visit to Cape Town, their book will be my companion guide as I think a structured tour tutored by the authors would be enthralling. Of course, another game to play is to make up your own Hidden list. What has been missed, which interiors would you have included? I think though, the take away from the Cape Town book is a lesson in how to really look and look again at the treasures we have inherited. Their formula, provided the copyright problems are resolved and state and university authorities give permission for access and photography, is a winning one and we all look forward to more cities and more hidden interiors revealed. The book is a visual feast. Enjoy!   
2016 Guide Price: R395.00
The Johannesburg Heritage Foundation has negotiated a special discount. Hidden Cape Town (2nd edition 2016) and Hidden Johannesburg (first edition, 2016) may be ordered for R320.00 each.  Email Eira on mail@joburgheritage.co.za.
Review copy and book cover image supplied by the publishers.
Kathy Munro is an Honorary Associate Professor in the School of Architecture and Planning at the University of the Witwatersrand. She enjoyed a long career as an academic and in management at Wits University. She trained as an economic historian. She is an enthusiastic book person and has built her own somewhat eclectic book collection over 40 years. Her interests cover Africana, Johannesburg history, history, art history, travel, business and banking histories.  She researches and writes on historical architecture and heritage matters. She is a member of the Board of the Johannesburg Heritage Foundation and is a docent at the Wits Arts Museum. She is currently working on a couple of projects on Johannesburg architects and is researching South African architects, war cemeteries and memorials. Kathy is a member of the online book community the Library thing and recommends this cataloging website and worldwide network as a book lover's haven.
Wednesday, November 23, 2016 - 06:58