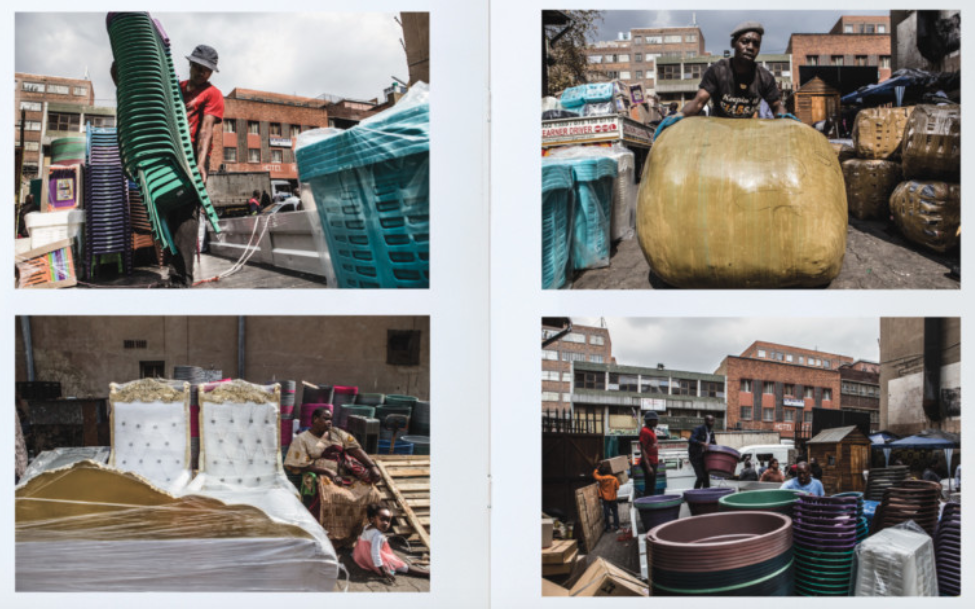 This book is part of the well established series "Wake Up, This is Joburg". It is slender, slight and instantly collectable with the look and feel of a quality art book. The book is a combination of photographic essay and a journalist's essay on Johannesburg as shopping mecca. It is all about the people. The author, Tanya Zack and the photographer, Mark Lewis walk the city's streets to interview and pin down fleeting images of the shoppers of the city. They meet entrepreneurs from Zambia, Zimbabwe and Maputo who come to downtown Johannesburg to shop, shop and shop some more until they drop into a bus or a train and go home. For ladies such as Lucy and her friends, shopping means feeling and examining quality clothes, shoes and handbags in Rahima Moosa (Jeppe) Street and Small Street. Here is Johannesburg as a cosmopolitan hub for migrants and sojourners from Africa and for new landlords and shopkeepers who are the ones who have bought the proverbial farms in 21st century transformed Eloff Street.
Joburg has become a frenetic place of trade and entrepreneurialism in the retail and wholesale nooks and niches that were once medical buildings or corporate headquarters. There are warehouses, shops and pavement stalls everywhere. There is also the Small Street Mall which extends from Plein Street down to Commissioner Street - the old Small Street has been closed off and roofed over - it is pedestrianization with a purpose. This small book segments the city and applies the magnifying glass to roughly the area of Rahima Moosa (Jeppe), Plein and Pritchard Streets - but it is hard to tell precisely where Mark Lewis has aimed his camera lens as the photographs lack captions and the geography is undetermined. This is where there is a weak spot in the documentary evidence. Why is this important? Because this small book captures an aspect of city life that ought to be documented right now. The photographs are excellent but I wish they were dated and positioned.
Book Cover

If you wander about Joburg's city streets you often take your life in your hands as you could well be knocked over by a taxi loaded with these ubiquitous shoppers, a man with a trolley or a fellow with a bulging  bag of goods carried on his head. Another problem for shoppers, shopkeepers and pedestrians is the danger of being mugged. It is a reality, particularly in the shopping areas. I adore exploring street markets but whereas in Lima, Cairo, Istanbul, Santiago, Saigon and Melbourne I feel safe and happy to drift, in Johannesburg one must be extra vigilant and watchful.
The story is about the shoppers of Johannesburg and in particular the trans-border shoppers who come here from the north to buy in bulk and buy with discernment. There is a method and a system to buying and feeding the retail trade. Johannesburg has become an entrepot for Africa as the trans-border traders board buses, taxis and flights to get their goods to their eager customers "back home" and home can be anywhere a thousand kms or more away. This book of sharp perceptive photographs and the journalist's scalpel gave me an insight into a new Johannesburg. It is not about heritage Johannesburg or its past but what Johannesburg has speedily become as it has been absorbed into Africa and in turn absorbs the migrant diaspora from Ethiopia, Somalia, Mozambique, Pakistan, Swaziland, Lesotho and Malawi. Johannesburg is vibrant but also grime covered and a crime risk. It is quite an inhospitable place for the international buyers. The  old downtown area has become international but the sting is in the title "Johannesburg Made in China".
The latest twist to the African saga is that a large portion of the bags, boxes, bales and bundles on sale comes from China and Johannesburg is merely a destination and a place on the African map for Chinese economic penetration of Africa. Investment in buildings, heritage preservation, city renewal and upgrades of pavements and electricity distribution must still be tackled if our City is to be more than a market place. If Johannesburg is no more than an African entrepot for Chinese goods our future is dismal.
The revival and renewal of Johannesburg and its return to pre-eminence as "the golden city" needs a different regeneration plan. Nonetheless, I urge the Mayor to read this book. We locals can learn a lot from the foreigners in our midst.
Congratulations to Fourthwall books on another excellent gem of a book. One criticism is that the price at R250 for fewer than 30 pages of photos and text is steep. On the other hand, the market decrees that this is a desirable item and the 300 copies have been sold out.
Kathy Munro is an Honorary Associate Professor in the School of Architecture and Planning at the University of the Witwatersrand. She enjoyed a long career as an academic and in management at Wits University. She trained as an economic historian. She is an enthusiastic book person and has built her own somewhat eclectic book collection over 40 years. Her interests cover Africana, Johannesburg history, history, art history, travel, business and banking histories. She researches and writes on historical architecture and heritage matters. She is a member of the Board of the Johannesburg Heritage Foundation and is a docent at the Wits Arts Museum. She is currently working on a couple of projects on Johannesburg architects and is researching South African architects, war cemeteries and memorials. Kathy is a member of the online book community the Library thing and recommends this cataloging website and worldwide network as a book lover's haven.
Wednesday, April 4, 2018 - 17:42