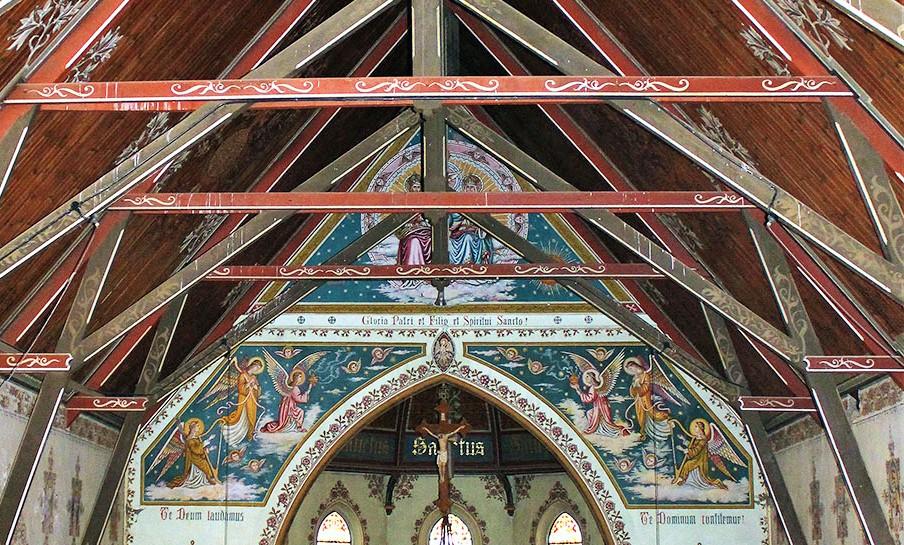 If you are passionate about the South African visible built heritage turn your enthusiasm to the churches to be found in country towns, villages, dorps and rural missions stations. Give yourself the opportunity to explore the country with a new focus, "church tourism" may become your mission. Accompanied by the three books of Menache and David you will be off on an unusual enriching adventure. Church Tourism is the third book that has come out of this partnership. The authors have combined their talents for research, writing, photography and then publishing to document the church architecture across all Christian denominations.  
Book Cover
Collectively, their books now form a superb record of over 300 churches, mostly pre 1940, and serve as a rich photographic catalogue of interiors as well as exteriors. There are no examples of modernist architecture. Their churches are traditional and historical in design and origin, regardless of denomination. The details of pulpits, pews, organs, stained glass windows, bells and belfries, foundation stones, lych-gates, memorials, roofs and rafters remind us that church craftsmanship in stone and wood, brick and metal was of a high standard throughout the country. Pulpits for example often have intricate woodwork patterns echoing wood carving traditions seen in ancient cathedrals and churches in Europe. In some churches, for example Richmond and Prince Albert, the pulpit is reached via a set of steps, and topped with an intricate wooden canopy called a baldaquin, rather like a crown. We are reminded that the church was the core of a vibrant country community or represented ardent missionary endeavor. Many of the churches are Dutch Reformed Churches, the NG Kerke. 
NG Kerk Ficksburg
Once again Menache and David have travelled far and wide in search of the old, lovely, unusual churches to be discovered and explored in every province of the country. Churches, even if you are not religious, offer that quiet space and anuminous atmosphere to open your soul to serenity, solitude and beauty. Their first book, "101 Country Churches" appeared in 2010 and a second followed in 2012 covering another 102 churches (previously reviewed - click here to view). "Church Tourism" now adds another 153 churches. Many of these churches, despite dwindling congregations survive and have celebrated their centenaries. They are all heritage treasures and lamentably are often neglected by the official heritage structures. It is left to private efforts to save, preserve, restore and as Menache and David have done, shout to all who will listen. Here is a priceless legacy to be celebrated. A closer look at a church will reveal a great deal about social, cultural and political history, and is perhaps more important than ever to get us past that crude dismissal of the "colonial" past. 
St Peters Brakpan
Churches also represent the creativity of so many well known and some little known architects. We are familiar with the work of Gerhard Moerdijk and Herbert Baker. Sophy Gray's legacy as the first female architect (she was also the wife of Bishop Robert Gray) has been presented in some detail in other specialist monographs and she is remembered via the  celebrated Free State University annual lectures (see Desmond Martin and Thelma Gutsche books). Baker has been extensively studied (see Greig and Keath books). Baker and Gray brought English ideas about appropriate church design to so many of the Church of England and Anglican Churches, as did Charles Freeman. Carl Otto Hager from Germany was the architect of the 1862 NG Moederkerk in Stellenbosch, the Anglican Church in Caledon (1874). A father and son team Folkert Hesse and François Hesse from Holland designed the NG Kerk in Swellendam in 1911.  Another Dutch architect, JE Vixseboxse was responsible for the NG Kerk in Prieska, Northern Cape in 1919 with its unusual spire. The authors enthuse about the architecture of the Australian, William Henry Ford, with examples of his work, dating from the early 20th century, to be seen in the NG churches Barkly East, Burgersdorp, Jamestown, (all in the Eastern Cape), Frankfort (Free State) and Aurora in the Western Cape. All of these architects brought a diversity of ideas about church architecture that collectively now gives us this remarkable genre of an almost ecumenical South African style of religious expression in sandstone, brick and stone. I found myself wanting to know more about all these architects and to think about the links of church to domestic architectural examples.   
"Church Tourism" is a well organized book, with churches presented according to provincial geographical location. There are maps for each province showing where each church is to be found and there is a useful list of the churches covered in the two earlier volumes. A glossary, a bibliography and the careful index point to total professionalism. A Platteland Pilgrimage, the second volume, included thumbnail sketches of key architects of churches, so it is not repeated here as space at a premium and better to include another church. This supports my view that the three books are a trilogy and logically belong together. Perhaps readers who are architects will carp and say where are the plans for these churches, but plans are often impossible to find and is not an essential for the traveller and lay reader.  
Lychgate St Katherines Church Uitenhage
Perhaps the biggest bonus of the book is the chapter on the church work of the first Afrikaans architect, Wynand Louw (1883-1967) and here we do have a short biographical summary and a detailed documentation of the work of this architect and his collaborations and partnership plus we have a tutorial in the evolution of church design and we learn why Louw was synonymous with that image of "the typical Dutch Reformed Church, "except with Menache and David we realize that there was nothing "typical" about these designs and it is more enlightened to look for hallmark features. Louw certainly deserves to be studied in greater depth. His Wikipedia entry is in Afrikaans only, though Artefacts has some further information. 
The glory of Church Tourism, is in fact the beautifully photographed pictures, all in colour, of the churches themselves. These books collectively provide a permanent archive of the extraordinary, architectural legacy reflected in these venerable old historic churches. Should they disappear or be altered by future circumstance, we are fortunate that the authors have given us a wonderful record and resource.
I am hoping that these two talented authors and photographers will next turn their explorations to suburban city churches, it's a rich seam for documenting.  
Copies of the book (and if you are lucky you may be able to obtain copies of the earlier titles too) may be purchased from Philippe Menache via his e mailphilippe.menache@gmail.com. 
Full Book Details: Church Tourism in South Africa A Travel Odyssey. Authors Philippe Menache & Darryl Earl David. Published by the authors in 2015. ISBN number 9780620677998.160 pages, illustrated, full colour. Price R300 + R 40 postage.
Kathy Munro is an Honorary Associate Professor in the School of Architecture and Planning at the University of the Witwatersrand. She enjoyed a long career as an academic and in management at Wits University. She trained as an economic historian. She is an enthusiastic book person and has built her own somewhat eclectic book collection over 40 years. Her interests cover Africana, Johannesburg history, history, art history, travel, business and banking histories. 
Wednesday, December 2, 2015 - 06:50