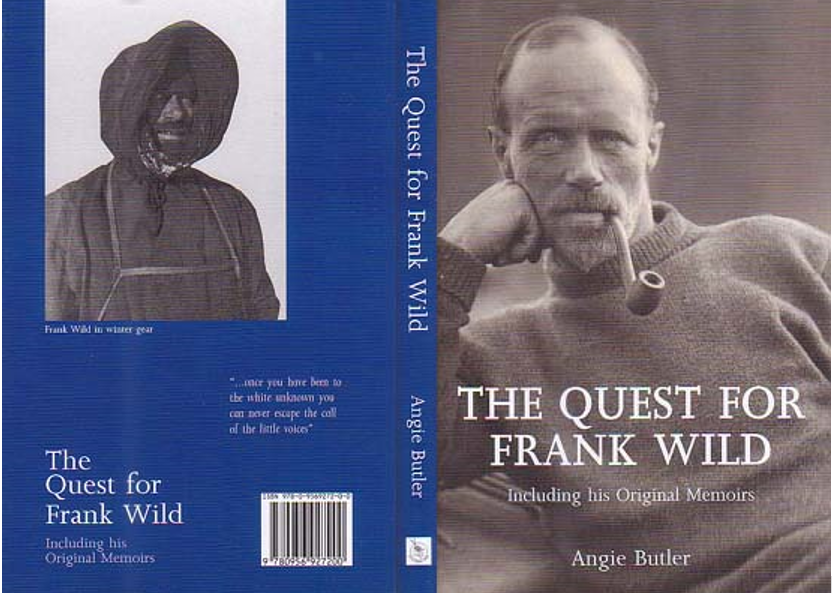 I have always been interested in polar exploration and history. I think the best book on early 20th century polar exploration is by Apsley Cherry Garrard, The Worst Journey in the World, which is where Angie Butler starts her book. Butler's book also fits into a library on polar exploration. Published in 2011, it is a book about her seven year dogged quest to find Frank Wild, the polar explorer and Shackleton's right hand man. Butler made it her mission to discover what happened to Wild in the last third of his life. 
Frank Wild (1873 - 1939) was a polar explorer, adventurer, seaman and an impressive leader of men in icy conditions ensuring survival against the odds. Between  1901 and 1922, Wild participated in five polar expeditions to Antarctica and was awarded the British Polar Medal with four bars. This was a unique achievement. 
He was a Yorkshireman, but there is a South African connection and that is part of the fascination of this book. Buried in its pages is a little known aspect of Johannesburg history. Frank Wild died in Klerksdorp in 1939 but his funeral was in Johannesburg. He was given a naval send off with a contingent of Transvaal sea cadets leading the funeral procession through the streets of the city to the Scottish War Memorial in King George Street. It is not often that a civic honour is paid to a famous hero and a freeman of the City of London. Yet I know of no memorial to Frank Wild in Johannesburg or South Africa today. Here is a man who definitely deserves a blue plaque.
This book is a book within a book. It is a combination of a detective story as the author sets out to retrieve and retrace Wild's post World War I life in Southern Africa as well as Wild's own memoir. The quest of the author is to find out where Wild was buried. The holy grail is the discovery of his ashes in the columbarium of Braamfontein crematorium. Angie Butler also brought to light the memoirs of Frank Wild and more than half the book consists of his memories of his polar days.    The memoirs are  published here for the first time. There is a final chapter on Elephant Island and this seems to have been written by Butler. 
Wild was a remarkable man. He was second in command of Shackleton's Imperial Trans-Antarctic Expedition and when the Endurance became trapped in ice and ultimately sank, Wild was left in charge of twenty-one men on the desolate Elephant Island, as Shackleton and a crew of five set sail for South Georgia with the objective of returning with a rescue ship. Shackleton's journey in an open lifeboat was one of those great sea survival journeys and he showed his greatness in never giving up on his quest to return for his men.
Book Cover
From 24 April to 30 August 1916 Wild and his crew waited on Elephant Island, surviving on a diet of seal, penguin and seaweed. I think Butler does Wild a disservice in introducing the idea that there were thoughts of killing an unpopular member of the crew and turning to cannibalism. What nonsense, when Wild is not here to defend himself. His memoir deserves better than this; he was the man who remained optimistic, organized, unflappable and unassuming. The point is that Wild kept all of his men alive in extreme conditions until they were finally rescued by Shackleton who arrived on a Chilean rescue ship, the Yelcho. Point Wild on Elephant Island is named after him, with a monument dedicated to the Chilean captain Luis Pardo who rescued him and his men.
As at 2009 when the book was completed, the author had progressed as far as erecting a bronze memorial plaque to Wild at Port Grytviken on South Georgia. Her mission remained incomplete. There was a sequel to the book as Angie Butler took charge of Frank Wild's ashes and amidst much fanfare and filmmaking on 27 November 2011 the ashes of Frank Wild were interred on the right-hand side of Shackleton's grave site in the small settlement of Grytviken, South Georgia, with members of the Shackleton and Wild families present. The inscription on the rough-hewn granite block set to mark the spot reads "Frank Wild 1873–1939, Shackleton's right-hand man." Apparently it had always been the plan to take the remains of Frank Wild back to South Georgia which is a remote island and British possession in the South Atlantic, attached to the Falklands. It was here that Shackleton died of a heart attack early in 1922, when on the Shackleton-Rowett expedition on the Quest. Wild took over command and completed the journey. 
Wild came to Africa after the First World War, first to Nyasaland and then to settle in South Africa after the Quest expedition. There is an interesting link to Smuts as Smuts knew Wild, must have admired him and gave him funds for his cotton farming ventures. The Smuts connection could have been explored in more detail.
One disappointing aspect of the Wild story was to read of the family feuds and disputes over Wild's collection of medals in the next generation and here Butler played her part in reuniting the medal collection which was purchased on auction by a private collector.     
Butler's book raises the question of how much the biographer should insert him or herself into the story. Biography is an art and biographers have written how often they become so absorbed into the life being researched that they become the person researched. They live the life of their subject during the research phase.  When there is a interweaving of the subject and the author, biography can turn into autobiography but of the author. It's a difficult task to retain objectivity and focus on the hero of the book and for the author to avoid becoming the hero. It is a form of biography that  was best handled by A J A Symons in his Quest for Corvo, (1934) a masterpiece and subtitled,  "an experiment in biography". I wonder if Butler has read Symons. This book falls into that genre of writing.
2017 Guide Price:  Available from Amazon £20 to £25
Kathy Munro is an Honorary Associate Professor in the School of Architecture and Planning at the University of the Witwatersrand. She enjoyed a long career as an academic and in management at Wits University. She trained as an economic historian. She is an enthusiastic book person and has built her own somewhat eclectic book collection over 40 years. Her interests cover Africana, Johannesburg history, history, art history, travel, business and banking histories.  She researches and writes on historical architecture and heritage matters. She is a member of the Board of the Johannesburg Heritage Foundation and is a docent at the Wits Arts Museum. She is currently working on a couple of projects on Johannesburg architects and is researching South African architects, war cemeteries and memorials. Kathy is a member of the online book community the Library thing and recommends this cataloging website and worldwide network as a book lover's haven.
Saturday, June 24, 2017 - 17:27