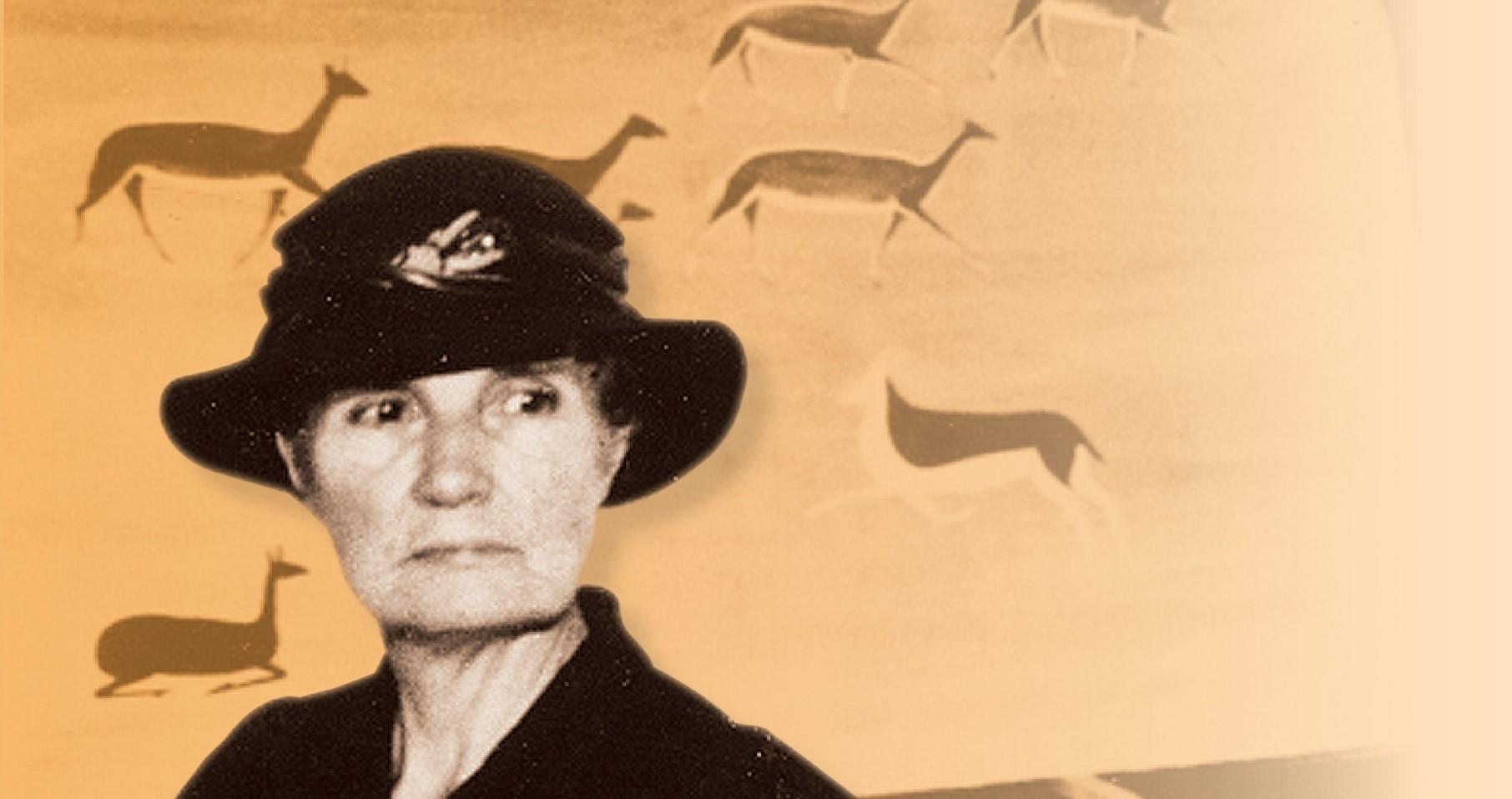 Jill Weintroub is a Research Fellow at the Rock Art Research Institute at the University of the Witwatersrand. In 2006 she completed a M Phil at the University of Cape Town on the Bleek Lloyd archival Collection. It is this collection of notebooks and associated papers collected in the 1870s and beyond that in 1997 were recognized by UNESCO in their Memory of the World Register. This is a documentary heritage of international significance because of the scholarship of Wilhelm Bleek and Lucy Lloyd in collecting and engaging with the San or |Xam bushmen. 
This biography is the culmination of years of work on aspects of the Bleek collection. Here Weintroub ably moves into the history of ideas in documenting the intellectual life, travels and research of Dorothea Bleek, the daughter of Wilhelm Bleek and niece of Lucy Lloyd, who take the limelight for their 19th century research and novel methods of studying San prisoners who lived with the family in Cape Town. It is Weintroub's contention that the familial connections of and loyalty to the Bleek-Lloyd family, plus an emotional investment explain why Bleek (she never married) devoted her life to "bushman" scholarship. She was the Bleek/Lloyd intellectual heir and this welcome biography argues that Dorothy Bleek devoted her life to continuing and completing the "bushman researches of her father and her aunt as an act of familial loyalty ". She was one of five daughters, so it is a puzzle to explain why she made these life choices.
Book cover
Dorothea Bleek (1873-1948) was a second generation linguist, anthropologist, folklorist and philologist. She became a scholar, traveller and creator of anthropological field notebooks in her own right. She was born in 1873 in Mowbray, Cape Town and died in 1948 in Cape Town. Weintroub argues that Dorothea Bleek was a complex character whose life, work and academic contribution deserve greater recognition than previously accorded. This biography fills that void. Dorothea Bleek held the position of Honorary Reader in Bushman languages at the University of Cape Town from 1923 to close to the time of her death in 1948. She donated the Bleek Lloyd Notebooks to the University of Cape Town shortly before her death and the world owes this important legacy to her custodianship. The notebooks which Dorothea had inherited from her father and her own 32 field notebooks are also part of the archive. 
This is not a biography in the traditional sense as the paucity of hard evidence means that there are long periods of Dorothea's life which are glossed over or surmises are made. There is almost no coverage of the long years when the family returned to Europe in 1884 (Wilhelm had died in 1875) and lived between Berlin and Clarens, Switzerland. It was not until 1904 that Dorothea returned to live in South Africa. She was 31 years old, and normally a woman of her era and class would have been married and settled. Jill Weintroub concentrates on the more mature Bleek as revealed in her extant notebooks, correspondence and friendships. This material forms the substance for writing an intellectual life. It is all about scholarship, the development of the disciplines in Southern African studies and about intellectual interactions. 
The most interesting aspect are the details about the field work journeys and the sometimes strange research methods of Dorothea Bleek between 1905 and 1940. She certainly participated in a rather peculiar skeleton gathering on an expedition with Maria Wilman. There is too ready a sliding over reprehensible practices of dispatching skeletons to Vienna for scientific study and treating remains of "primitive" people as objects divorced from any soul. For an analysis of what happened and why, one should turn to Martin Legassick's "Hidden Histories of Gordonia", (the original article is included in Weintroub's biography).
For a woman of her time the journeys by train, ox wagon and early automobiles were remarkable. She was independent, adventurous and spunky.  Her expeditions were field trips of note in search of "bushmen" people, art, objects and cultures. These journeys, over decades, took her through the Kalahari, Bechuanaland (Botswana), South West Africa (Namibia), the Northern and Eastern Cape, the Transvaal, Tanganyika (Tanzania), Angola and Basutoland (Lesotho). These chapters are the core of the book.  It is interesting to read of Bleek as a spinster and scholar, as someone rather unusual and somewhat out of her time. I did not though, pick up an empathy that normally develops between a biographer and her subject. Whilst there were friends and friendships and close family responsibilities I was left wondering if Bleek was all that likeable, but then academics and scholars are more likely to be determined characters on a mission and with a firm purpose in life. I find it odd that Dorothea Bleek turned down an Honorary doctorate offered to her by Wits in 1936 (mentioned in the Skotness book but not the Weintroub).
Weintroub revisits Bleek's scholarly life and achievements to assess Bleek's contribution to African studies, linguistics, rock art and anthropology in Southern Africa in the early years of the 20th century.  A second aspect of this book is that it makes a readable contribution to the study of the evolution of these disciplines, who the key players of the 20th century were and how over decades systematic scientific method deepened understanding and led to new interpretations of meaning in San beliefs, rock art and cultures. In some ways, it all sounds like quite a crowded and competitive academic area.
Dorothea Bleek though in her lifetime achieved considerable recognition and status. She moved confidently in a male dominated world, evidence of this is the wonderful undated photo of Dorothea, the sole woman in a group of men possibly taken in Berlin in the 1880s at a conference – the image becomes the cover picture, but remains a mystery and one that must be solved. Sadly Dorothea was later side-lined for what were considered dated and incorrect views and practices and the later portrait (caught giving a lecture shot in the 1930s) shows a woman who has been buffeted by life. I found it fascinating that she used notebooks, drawings, artist's copies, tracings, wax phonograph cylinders and photographs to capture and record all she saw. Her methods evolved with the time and she was interested in the latest technology. She was interested in evidence based observation. She published her own study of the Naron (Nharo) and their language. Her contribution also lay in publishing the George Stow rock drawings and paintings. In the thirties she published nine papers in Bantu Studies of her aunt Lucy's |xam texts. She saw through to publication ready stage, A Bushman dictionary (though publication was delayed until 1956 some eight years after her death). Was the dictionary in fact not her major intellectual accomplishment and the culmination of her life's work?
This biography ought to be read in conjunction with Pippa Skotnes' major and very beautiful art book, "Claim to the Country, the Archive of Wilhelm Bleek and Lucy Lloyd" (2007), a book rich in photographs, manuscript reproductions and a book that gives a sense of context and the magnitude of the original task of documenting an indigenous culture, customs, language, art and artefacts of the San people. In turn, this biography adds to one's understanding of the Bleek and Lloyd archive. UCT is fortunate to now own this treasure, and I hope the collection remains safe through these troubled times. The Bleek and Lloyd collection also features in the recent book, "Viewpoints - The University of Cape Town and its Treasures" (UCT Press, 2013). I should mention that a good read to give context, is Neil Bennun's "The Broken String, the last words of an Extinct People" (2004).
Viewpoints book cover
All of this material explains why Dorothea Bleek has also been described as an adventurer and researcher but "adventurer" is the wrong word for this remarkable woman whose life, travels and scholarship have at best been an add-on to her family and at worst dismissed as out of date and even racist. Dorothea had both the good fortune and the misfortune to be the daughter of Wilhelm and the niece of Lucy. I think Dorothea deserves a biography considering that the far better known men such as Laurens van der Post and Jamie Uys were inspired by and/or relied upon that scholarly Bleek Lloyd legacy and gained far greater popularity or notoriety.
2016 Guide Price: R320 (available from Wits University Press) - Review copy supplied by Wits University Press.
Kathy Munro is an Honorary Associate Professor in the School of Architecture and Planning at the University of the Witwatersrand. She enjoyed a long career as an academic and in management at Wits University. She trained as an economic historian. She is an enthusiastic book person and has built her own somewhat eclectic book collection over 40 years. Her interests cover Africana, Johannesburg history, history, art history, travel, business and banking histories.  She researches and writes on historical architecture and heritage matters. She is a member of the Board of the Johannesburg Heritage Foundation and is a docent at the Wits Arts Museum. She is currently working on a couple of projects on Johannesburg architects and is researching South African architects, war cemeteries and memorials. Kathy is a member of the online book community the Library thing and recommends this cataloging website and worldwide network as a book lover's haven.
Wednesday, October 19, 2016 - 17:47