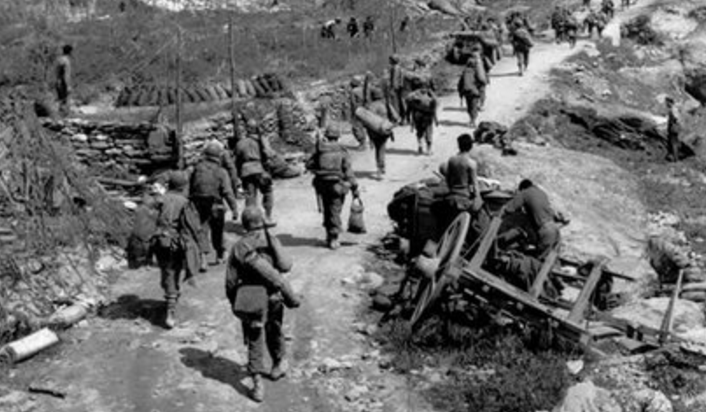 Review of Apennine War Diary: An Artist's sketch book 1944-1945 by Walter Hain. The foreword is by Matthew Ward. Published by Bretwalda Books Ltd, 2015
Walter Hain was a South African architect who was forced into exile in the mid-sixties with his family following a banning order which made it impossible for him to work at his profession. These were the dark years of apartheid drive repression by the National Party Government. Walter was a member of the South African Liberal Party and committed to the liberation struggle. He was a man of considerable courage, with unwavering political values. His career as an architect in South Africa was cut short and the country lost a talented man.  Walter settled in the UK to pursue a career in architecture in London and became a specialist in laboratory and hospital design. He made a new life for himself and his family in Britain.
Walter Hain died in 2016 at the age of 91. He lived to see the publication of this small book, which, some seventy years after the end of World War II, brings to the attention of a much wider readership, his sketchbook record of his experiences of a much earlier life as a young volunteer South African soldier in Italy (he was a member of the 6th South African Armoured Division).  This fighting unit was part of the British 8th army, which in 1944, together with the American 5th army, fought against the German army on Italian soil. Walter was only 19 and a signalman in the infantry battalion of the Royal Natal Carbineers. 
The South African army 6th Armoured Division, commanded by Major General Evered Poole, was established in early 1943. It was based on a nucleus of men from the former 1st South African Infantry Division who had returned to South Africa after the Second Battle of El Alamein in late 1942. The division trained in Egypt in 1943 and in the spring of 1944 (the foreword by Matthew Ward gives the year as 1943 but it was 1944) it landed in Italy at Taranto and fought its way north to Rome. The men were known for their heroism at the Battle of Monte Cassino. Rome was liberated by the Allies in early June but this did not mean the end of the Italian war. The Division went on to spearhead the Allied advance northwards in the face of heavy German resistance.  The 6th Armoured Division losses were heavy in Italy with 711 men killed, another 157 missing and 2675 wounded (statistics from General Poole). Approximately 1800 South Africans lie buried in war cemeteries in Italy.  
The Natal Carbineers Regiment traces its roots to the 1850s. In 1935 they became the Royal Natal Carbineers, a title which remained in use until the country became a republic in 1961. The regiment fought in every campaign in KwaZulu-Natal, in the South-West African campaign in 1914 -15, in East Africa in 1940-41, in the Western Desert between 1941 and 1943 and in Italy in 1944 to 1945 - Walter's role was in that Italian campaign.
This is the background to Walter Hain's war. He explains how he came to volunteer and how determined he was to follow his father and two brothers into the army as an English-speaking South African who thought it was "the natural thing to do". There is an early chapter on his experiences being trained as a signalman in Egypt in 1943 before moving on to see action in Italy.
Book Cover
Walter's diary and sketchbook specifically recount what happened to this young man in Italy between April and October 1944. There is an interesting small sketch map of the route taken from Rome northwards.  The climax came when Walter and his fellow radio operator, his friend "Lanky" Brasler, were caught in a trench in the Apennines. Lanky was killed and Walter was wounded and within months returned to South Africa. 
This is the story of Walter's War based upon his diary and his sketch book (about 120 sketches in all).  It is a unique record of a South Africa's Second World War engagement. It adds to the body of literature of wartime memoirs. The Hain sketch book and diary should never have been compiled in terms of military regulations, as such records could have fallen into enemy hands. The diary was kept in a small neat handwriting in an Italian blank diary for 1940; it covers the Italian period of service of Hain between April 1944 and October 1944. The sketches are in pencil and speedily drawn as Walter observed the highs and lows of a soldier's life on the move, a mix of boredom and intense excitement, managing weapons, taking prisoners and coming under fire. The small quick drawings are still moving, poignant and personal. He sketched people, weapons, tanks and farm houses. The book is a tribute to his fallen comrades but also a memoir of Walter.
In 1985, forty one years later, Walter retraced his war time route, in the company of his family, from Monte Cassino through Rome and towards the Apennines to return to the village of  Castiglione dei  Pepoli and  here he visited the graves of his 502 comrades of the 6th South African Division. This small book will make you too shed a tear for Walter and his friends lost in battle. There is a photograph of the South African war cemetery at Castiglioni. 
What is interesting to connect the dots in a life story of a teenager who went to war in search of adventure; grew to maturity under wartime fire; was one of the casualties of battle and returned to South Africa to enter higher education and become a family man. But it was war that seared in him a hatred of violence and honed his liberal beliefs and opposition to apartheid. Yet according to his son Peter, Walter was never a pacifist. Walter Hain was remarkable man and should have been honoured in South Africa instead of hounded out of the country that he and thousands of others had served in wartime.     
The standard reference on South Africans at war in Italy was Neil Orpen's Victory in Italy (in the series South African Forces: World War II. Vol V. 1975). Recently James Bourhill published Come Back to Portofine: Through Italy with the 6th South African Armoured Division (2011) and hence I found that I wanted to read the lengthier account and get the bigger picture by turning to these two books. About 334,000 men volunteered for full-time service in the South African Army during the war (including some 211,000 whites, 77,000 blacks and 46,000 coloureds and Indians). The Commonwealth War Graves Commission has records of 11,023 known South Africans who died during World War II.
Walter died a year after his book was published. There is an error on the cover of the book, as it states that the foreword was written by Peter Hain (distinguished Labour politician, now Lord Hain) but in fact the foreword was written by Matthew Ward, Peter Hain's parliamentary researcher.
2017 Price Guide: Best ordered through Amazon. New price £8.99
Kathy Munro is an Honorary Associate Professor in the School of Architecture and Planning at the University of the Witwatersrand. She enjoyed a long career as an academic and in management at Wits University. She trained as an economic historian. She is an enthusiastic book person and has built her own somewhat eclectic book collection over 40 years. Her interests cover Africana, Johannesburg history, history, art history, travel, business and banking histories.  She researches and writes on historical architecture and heritage matters. She is a member of the Board of the Johannesburg Heritage Foundation and is a docent at the Wits Arts Museum. She is currently working on a couple of projects on Johannesburg architects and is researching South African architects, war cemeteries and memorials. Kathy is a member of the online book community the Library thing and recommends this cataloging website and worldwide network as a book lover's haven.
Thursday, March 30, 2017 - 07:29