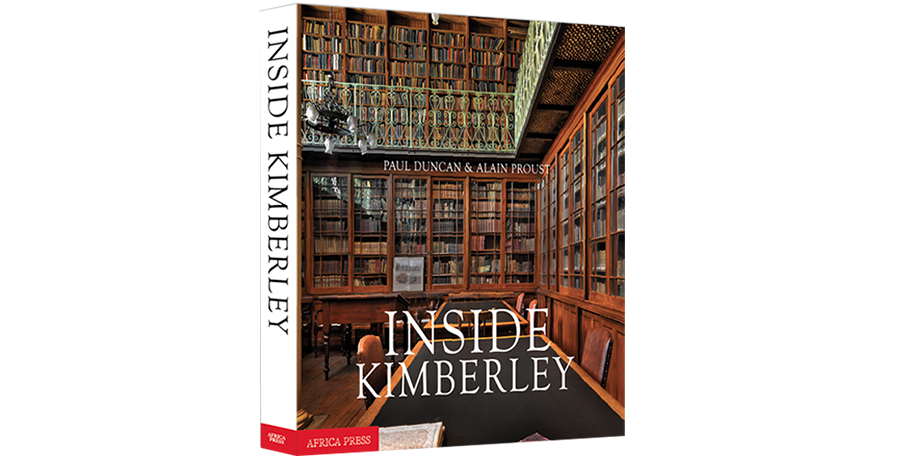 Here is my pick for the ideal late Christmas or new year present for the South African heritage enthusiast. Paul Duncan (writer and publisher) and Alain Proust (photographer) have done it again. Top marks to this well-known duo in heritage for producing another handsome book. Here is their stunning coffee table book revealing the interiors of many marvellous, treasured buildings of historic Kimberley. The book overflows with wonderful rich photographs of Kimberley's museums, churches, libraries, schools, galleries, clubs, the city hall and war memorial and so much more. Oh, and the final chapter gets us entry to the Wesselton Diamond Mine.
The authors have chosen 24 special Kimberley historic sites to take us "inside". The book is your ticket to a grand tour through Kimberley's history. Look up Kimberley on Google images and the iconic and most common view of Kimberley is its "big hole ", said to be the largest and deepest excavated-by-hand hole in the world (it isn't as the title actually goes to Jagersfontein). It was the Colesberg Koppie that yielded diamonds in quantity and changed the nature and structure of the international gem diamond trade and industry. It was effectively an open mine accessed from the surface and hence the big  hole. "By the time mining ended on 14 August 1914, the mine had yielded 2722 kilograms of diamonds, extracted from 22,5 million tons of excavated earth. Today what remains is a massive crater 214 meters deep with a surface area of 17 hectares and a perimeter of 1,6 km." (via Wikipedia)
Screenshot from an image search on Google
Kimberley dates back to 1871 and within 2 years its population hit 40 000. Everyone came to Kimberley to seek their fortune as traders, labourers, bar keepers, diamond hunters, buyers of mining claims or diamond merchants. The romance of Kimberley lay in the luck of finding a rough diamond that would yield a gem in the cutting workshops of Amsterdam. Claims in the big hole, despite collapsing walls, were pegged and changed hands rapidly by those with short term goals. The real genius lay with  men with longer term plans who realized that system and order needed to be imposed, claims consolidated, volatility in the pricing of diamonds removed and the imposition of controls over what came to be called Illicit Diamond Buying or IDB. Cecil John Rhodes made his fortune through acquiring a pump and managing drainage and flooding of claims and hence buying and amalgamating claims at the right moment. This was the start of the extraordinary career of this controversial character who became Prime Minister of the Cape, gave his name to a country and then left his wealth to fund the Rhodes scholarships. His dreams were ambitious but in his case, some dreams did come true. Kimberley is where you will find Rhodes's ghost and spirit but diamonds were not only about Rhodes. The photographs in this book give a glimpse into the lives and contributions of many who came to Kimberley to start schools and found churches and become nurses, teachers, sportsmen, priests and rabbis. They show how quickly a city was established.
Early plan of the Kimberley hole showing who owned what ahead of the creation of De Beers and  monopolization by Rhodes
This book has huge visual appeal. Fine coloured photographic plates fill 90 per cent of it and overflow onto double page spreads. Each image becomes a still life work of art, and has a tactile quality that positions the reader in the centre of a room or about to take a seat at a board room table or in the chapel of Christian Brothers' College. Proust has a keen eye for detail... Freddie Tait's putter, a masonic symbol, the brass plaque of the African Aviation Syndicate and the red brick and rust corrugated iron roof close up of a church are a few examples. The acanthus leaves moulded in cement and the marble memorial tablet of the Bechuanaland Field Force of 1897 capture mood and moment, history and atmosphere. Kimberley interiors of the early years can almost be smelt from the photos - the soft leather deep club chairs, hard wooden chapel pews, ornate staircases, magnificent libraries and portraits lining walls. They imprint a turn of the 20th century era and give you a Kimberley that was and indeed has survived.
People don't appear in these magnificent coloured photographs. It's all about the perfect period antique look of places. All those empty chairs emphasize the ghosts of the town. The angle of the shot, the clarity of the infinite perspective, the framing of the image, the positioning and use of light show Proust to be an absolute professional.  Through Proust's lens we become visitors, almost voyeurs to empty spaces and places. If you want to discover Kimberley at its peak, circa 1898, these photographs reveal how much of old Kimberley has survived. The photographic approach places the emphasis on place and not people.
The book is in the style of the earlier Hidden Cape Town (click here to read review) and Hidden Johannesburg  (click here to read review) published by Penguin/Random House in 2015 and 2016. This volume is published by Paul Duncan's own publishing company, Africa Press. The book has a hard cover with a plain red cloth cover, and an attractive full photographic dust wrapper (showing the reading room of the Africana Research library and the Warren Street boardroom of Rhodes). There  is the additional protection of a cellophane overwrap on the dust wrapper. Don't miss absorbing the fine end papers showing the design for Kimberley Boys' High School by Daniel Greatbatch, dated 1912 (although that  School is not one of the 24 chosen sites). It's a substantial, large format volume meant to be enjoyed from the comfort of your arm chair, but it is also a guide book to Kimberley as an historic diamond town. This volume like the earlier volumes has strong heritage appeal. It is a lovely souvenir for any visitor to Kimberley. I think the book is good value.
The initial impression gleaned from this book is that Kimberley is one of those time warped, time frozen kind of places where absolutely nothing has changed after the first flush of the Eureka moment when diamonds were discovered. The first decade of its history was tough and masculine. It was a mining camp; dusty and rather desolate. Over time diamonds financed many fine works of later Victorian architecture.
Kimberley of today with its new Sol Plaatje University is a very different type of town but this book is not about new history in the making or the transformation of the town. There is just a slight nod in the direction of the new, with the photo of a bust of Plaatje (he was court interpreter, wrote his Boer War diary and then was a key player in the formation of the South African National Congress) and also a photo of Frances Baard, female trade unionist and Women's League activist. But the mood and feel of the book is much more about the imperial era - the Kimberley of Queen Victoria, Cecil Rhodes, J B Robinson and Barney Barnato.
The Kimberley of this book is a romantic, nostalgic sort of town where Cecil Rhodes still lives. You will encounter Rhodes in his unpretentious Warren Street Boardroom, a single storey structure with corrugated iron roof and covered verandah. Here the Rhodes story is best understood. The newer larger De Beers Consolidated Mine head office is in Stockdale Street and the two buildings explain the rivalry of Rhodes and Barnato. Photographs of the De Beers directors line the walls.
Kimberley in its pioneering days was where you set up shop or a diamond buying agency or a men's mess or boarding house in a prefabricated, imported corrugated iron DIY structure. The Church of the Seventh Day Adventists, dating from 1880, sets the tone from the first chapter. Kimberley too is a place of scholarship with its fine Africana collections and spectacular Kimberley Research Library (originally the Public Library ) and here you will find Rhodes' dream map of Africa, with its red pencilled line shows the possible route north to link Cape Town to Cairo by rail. Christian Brothers' College on Du Toitspan Road dates from 1897 and the magnificent photographs show some seriously period buildings, but not a pupil in sight.
The introductory essay by Duncan is a concise summary of Kimberley history. Kimberley was a town that was founded and flourished but then also floundered because of diamonds. Yes, Kimberley was the place where the South African industrial revolution had the potential to be launched but Kimberley never became Johannesburg and the industrial revolution had a truncated beginning because Rhodes, with his writing of that massive cheque for Barnato's Central Diamond Mining Company, monopolised the  diamond industry. The date was 1889 and thereafter Kimberley became a town of big holes, controlled diamond supply, preserved wealth and emigration as people left for greater opportunities on the Witwatersrand. Duncan does not attempt a critical probe of Kimberley history but the intention is to bring old Kimberley to life. One of the best histories of Kimberley is William Worger's South Africa's City of Diamonds (published by AD Donker, 1987). Another essential text is Colin Newbury's The Diamond Ring, Business, Politics and Precious Stones in South Africa, 1867 - 1947 (Clarendon Press, Oxford, 1989). Kimberley had a major role to play in the Second Anglo-Boer War (South African War) as it was besieged for 124 days. Duncan captures the mood, starvation and suffering of the critical siege period which brought out the best and worse in human nature. Proust and Duncan give the visual panoramas that tell the story in another way.
Kimberley of the 20th century seems like a place where people endured hard lives and frequent disappointments. The African history of Kimberley remains to be written with Plaatjie, Baard and Sobukwe featuring. Interestingly Duncan and Proust's Kimberley does not take in the many fine new buildings of the Sol Plaatje University campus or the  modern architecture of the Northern Cape Legislature. A unique Kimberley site that might have featured is the memorial fountain for Sir Ernest Oppenheimer by Herman Wald commissioned by Harry Oppenheimer.
The Northern Cape Legislature (via the Legislature)
 
Ernest Oppenheimer Memorial Fountain by Herman Wald (hermanwald.com)
The formula of short texts and lots of photographs works well. The reader is led into each place with an introductory text of about a page describing why a specific place has been included, where it is, what it is and a bit about the history. Then follows about five to seven pages of perfect photographs that take you into Rhodes' Board Room, the Kimberley Golf Club, Sister Henrietta's Chapel or the Kimberley Club. The book is all about the physical look of the world made by diamond wealth. Kimberley architecture of  the late 19th and early 20th century stands proud. Perhaps you will be persuaded to dip into some of the many first-hand accounts of life in Kimberley - such as Louis Cohen's Reminiscences of Kimberley or the writings of George Beet. We know that Anthony Trollope on his late 1870s tour of the country did not like Kimberley.
Kimberley with its many museums, galleries and libraries is a collectors paradise where what was acquired and amassed stayed in the town and so was saved and preserved  in its august institutions, whether a Samuel Daniel engraving quaintly labelled "a Hottentot", or a rare edition of Burchell's travels or a  wall paper sample from a 19th century Kimberley house. There are also various modern treasured works of arts.
I have always loved the work of William Timlin who was an artist, architect and son of Kimberley whose book with his illustrations The Ship that Sailed to Mars, published in 1924, became a highly collectable cult book. I am delighted that Timlin is remembered in this volume. The Duggan-Cronin Gallery is a South African treasure with its collection of more than 7000 photographs documenting Southern African life and people taken by Alfred Duggan Cronin during his life. Its another remarkable story of passion and preservation.
In my opinion, the most important chapter in the book is the chapter with magnificent photographs of the Honoured Dead Memorial and its sacred circle. This is the  Anglo Boer War memorial commissioned by Rhodes and designed by Herbert Baker, who Rhodes dispatched to the classical sites in Italy, Sicily and the Nereid Monument at Xanthos to inspire and be recreated as the tomb for the 27 British and Imperial soldiers who fell during the Anglo Boer War. There is a further connection and that was the  experience gained by Baker in work as an architect of war memorials and the cemeteries of the First World War in France and Belgium. These connections and links are agonizingly heart breaking and the photographs of Proust underline the pathos.
The last chapter is on the Wesselton Mine and finally there are photos of some men who are miners. Here are the characters who give life to the Kimberley of today.
This book contains a bibliography but as Kimberley has a far richer bibliographic seam, I would have liked a more detailed list. Kimberley has been richly served by its historians and its art and heritage societies. In a very odd fashion the bibliography is listed alphabetically but according to first name of the author, not surname. Some important references are missed. For example, what about Gardner Williams' book, The Diamond Mines of South Africa. There are the three McNish volumes. There is no index nor footnotes.
This is a book that will take its place as an important photographic record of all that can still be found in Kimberley, architecture, spaces, places and objects that have  survived for more than 100 years. I recommend the book because it is beautifully produced.
2018 Guide Price: R420
Kathy Munro is an Honorary Associate Professor in the School of Architecture and Planning at the University of the Witwatersrand. She enjoyed a long career as an academic and in management at Wits University. She trained as an economic historian. She is an enthusiastic book person and has built her own somewhat eclectic book collection over 40 years. Her interests cover Africana, Johannesburg history, history, art history, travel, business and banking histories. She researches and writes on historical architecture and heritage matters. She is a member of the Board of the Johannesburg Heritage Foundation and is a docent at the Wits Arts Museum. She is currently working on a couple of projects on Johannesburg architects and is researching South African architects, war cemeteries and memorials. Kathy is a member of the online book community the Library thing and recommends this cataloging website and worldwide network as a book lover's haven.
Tuesday, January 16, 2018 - 17:28